Guide To College Entrance Exams
Standardized testing is an important metric that online colleges and traditional universities use to determine the eligibility of prospective students. These tests measure a variety of skills and knowledge that will prepare you for the subjects you'll encounter during your coursework. This includes math, language arts, and science, along with other areas, such as essay writing and comprehension skills. Some universities — and scholarships for that matter — require quality SAT or ACT scores before accepting a new student. Therefore, it's helpful to know which test you should take, what the tests entail, and how to prepare for college entrance exams.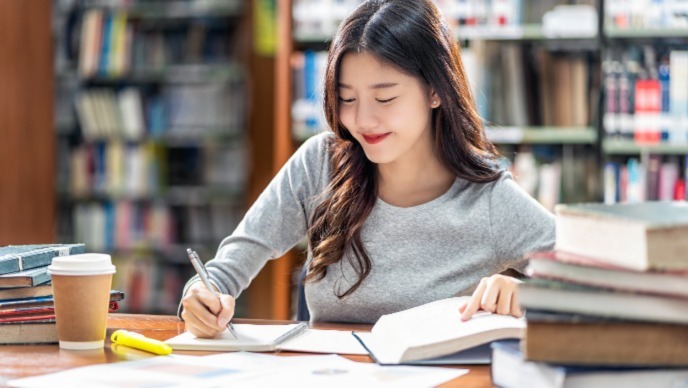 What Is Standardized Testing?
The SAT and ACT tests are the most common entrance exams in the United States. The ultimate goal of standardized testing is to address the capabilities of a student before they enroll in college. These entrance exams help determine a student's ability to understand material that they are expected to encounter during their college coursework.
School admissions administrators will look at your GPA, extracurricular activities, interviews, essays, letters of recommendation, and a list of the classes you completed in high school. The content of these documents, alongside ACT and SAT test scores, determines your chance of acceptance into a college or university.
Basic Format of Standardized Tests
Standardized tests use a specific set of questions with expected answers. This is what makes them "standardized." The answers are graded consistently across the board for each student. Formats and grading scales differ from test to test. However, they most often consist of a series of multiple choice questions from different subjects, including math, English, reading, and science.
Traditionally, students take these tests in person using pencil and paper. You'll be required to fill in a bubble that corresponds with your preferred answer. Some tests may require an essay portion, where you'll be tasked with analyzing content and offering a well-written perspective.
Types of College Entrance Exams
There are different types of college entrance exams, which depend on your level of education and your desired path of higher education. The most well-known tests are the SAT and ACT exams. These are the ones most students focus on, as they will likely send them alongside other admissions requirements.
Let's take a look at the most common tests — as well as their counterparts — for lower and higher levels of education.
Scholastic Assessment Test (SAT)
The SAT is an assessment of a student's aptitude for learning and memorization. High school students may take this test to determine whether they understand certain subjects at a higher level. For the SAT, this includes (1) reading, (2) math, and (3) writing and language.
Test takers will be given a certain allotment of time for each section, which includes a specific number of questions or tasks. For some of the mathematical questions, students may be asked to show their work instead of simply filling in a multiple choice bubble. The SAT costs $52 and takes three hours to completeat a local testing center.
American College Testing (ACT)
The ACT is very similar to the SAT in many ways. It's also designed to measure a student's educational aptitude through a series of multiple choice questions. The subjects include English, reading, mathematics, and science. There is an optional essay portion that's designed to test your skills as a writer.
This test costs $55 if you opt for the standard version but moves up to $70 if you decide to add the essay section. The ACT takes 175 minutes to complete, with an added 40 minutes for the written essay. Additionally, it must be taken at an accredited testing center.
ACT vs. SAT: Which Is Best For You?
This is something that you'll need to determine based on the school you're applying to. The vast majority of colleges do not prefer one test over another. However, if your prospective school does require a specific test, then you'll be left with no choice but to take that test. If your school does not require the ACT or SAT, you still have the option to complete and submit a test. This gives you the opportunity to choose the exam that best suits your abilities and prospective college major.
The vast majority of colleges do not prefer one test over another.
Which test you take should also depend on your career path. Below are some examples to consider.
Science-focused majors: Unlike the ACT, the SAT does not have a dedicated science section. If you are seeking a career in the sciences, it may be beneficial to take the ACT over the SAT.
Writing-intensive majors: The ACT also has a dedicated section, although optional, for writing. This area is meant to test how well you understand and evaluate complex problems and turn your assessments into thorough analysis. If you feel this may be an added benefit to your college admissions based on your major, then the ACT may be a better option.
Math-focused majors: The SAT prohibits calculators on certain math questions, where you are required to show your work. Therefore, the SAT may be more appealing to math majors who are looking to test their skills in this area.
Here are some other things to consider before choosing your test. The ACT costs $3 more for the basic test and another $15 for the essay portion. The ACT is also longer if you include the writing portion. Both tests allow you to use a calculator for the majority of the math portions.
Graduate Record Examinations (GRE)
The GRE is an admissions test taken by graduate students. It's used to test the preparedness of those seeking a master's or doctoral degree in a given field. Unlike its counterparts, students can take this test online from the comfort of their own home.
The GRE is particularly useful for law and business students who want to enter an MBA or pursue an attorney's license. The three test sections are Analytical Writing, Verbal Reasoning, and Quantitative Reasoning. Most questions are multiple choice, except for the writing sections.
Other Types
There are a variety of entrance exams aside from the three mentioned above.
One of the first exams you might encounter as a high school student is the PSAT (Preliminary Scholastic Aptitude Test). Sophomores or juniors take this test, and it's designed to prepare them for the SAT and ACT exams. Think of the PSAT as a practice test. It's not compulsory, however if you are determined to score well on your college entrance exams, then it's a good place to start. Once you receive your scores you'll have a stronger idea of where your shortcomings are, as they relate to your future SAT or ACT test.
AP (Advanced Placement) tests are also taken by students during the course of their high school studies. AP tests stand out because they focus on one specific subject per test. This is to help test a student's understanding of said subject after they complete their AP class. If your school doesn't offer AP classes, you can still take the test to determine your expertise in a given area. You can explore a variety of subjects, such as Art History, Music Theory, Macroeconomics, United States History, Calculus, Chemistry or Latin, among others.
Then there's the GED (General Education Development) test. For students who are unable to complete their high school coursework — and therefore cannot earn a diploma through the traditional route — the GED is the test for you. This exam tests your knowledge through four subjects: Mathematical Reasoning, Science, Social Studies, and Reasoning Through Language Arts. This exam can be taken online, and each section can be spaced out to accommodate your schedule.
If you're a student from outside of the United States, you may be required to take the TOEFL (Test Of English As A Foreign Language). This test is available for various levels of English proficiency. Student's can take this test online prior to applying for entrance to an American university. It covers reading, writing, listening, and speaking.
How To Study For College Entrance Exams
The preparations you need for college entrance exams vary depending on which test(s) you intend to take. In general, it's recommended that you take time to study each subject you'll encounter in the one to two weeks prior to taking your chosen test. College Board, which operates the SAT test, suggests students dedicate 6-20 hours of study time alongside taking a full-length practice test before committing to the real thing. With some practice tests you can request detailed score reports that will outline the areas where you performed the worst.
Tutors are also recommended. That is, if you have the resources for this additional help. You can find tutors that specifically train you for SAT and ACT exams. Keep in mind, these are standardized tests, which means the questions will be the same across the board. Therefore, studying with experienced tutors who understand the content will greatly increase your chances of achieving a high score. If tutors in your area are too expensive, you can look for test preparation books that include study materials and practice questions. You can purchase these books "used" for a discounted price.
Both the ACT and SAT websites offer free test prep materials, which include practice tests. For most, this will be the most effective way to prepare for the exam.
Before taking the test, be sure to get a good night's sleep, drink plenty of fluids, and eat a healthy meal. You may also want to bring a snack and water along with you. Each test lasts several hours and feeling hungry or thirsty can serve as a distraction.
How To Take College Entrance Exams
Both the SAT and ACT take place in-person. This means that you'll have to physically travel to a location and take the test under the supervision of a trained administrator. You can take them at universities, testing centers, and even your own high school.
You should find the right time to take the test as well. Each test is held seven times each year. This gives you plenty of opportunities to attend an exam session based on your work or school schedule.
With all these test dates to choose from throughout the year, you should make sure you have plenty of chances to study and allow yourself sufficient time to receive your score.
Check with the college you're applying to to see what their deadline is for admissions.
Then schedule your test at least two months prior to that date.
The Problem With Standardized Tests
There's currently a debate happening in the world of higher education on whether or not standardized tests should still be considered during admissions. Some say the tests are inherently discriminatory based on the accessability of test prep materials and tutors. Others cite a lack of correlation between high test scores and a student's college performance. Then there are those who say standardized tests have simply been used as a scapegoat for other issues found within admissions.
---
There have been several
studies
done on the use of standardized tests, and each has looked at the different ways students found success with or without standardized testing.
---
Why Is Standardized Testing Bad?
According to Eric Kim, co-owner and Program Director of LA Tutors, an international private tutoring company, "Standardized testing is intended to be a fair, impartial way to assess a student's potential for academic success. … Families with expendable income, however, can prepare for these exams, giving them an advantage when compared to students who may not have the time or resources to dedicate towards a tutor or prep program. This unfortunately creates an inequality gap that is difficult to eliminate." In other words, while the tests themselves may be standardized, the accessibility is not.
How Are Standardized Tests Racially Biased?
The National Center for Fair and Open Testing lays out a comprehensive answer, which refers to our education system as being inherently racially biased. FairTest, as they're known, explains that capable students of color are disproportionately placed in special education classes, held back, expelled, and put in counseling throughout early education and high school. This causes a domino effect, making them less likely to receive a diploma, less prepared for standardized tests, and ultimately contributes to higher rates of unemployment.
Does this make standardized testing unfair? Many experts say, yes. With less resources dedicated to students of color, we will continue to see lower test scores and therefore lower college admissions numbers. At this point, you can see the snowball beginning to form.
Furthermore, according to the Brookings Institute, there's a significant racial gap in test scores for the SAT. In 2020, 31% of white students scored above a 600 on the math portion of the test, while just 7% of black students achieved this metric. This again points to the lack of resources dedicated to students of color and the disproportionate bias in their education.
Do All Colleges Have Entrance Exams?
While standardized tests used to be the primary way administrators brought on new students, today things are more nuanced. Many schools no longer consider standardized tests as the end-all-be-all of a student's preparedness. For this reason, these particular schools no longer require college entrance exam scores to apply. However, some students choose to take these tests either way, even when they know they aren't explicitly required.
Unfortunately for many students, the lack of time and resources to prepare for the tests can limit their ability to take them in the first place. This is important to keep in mind, especially if your school does not require these test scores. Remember to check with your prospective college to see if they require SAT, ACT, or another test's scores — or no test at all — before you decide to take a standardized test.
How Can Standardized Testing Be Improved?
We asked this same question to Eric Kim who highlighted the need for collaboration. "Creating a test that can't be prepared for is not an easy task," he explained. "That said, institutions like College Board and ACT have done a great job minimizing that effect and continue to adapt and evolve to create fairer exams." Kim offered a recommendation of his own by saying, "One way to improve in this regard would be for a diverse group of universities to work together with College Board and ACT to develop and improve their exams."
As far as the SAT goes, some improvements are already on the way. In 2022, the SAT announced that they are leaving behind the antiquated paper sheets where students fill in bubbles with a pencil, and switching to a new digital version. This updated exam, which is set to release in 2024 in the United States, will feature updated questions in a digital format that make the test shorter and more approachable to modern-day students. Students will even be able to take the test on their own personal laptops or tablets. Furthermore, they'll receive their scores in a matter of days as opposed to waiting the standard 2-8 weeks.
Are We Moving Away From Standardized Testing?
Even though standardized testing has its issues, it remains a popular way for students to prove their preparedness. Fortunately for students without the proper resources to prepare for the tests, things are becoming easier. In 2022, 2,000 colleges and universities announced they will no longer require entrance exams before accepting students into their study programs. This news will work to lower the racial divide between those who can afford tutors and study materials to prepare for these tests and those without sufficient educational resources.
In 2022, 2,000 colleges and universities announced they will no longer require entrance exams before accepting students into their study programs.
The worldwide COVID-19 pandemic also caused many organizations to rethink their college entrance requirements. This includes some state's bar exams which have historically been required for students to earn their attorney's license. Overall, College Board, ACT Inc., and other educational institutions around the country are tuning into the needs of students while relying more and more on current research.
Conclusion: Standardized Testing Pros and Cons
There's a lot to consider before you decide if an entrance exam is best to include in your college admission packet. We've laid out many points over the course of this article that will help you make the decision as to whether or not taking these time-consuming tests is worthwhile. Now that we've reached the end, let's take one final look at some of the most important considerations:
Pros
Can be scheduled at various points throughout the year to accommodate your schedule
Nearly all colleges consider both SAT and ACT test scores — even if they aren't required
Gain a valuable metric for your learning and memorization capabilities
Discover ways to improve your understanding of certain subjects
Tests are becoming shorter in length and more accessible as they move online
Cons
Higher scores may only be achieved with expensive tutoring
Tests are taken in a high pressure, in-person environment that may affect your performance
Low scores may not be a reflection of your true ability to understand a subject
May be considered a waste of time to some students since many colleges don't require them anymore
They have an inherently racial bias due to lack of educational resources dedicated to students of color
They are not the best indicators of a student's future success in school or work
Related Articles
College Planning
These guides provide all the information you need about planning for college – from your applications through choosing the best program or school for your goals.
Average SAT Score
Find out the average SAT score and learn how the test is scored, how to determine your target score, how to prepare for the SAT, and helpful resources.