How To Write a College Application Essay
A college application is an important step towards higher education. This is your chance to show admissions specialists that you're prepared to join their university and that you have a level of knowledge and experience that will allow you to contribute to their programs.
There are several steps involved in submitting a good college application, but one of the most crucial parts involves a personal essay. This piece of writing tells the reader what makes you a good potential candidate for their school by outlining your characteristics, personality traits, work ethic, or even just a unique story that shaped your life. Colleges will often offer a prompt which can include a question that you're meant to answer. Along the way, you should speak to your personal experiences while addressing the question directly.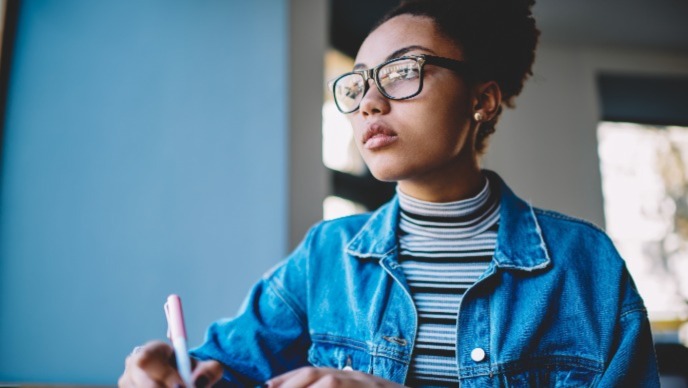 Why the College Application Essay Is Important
There are several answers to this question, each of which are equally important.
First and foremost, the college application essay allows you to demonstrate your ability to write concisely, coherently, and creatively. For many majors, writing is a significant part of the coursework. Therefore, it's crucial that candidates understand the basic fundamentals that make up a strong personal essay, such as the three-part structure and creating a compelling story.
Admissions officers want to understand where you come from, what your goals are, and what you can bring to their university.
Aside from writing fundamentals, an application essay is important because it's the one piece of documentation that allows an admissions clerk to get to know the real you. While it may seem contrary to the purposes of an academic application, admissions officers want to understand where you come from, what your goals are, and what you can bring to their university.
Most universities require a college application essay alongside other pieces of documentation, such as test scores, the classes you took in high school, and of course, your overall grades. Some schools may also consider letters of recommendation, extracurricular activities, or work history. But, the essay is the portion of the application where recruiters will really get to know the person behind the pencil.
College Essay Prompts
Prompts are questions, general ideas, or situations that the university wants you to cover in your essay. They are designed to allow students to express themselves, tell interesting stories, or discuss how they are equipped for the tough road of higher education that lies ahead of them.
One of the most common prompts you'll come across is "Why do you want to attend our university?" This can be a hard question to answer, especially if you're applying to several universities at once.
Remember, this is a personal essay at its core. Even though the question may be about the school, it's important that you include information about yourself and your personal experiences as well. If you can tie your personal life to that specific school in a meaningful way, you'll no doubt impress the reader.
Another example would be a question asking you to elaborate on a skill, interest, background, or personality trait that you believe helps define who you are as a person. Although this is a deeply personal question, you should be able to relate it to your aspirations of higher education or your desire to learn and grow as a student. Some schools may ask you to discuss a meaningful event, accomplishment, concept or even an ethical or moral challenge that you've come across in your life. These types of broad prompts allow you to truly express yourself and offer an unique, interesting or enthralling story for the admissions officer to read.
Good College Essay Topics
If you're given a more generic prompt that asks you to tell a personal story, discuss a challenge you've encountered, or outline a lesson you've learned, then it's good to have a list of topics that could help you find the right story. Don't be afraid to be vulnerable and let an admissions officer know what you learned from your experiences.
Recalling a memory from your past that helped to transform you into the person you are today. This can sometimes be through tragedy or even something you accomplished that you didn't think you were capable of.
Experiences often form who we are as individuals. Detailing a personal experience can give great insight into who you are and why you're here. Maybe you took a family trip as a child to another country that opened your eyes to different cultures or perhaps you simply had a conversation with a stranger that changed your perspective.
Much like memories and experiences, individuals can impact our lives more than we often realize. Taking time to discuss one of your personal heroes, whether it be someone you knew well — such as a family member — or even a historical figure that inspired you, can provide the reader with great insight into your life.
Take a sentiment, such as happiness, grief, expression, or curiosity, and write about how it shapes your way of thinking. What were your experiences with grief? How have you struggled with defining happiness in your life? Has curiosity driven you to explore what life has to offer? These are questions that will showcase your personal attitude and allow the reader to truly understand your perspective.
How To Write a College Application Essay
Choose your topic
Oftentimes, the university you're applying to will include a basic topic prompt to get the ball rolling. They may ask you to write about yourself, including your background, interests, or family history. Alternatively, they could ask you to describe something you've overcome in your life that will help them learn how you tackle tough challenges. These prompts are generally described as personal essays. Some colleges may ask you to explain why you chose their institution over others. Before you begin writing, it's important to fully understand the question you're answering.
Incorporate your own voice and experience
Something to remember before you start your essay is that you should always be speaking from your own perspective. Admissions officers want to get to know you and understand how you'll fit in with their school. This is why many of the generic question prompts are personal in nature. Avoid approaching your essay from an academic viewpoint. Although this may seem contradictory, considering you are applying to a university, they ultimately want to understand your personal traits and qualities as an individual. After all, this is a personal essay, not a thesis statement.
Add solid examples to support your ideas
Personal experiences go a long way in college application essays. If you're describing yourself with a specific personality trait or quality, add some examples that prove it. Convincing a faculty member that you are dedicated and hard-working won't be as easy if you don't offer some concrete examples that include past experiences. Maybe you started a small business during high school where you sold a unique product that taught you the importance of being industrious. Or perhaps you went on an arduous excursion in the wilderness that helped form your sense of resolve. Whatever point you're trying to get across, be sure to support it with facts from your life.
Edit carefully
The college admissions essay format is fairly simple. Start with an introduction, then pivot to the body before ending the piece with a well-rounded conclusion. But, before submitting your essay, be sure to thoroughly edit the piece. Run through the bullet points below to ensure you meet the proper criteria and that you didn't make any grammatical errors. Read your essay out loud to yourself to get a better grasp of what you wrote.
Did you actually answer the question that was prompted?
Check for misspellings, proper punctuation, run-on sentences, and overall structure.
Rewrite paragraphs if you're unsure of their composition.
Ask someone else to review your essay to get a different perspective.
Things To Highlight and Avoid in Your Personal Statement for Your College Application
There are a couple of things that should be avoided in your personal essay. One of the biggest mistakes students make is focusing too much on their accomplishments or academic accolades. Admissions officers read personal statements all day, everyday — many of which focus too heavily on trying to impress the reader. Let your grades, classes, and test scores do the talking in that regard. Instead, focus on highlighting what makes you a unique or interesting person. As admissions officers read through piles of essays, a deeply personal story from a fascinating student will keep them interested far more than a list of your academic achievements.
College Essay Example
Here's a college admissions essay example that stems from a more generic prompt.
Why you are seeking higher education in your field?
I was 16 years old when I had my very first panic attack. Although at the time, I didn't know it was a panic attack. I thought I was having a heart attack — a common misconception for those experiencing a moment of intense anxiety. I went to the ER, but it didn't take long for the nurses to tell me that I was perfectly healthy. One year later I finally discovered that I have Generalized Anxiety Disorder. While that discovery was a journey in and of itself, the real mission was to find out why I was anxious in the first place.
Anxiety can stem from nearly anything. For me, it came from a place of uncertainty. Not knowing where life was going to take me. Was I going to be successful? What was I going to be successful with? I don't want to stay in my hometown my whole life, but where do I go? These were all questions I grappled with on a daily basis.
Then, during one particularly uneventful day, I was browsing basic cable and came across the Travel Channel. They were airing a series of episodes of Anthony Bourdain's show, No Reservations. I sat enthralled by what I was witnessing. Sure, I've seen travel shows before. I've read books and studied geography, but I've never seen an individual interact with the world the way he did. He made it a priority to not only sit with the people in remote locales, but he also outlined their personal struggles with news stories and television clips from the perspective of Americans.
In one particular episode, I watched an eldery Vietnamese grandfather retelling the horrors he and his family experienced during the Vietnam War in 1960. The show would interject the tale with television clips from the privileged perspective of American TV audiences during that time. I was saddened, awestruck, and determined to learn more. I binge-watched Mr. Bourdain's show for the entire summer. I even bought his book, Kitchen Confidential, to learn more about his background and to learn how he found his path as a de facto journalist.
My excitement only grew as time went on and I began to identify more and more with the purpose of a traveling journalist. My anxiety began to lessen in intensity, and eventually, my determination turned into action. I discovered what I wanted to do with my life. My questions had been answered. I decided to pursue journalism full time, and I began to set the foundations for my future education.
I started writing and bought a camera, but most importantly, I left home. I set out into the world ready to learn from others and hear their stories. I spent a month living with local fisherman in a small town on the Gulf Coast of Mexico. I volunteered on an elderly Nicaraguan couple's banana farm located deep in the hills of Chinandega. And I finally made it to Vietnam, where I taught English to some of the brightest kids I've ever met. My adventures brought me a great deal of perspective. I learned how another person's experience can bring to light your own privilege. I learned the importance of empathy and understanding. My mindset was completely reshaped during the time I spent on the road.
I found my purpose in life, and that was to devote my privilege to telling the stories of those less fortunate. I want to become a journalist, so I can shine a light on the atrocities and the helplessness that many ordinary people around the world experience every single day.
College Essay Advice From an Admissions Counselor
In order to gain some insider information about how to write a strong college application essay, we spoke with
Rachel Coleman
, an independent education consultant and honors graduate from Stanford University, who has over seven years of experience helping students navigate the college admissions process.
She offered some insight into the do's and don'ts of essay writing. One of the central pieces of advice she had was for students to always remember the main purpose of the essay:
"These essays should not be written in the genre of academic writing," she says. "They are instead autobiographical creative writing with dialogue, vivid descriptions, and internal thoughts - not a thesis statement the student needs to prove."
This is where the separation of academia from personal experiences comes into play.
As a teacher of college-level writing, she asks her students to think of a story they are personally excited to share. She continues, "A creative writing teacher back in the day told me that if I found my own writing boring, I needed to stop and reassess. The same is true for the genre of writing that is the college admissions essay."
We asked Coleman what the two most common mistakes students make when putting together their personal statement and what they should write about instead. The mistakes below are relevant to essay prompts that focus on why students want to attend a specific college:
Mistake #1
"Students write 100% of the essay about the school itself."
Solution #1
"Admission officers know all about their own school. Instead, I recommend students write approximately 50% about themselves and 50% about the school. With this 50/50 split, students can still share personal information and also prove how the school is a strong fit."
Mistake #2
"Students speak too generally about a college when answering this prompt: "Why do you want to attend x university?" My rule is if the sentence can apply to another college, the sentence is not specific enough."
Solution #2
"Instead, students can name specific research labs they want to join, teachers they want to learn from, classes they want to take, clubs they would participate in."
Finally, Coleman offered one final piece of advice to students. "Don't make someone else the protagonist," she says. "I can't count the number of times I've seen applicants make this mistake. Typically, I'll get to the end of an essay and think: 'That was beautifully written, but now I want to admit that grandfather. Or that sibling. Or that teacher'." She goes on to say that no matter how important a certain figure may be in your life, this essay is ultimately about you.
Frequently Asked Questions About College Essays
How Long Should a College Application Essay Be?
---
Typically, college application essays are around 500 words. Some universities will ask that a standard personal statement on why you chose their school be a maximum of 650 words.
How Do I Make My Personal Statement Stand Out?
---
The best way to set your piece apart from the pack is by simply writing about something that gets you excited. Demonstrate your ability to write creatively and enthusiastically. Tell a unique story. If you don't have one, avoid embellishing a generic story. Don't be afraid to offer something unusual that may surprise the admissions officer. As long as you write effectively and genuinely, your essay will impress the reader with its uniqueness.
Related Articles
College Planning
These guides provide all the information you need about planning for college – from your applications through choosing the best program or school for your goals.
Everything You Need to Know About the Common App
This Common App is a key tool for applying to multiple colleges. Here's everything you need to know about acceptance and more.