College Guide for Undocumented Students
Students without legal citizenship or residency face many barriers to higher education. From a lack of access to financial aid to high tuition fees, the difficulties that come with pursuing education can seem overwhelming. While these barriers still remain, there are some important resources and support systems available for undocumented students to help them overcome these challenges, earn a degree, and succeed.
The movement to increase access to education for everyone, regardless of citizenship status, has helped undocumented students across the country follow their dreams and make a positive impact in their communities. More than 200,000 DACA recipients are essential workers performing vital jobs during COVID-19, and 30,000 of those essential workers are on the frontlines in healthcare roles. Undocumented citizens are able to become teachers, work for nonprofits, open small businesses, and pursue other career opportunities because of DACA and other efforts to make higher education accessible.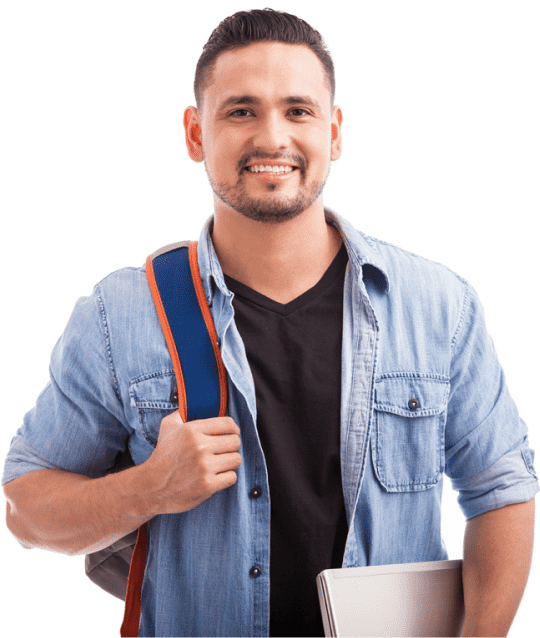 Accessing Higher Education as an Undocumented Immigrant
Undocumented immigrants are people who live in the United States without citizenship or legal documentation allowing them to live and work in the country. Many young undocumented people were brought to the U.S. as children, have grown up in the country, attend public schools, speak English, and have little or no memory of where they were born. Some undocumented people don't learn about their citizenship status until they hit significant milestones like applying for college or getting their driver's license.
The Migration Policy Institute estimates that nearly 11 million undocumented immigrants lived in the U.S. in 2018. This number is difficult to estimate as many undocumented people are hesitant to disclose their citizenship status for fear of deportation and other concerns.
The introduction of the Deferred Action for Childhood Arrivals (DACA) program in 2012 provided new opportunities for undocumented people in America. The program allows people brought to the U.S. as children to work legally and be shielded from deportation and has greatly improved the opportunities available to more than 825,000 undocumented people who have grown up as Americans and were able to enroll in the program.

A new report from The President's Alliance on Higher Education and Immigration found that more than 450,000 undocumented students are enrolled in higher education. Just under half of undocumented students in higher education participate in the DACA program or are eligible for DACA. This is the first time a full report on undocumented students in higher education has been available, and the report includes college-aged and adult learners.
Key facts about DACA recipients in the United States
More than one-third of DACA recipients arrived in the country before the age of 5
DACA recipients and their households pay $5.6 billion in federal taxes and $3.1 billion in state and local taxes annually, as well as Social Security and Medicare taxes taken out of paychecks
DACA recipients pay $566.9 million in mortgage payments and $2.3 billion in rental payments every year
States with the most DACA recipients include California, Texas, Illinois, New York, Florida, North Carolina, Arizona, and Georgia
Top industries for DACA recipient employment include food preparation, office and administrative support, sales, management and business, education and training, and healthcare
The information in this guide is meant to offer general guidelines and should not be taken as legal advice. It's always best to consult an attorney regarding your personal circumstances.
Key Policies Protecting Undocumented Students
What is the DREAM Act?
The Dream Act is a piece of legislation initially introduced in 2001 that would provide a pathway to citizenship for undocumented people brought to the United States as children. There have been many versions of the Dream Act introduced in Congress since the initial legislation in 2001, none of which have been passed into law despite widespread bipartisan support from American adults.
Immigration reform has been a long and difficult debate in Congress over the last two decades. Democrat and Republican lawmakers have struggled to come to an agreement and pass any legislation that would enact meaningful change. As the new administration works to both undo policies put in place by the Trump Administration and make progress on immigration reform, it's difficult to predict what changes will come during Biden's presidency. Without support from Republicans, it will be difficult for Democrats in Congress to pass comprehensive reform legislation, and lawmakers may instead work on passing legislation piece by piece to make changes one bill at a time.
The Dream Act of 2021 is a bipartisan bill introduced to the Senate in February 2021. It would provide a pathway to citizenship for many undocumented people who qualify for the DACA program.
You'll qualify for lawful permanent residence and a pathway to citizenship under the Dream Act of 2021 if you:
Entered the U.S. before the age of 18 and are undocumented
Have been continuously present in the country for at least four years before the date the legislation is enacted
Have no serious crimes on their record
Are pursuing OR have earned a high school diploma or equivalent
Are pursuing higher education, have worked legally for at least three years, have served in the military for at least two years
The House of Representatives passed a similar piece of legislation, the American Dream and Promise Act, in March 2021. This bill would also extend a pathway to citizenship for legal residents who have Temporary Protected Status (TPS).
The bill will now go onto the Senate, where it will need at least 10 Republican votes to pass. While it is not yet clear what the outcome will be, Democrats and immigration reform advocates are optimistic that these pieces of legislation have a better chance of passing in Congress than Biden's sweeping immigration reform plan.
---
How Does the State I Live in Impact Dreamer Laws?
Some states have passed their own version of the Dream Act or additional pieces of legislation that provide benefits for those who are undocumented. Most notably, some states allow undocumented students to access state grants and other funding for higher education. Nineteen states allow undocumented students who graduated from local high schools to pay in-state tuition. Some states also allow undocumented immigrants to get professional licenses in specific trades where licensure is necessary.
The National Conference of State Legislatures provides an overview of state laws related to tuition benefits for undocumented students pursuing higher education.
---
What is DACA (Deferred Action for Childhood Arrivals)?
DACA, or the Deferred Action for Childhood Arrivals, is a program that was introduced by President Barack Obama in 2012. Under DACA, undocumented people who entered the United States as children are able to obtain work permits, social security numbers, driver's licenses, and other benefits and are protected from deportation. DACA recipients renew their status every two years.
DACA recipients, also known as Dreamers, are people who came to the United States as children who do not have legal authorization to live or work in the country. Most DACA recipients grew up in the United States, and many times don't find out that they are undocumented until they apply for college or want to get a driver's license. Currently, DACA recipients are not able to become U.S. citizens.
When it was established in 2012, DACA was intended to be a temporary fix to a problem that requires a long-term solution – hundreds of thousands of young people in America were brought here as children, have lived in the country for the majority of their lives, speak English, and grew up as Americans despite their undocumented status. There is currently no pathway to citizenship for people in these circumstances, and Congress has not passed the DREAM Act or other immigration reform legislation since DACA was established.
When President Biden took office, he issued an executive order for the Secretary of Homeland Security to strengthen DACA after efforts from the Trump Administration to dismantle the program. President Biden also proposed an immigration bill that would provide a pathway to citizenship for undocumented people and urged Congress to pass immigration reform legislation. Congress is expected to vote on multiple bills related to DACA and immigration in the coming months.
How to Pay for College as an Undocumented Student
Most students rely on financial aid to help them pay for college in the form of grants, loans, and scholarships. For undocumented students, however, the process is much more complicated due to their citizenship status. The types of aid available to them varies widely depending on where they live, where they plan to go to school, whether or not they have DACA and other factors. This guide will help answer some of the most common questions undocumented students have about paying for college, getting financial aid, and other options available to them.
---
Can Undocumented Students Receive Federal Financial Aid?
Undocumented students cannot receive federal financial aid, even if they have DACA or are DACA eligible. This creates a significant barrier to higher education for many undocumented students – without access to federal grants, work-study funding, and federal student loan options, paying for college is much more difficult.
While federal financial aid is not an option for undocumented students, there are many opportunities to help cover tuition and education costs, including scholarships and grants from some states, individual schools, nonprofits, and other organizations. Undocumented students can also borrow student loans from private lenders to help pay for college.
Because the FAFSA requires a Social Security Number (SSN), many undocumented students will not be able to fill out the application for aid. Students who have DACA can apply for an SSN and use that to fill out the FAFSA, even though they won't qualify for federal aid. This will allow the government to give you a Student Aid Report (SAR), which will tell colleges about your financial ability to pay for college so they can award you state or institutional aid you do qualify for. If you have concerns about submitting personal information through the FAFSA, talk to a high school counselor or the financial aid office at the school you want to attend to see what the best options are for you based on your personal circumstances.
---
Can Undocumented Students Receive State Financial Aid?
This depends on the state. Many states have developed specific laws that allow undocumented students to access state financial aid, state-sponsored scholarships, and/or in-state tuition. Some states limit these benefits to certain universities or only allow DACA recipients to access funding. The Presidents' Alliance provides detailed information on state laws in their Higher Ed Guide to Tuition, Financial Aid, & Other Funding Opportunities for Undocumented Students.
Many states that provide financial aid for undocumented students have their own financial aid applications. Students in California, Colorado, Maryland, Minnesota, New Jersey, New York, Oregon, Texas, and Washington are eligible to receive state financial aid even if they are undocumented, and can find information about applying for aid by clicking on the name of their state above.
---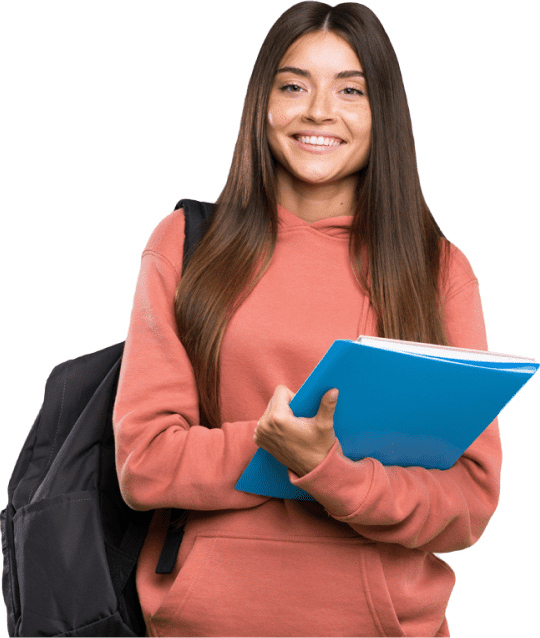 How Do I Apply For Financial Aid?
The type of aid and application process available to undocumented students varies widely from state to state and is even different at each school. Undocumented students should contact the financial aid office at the school they plan to attend to find out what aid is available and how to apply.
For students who live in a state that has its own financial aid application, your school may recommend you fill that out to apply for aid. Some schools may also have undocumented students submit a CSS Profile, which is an online application for nonfederal student financial aid through the College Board, rather than submitting the FAFSA. Those who do not have an SSN may need to submit a paper copy of the FAFSA.
---
Can I Tell My School's Financial Advisor About My Immigration Status?
Financial aid and admissions officers are there to help you as a student find out what options are available to you and to help you navigate the college admissions and enrollment process. Generally speaking, it is safe to discuss your circumstances with them if you feel comfortable and safe doing so. However, students should never feel obligated to disclose any information about their undocumented status to anyone, and the U.S. Department of Education states that school officials should not ask a student about their citizenship status. Financial aid counselors are not required to report undocumented students to ICE or USCIS and are actually legally not permitted to do so in most cases.
Colleges and universities legally cannot share most student information, including immigration status, with third parties under the Family Educational Rights and Privacy Act (FERPA). That includes ICE and any other federal agency. Schools can only disclose information without written consent if they are court-ordered to do so or if the information is subpoenaed. According to the Stanford Law School Policy Lab, ICE often issues administrative "warrants" when seeking information which are not court-ordered, and student information would be protected under FERPA in that case. Removal warrants or deportation orders from ICE are also not court-ordered, and student information would remain protected under FERPA in that case as well.
The only other exception to this rule is if ICE or the Department of Homeland Security is seeking to monitor students with F, J, or M student visas. If you are a student with an F, J, or M nonimmigrant visa, schools are required to share your information if it's requested by ICE.
If you have DACA, it is safe to report your undocumented status to your school, as you are lawfully permitted to reside, work, and pursue higher education in the country. Many students are understandably hesitant to share their immigration status with school officials even after knowing about how FERPA laws protect their confidential information. Some schools are very clearly supportive of undocumented students and show this by establishing "sanctuary campus" policies or pledging to protect and support undocumented students. Checking your school's website or asking school officials about policies related to undocumented students can help you gauge how supportive your school will be in helping you navigate college as an undocumented student, and can help you feel safer in getting the help you need.
---
What Are Some Alternatives to Student Loans?
Because undocumented students have limited access to financial aid, they often have to rely on private student loans or private scholarships to pay for college. As a general rule, students should seek gift aid like grants and scholarships before relying on student loans to reduce the cost of their education and minimize student loan debt.
Checking to see if you qualify for any state funding is the first step in covering education costs. Many undocumented students also rely on scholarships and grants to fund their education. There are a variety of funding programs geared specifically towards students who are undocumented, students of color, first-generation students, and students of many other demographics. Immigrant Rising provides an annual list of scholarships and fellowships for undergraduate and graduate students who are undocumented. TheDream.US is another useful resource that helps connect undocumented students with funding and partners with different colleges to better support undocumented students.
Individual colleges and universities also often provide additional resources and funding to undocumented students. Check with the colleges you want to attend to see what options are available for you.
Once students have used all available scholarships, grants, and other gift aid, they can use private student loans to finance the rest of their education. While undocumented individuals can still take out private loans, their loan providers may require them to have a co-signer who is a U.S. citizen.
---
Can Undocumented Students Work?
Undocumented students are only able to work while they're in school if they have a work permit through DACA or another program. A DACA work permit allows undocumented students to hold any job they qualify for, just as a U.S. citizen would be able to. DACA students can find jobs on campus and work for their school, or they can work off-campus in their local area.
Online College for Undocumented Students
What are the Benefits of an Online Degree for Undocumented Students?
People who earn bachelor's degrees are more likely to be employed, earn $27,248 more per year on average than those with a high school diploma, and are more likely to have benefits, such as healthcare, provided by their employer. The Georgetown University Center on Education and the Workforce predicted that two-thirds of jobs would require education beyond high school in 2020, and this number will likely continue to grow.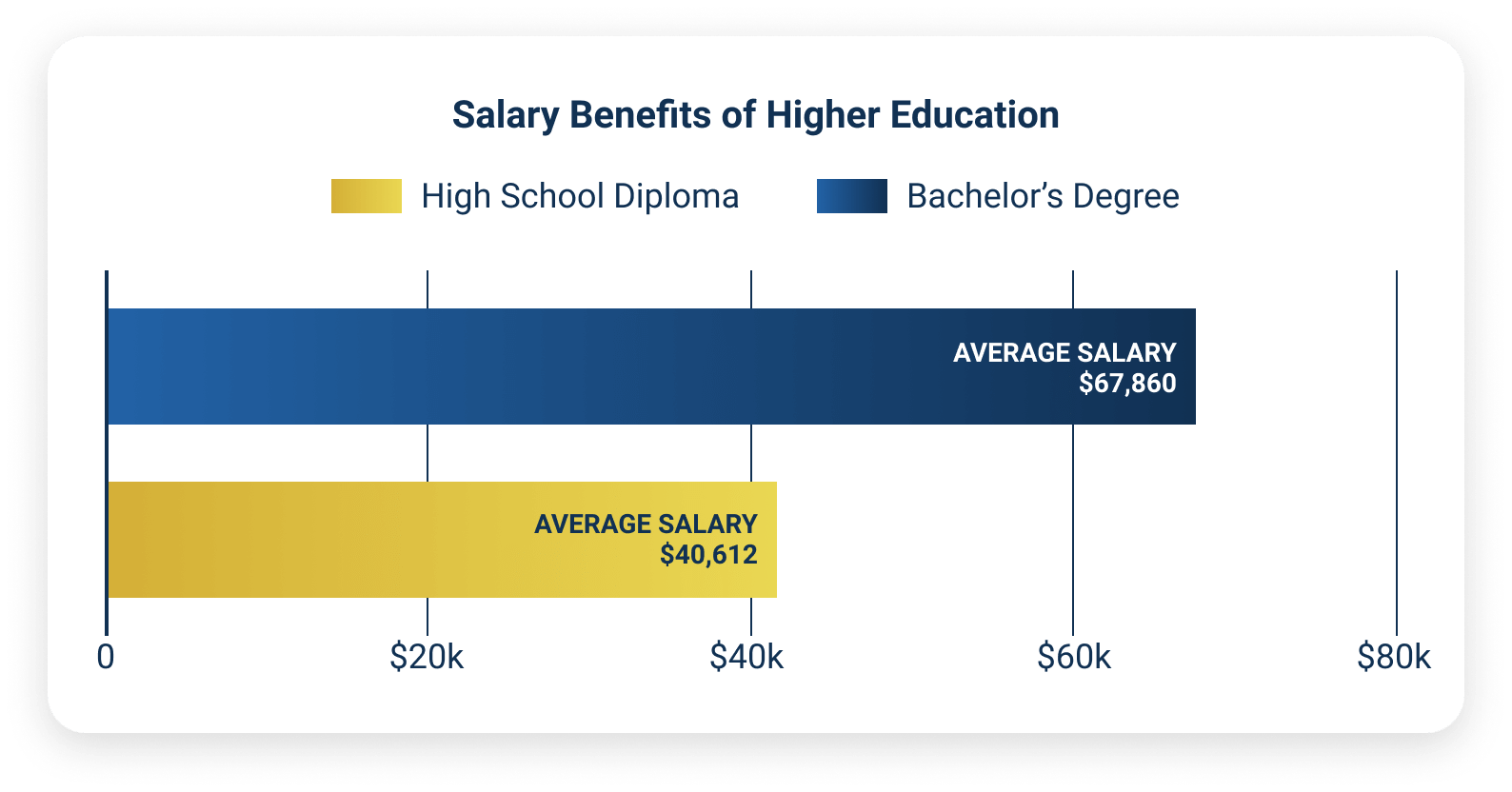 It's no secret that earning a degree can lead to more job opportunities and greater earning potential, but higher education benefits people in so many other ways. Students have the opportunity to discover what they're passionate about in college, and this can lead to a fulfilling and meaningful career.
The growing number of online schools accepting and encouraging undocumented students to apply has greatly expanded access to higher education. Undocumented students who live in Georgia or Arizona, for example, must pay out-of-state tuition to attend state-funded institutions, limiting the number of affordable options available. The rise of online programs means students now have access to schools across the country, increasing their ability to find more affordable options without having to leave their homes or families.
Undocumented students also face the possibility of discrimination in unwelcoming campus communities and the presence of Immigration and Customs Enforcement (ICE) agents on campus. As a general rule, ICE agents do not carry out arrests, interviews, or searches on college campuses. But, even their presence at recruitment events can cause stress and anxiety for undocumented students.
Prospective students can save money by enrolling online as some schools provide the same tuition rate to all online students, regardless of location. In addition to lower tuition rates, online students can save money by living at home, which eliminates campus housing fees and the cost of moving to a new city to attend school.
Remote learning also allows students to fit education around work and other responsibilities. This can be invaluable to students who rely on an income or need to attend school outside of traditional hours.
The ability to save money, complete coursework on a flexible schedule, and stay close to home are benefits that all online students can appreciate. But for undocumented students trying to obtain an education while navigating immigration policies that are constantly changing, the option to stay close to family and other support systems is a huge benefit.
---
How Do I Choose an Online School That's Right For Me?
As schools and universities expand their online options, the resources and services available for online students continue to grow. Here are a few key things to consider when choosing a school.
Programs Available: Some schools offer many online options, while others are limited to just a few programs. We've compiled a list of accredited online schools available by program that may be useful to students. The list includes student reviews and Return on Investment (ROI) data.
Acceptance Policy: Schools set their own policies on whether or not they accept undocumented students. Some online schools have clear policies encouraging undocumented applicants, while others may not publicly state theirs. You may need to contact schools for information on application requirements and acceptance policies.
Student Resources and Support: Online schools have varying levels of student support and resources, and the shift to virtual learning during COVID-19 has increased the availability of online services. Some things to look for include bilingual advisors, counseling or mental health resources, technical resources, legal services, sanctuary campuses that adopt policies to protect undocumented students, and student groups and clubs dedicated to first-generation, LatinX, undocumented students, and students of color.
In-state Tuition: Some schools offer in-state tuition for all online students, regardless of where they live. This provides a lower-cost option for those who may not have access to in-state tuition in their home state due to their citizenship status.
Campus and School Culture: It is important to have peers, mentors, and advisors that understand and represent your experience. Undocumented students may feel more comfortable in a school with a diverse student body and diverse faculty members. Seeking out a university that has designated support systems in place for minority students or clear policies welcoming undocumented students can be a good indicator of the campus culture. Information about faculty members is often available on a school's website. While it is important to have a community that you can relate to, students should never feel like they have to disclose their immigration status to anyone.
Undocumented Students as International Students: Some schools accept undocumented students as international students, which means tuition rates will typically be much more expensive. These schools may require you to pass an English language proficiency test if you speak English as a second language. This is usually not required for students who graduated from a school that primarily speaks and teaches in English
Support and Resources for Undocumented Students
Navigating college can be difficult for any student, but those who are undocumented experience a unique set of challenges in higher education and in their personal lives due to their citizenship status. The following organizations provide resources for undocumented people experiencing legal challenges, going to college, and looking for financial aid and scholarships available to undocumented students.
Legal Resources
Undocumented students are only able to work while they're in school if they have a work permit through DACA or another program. A DACA work permit allows undocumented students to hold any job they qualify for, just as a U.S. citizen would be able to. DACA students can find jobs on campus and work for their school, or they can work off-campus in their local area.
College Resources
Scholarship Resources
Additional Support for Undocumented Students
From working to support themselves and their family to handling legal issues, undocumented students face many unique challenges in their lives. Because of the specific barriers undocumented students face, there are some critical resources they should keep in mind when choosing an online school. It can be harder to access services when you are not on a physical campus, and seeking out a school with comprehensive remote services will make accessing them much easier.
Mental health and counseling services are among the most important and most common resources offered by colleges and universities. Look for a school that offers virtual sessions.
Bilingual advisors are helpful for students who speak English as a second language. This is not as commonly offered but may be available upon request.
Schools that serve larger populations of undocumented and minority students may have designated advisors for DREAMers.
Career services are a great resource for students that are often underutilized. These are especially important at online schools, as many students who pursue an online degree are working adults with specific career goals.
Access to health centers is also a key benefit of attending college or university, and it can be difficult to find online schools that offer comparable services. Check for schools that offer health insurance or other cost-effective options for online students.
Student groups for undocumented students, LatinX students, first-generation students, immigrant students, and students of color can be a great way to build community. Take a look at the online student groups and clubs available on school websites.
Some schools offer free or discounted legal services for students or can connect them with similar resources in their communities.
Those who need extra academic support can take advantage of tutoring services, including online math and writing centers, available at most schools.
Related Articles
Best Online Colleges & Degrees
Our rankings are the first of their kind to use student salary and debt data from the government to highlight the best online colleges.
College Guide for Latinx Students
Our guide offers tips to help Latinx and Hispanic students find the right college, apply for scholarships, and navigate common challenges.