Career Prep for College Students
Your time in college can be some of the most amazing and enlightening years of your life, but they may also be a bit of a juggling act. Between classes, homework, sports, work, family, and a social life, it may be somewhat challenging to maintain a healthy balance. Plus, there's one more essential project that needs to be squeezed in there somewhere: career preparation.
Before you know it, you'll be earning your online degree and entering the workforce, and you'll be far better equipped to land that first big job if you've taken several preparatory steps while you're still in school. But don't get overwhelmed if you feel like there's not enough time left. You can break down your career preparation plan into small, doable tasks and tackle them one by one — from now through graduation day.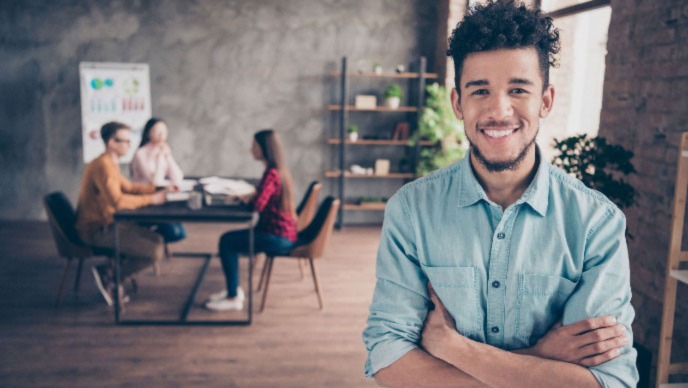 Why Is It Important To Prepare For Your Career While In College?
Focusing on your career goals while you're still in school offers several significant benefits.
Early exploratory activities can help you choose a major or confirm that you're on the right track. Conversely, they may help you realize you need to switch gears and consider other career options while you've still got time to change majors.
Activities such as job shadowing and externships can help identify a particular area of focus.
Through internships, work-study programs, part-time jobs, volunteer work, and even coursework, you can obtain authentic work experience.

These activities help you develop technical skills and people skills that enhance your resume.
You'll have the opportunity to build relationships with others, perhaps even a mentor, who can assist you in finding employment after graduation.
You may earn academic credit and a paycheck for your efforts.
With all of this in mind, you may want to think about developing a career preparation plan. Your strategy should probably address four major areas: exploring careers (if you're still within the first couple of years), gaining work experience, developing skills, and making connections. Your school may offer a career preparation course or workshop that may help guide the way.
Gaining Work Experience As A College Student
If you're concerned about a lack of work experience when you start applying for entry-level professional jobs, there are numerous ways to add experience to your resume before you graduate. Several of them require a minimal amount of time, so it's possible to fit them into your busy schedule.
Internships are probably the most common, but there are also work-study programs, co-ops, externships, volunteering, classwork, and personal projects. Any of these may give you the chance to master essential skills.
Internships
An internship is a hands-on learning experience that takes place in a real work environment. Internships provide an unbeatable opportunity to obtain work experience doing the type of job or at least working in the industry you hope to work in after graduating. If you're studying environmental science, for example, you could intern with a nonprofit environmental advocacy group or with a branch of the Environmental Protection Agency.
Most students complete paid or unpaid internships in their junior or senior years. Internships may be part time or full time, often lasting for three to four months during a semester or over the summer. You may receive college credit for your internship if it meets your school's criteria, and completing an internship may be part of the graduation requirements for your college degree.
Regardless of payment or academic credit, an internship is a career-building opportunity that you can add to your resume. You'll see how the organization and industry operate, attend meetings, complete tasks, and interact with professionals who have worked in the field you plan to enter. An internship demonstrates to future employers that you've had experience working in a professional environment.
---
"I was getting close to the end of my degree and could not land the internship I wanted. I applied to quite a few. My professor told me to approach it differently. She said she lived by the 'fake it until you make it' rule. At first, I was stunned. Then I relaxed for a bit and found a perfect internship. The stressful panic of trying to find an internship to complete my degree was getting me nowhere. When I relaxed and 'faked it,' as my professor lightheartedly put it, things started changing in my life!"
— Amanda Moore
Bachelor of Arts in Digital Media, Florida State College at Jacksonville, 2022
---
Work-Study Programs
Work-study programs are a form of financial aid granted to qualified students with financial needs. These part-time jobs may be on or off campus, and schools may require that they align with your course of study, depending on your program guidelines. A computer science major who is eligible for a work-study program may, for example, find a part-time job working in the college's computer lab or for a local technology consulting firm. Like internships, the objective is to get a realistic view of a career path while learning relevant skills and earning money toward education expenses.
Co-ops
Co-op — short for cooperative — jobs are similar to paid internships, except that they're almost always full time. Generally thought of as a three-way partnership between a student, a college, and an employer, co-ops are meant to be truly immersive learning experiences. Students are expected to bring what they've learned into the workplace and to take what they learn at work back to the classroom for discussion.
Co-ops are fairly common in business and engineering programs, but you may be able to find a co-op program for other subjects of study as well. As you can imagine, they offer many of the same professional growth and career preparation benefits — such as skill building and networking — as internships.
Externships
While the name may sound similar to an internship, an externship is quite different. An externship is an opportunity to visit a workplace and shadow one or more employees to get a sense of what they do and what career choices are available. An externship is an ideal time to ask your tough questions, which is why college students are often encouraged to complete externships in their first year or two in higher education. They are typically short-term commitments of a day or a week but may last up to six weeks.
Although you are unlikely to receive academic credit or payment for job shadowing, an externship can help determine your specific career path. For example, let's say you're interested in math and numbers. Externships may help you choose to major in accounting, as opposed to mathematics or statistics. An additional externship might reveal your strong interest in forensic accounting, which may prompt you to take the electives needed to complete a concentration in this specialty.
Volunteerism and Service Learning
Community service through volunteering always looks good on a resume, but a volunteer job can also double as an opportunity to develop valuable skills and experience.
If you're a marketing or communications major, as an example, imagine what you could learn by volunteering to work on the marketing team for a local nonprofit organization. You might find yourself running social media campaigns, writing press releases, and designing promotional materials for the organization's annual fundraiser. Later you can add these items to your portfolio and list your specific accomplishments — such as percentage of social media growth — on your resume.
Classwork and Extracurricular Activities
While still in school, don't overlook opportunities to develop skills that you can describe on your resume and use as examples in job interviews. Much of your coursework is already designed to help you learn processes and enhance abilities, but you can seek out additional ways to build skills in class and through extracurriculars.
In terms of technical abilities, think about the software programs you use for college every day — like Microsoft Word, Excel, and PowerPoint — that are also used in many organizations. Depending on your course of study, you may also take classes and complete projects that allow you to use more sophisticated programs, laboratory equipment, and other tools and machines.
Individual and group assignments also help you develop soft skills, which have to do with the way you think, process information, and communicate with others. Some of the most common skills you'll develop in school include the following:
Researching and organizing information
Presenting data, ideas, and opinions, both verbally and in writing
Thinking critically, in which you analyze an issue and form an opinion
Identifying potential solutions to a problem and choosing the best one
Leading and following in group activities
Collaborating and engaging in teamwork
Addressing and overcoming obstacles
Learning from mistakes
Demonstrating empathy for diverse people
Technical know-how and soft skills are incredibly important in the workplace, and your ability to identify and describe your particular strengths may be just the thing that helps you secure your first job.
---
"Focus on developing your skills, the type of skills needed to excel in your dream job. Be prepared to compete for your dream job. A high GPA will not necessarily guarantee you a job."
— Dr. Angedith Poggi
Doctor of Health Science degree, Nova Southeastern University, 2021
---
Personal Learning Opportunities
If none of these options are quite right for your goals, you may be able to create your own opportunity. From becoming a social media influencer to running your own summer landscaping business, there are many different ways to obtain experience and skills to add to your resume. Plus, personal projects demonstrate your initiative and interests to potential employers.
Preparing For Your Career After Graduation
Taking the time to obtain real-world work experience is a smart thing to do throughout your college career, but in your final year, you'll want to start devoting even more energy to career readiness. There are several steps you can take to kick start the job search process.
For instance, you can begin by narrowing down your job prospects, writing your resume, and creating a portfolio of work. You can also initiate the ongoing process of building your professional network by creating a LinkedIn profile, attending job fairs, and contacting alumni. Finally, you'll want to join forces with your school's career development center and launch your job hunt.
Narrow Down Your Prospects
Once you've graduated, you could be eligible for countless entry-level positions, especially if your degree is in a flexible field, such as business or psychology. The career options are almost too many to imagine, so begin by narrowing your focus through research.
Use job search websites to start skimming through job postings. This type of career exploration will help you identify the types of positions currently in the job market that interest you, plus you'll get ideas for what to include on your resume. You may also find that some industries are concentrated in certain geographic areas, so this is a good time to start thinking about where you'd like to live.
Write A Competitive Resume
You may be wondering what to include on your resume and how to present it. In terms of design, you'll want it to look professional, so you may want to do a quick online search for current resume design trends. As for the content of your resume — which should only be one page long — here are some guidelines for recent college graduates:
Start with your name and contact information, including location, phone number, and personal (not school) email address. You can also include the URL for your LinkedIn profile.
Below your personal information, divide the remaining information into four clearly labeled sections in this order: summary, education, experience, and skills. At this point in your career, your education probably carries more weight than your work experience, which is why you should prioritize it over experience.
Write a one- or two-sentence summary that offers a concise picture of your skills, education, experience, and goals. Focus on what you have to offer and how you see yourself adding value to an organization, as opposed to what you want from a job.
In the education section, list the specific degree you earned and the name of your college. There's no need to specify if you earned your degree online, but provide a brief summary of your program of study and any specialty or area of concentration. Be sure to mention any academic honors you've earned.
When listing each job as a bullet point in the work experience section, start with the most recent job first and work backwards in chronological order. For each job — including military service — state your job title, organization name, and dates of your employment. Then provide a concise description of your job duties, including any specific accomplishments and skills.
Only list the internships, jobs, and relevant volunteer experience you've obtained since graduating from high school. Leave out any part-time jobs you may have held in high school since they are generally not part of your professional experience. If you don't have any experience to list, simply omit this section.
Reflect on your coursework, jobs, and other college experiences, and make a list of valuable technical skills and soft skills you've developed. These may include skills like using the Python programming language, as well as critical thinking, problem-solving, or collaboration.
Include one or more additional sections for any important details that are relevant to the job you're seeking but don't fit into other sections. These might include professional organizations you joined as a student and personal interests that may make you better qualified for the job. For example, if you're applying for a job in an art gallery, you might include a section highlighting your personal interest in painting or photography.
One final tip on resumes: Although you should create a standard resume for yourself, you should also slightly customize each resume to correspond to individual job postings. Start by tailoring your summary to show your interest in the specific role, and then choose the work experience and skills you list carefully.
Next, go through the job description for the prospective position and pull out keywords and phrases that seem to be especially important. These may include skills and qualities like "detail oriented" and "Microsoft Excel." Incorporate these keywords into your resume and cover letter where you can so that both humans and computers scanning your resume can see that you have relevant qualifications. Just don't overdo it by keyword stuffing.
Create A Portfolio of Work Examples
Recruiters and hiring managers want to see what you can do before hiring you, so show them by creating a portfolio of work. One possible place to assemble an online portfolio is in the Feature section of your LinkedIn profile. You can also build a website using platforms like WordPress.
Your portfolio should include college papers and projects that earned top marks. You can also include items from any internships or other jobs you've held, such as reports, research data, and professional communications — as long as your former employer has given you permission to share these items. Be selective, however, and include only those examples that are relevant to the types of jobs you're seeking.
Join LinkedIn and Start Building A Professional Network
LinkedIn is the most popular social networking platform for professionals, so you'll want to create a profile and start connecting with others there. A reasonable goal is 50 connections, but you'll want to keep expanding on that to develop a truly useful network.
To accomplish this, you could use the site to reach out to current and former classmates and co-workers, alumni of your school, and professionals who have the type of job you're seeking. It's also wise to connect with people you meet through internships, externships, and networking events so you can maintain the relationships you've established in person.
Attend Career Fairs
Colleges and universities often hold career fairs on campus, or they may notify students of job fairs taking place nearby. At these networking events, you'll be able to meet recruiters from many types of organizations and give them your resume. Think of a career fair as a fact-finding mission — you're looking for useful ideas and information that can help your upcoming job search.
The key to making the most of these events is knowing how to prepare for a career fair. Below are a few tips:
Develop and practice a brief introduction describing your career goals and key skills so you're ready to give recruiters a polished first impression.
Research which organizations are attending and make a list of those that are of particular interest to you so you don't miss connecting with your best prospects.
Make at least two dozen copies of your resume and store them in a sturdy folder or binder so they won't get damaged as you carry them around the fair and hand them out to recruiters.
Select business casual clothing so you look professional but not overdone.
Reach Out To Alumni In Your Field
Large and small colleges alike often have alumni associations whose members enjoy helping soon-to-be college graduates fulfill their career aspirations. Your school's association may organize networking events, where you can meet alumni in person and connect with them online.
There are several ways alumni may be able to assist you in your career preparation journey. Early on, they may agree to informational interviews, informal job shadowing, and formal externships, giving you the chance to learn about various career paths first-hand. Later, they may be able to help you line up job interviews at the organizations where you'd most like to work.
---
"I feel fortunate to have graduated from a college with a huge and active alumni association. I've made many connections through the association, and one in particular was instrumental in helping me level up to a higher-paying job after graduating."
— Tyler L.
Bachelor of Business Administration, Southern New Hampshire University, 2019
---
Take Advantage of Your School's Career Center
Many colleges have some type of career center for students and alumni. The counselors who work in these centers are specially trained in career development for college students and are able to provide you with a great deal of assistance. For example, below are a few of the more common services:
Administering aptitude tests that can identify your strengths
Helping you develop your resume and learn to write keyword-rich cover letters
Providing you with interviewing tips and practice sessions
Showing you how to use job posting websites to identify appropriate job opportunities
Teaching you how to apply for jobs by various means
Offering career guidance for students
Start Applying Early
With all of your preparation complete, you're ready for the final phase of the job search process. For traditional students who are entering the job market as a professional for the first time, career guidance experts generally recommend you start submitting job applications about six months before graduation — and no later than four months out from the big day — to increase your chances of finding the best jobs. Be sure to specify in your cover letter or application when you're available to begin work.
Should You Start Career Preparation Now?
As you can see, there's plenty to do to prepare for the student-to-career transition or for advancement after graduation. The early years of college are perfect for engaging in informational interviews, externships, and work-study programs. During the later years, you may want to complete an internship or two, work with your school's career development center, and connect with alumni virtually and in person.
It may seem like too much, but you'll be happy you devoted time to your career in advance. If you develop a plan that allows you to follow these career tips for college students in small increments, you'll still have plenty of time for homework, sports, and a social life, too.
Related Articles
Our Best Job Interview Tips for College Students
We've gathered the best job interview tips for college students from experts in job hunting. Read on to learn more!
Why College Students Should Network
Explore why networking is important for college students, how to network, and the nuances of virtual and in-person networking in our guide.