Guide to Applying to an Online College or University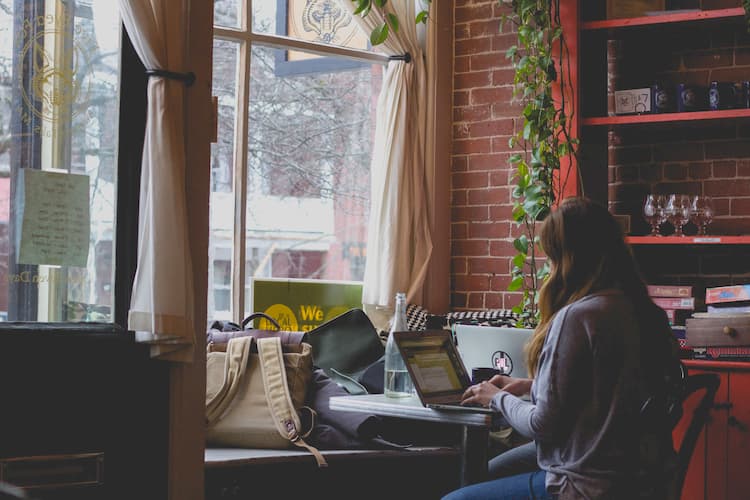 Applying to college can be a confusing process. Once a prospective college student has researched programs, identified their preferred schools, and reviewed the admission requirements, the next step is filling out college applications. Completing an application for an online college is nearly identical to the process of applying to a bricks-and-mortar campus, and there is so much to know.
Here is OnlineU's definitive guide to applying to online schools, including enrollment policies, timelines, and tips on ordering transcripts, writing essays, requesting recommendation letters, and more.
Breaking Down Terminology: Different Application Processes
Most online schools require an application, but requirements can vary. As soon as possible, prospective students should research the type of enrollment process and application requirements of the schools they are considering attending. Virtually all schools will employ one of the following enrollment policies:
Open admissions: For the most part, open admission schools are inclusive, admitting most people who apply, as long as students have graduated from high school or have taken the GED. Many two-year schools, including community colleges and academic certificate programs, fall under this category, as well as some four-year institutions. Prospective students must submit an online application, but the form is relatively simple and there are few admission requirements.
Regular admissions: Most four-year colleges and universities are competitive, admitting only a portion of students each year. Prospective students must meet a number of admission requirements, and they must submit application packages, which include an online application form and several other required items. For most schools, the deadline for submitting an application falls between November and February in the year preceding when a student hopes to begin classes. Applications are reviewed simultaneously, and a school notifies all applicants of their acceptance decisions at the same time.
Rolling admissions: Similar to schools that utilize regular admissions, colleges and universities with rolling admissions set standards and require application packages to be submitted within a set timeframe for each school year. However, in this case, applications are reviewed when they're received, and individual applicants are notified of the school's decisions on an ongoing basis as soon as they are made. Once a program is filled, the school will no longer admit additional students for the next school year, even if they are qualified. Thus, prospective students who are set on attending a school with rolling admissions should submit their applications as early as possible.
Most online schools will require applications and fall under one of the three categories of admissions listed above. However, there are a few situations in which students can attend online classes without having to submit an application. These include individual extension courses or nonacademic professional development programs.
Timeline for High School Students
Generally speaking, application deadlines for online schools are the same as for on-campus schools, and establishing a timeline for submitting applications is extremely important, especially for students who would like to attend a competitive four-year college or university. The following is the timeline used by most college-bound high school students (click here if you're a returning adult learner):
Timeline for Returning Adults
Prospective applicants who've taken some time off between high school and college will still follow a similar timeline as college-bound high school students. Especially for those who would like to attend a competitive four-year college or university, it's helpful to establish a plan for completing the process and meeting application deadlines:
Twelve to eighteen months in advance of the intended start date: It may seem early, but this is the right time to begin researching possible options. Prospective students should study each school's admission standards, programs, faculty, resources, and any other relevant factors to ensure they're applying to schools that will meet their needs and help them achieve their goals. Individuals considering going back to school will find that our website offers insightful college information, including rankings of affordable options, nonprofit online colleges, military-friendly schools, and most popular schools.
Twelve months in advance: Some of the more prestigious and competitive colleges and universities allow prospective applicants to submit their applications early, approximately one year in advance of the intended start date. According to the College Board, approximately 450 schools offer early decision (ED), early action (EA), and early evaluation (EE) enrollment. Before pursuing these opportunities, students should be aware that ED decisions are binding, which means that applicants can only apply to their lone, first-choice ED school and must agree to attend that college if accepted. EA decisions, on the other hand, are not binding, so accepted students still have the option of choosing whichever one of the schools at which they're accepted. EE decisions also are not binding, which means that students will still be able to apply to other schools if they are not accepted. Applicants should consult schools' websites for early submission policies and deadlines.
Six to twelve months in advance: For most colleges and universities employing a regular or rolling admissions policy, application deadlines generally fall between November and February of the school year preceding the start of the next school year. Returning adult students should check the websites of each school they want to apply to for specific deadlines and make sure they submit their applications as early as they can. Submitting an application involves far more than simply filling out a form, so applicants should give themselves plenty of time to order transcripts, request letters of recommendation, and write personal essays. This is also the appropriate time to apply to any open enrollment programs.
Steps to Take if a Student Has Missed the College Application Deadline
For students who have missed a school's application deadline, the first step in addressing the issue is to contact the school's admissions office and speak to a counselor. Often, if a student has missed the deadline for a legitimate reason, such as a serious illness or family issue, the school may be willing to accept a late submission. However, if the missed deadline was due to poor planning or forgetfulness, the student will likely have to make alternate arrangements. Options include applying to start school in the following spring term, taking a gap year, or attending a school with an open enrollment policy, such as at a community college.
How to Fill Out an Application for Online College
For online schools, the application process begins by filling out a formal application online through the school's website or an application service. Since most applications ask similar questions, it's a good idea to gather all of the information in advance, such as:
Personal contact information
List of classes taken and grades earned
List of extracurricular activities (sports, jobs, school activities, volunteer work, etc.), including dates
List of awards and other examples of recognition, including dates awarded
With this information in hand, it's time to go through the application one question at a time, answering each as accurately and thoroughly as possible. Applicants should also be consistent. For example, an applicant named Katherine should avoid listing her name as "Katherine" in one place and "Katie" in another, even if she prefers to be called "Katie."
Application packages usually require some additional supporting documents, which can be submitted separately as they become available. These include:
High school transcript
College transcript (for transferring, graduate, or postgraduate applicants)
High school diploma
SAT, ACT, or other admission exam score reports
Portfolio of work (especially for art and design students)
Some applicants—such as students without a permanent address—may find themselves in circumstances that make it challenging to fill out and submit applications, in which case they should contact the admission offices at the schools they wish to attend for specific instructions. The same is true for undocumented students. Undocumented students are eligible to attend college in the U.S., but may be subject to individual college policies and should review the policies of schools ahead of time.
Saving Time and Money on College Applications
Prospective college students should be aware that there are some online college application services that enable applicants to fill out one application—sometimes for a single processing fee—that gets submitted to multiple participating schools selected by the applicant. When considering using one of these services, prospective students should still check the admission procedure for the schools they'd like to attend to a) make sure the school accepts one of these application formats and b) identify any unique instructions that need to be followed. Some of these services include:
Common Application: used by about 700 schools
Coalition Application: accepted by about 90 schools
Universal College Application: utilized by about 30 colleges
Common Black College Application: welcomed by more than 55 member institutions
ApplyTexas: accepted by more than 40 Texas-based institutions
How to Order Transcripts for an Application
Transcripts are written documentation of the classes a college applicant has taken, the grades earned, and the student's overall GPA. These can be high school grades, or they can be college grades for students who are transferring from one college to another or who are applying for graduate or postgraduate programs. Transcripts are an important factor in determining an applicant's eligibility for attending most colleges and universities.
Prospective college students should understand the difference between official and unofficial transcripts. These two forms contain all of the same information, except that official transcripts have historically been delivered in sealed envelopes so they cannot be altered. Unofficial transcripts usually refer to the copies sent to the student for personal reference. One advantage of ordering digital transcripts to be electronically delivered directly from one school to another is that it eliminates the possibility of alteration, so they are guaranteed to be "official."
College-bound students can order transcripts directly from their schools, or they may be able to do it easily and quickly through any one of several websites that provide this service. It's generally as simple as filling out an online form, signing an electronic FERPA release form authorizing the school to transmit the documents, and paying a small fee electronically. Official transcripts are then submitted directly to the college. However, transcript requests can take up to several weeks to process, so applicants should make sure they submit their requests well before the deadlines.
International students, active-duty military, and veterans should be aware that they may be required to electronically submit other forms of documentation to show how their prior experiences have met a school's admission requirements. Applicants in these special circumstances should contact the admission offices at the schools they wish to attend for specific instructions.
Standardized Tests and College Entrance Exams
Historically, individual colleges and universities have determined whether students need entrance exams in order to be accepted. Therefore, the exact exam requirements vary by school. In general, open enrollment schools have not required incoming students to take standardized tests like the SAT or ACT, while more competitive schools have placed a heavy emphasis on these test scores in determining a student's potential for success in college.
However, attitudes toward standardized tests have begun to change in recent years, and many schools have deemed these admission tests optional. The coronavirus pandemic has also made it especially challenging to safely administer these tests, so even more schools have dropped this requirement, at least temporarily. Thus, college-bound high school students should check the websites of the schools they're interested in attending for the most current testing requirements. If needed, students should plan to take one or both tests in their junior year so their test scores are known before they start applying to the schools of their choice. (Note that in some states, the SAT or ACT is a high school graduation requirement.)
Some high school students may also improve their chances of getting accepted into highly competitive schools, and possibly even earn college credits, by achieving high scores on SAT Subject Tests or Advanced Placement (AP) exams for specific subjects. There are currently 20 SAT Subject Tests and 38 AP subject exams available.
Adults returning to college for undergraduate degrees typically have not been required to take or retake the SAT or ACT. However, they may be asked to take placement exams to determine which level of courses are most appropriate for them.
Graduate School Entrance Exams
Some graduate schools also require admission exams. Most accredited law schools, for example, require the Law School Admission Test (LSAT), and many Master's of Business Administration and other graduate-level management programs require the Graduate Management Admission Test (GMAT). However, these requirements are also changing due to the COVID-19 pandemic and other factors, so aspiring graduate students should check with the schools they're interested in attending to determine whether an admission test is needed.
What to Write on College Application Essays
A personal essay or statement is a standard requirement on many online college or university applications. Most schools that require an essay provide some sort of essay question or writing prompt, and applicants should make sure their statement addresses the topic directly. Some examples of typical college application essay questions include:
Tell us about your personal history, background, interests, or talents, and why they're important to you.
Describe a problem you've solved or a challenge you've overcome, including what you learned in the process.
Identify a person you admire and explain why.
Identify a topic, idea, or concept that you find completely engaging, and explain why it's so compelling to you.
Because essays are such an important part of the overall application package, it's essential to devote time and careful attention to writing them. Here are five additional tips for writing an outstanding essay:
Take time to reflect. Although most writing prompts involve some type of factual part of the applicant's history, it's important to avoid getting too caught up in telling the story or relating the facts. Given that the purpose of the essay is to reveal more about the applicant's character, the essay should be more heavily focused on the lessons, thought processes, and personal qualities, values, and beliefs that stem from the facts. It may require some introspection and reflection to deliver this type of insightful personal statement.
Use plain language and stay true to yourself. Many applicants try to be exceptionally funny or to "sound smart" in their essays by using complicated words and language, but these attempts can fall flat. Unless an applicant truly is naturally funny or particularly knowledgeable, it's much better to write in plain, simple terms and communicate clearly and directly.
Be honest. There is no need to manufacture a story or to exaggerate the details in an effort to impress the admissions counselors. In fact, they can usually spot these tall tales in an instant, which doesn't reflect well on the writer. Again, the focus of the personal essay is to convey something about the applicant's personality and perspective, and even the most "average" situations can be used to communicate these concepts.
Get help with editing and proofreading. It would be unusual to nail a great essay on the first draft. That's why all experts agree applicants should allow plenty of time for writing multiple revisions. It's also smart to ask family and friends to offer constructive criticism and to proofread the essays several times before submitting them. Applicants may even want to use a free online tool to check their writing.
Repurpose essays, but make sure the essay answers the question. It is perfectly okay for an applicant to submit the same essay on multiple applications—as long as the essay questions are the same, that is! If two or more schools are using the same or similar writing prompts, an applicant may be able to use the exact same essay or perhaps only need to make minor revisions to customize an essay to fit each application.
Obtaining Quality Letters of Recommendation
Many colleges and universities require applicants to provide two or three letters of recommendation. A letter of recommendation is designed to give the admissions counselor some additional insight into the applicant's character, which is why applicants should ask only those people who know them well to write these letters. Some schools have specific guidelines, for example, only accepting letters from former teachers. Other schools are more flexible, in which case candidates can ask coaches, counselors, supervisors, religious leaders, or other adults they've worked with to write reference letters.
When asking someone to write a letter of recommendation, it's best to give the person two to three weeks to write a thoughtful letter. It may also be helpful to offer some guidelines, such as encouraging the person to describe the applicant's personal qualities, how the applicant has contributed to their school or other communities, and how the applicant has grown personally over time. The letter writer should also be given specific instructions as to how and when to deliver the letter of recommendation to the appropriate person, and should be thanked afterward.
College Application Costs
Many colleges and universities offering online programs will charge a fee ranging anywhere from $25 to $90 to process an application. In many cases, this fee is nonrefundable, regardless of whether the student is accepted into the program. Some schools, however, only charge the fee after the student has been admitted, and some will waive the fee for applicants who are low-income. Prospective students should check directly with the admission offices of the schools they're interested in to determine each school's application fee policy.
Once that final "Submit" button has been pressed and a confirmation e-mail has been received, there's nothing left to do but sit back and wait patiently for a decision. This is the time, experts say, to trust the process. Admission counselors know their schools inside and out, and they're specially trained to recognize those candidates they believe will be a good fit and successful in their programs. Applicants who've completed their submission packages to the best of their abilities can trust they'll be accepted into the right programs for them.
Related Articles
Best Online Colleges & Degrees
Our rankings are the first of their kind to use student salary and debt data from the government to highlight the best online colleges.
Best Online Community Colleges
These are the best community colleges in the country offering online degrees. Compare tuitions for the top-ranked schools.