2019 Best LGBTQ-Friendly Online Schools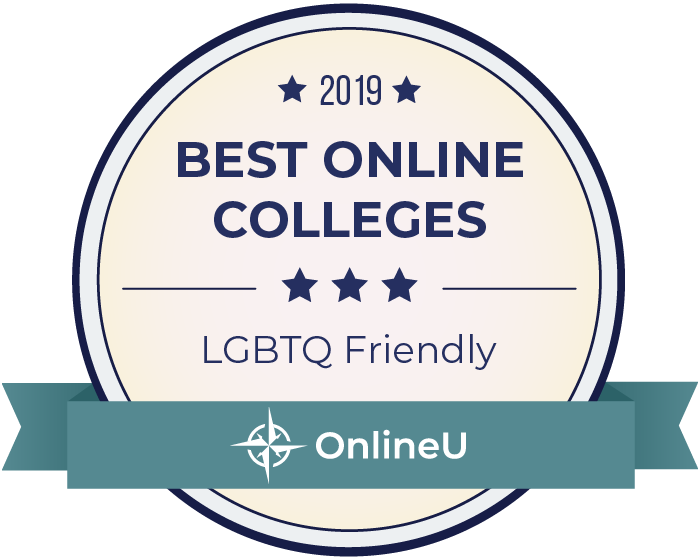 This list of LGBTQ-friendly online schools includes 67 accredited institutions that have adopted policies and/or practices that demonstrate a commitment to inclusivity for LGBTQ students. Each school on this list offers at least 15 online degree programs and has earned a score of four or more stars on the Campus Pride Index, a national non-profit that worked with a team of researchers to generate national standards and assessment tools for LGBTQ-friendly institutions of higher education. In addition to this list, we highlight the programs available at the five-star LGBTQ-friendly online schools.
You can read our full methodology here or learn more about OnlineU.
Comprehensive List of LGBTQ-Friendly Accredited Online Colleges (67)
Five-Star LGBTQ-Friendly Online Colleges
To support students in the LGBTQ community, we have created a list of the 17 schools which meet our minimum of 15 online degrees offered and have earned five out of five stars on the Campus Pride Index.
While some of the Campus Pride Index criteria refer to on-campus communities and resources, many other criteria, including non-discrimination statements and scholarships for LGBTQ students, are relevant to the experiences of online students. Campus Pride also gives schools a sexual orientation score and a gender identity/expression score. These scores are based on a variety of factors in categories including the following:
LGBTQ Support & Institutional Commitment: this category encompasses criteria such as the existence of resource centers for LGBTQ students, active efforts to hire LGTBQ faculty and staff, and LGBTQ alumni groups.
LGBTQ Policy Inclusion: criteria in this category include non-discrimination statements, the option for students to self-identify gender identity/expression and sexual orientation on school documents, and health insurance coverage for employees' same sex partners.
LGBTQ Academic Life: this category includes the existence of LGBTQ studies programs or course offerings and training opportunities for faculty and staff that relate specifically to sexual orientation and gender identity issues.
Using schools' websites and online resources, we conducted extensive manual research to compile information about each of the top-ranked schools. Below we highlight specific LGBTQ-friendly undertakings at these 17 schools. Schools are listed in alphabetical order.
This website offers school details to prospective students as an informational resource. The appearance of a school listing on this website should not be interpreted as an endorsement by the school of this site.