Best Online Christian Colleges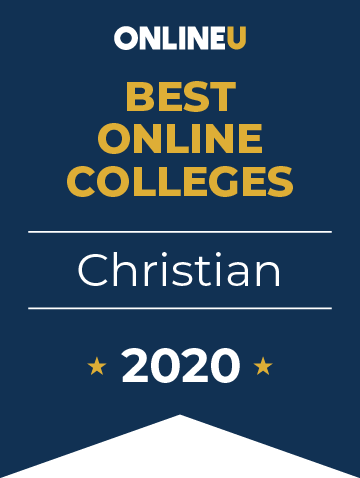 These 25 schools are the best online Christian colleges of 2020, ranked according to their acceptance rates. All schools are accredited, offer at least one online bachelor's degree, and have acceptance rates under 50%. Many of these schools offer online programs at additional academic levels, and they span a wide variety of religious denominations, including Assemblies of God Church, Evangelical Christian, and Baptist. At #1, St. Luke's College charges $17,550 per year for their Bachelor of Science in Nursing (RN-BSN) and Bachelor of Health Science. At #2, Southwestern Assemblies of God University charges only $14,970 per year for their various bachelor's degrees.
You can read our full methodology here.
Rank
School

Annual Tuition

Acceptance Rate

# 1

St. Luke's College

$17,550

26.7%
# 2

Southwestern Assemblies of God University

$14,970

27.9%
# 3

(tie)

Hope International University

$13,500

28.4%
# 3

(tie)

Kettering College

$14,508

28.4%
# 5

Liberty University

$9,900

29.8%
# 6

Corban University

$12,600

33.0%
# 7

Texas Wesleyan University

$27,644

34.3%
# 8

Finlandia University

$15,000

35.6%
# 9

Villanova University

$54,550

36.0%
# 10

Avila University

$14,850

38.9%
# 11

Mississippi College

$8,949

39.0%
# 12

Dallas Baptist University

$29,220

39.4%
# 13

Pepperdine University

$37,950

39.8%
# 14

Kentucky Christian University

$19,996

40.2%
# 15

Claflin University

$6,744

41.2%
# 16

Warner University

$10,752

41.5%
# 17

Davis & Elkins College

$29,000

41.6%
# 18

(tie)

Brescia University

$13,600

42.4%
# 18

(tie)

Trinity Bible College

$13,320

42.4%
# 20

McMurry University

$9,750

43.4%
# 21

University of Holy Cross

$16,200

46.1%
# 22

University of Mobile

$13,500

47.0%
# 23

(tie)

LeTourneau University

$10,650

47.1%
# 23

(tie)

Oakwood University

$12,000

47.1%
# 25

Franciscan Missionaries of Our Lady University

$15,885

48.4%
Highlights of the Best Online Christian Colleges
This website offers school details to prospective students as an informational resource. The appearance of a school listing on this website should not be interpreted as an endorsement of the school by this site.
Overview of Christian Colleges
Christian colleges allow students to combine a traditional postsecondary online education with the chance to develop a religious worldview. What sets these schools apart from secular institutions is that they offer conventional degree programs that are grounded in Christian values and beliefs. Christian colleges therefore aim to deepen a student's faith while also preparing them for careers in different economic sectors.
Christian colleges are a type of postsecondary institution where students gain a religiously-grounded education. Like other schools, Christian colleges offer degree programs in various humanities, social science, and STEM disciplines, equipping students with the knowledge and job-ready skills to find employment once they graduate. Unlike their secular counterparts, however, Christian colleges award degrees that incorporate Biblical studies as part of their core requirements. Every student who attends a Christian college must complete faith-based coursework to earn their diploma.
What Is Considered a Christian College?
In general, any school that requires students to pursue biblical studies as part of their education can be considered a Christian college or university. However, Christian colleges may be distinguished by the particular denomination they're associated with. For instance, some may follow the Jesuit Order, while others can espouse the Lutheran or Presbyterian faith. Still others may be nondenominational. The common thread uniting these schools is their emphasis on Christian values as foundational to any postsecondary education.
Christian College vs. Bible College
Though they may sound similar, Christian colleges and Bible colleges are actually quite different. While both are proponents of Christian teachings, the latter focus exclusively on training students for careers in Christian ministry. Students enrolled in Bible college study scripture and often don't have any exposure to secular topics. Furthermore, because Bible colleges tend not to be regulated or accredited, most don't award degrees. Instead, students graduate with diplomas or certificates.
On the other hand, Christian colleges offer degrees that are equivalent to those awarded by non-secular schools. While students must complete coursework in areas such as Christian philosophy and Bible study, they also study liberal arts, social science, and STEM subjects. Christian college graduates therefore typically have a wider range of career paths to choose from than their Bible college counterparts.
What Will I Learn at a Christian College?
Christian colleges encourage the development of a Christ-based outlook of the world. Most schools have a conservative campus culture that teaches students to engage in faith-based activities, such as community service, chapel attendance, and mentorship. Where academics are concerned, all students complete biblical studies coursework designed to instill Christian values.
Below is a list of common online courses students may take:
Christian Theology: In this class, students learn about the philosophical underpinnings of the Christian faith. They seek to understand the reasoning behind various Christian beliefs and practices through biblical interpretation, logical reasoning, and historical analysis.
Issues in Christian Leadership: This course covers the various challenges facing pastors, missionaries, and reverends who preach Christianity. It explores the effect of secular teachings on religious populations, focusing on how Christian leaders can reinvigorate the faith of their flock.
Life of Christ: This core course explores the life of Jesus Christ from a philosophical perspective. Aside from learning about historical events, students are encouraged to take life lessons from the experiences of early Christians.
New Testament Survey: Students gain an understanding of how the modern Christian church evolved in this class. They study early Christianity and also learn about the differences between the Old and New Testaments.
World Civilizations: A world civilizations course explores the differences between major religions, such as Islam, Christianity, Judaism, and Hinduism. Students learn to appreciate how different faiths have developed, as well as the key tenants that distinguish them from one another.
Degrees
Christian colleges offer degrees in a wide range of disciplines, with students having the option to enroll in humanities, social science, and STEM-focused programs. Additionally, while some Christian colleges exclusively award four-year liberal arts degrees, others also have a variety of graduate offerings — including at the master's and doctoral levels.
In addition to teaching an appreciation of religious faith, the learning outcomes for these programs are designed around equipping students with the knowledge and skills to secure employment in various industries. For instance, undergraduate degrees may qualify students for various entry-level positions in the private and nonprofit sectors, while graduate credentials can prepare them for careers in academia, research, and government.
How To Choose a Christian University or College
There are several factors to contemplate when deciding between different Christian universities and colleges, the first and most important of which is determining whether you're interested in a faith-based education. Christian colleges are ideal for individuals who come from a religious upbringing, aspire to earn a college degree, and desire a learning environment that allows them to practice and deepen their faith. Aside from this primary consideration, below are some additional points to remember when choosing a Christian university or college.
Affordability: It's essential to choose a college where you can afford tuition costs and other fees. This can help ensure you don't have to take out expensive student loans and may also lead to a higher return on your educational investment.

Denomination: While all Christian colleges expect students to complete coursework in religious topics, they may vary in terms of specific beliefs and practices. You should consider enrolling in a school that is associated with your personal denominational faith, or even enrolling in a nondenominational Chrsitian college.

Program Offerings: Not all Christian colleges offer the same degree programs. For instance, while some may have a wider range of choices in science and math fields, others may emphasize the liberal arts. Furthermore, Christian colleges can vary in terms of the degree levels they offer. Picking a school that offers the right program for you is important.
Accreditation
Like secular schools, Christian colleges must be accredited in order to qualify as degree-granting institutions. There are six institutional accrediting agencies that assess colleges and universities in different parts of the country. A Christian college that is institutionally accredited has been assessed based on its course offerings, curricula, faculty, and student facilities and has been determined to meet rigorous, nationally standardized benchmarks for academic excellence.
Unlike secular schools, Christian colleges must also receive accreditation from faith-based organizations to show that they've adopted religious teachings and practices in their curricula and campus life. There are four such nationally-based organizations recognized by the Council for Higher Education Accreditation, including the Association for Biblical Higher Education, Association of Advanced Rabbinical and Talmudic Schools, Commission on Accrediting the Association of Theological Schools, and the Transnational Association of Christian Colleges and Schools.
Financing Your Online Degree From a Christian College
Given the rising cost of getting a higher education, it's a good idea to consider your financial aid options before applying to college. Students who plan to attend a Christian university or college qualify for the same types of assistance as those enrolled in a secular school, including various scholarships, grants, fellowships, and loans.
An effective strategy in choosing between these different options is first to exhaust free sources of funding, as you don't have to pay these back. If you decide to take out a loan, consider federal assistance rather than private lenders, as the former offer favorable repayment plans. Once you're ready to apply for financial aid, fill out the Free Application for Federal Student Aid.
Scholarships for Christian Students
Christian college students may qualify for special funding reserved for those who aspire to receive a faith-based education. Below is a list of grants and scholarships specifically aimed at supporting Christian students:
This need-based award is for Presbyterian Church members pursuing a first associate or bachelor's degree at an accredited institution. Up to 30 undergraduates receive this scholarship annually. Students must demonstrate satisfactory academic progress and submit an essay to apply.
For students who are members of the American Baptist church, this scholarship can provide tuition assistance. To be eligible, applicants must be enrolled full-time in a four-year accredited school, have a minimum 2.75 GPA, and provide a reference from their pastor.
This fellowship is for graduate students researching ways to train future scholars and Christian ministry leaders. Students must be actively enrolled or planning to enroll in a research-focused degree — such as a doctorate — and may be lay or ordained Episcopalians.
Christian students pursuing an undergraduate degree can apply for this scholarship to help pay for college tuition. To be eligible, applicants must be women who demonstrate financial need and are residents of Alabama, Florida, Georgia, Louisiana, Mississippi, North Carolina, South Carolina, Tennessee or Virginia.
FAQs About Christian Colleges
Do You Have To Be Christian To Attend a Christian College?
---
No, you don't have to be Christian to attend a Christian College. However, there are a few caveats to remember if you're considering enrolling in such an institution. First, it is within the purview of admissions departments to make a decision based on your faith. For instance, if your religion doesn't align with a particular school's denomination, you can be denied admission. On the other hand, some Christian colleges may welcome non-Christians to increase diversity and foster new perspectives on campus.
Second, all incoming students are expected to uphold the faith-based standards of conduct at a given Christian college, regardless of their own beliefs. Non-religious or non-Christian students are also not exempt from completing core coursework based on Biblical teachings.
How Does an Online Christian College Differ From an On-Campus One?
---
There are no significant differences between an online Christian college and an on-campus one when it comes to academics. Online students in both learning formats can expect to complete the same number of credits, cover the same topics within a single degree program, and therefore receive the same quality of education.
The biggest difference between online and on-campus Christian colleges is that students enrolled in the former take classes based on their own schedules. This typically means completing online courses asynchronously and checking in with advisors virtually when questions arise. Additionally, distance learners may have limited access to in-person activities — such as chapel services, Bible study, or charity drives — and may be less involved in campus life.
Do Christian Colleges Offer Mission Trips?
---
Yes, most Christian colleges offer mission trips, and some even require students to complete a certain number of weeks or months spreading their faith in the real world and working with people from different walks of life. Mission trips vary in nature from school to school, with some offering the chance to travel abroad and others incorporating community service projects as part of their requirements. Furthermore, while some Christian colleges sponsor shorter trips, others give students the chance to pay for longer excursions.
Do Christian Colleges Teach Modern Science?
---
Accredited Christian colleges that meet commonly accepted standards for quality education do teach modern science. Students who take science-based classes can therefore expect to gain a comprehensive education in their chosen field of study, just like they would if they were to enroll at an accredited secular school.
At the same time, given their commitment to providing faith-based education, Christian colleges tend to cover modern science topics in a Biblical rather than secular context. Students are encouraged to think of modern science as complementary to Christian values and beliefs.
Related Articles
The 100 Most Popular Accredited Online Schools & Colleges
These popular accredited online schools have established strong brands that resonate with a large number of the prospective students who visit our site.
Best Master's in Religious Studies Online
Master's in religious studies online degrees can be earned from these schools, which are ranked according to their tuition rates and reported alumni salaries.