2023 Most Affordable Online Master's Degrees in Theology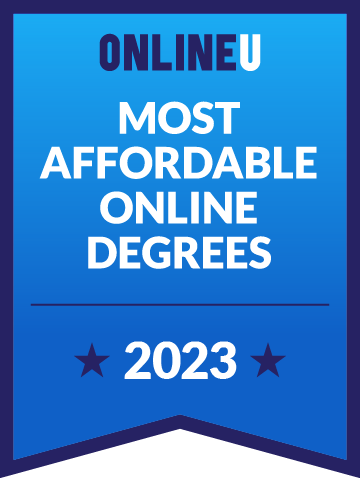 Students interested in spiritual growth may pursue an affordable online master's degree in theology to increase their biblical and theological knowledge. In addition to self-enrichment, students in a graduate theology degree program can develop advanced skills for vocations — such as religious administration, ministry, Christian education, and missionary service — or work to fulfill doctoral degree requirements. Similarly, our list of affordable online master's degrees in religious studies may interest students who want to attend a faith-based institution but have a different calling for spiritual work.
View our methodology for details about rankings or learn more about us. You can also check out our complete list of the most affordable online degrees for more inspiration.
All tuition numbers were manually collected and verified
| Rank | School | Locations | Annual Tuition |
| --- | --- | --- | --- |
| # 1 | Belhaven University | Jackson (MS) | $4,086 |
| # 2 | Campbellsville University | Campbellsville (KY) | $4,485 |
| # 3 | Liberty University | Lynchburg (VA) | $5,500 |
| # 4 | Baptist Missionary Association Theological Seminary | Jacksonville (TX) | $5,730 |
| # 5 | Veritas Baptist College | Lawrenceburg (IN) | $5,922 |
| # 6 | Eastern University | Saint Davids (PA) | $6,120 |
| # 7 | Ohio Christian University | Circleville (OH) | $7,200 |
| # 8 | Holy Apostles | Cromwell (CT) | $7,215 |
| # 9 | Anabaptist Mennonite Biblical Seminary | Elkhart (IN) | $7,400 |
| # 10 | Newman University | Wichita (KS) | $7,485 |
Overview of Affordable Online Theology Master's Programs
A master's degree in theology is for those seeking to understand the nature of divinity from a scholarly perspective, which can be applied to either religious or secular pursuits. A graduate program in this subject grounds students in a particular faith tradition while teaching them how religion is expressed through real-world cultural conventions.
Some graduate theology programs focus specifically on the Christian ministry and faith, and others explore different religious traditions. Students can pursue specializations in various subjects, such as Biblical studies, theology and culture, practical theology, or pastoral care. According to Data USA — an initiative that gathers and presents U.S. government data — 50% of all theology degrees awarded in 2019 were master's programs. This data also showed that theology graduates increased in the workforce by 5.9% between 2018 and 2019.
Students enrolled in an online theology graduate program can choose between either full-time or part-time study. While full-time, students usually complete their degree in two years. Part-time students can take between three and six years to graduate.
---
How Much Will My Online Master's Degree in Theology Cost?
---
| | |
| --- | --- |
| | The median annual tuition for an online theology master's is $10,710, based on our analysis of 36 schools. By comparison, the median cost of an online master's degree across subjects is $14,278. However, some affordable online theology programs are much cheaper, starting at $3,582 a year. |
---
In addition to tuition rates, it's important to consider incidental costs that may be incurred while pursuing an online theology program. Even though online students are saving on expenses related to transportation to and from campus, student housing, student healthcare plans, and relocation, they still need to factor in application and enrollment fees, textbook purchases, and the cost of accessing high-speed internet. Many theology programs also include biblical language exams that require supplementary fees that are excluded from the cost of tuition. While these fees vary widely, they can cost up to $250.
Even still, an online master's degree in theology may be a more affordable option than its on-campus counterpart. For example, while nonresident online students sometimes pay out-of-state tuition, some programs charge them an in-state rate, which is cheaper than an out-of-state student on campus.
---
Funding an Online Master's in Theology Program
To receive financial aid, students must first complete the Federal Application for Student Aid (FAFSA). Most states and colleges use this form to determine a student's eligibility for various types of funding. The best financial aid options for online master's students in theology don't have to be repaid, including grants, scholarships, work-study programs, and fellowships. Although federal or private loans may provide valuable funding options, they eventually need to be repaid with interest.
Importantly, theology students may be ineligible for some federal or state financial aid depending on where they enroll.
Importantly, theology students may be ineligible for some federal or state financial aid depending on where they enroll. Some states, such as Florida, do not allow their programs to fund theology or divinity degrees because it may be construed as the government advocating for a religious point of view. Other colleges don't accept federal money or allow students access to federal aid because they would be required to adopt the government's Title IX regulations, guaranteeing equal treatment for all students regardless of gender and sexuality. Some institutions have been granted exemptions to certain Title IX regulations; check with your graduate school's financial aid office and your state's department of higher education to determine your eligibility for government aid.
School websites are the best sources of financial aid information for theology students. Some colleges even offer institutional scholarships that may be endowed by alumni or a school's affiliated church. Below are some examples of scholarships specific to master's students in theology.
The Acton Institute awards $500 to graduate students whose scholarly focus centers around the relationship between theology and the human world. Applicants must demonstrate an excellent academic record, and they may apply regardless of their citizenship, gender, age, or religious affiliation.
Dora Maclellan Brown Ministry Scholarship
This scholarship is granted yearly by The Generosity Trust, and the award amounts vary. Applicants must work in vocational Christian services. It's intended for theologically and biblically conservative graduate students from the greater Chattanooga area who are pursuing master's degrees at a theological seminary, Bible College, or related graduate program.
For additional information about college affordability, students can check out our resources about paying for a college degree, which include details about financial mistakes to avoid, the popular college savings plans, and more.
---
Accreditation
Accreditation is a voluntary process where a third party evaluates a school or university's faculty, facilities, and resources to determine whether it meets national education standards. In other words, accreditation ensures that a college or university is offering a quality education. Schools can have multiple accreditations that they receive from both national and regional accreditation bodies. Furthermore, only students enrolled in accredited institutions are eligible for financial aid. For those seeking to transfer credits, it's often required that the credits come from an accredited institution.
These accreditation bodies may also evaluate specific online degree programs to ensure their educational quality. For instance, an online master's in theology can receive programmatic accreditation from the Association of Theological Schools. Theology programs may also be accredited by faith-based organizations, such as the Association for Biblical Higher Education, as long as institutions of Biblical Higher Education offer them.
---
Common Online Courses in Theology Master's Programs
Master's in theology programs often vary depending on a university's denomination and the program's goal. Some programs prepare students for a leadership role in the ministry, while others focus on studying the Bible from an academic, spiritual, and historical lens. Students in graduate theology programs gain an in-depth understanding of biblical texts, examining them through a systematic theological lens. Below are some of the standard courses and electives that students can expect when pursuing this degree.
History of the Christian Church: This course covers the history of Christianity through the 21st century from the perspective of the church's development. Students learn about the foundations of the Christian religion, the Protestant Reformation, the westward spread of Christianity from Rome, and other major historical events that shaped contemporary Christianity.
Hermeneutics: The formal study of biblical interpretation is called hermeneutics. This course explores the Bible through a historical and grammatical perspective, using the text's original meaning as a framework for modern-day interpretations. Students learn established practices, theories, and methodologies behind interpreting scripture.
New Testament History and Interpretation: Most theology programs include multiple classes on the New Testament. Introductory courses often explore the four gospels, the life of Jesus, and biblical interpretation. Additional courses may cover the Book of Revelation, Book of Acts, or historical context surrounding the New Testament and Christianity's spread.
Old Testament History and Interpretation: Most programs also break up Old Testament studies into multiple courses. Students usually start with the Pentateuch and other historical books before moving on to the poetic and prophetic books. The coursework aims to provide students with a deeper understanding of these religious texts from a theological perspective.
Systematic Theology: This course introduces theology and the organized study and analysis of biblical doctrines. Course topics may include God's nature and attributes, the eternal plan, the Trinity, the Holy Spirit, revelation and scripture, and salvation.
---
Is an Online Master's in Theology Worth It?
Most people pursue theology because they're passionate about their chosen field of study and the opportunity to explore religious studies in greater depth. In this sense, it may be worth the investment of time and money even without a clear financial or professional payoff after graduation. Whether the online degree program will be worth it in the long run ultimately depends on your interests, career goals, finances, and other factors.
Interestingly, the top-employing career for theology graduates is postsecondary teachers that concentrate in health specialties, and 74% of those in this position have an advanced degree.
Interestingly, the top-employing career for theology graduates is postsecondary teachers that concentrate in health specialties, and 74% of those in this position have an advanced degree.
Students may benefit from pursuing an online program, especially if they're juggling responsibilities, such as those involving work and family, on top of completing their studies. Also, online degrees can be more affordable than campus-based programs and provide a wider range of options for students with specific interests or professional goals.
Related Articles
2023 Most Affordable Online Master's Programs
Explore the most affordable online master's degree programs in 2023 and choose the one that's right for you.
2023 Best Master's in Religious Studies Online
Master's in religious studies online degrees can be earned from these best schools for 2023, which are ranked according to their tuition rates and reported alumni salaries.