2023 Most Affordable Online Master's Degrees in Teaching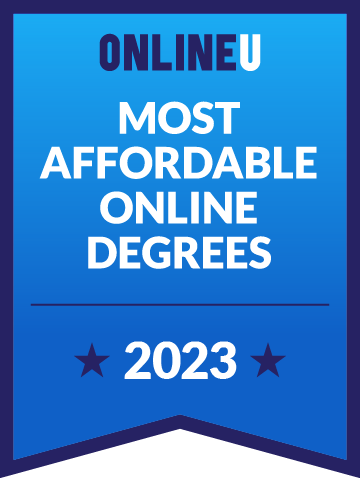 Learners of all ages rely on the training and compassion of teachers to help guide us toward the future. An online master's degree in teaching can help educators develop specialized skills to deliver targeted instruction and prepare for career advancement. Distance learning can help students efficiently complete a graduate degree program by providing scheduling flexibility and convenience.
An affordable online master's degree in education may also be a viable choice for those interested in other careers within the educational system. View our methodology for details about rankings or learn more about us. You can also check out our overall list of the most affordable online degrees for some inspiration.
All tuition numbers were manually collected and verified
| Rank | School | Locations | Annual Tuition |
| --- | --- | --- | --- |
| # 1 | Midway University | Midway (KY) | $3,750 |
| # 2 | Buena Vista University | Storm Lake (IA) | $4,080 |
| # 3 | Fort Hays State University | Hays (KS) | $4,478 |
| # 4 | Asbury University | Wilmore (KY) | $4,614 |
| # 5 | Wichita State University | Wichita (KS) | $4,620 |
| # 6 | Campbellsville University | Campbellsville (KY) | $4,650 |
| # 7 | Georgia College & State University | Milledgeville (GA) | $4,838 |
| # 8 | Fitchburg State University | Fitchburg (MA) | $4,934 |
| # 9 | Southeast Missouri State University | Cape Girardeau (MO) | $5,171 |
| # 10 | Concordia University - Wisconsin | Mequon (WI) | $5,352 |
Overview of Affordable Online Master's in Teaching Degrees
A teaching master's degree provides educators with the latest strategies, tools, and technologies for teaching. Most online teaching master's programs take 1.5 to 2 years to complete, but the exact length can vary depending on the program and a student's study pace.
Online teaching master's programs offer the flexibility that working educators need to balance their studies with their professional lives. What's more, online education programs are often more affordable than traditional on-campus programs.
Although specific requirements vary by program, most online teaching master's programs require applicants to have a bachelor's degree. While some programs prefer applicants with a background in education, most are more flexible and may accept students from diverse academic backgrounds. It's best to check with individual programs to confirm their specific admission requirements — which may include letters of recommendation, a personal statement, and, in some cases, even relevant teaching experience.
The curriculum of most master's programs in teaching includes core courses that focus on contemporary educational theory and practice. These courses cover topics like instructional methods, lesson planning, educational psychology, and student assessment. Many programs offer opportunities for specialization or concentration in areas like K-12 Teaching, Secondary Education, Special Education, and others.
Common Courses
The curriculum of an online master's in teaching program aims to improve a student's teaching skills and pedagogical knowledge. Through coursework covering topics like instructional methods and student assessment, students can gain the competencies required to be successful educators.
Here are a few examples of courses:
This course explores the ways that students learn, grow, and develop as individuals. It delves into theories of learning, teaching methods, human development, and assessment strategies.
Curriculum Development and Assessment
In this course, students examine how to design, implement, and evaluate a curriculum based on educational standards.
Assessment for Student Learning
This course explores various practices in assessing student learning and improving instructional practices. The focus is on developing formative and summative assessments designed to drive student success.
Funding an Online Teaching Degree
An online master's degree can be worthwhile — but it's an expensive investment, too. Fortunately, there are many ways students can make it easier to fund their education. Financial aid, scholarships, and extra income can all help in earning the degree without breaking the bank. With careful planning, it's possible to make a master's degree in teaching an affordable goal.
Costs associated with an online master's degree in teaching can include tuition, books, technology fees, and possibly residency or on-campus requirements. Living expenses, such as housing and transportation, are also important to consider, particularly if students plan to reduce their work hours to focus on their studies. A detailed breakdown of costs can help students make informed decisions about their educational investment.
Balancing work and study is another common challenge for graduate students. Luckily, many online programs are designed to be flexible, allowing students to continue working in their current positions. When that's not the case, some income streams to consider include part-time employment, teaching assistantships, or online tutoring.
Ways To Save Money
There are several strategies students can use to make their teaching master's degree more financially attainable. Below are some ways to save money in college:
Choosing an affordable online teaching degree. Online colleges offer some of the most affordable teaching degrees. They have lower tuition costs and eliminate the need for commuting and living on or near campus.

Transferring credits. Students who have already completed graduate-level coursework at another institution might have the option to transfer credits and reduce the number of courses required for their degree.

Using tuition assistance or reimbursement programs some employers provide as a job perk.

Securing financial aid, such as scholarships and grants.
Financial Aid
Financial aid for online master's degrees comes in a variety of forms. To qualify for most of them, students must complete the Free Application for Federal Student Aid (FAFSA). The FAFSA is used to calculate a student's financial need and determine eligibility for federal grants, loans, and work-study programs. Many schools and private organizations also use the FAFSA to determine eligibility for their own scholarships and other types of financial aid.
The most common types of financial aid include the following:
Grants
Grants are typically need-based, meaning that they're awarded based on a student's financial need. The Federal Pell Grant, for example, is a need-based grant available to students with exceptional financial need. Other grants may be available from state governments, private organizations, and individual schools.
Scholarships
Scholarships are mostly merit-based and awarded based on academic achievement or other factors. That said, there are also scholarships available for students who meet specific criteria, such as being a member of a particular ethnic group or studying a specific subject. Scholarships can come from many sources, including government agencies, third-party organizations, and colleges themselves.
Student Loans
Federal student loans are perhaps the most common type of student loan. They come with many benefits, such as fixed interest rates and flexible repayment options.
Private student loans can be an option for those who can't take advantage of federal loans. They're offered by banks, credit unions, and other financial institutions and often have higher interest rates and less flexible repayment options.
There are several repayment plans available for federal student loans, including income-driven repayment plans. These plans allow borrowers to make payments based on their income and family size, and any remaining loan balance may be forgiven after a certain period. On the other hand, most private student loans have fixed repayment terms with no options for income-driven repayment or forgiveness.
Students should carefully weigh the pros and cons of each option before taking out a student loan. Additionally, it's crucial to understand the terms, including the interest rate, fees, and repayment schedule.
Work-study Programs
These programs provide part-time jobs for students, allowing them to earn income while they study. Work-study programs are usually based on financial need. The federal government sponsors the Federal Work-Study Program, but many individual schools also offer their own work-study programs.
What Can You Do With an Online Teaching Degree?
With an online teaching degree, graduates can pursue a variety of careers in education, such as classroom teachers, curriculum developers, instructional coordinators, or school administrators, and principals.
Below, we explore some potential career paths for graduates:
Elementary school teachers
Median Annual Salary:
$61,620
Elementary school teachers help students learn and grow in the early years of their educational journey. They typically work with children in kindergarten through fifth or sixth grade, teaching them a range of subjects, including math, science, and reading.
Instructional coordinators
Median Annual Salary:
$66,490
Instructional administrators design curriculum and teaching standards, create instructional materials, and evaluate the effectiveness of these materials. In addition to working with teachers and administrators, they also collaborate with subject matter experts to stay up-to-date with the latest educational research and best practices.
Median Annual Salary:
$101,320
A school principal or superintendent is responsible for the overall management of a school. They set and implement policies, manage budgets, hire and train staff, and collaborate with teachers and parents to create a positive learning environment.
Some graduates may also choose to seek additional certifications or degrees to advance their skills and knowledge in the field. For example, they may pursue a specialist degree in education (EdS), which provides advanced training in a specific area of education. They could also choose to earn a doctorate in education (EdD), which prepares educators for leadership roles in education. Finally, some educators may opt to earn a National Board Certification, a voluntary credential that recognizes advanced teaching skills and knowledge.
FAQs About Online Teaching Degrees
How Do I Choose a Master's in Teaching?
---
Choosing a master's in teaching program is an important decision. It's crucial to evaluate factors such as accreditation, specialization options, faculty credentials, location, and your own professional goals. Comparing different programs and weighing the pros and cons of each one will help you find the best fit for your needs.
How Much Does a Teacher With a Master's Degree Make?
---
The earning potential of teachers with a master's degree can vary widely, depending on factors such as the teacher's location, level of education, years of experience, and teaching specialty. Typically, teachers with a master's degree earn higher salaries than those with only a bachelor's degree in teaching. However, it's important to research the salary data for your specific location and level of education to get an accurate picture of potential earnings.
Is There a Difference Between a Master's in Education and a Master's in Teaching?
---
Yes, there is a difference between a Master's in Education (MEd) and a Master's in Teaching (MAT). Both degrees prepare educators for success in the classroom, but the MEd typically provides a broader focus on education theory, while the MAT is more focused on the practical aspects of teaching.
The MEd degree may cover topics such as curriculum development, educational research, educational technology, and educational policy. For educators interested in pursuing leadership roles or influencing educational systems at a larger scale, an MEd may be a better fit.
The MAT degree focuses on developing the expertise and skills that teachers need in the classroom. It usually includes courses specific to a certain grade level or subject area. This degree is a great fit for teachers who want to enhance their classroom teaching skills or those who seek to focus on a particular subject or student group.
Is an Online Master's in Teaching Worth It?
Online master's in teaching programs provide an opportunity for educators to advance their careers. Not only are these programs flexible, allowing busy educators to continue working while pursuing their degrees, but they're also often more affordable than traditional on-campus programs.
If you're looking to build a career in education, an online teaching degree can be an investment in your professional future. Whether you're looking to enhance your teaching abilities, specialize in a specific area, or qualify for leadership roles within the field of education, an online master's in teaching can be a valuable asset.
Related Articles
2023 Most Affordable Online Master's Programs
Explore the most affordable online master's degree programs in 2023 and choose the one that's right for you.
2023 Most Affordable Online Master's Degrees in Secondary Education
Find the most affordable colleges for online master's degrees in secondary education from our 2023 list of accredited schools.