2023 Most Affordable Online Master's Degrees in Supply Chain Management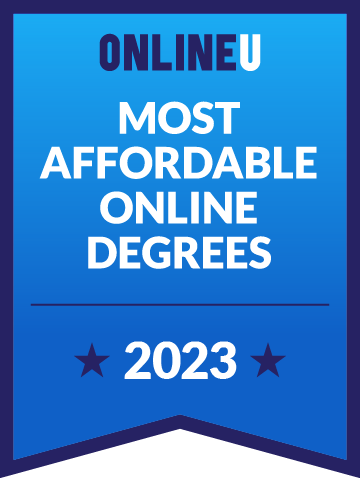 As we've seen in recent years, the U.S. economy relies heavily on dependable international supply chains for raw materials as well as finished goods. Online master's in supply chain management programs train logistics professionals to keep these resources up and running efficiently.
In a master's program, students learn to optimize the flow of goods, troubleshoot issues, and address challenges in all aspects of supply systems, from procurement to inventory to transportation. Programs instruct graduates about the principles, policies, and trends that will allow them to keep their organizations' supply chains efficient and secure.
View our methodology for details about rankings or learn more about us. You can also check out our overall list of the most affordable online degrees for some inspiration.
All tuition numbers were manually collected and verified
| Rank | School | Locations | Annual Tuition |
| --- | --- | --- | --- |
| # 1 | Athens State University | Athens (AL) | $4,875 |
| # 2 | Fitchburg State University | Fitchburg (MA) | $4,934 |
| # 3 | Arkansas State University | Jonesboro (AR) | $5,958 |
| # 4 | Ohio University - Main Campus | Athens (OH) | $6,324 |
| # 5 | American Public University System | Charles Town (WV) | $6,660 |
| # 6 | Georgia College & State University | Milledgeville (GA) | $7,005 |
| # 7 | University of South Dakota | Vermillion (SD) | $7,057 |
| # 8 | University of Arkansas | Fayetteville (AR) | $7,252 |
| # 9 | Southern Arkansas University | Magnolia (AR) | $7,395 |
| # 10 | The University of West Florida | Pensacola (FL) | $8,217 |
Overview of Online Supply Chain Management Master's Degrees
Online master's degrees in supply chain management teach the skills needed to turn raw materials into finished products as well as coordinate the movement of goods and services through logistics and operations management. Coursework emphasizes business administration principles, technology utilization, procurement, distribution, and leadership skills.
A supply chain management master's degree typically takes full-time students around two years to complete. Concentrations include risk management, analytics, and resource management. Some programs feature built-in graduate certificates, allowing for operations management and global leadership specializations. Students must hold a bachelor's in supply chain management or a similar degree to be admitted into a master's program.
Interested in exploring similar subjects online? Explore our rankings for the best online MBAs.
Common Courses
Supply chain management courses at the master's level are designed to provide a framework for the strategies used in the global movement of goods. These systems-first curriculums explore each stage of the process, from procurement to distribution.
Below are a few commonly found courses in an online supply chain management degree:
This course looks at various elements of logistics, including automated warehousing, freight operations, and order fulfillment. Students engage in logistics analysis to improve decision-making and real-world problem-solving scenarios to better understand the issues that arise during logistical business operations.
Demand Planning and Inventory Operations
Demand planning refers to analysis strategies used in predicting consumer demands, helping to improve an organization's sales and operations planning. Students also learn how to track and manage inventory as it moves through the supply chain, from manufacturer to consumer. Together, these subjects help integrate forecasting theory with practical operations.
Customer Service Management
Customer service management teaches how to communicate effectively with current and future customers. Emphasis is placed on the various technologies used within communication processes and performance management. This course also explores the importance of governance to ensure that a company's policies match its operations.
Funding an Online Supply Chain Management Degree
Funding a graduate education can be difficult, causing many students to seek an affordable supply chain management degree. These programs offer less expensive tuition because they're online, allowing for cheaper instruction costs, fewer fees, and digital libraries instead of physical books. Nevertheless, students still need to find ways to pay for their education. Some do so by asking for help from their parents, while others take on part-time jobs.
The most affordable supply chain management master's degrees are often online and flexible, allowing students to continue working while they study. This is an excellent opportunity to make extra money to pay for expenses. Plus, it adds valuable professional experience through jobs, such as supply chain associates, logistics operations specialists, and delivery supervisors.
Securing funding is one thing; saving money during college is a separate challenge. Students learn to manage financial processes thanks to the supply chain management curriculum's focus on finance. Financial knowledge is useful when creating monthly budgets and seeking cost-cutting measures during college.
Financial Aid
Although you won't qualify for federal grants or subsidized federal student loans as a graduate student, there are alternative methods to ensure that you can cover your school expenses without excessively burdening your budget. Most students pursue federal financing by filling out the Free Application for Federal Student Aid (FAFSA). These are loans from the government that must be paid back with interest. Although they lead to student debt, the eligibility requirements do not have an income limit, making securing funding for tuition, rent, and school supplies easy.
Student loans are repaid in several ways, some based on earned income and others on fixed rates. Fixed-rate repayment plans usually result in lower overall payments because students pay the same amount regardless of their financial circumstances. Students who have a high debt-to-income ratio are eligible for income-based repayment plans, where monthly payments are based on percentages of their incomes.
Financial aid can also come from private banks and credit cards, although these options are not preferred. Paying for books, fees, or even tuition through a credit card can be extra costly because of the added processing fees. Banks also have higher costs because most student borrowers have yet to establish credit, resulting in higher interest rates.
What Can You Do With an Online Master's in Supply Chain Management?
There are many advanced education options to pursue after graduating with a master's in supply chain management, whether from universities or private organizations. The Association for Supply Chain Management (ASCM) offers certifications for logistics, planning, transformation, and professional career advancement. Although certificates aren't necessary to gain employment, they may help propel graduates into roles with higher incomes.
Pursuing a PhD in supply chain management is the most advanced academic route. These programs are for students who want to conduct and publish the research that supply chain professionals use to make organizational decisions and college professors use to teach supply chain management students.
While some careers in supply chain management follow similar logistics and operations principles, they deal with a wide range of materials in very different industries. Daily responsibilities also differ depending on what area of the supply chain someone is working in, be it quality management, product sourcing, or transportation.
Here are some common careers for supply chain master's graduates:
Median Annual Salary:
$98,560
Supply chain managers coordinate the entire supply chain, from procuring raw materials to distributing final products and everything in between. They research transportation routes, develop key performance indicators, analyze storage and delivery costs, and oversee hiring. These tasks are all designed to ensure the efficient flow of products and services.
Storage and Distribution Managers
Median Annual Salary:
$98,560
Storage and distribution managers differ from supply chain managers in that their scope of work is more narrowly focused on inventory. However, they are still responsible for coordinating aspects of production, including purchasing and shipping. Because they often oversee warehouses, they also forecast busy delivery times and create employee safety policies.
Median Annual Salary:
$77,520
The role of logistics analysts is to examine the supply chain for efficiencies and deficiencies. They gather data, monitor processes, and collect feedback to see where improvements can be made to reduce costs and increase reliability. This technology-centric role utilizes web-based information systems and analytical software to track logistics data.
FAQs About Online Supply Chain Management Master's Degrees
How Do I Choose a Master's in Supply Chain Management?
---
There are several ways to decide which master's in supply chain management to pursue. Some students choose their college or university based on concentration options, while others prefer attending schools that emphasize internships and networking.
Affordability is among the top reasons due to the rising costs of higher education. According to the National Center for Education Statistics (NCES), most four-year universities saw an increase in tuition and fees from 2010 to 2021.
Do You Need an MBA or MS for Supply Chain Management?
---
Most supply chain management professionals do not need a master's degree to work in the field. According to O*NET, only 19% of supply chain manager roles require a master's degree. However, the skills, knowledge, and practical experience gained in graduate programs can help fast-track careers to the management level. This includes conducting research, which puts grad students at the forefront of the latest industry trends.
Is Getting a Master's in Supply Chain Management Online Worth It?
An online master's degree in supply chain management is worth it for students who wish to pursue impactful logistics, distribution, and transportation careers. Supply chain management curriculums explore exciting areas in business, including the latest organizational technologies, professional leadership skills, and industry research. There's steady job growth and a wide range of national and international businesses to work in. Plus, salaries and job satisfaction are high amongst supply chain graduates.
Related Articles
2023 Most Affordable Online Master's Programs
Explore the most affordable online master's degree programs in 2023 and choose the one that's right for you.
2023 Most Affordable Online Management Degrees
Learn about the most affordable colleges for online degrees in management at the bachelor's level.