2019 Most Affordable Online Colleges for Students with Learning Disabilities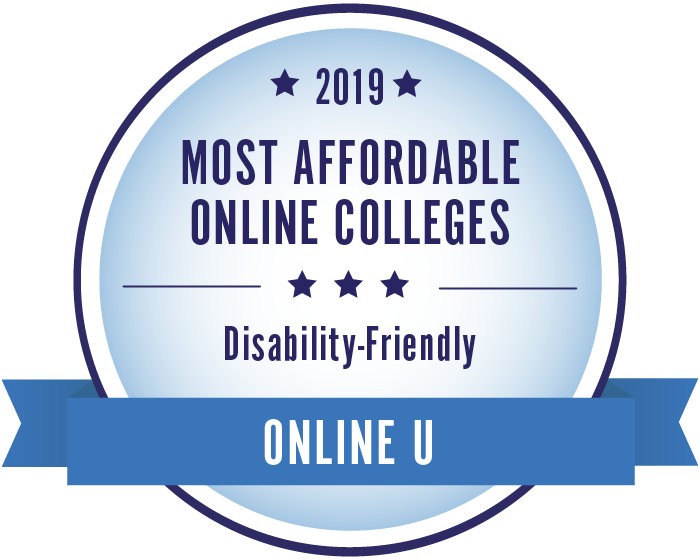 These 21 colleges represent the most affordable and supportive online schools for students with learning disabilities. These schools provide accommodations for students with learning disabilities, such as alternative testing formats as well as waived or altered course requirements when appropriate. University of Arkansas offers the lowest tuition rate on this list at $7,383 per year. Framingham State University, ranked #9, has the highest percentage of students with disabilities at 18 percent and offers an affordable tuition rate of $11,250 per year.
You can read more about our ranked schools below. View our methodology or learn more about OnlineU.
All tuition numbers were manually collected and verified
| Rank | School | Annual Tuition | Students with Disabilities |
| --- | --- | --- | --- |
| # 1 | University of Arkansas | $7,383 | 10% |
| # 2 | Westfield State University | $9,450 | 15% |
| # 3 | Champlain College | $9,540 | 17% |
| # 4 | University of Washington - Seattle | $10,395 | 6% |
| # 5 | University of North Carolina at Greensboro | $10,567 | 6% |
| # 6 | SUNY College of Technology at Canton | $10,633 | 11% |
| # 7 | University of Alabama | $10,920 | 5% |
| # 8 | Framingham State University | $11,250 | 18% |
| # 9 | Washington State University | $11,329 | 7% |
| # 10 | University of Massachusetts - Amherst | $11,700 | 10% |
| # 11 | Concordia University - Saint Paul | $12,600 | 10% |
| # 12 | Colorado State University - Fort Collins | $14,280 | 8% |
| # 13 | Gallaudet University | $16,512 | 14% |
| # 14 | East Tennessee State University | $16,830 | 5% |
| # 15 | Wayne State University | $17,143 | 5% |
| # 16 | Florida Atlantic University | $19,171 | 5% |
| # 17 | California State University - Chico | $19,498 | 5% |
| # 18 | The University of Montana | $20,378 | 13% |
| # 19 | Texas Tech University | $21,330 | 7% |
| # 20 | Southern Oregon University | $24,210 | 8% |
| # 21 | University of Denver | $28,935 | 12% |