2023 Most Affordable Online Master's Degrees in Sports Management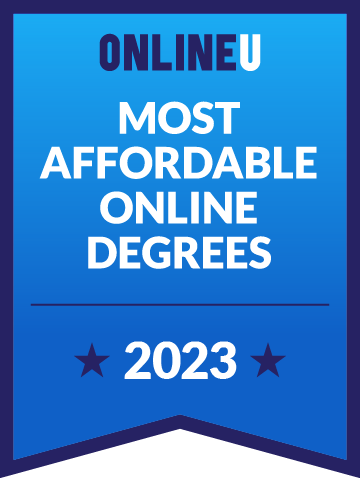 All tuition numbers were manually collected and verified
| Rank | School | Locations | Annual Tuition |
| --- | --- | --- | --- |
| # 1 | Grace College and Theological Seminary | Winona Lake (IN) | $5,100 |
| # 2 | Missouri State University | Springfield (MO) | $5,415 |
| # 3 | Briar Cliff University | Sioux City (IA) | $5,465 |
| # 4 | University of Central Arkansas | Conway (AR) | $5,850 |
| # 5 | University of Central Missouri | Warrensburg (MO) | $5,910 |
| # 6 | Arkansas State University | Jonesboro (AR) | $5,958 |
| # 7 | Jacksonville State University | Jacksonville (AL) | $6,150 |
| # 8 | Campbellsville University | Campbellsville (KY) | $6,285 |
| # 9 | University of Southern Indiana | Evansville (IN) | $6,333 |
| # 10 | Georgia Southern University | Statesboro (GA) | $6,444 |
Overview of Online Sports Management Master's Degrees
Online master's in sports management degrees connect business students with the sports and athletics industries through marketing, media relations, finance, and communication studies. These programs explore the administrative and operations side of sports, with training in leadership theory and organizational analysis.
Graduate schools that offer a sports management master's degree generally require students to have earned a 2.5 to 3.0 GPA with their bachelor's in sports management or similar degrees, such as business administration, physical education, marketing, or nutrition. Once accepted into an online graduate program, coursework is delivered 100% remotely, taking full-time students approximately two years to complete.
Specializations include coaching, adventure sports, interscholastic athletics, and marketing. Some examples of career paths for an online sports management degree are player agents, stadium managers, athletic event planners, and team marketing directors.
Common Courses
Sports management coursework generally features a sports-centric business core. Students explore key business areas, such as public relations and finance, in the context of the sports industry. Specialized courses are available through concentrations where students can focus on their future careers, whether college football coaches, adventure tour organizers, or athletic administrators. Internships may also be available through capstone projects.
Below are a few standard courses found in most sports management master's degrees:
Advanced Coaching Theory teaches theoretical and practical skills in communication, coaching philosophies, and athlete evaluation. Students apply behavioral analysis to famous coaches throughout history to understand effective strategies for team leadership. Whether students aim to become professional coaches or not, this course has proven helpful in preparing for leadership roles on and off the field.
Finance and Economics of Sports
This course takes an in-depth look at the financial theories, principles, and applications used in the sports industry. Students learn to create operating budgets, understand supply and demand, and analyze financial statements. Instructors may require students to assess the economic viability of real-life sports teams based on their initial public offering (IPO).
Marketing is vital for the longevity of professional sports franchises, collegiate teams, and local sports organizations. A sports marketing course examines branding, advertising campaigns, and licensing agreements. Media may also be discussed, particularly the relationship between broadcast companies and sports leagues.
Funding an Online Sports Management Degree
Sports management master's degrees can be as expensive as any other graduate program. For this reason, it's beneficial to seek out an affordable online sports management degree to save money. Studying online can cut costs related to tuition, accommodations, and books.
It's common practice for colleges to offer athletes scholarships based on their sports achievements. This is a strategic incentive to provide discounted or tuition-free degrees to extraordinarily talented players. Fortunately, non-athlete students can receive scholarships and grants based on academic excellence or prior experience working with sports organizations. Examples include the Commission on Sport Management Accreditation (COSMA) Student Scholarship and Grant and several Girl Up scholarships that assist women in pursuing sports-related professions.
Another way to save money on college is to take on part-time jobs to supplement income. The most affordable sports management degrees are flexible, allowing students to pursue work while maintaining their study schedule. These opportunities include assistant coaches, sporting event support, and sports coordinators for local gyms and youth organizations. These jobs also provide valuable experience that students can apply to future careers in the industry.
Financial Aid
Most students apply for financial aid to fund their studies. The Free Application for Federal Student Aid (FAFSA) is the most common way to pursue funding. Unlike scholarships and grants, this money must be paid back with interest, resulting in student debt. According to the Education Data Initiative, 60% of master's degree holders have federal loan debt. Although most students look to the federal government to fund their academic studies, other options include credit cards and bank loans.
Financial aid is typically provided to the school directly. This way, the government or private lenders can pay the tuition and fees without the money changing hands too many times. Students may receive additional funds for rent, meals, and supplies deposited in their personal bank accounts.
Student debt is a serious issue. The Chamber of Commerce reports a combined debt of $1.75 trillion among 45 million student borrowers.
What Can You Do With an Online Sports Management Degree?
Sports management degrees provide job opportunities in local, high school, collegiate, amateur, and professional sports. Graduates may become sports event coordinators, football coaches, field inventory managers, sales directors, or team marketing managers.
Here is a detailed breakdown of three common careers in sports management:
Median Annual Salary:
$38,970
Athletic coaches are responsible for the success of sports players and teams. They teach fundamental skills, develop game strategies, organize practices, and create conditioning plans. While master's degrees aren't required to become a coach, they can help position students for careers at the collegiate and professional levels, where salaries are much higher than the median rate.
Sports Marketing Managers
Median Annual Salary:
$140,040
Sports marketing managers develop promotional strategies for brands, teams, venues, and organizations. They're tasked with coming up with creative ways to reach consumers, or in some cases fans, and building marketing campaigns around their analyses. They also have input on product pricing based on their understanding of customer satisfaction.
Median Annual Salary:
$82,530
The role of a sports agent is to represent athletes in business, legal, and financial transactions. They negotiate contracts with teams, mediate disputes with brand partners, and find new ways to bolster athletes' careers. Experienced agents manage several players simultaneously, which requires excellent communication skills and extensive knowledge of the sports their clients are engaged in.
FAQs About Online Sports Management Degrees
Should I Get a Sports Management Certificate?
---
There's more than one way to earn advanced sports management skills. Graduate certificates in sports management offer similar training at a more affordable price because they usually take less than one year to complete while still providing a strong foundation in sports marketing, finance, and operations. While the training is less extensive, students can use certificates as a launch pad into entry-level management roles.
What Are the Admission Requirements for Sports Management Master's Degrees?
---
Master's degrees in sports management require a bachelor's degree from an accredited school, usually with a GPA of 2.5 to 3.0. During the application process, colleges and universities require that students provide official transcripts that prove their academic achievements. Students may also need to submit personal essays explaining their sports experiences or reasons for pursuing a graduate degree in sports management. Some programs require letters of recommendation written by non-family members, such as coaches, counselors, or teachers, that define a student's skills and past accomplishments.
Can You Make a Lot of Money in Sports Management?
---
The salary outcomes for sports management master's graduates vary greatly depending on the career path. The options are vast, with opportunities to work in public relations, media programming, facilities management, talent scouting, and more. Among the highest-paid positions are athletic directors and marketing managers, with median annual salaries of over $100,000. Lower-income roles are athletic trainers and coaches, with median annual salaries of around $40,000.
Is a Master's Degree in Sports Management Worth It?
Master's degrees in sports management are ideal for sports enthusiasts with business, communications, physical education, or marketing backgrounds. Sports is a multi-billion dollar industry with unlimited potential and no shortage of opportunities to make a living. Graduates with master's in sports management degrees can best benefit from the industry's growth by tailoring their coursework to meet their career goals while gaining work experience along the way. Students can ensure their sports management degree is worthwhile by balancing debt from financial aid with earned income from part-time work and managing their future salary expectations.
Related Articles
2023 Most Affordable Online Master's Programs
Explore the most affordable online master's degree programs in 2023 and choose the one that's right for you.
2023 Most Affordable Online Master's in Sports Psychology
The colleges on our 2023 list offer the most affordable online master's degrees in sports psychology currently available.