2023 Most Affordable Online Master's in Special Education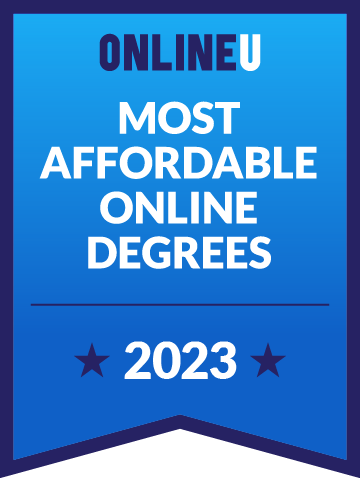 Online master's degrees in special education are popular for current teachers who want to advance their careers. They can also help future teachers enter the special education field.
We created this list to help students choose a respected online college while saving money on their degree. We only show accredited schools on OnlineU, so every college on this list has been reviewed to make sure it meets academic standards.
We independently research tuition rates to help students compare the cost of different online schools. Our methodology offers more details on how we rank colleges, and our about page has more information about OnlineU. See our list of the most affordable online degrees to compare online master's programs.
All tuition numbers were manually collected and verified
| Rank | School | Locations | Annual Tuition |
| --- | --- | --- | --- |
| # 1 | Buena Vista University | Storm Lake (IA) | $4,080 |
| # 2 | Fort Hays State University | Hays (KS) | $4,478 |
| # 3 | Northeastern State University | Tahlequah (OK) | $4,575 |
| # 4 | Asbury University | Wilmore (KY) | $4,614 |
| # 5 | Wichita State University | Wichita (KS) | $4,620 |
| # 6 | Campbellsville University | Campbellsville (KY) | $4,650 |
| # 7 | Georgia College & State University | Milledgeville (GA) | $4,838 |
| # 8 | Fitchburg State University | Fitchburg (MA) | $4,934 |
| # 9 | Southeast Missouri State University | Cape Girardeau (MO) | $5,171 |
| # 10 | Northwestern College - IA | Orange City (IA) | $5,340 |
Overview of Online Master's in Special Education Degrees
A master's in special education prepares teachers to work with students who have a wide range of mental, emotional, physical, and learning disabilities. These programs are designed to give educators the skills needed to create and adapt lessons to help special needs students learn effectively.
Many master's in special education programs offer specializations that allow students to focus on particular areas such as autism spectrum disorders, learning disabilities, emotional and behavioral disorders, or early childhood special education.
Most programs require student teaching or another experiential learning opportunity in order to graduate. Usually, master's students will spend some time in the classroom working directly with special needs students alongside an experienced teacher. Some programs also require a thesis or capstone project, where students can apply what they've learned to a real-world problem or issue in special education.
Graduates with a master's in special education can work in a variety of roles, including careers as special education teachers, special education coordinators, educational consultants, and school counselors. Some graduates may also go on to pursue doctoral studies in special education or a related field.
Common Courses
Most master's degrees in special education include classes such as teaching strategies for special education, collaboration with families, and behavioral assessment in the classroom. Students will also learn about legal and ethical issues in special education and may learn how to help students transition to higher levels of education.
Funding an Online Special Education Degree
One of the most important things to consider when choosing a master's degree is how much it will cost you. Most students use financial aid to help cover the cost of their degree, whether it's through grants and scholarships, graduate assistantships, or student loans.
Choosing an affordable online school is a good way to save money on your degree, because enrolling online means you can work while in college. Online students also tend to save money on transportation and other expenses because they don't need to drive to campus or move for school.
Financial Aid
The most important step in getting financial aid is filling out the Free Application for Federal Student Aid, or the FAFSA. The application asks for information about income, assets, family size, and other factors to determine how much financial aid you qualify for. You can select which schools you want to receive your application and they will use your application to award you additional scholarships if there are any available.
For graduate students, the most common types of financial aid include the following:
Gift aid such as grants, scholarships, and fellowships
Graduate assistantships, where students work part-time for their school in exchange for tuition credits and a stipend
Federal student loans, including unsubsidized loans and grad PLUS loans
Employer-funded tuition programs
Asking what kind of financial aid is available should be part of students' decision process when choosing a college. While tuition is an important factor, some schools with higher price tags might actually be more affordable for students if they offer more financial aid opportunities.
Scholarships
Once you find out how much financial aid you're awarded from your school, you can look for additional scholarships from your college, nonprofit organizations, businesses, and other groups. There are scholarships for students who plan to become teachers, special education majors, students from low income families, students of color, and other demographics.
Employer-Funded Tuition Programs
More than half of employers offer tuition assistance, according to a survey done by the Society for Human Resource Management. That includes major companies that will help pay for a master's degree, like T-Mobile and Discover. Employers across the country often team up with online colleges to help employees get their degree while keeping costs down.
Student Loans
After you've exhausted all your gift aid options, you can use student loans to help cover any additional costs. Federal student loans tend to offer better benefits such as fixed interest rates. Teachers who borrow from the federal government to pay for school can also qualify for student loan forgiveness programs.
What Can You Do With An Online Special Education Degree?
Special education teachers work with students who have a range of learning, mental, emotional, and physical disabilities. They adapt general education lessons, teach various subjects to students with mild to moderate disabilities, and teach basic skills to students with severe disabilities. Most special education teachers work in public schools, teaching students from preschool to high school. Some work for private schools.
There will be an estimated 37,600 job openings per year, on average, for special education teachers over the next decade, according to data from the Bureau of Labor Statistics (BLS). The median salary for special education teachers was $61,820, although salaries tend to be higher for those who have master's degrees.
Special education majors do tend to earn slightly higher starting salaries compared to other education majors. Alumni of special education master's degrees earn a weighted average salary of $52,387 in their first year out of college, according to data from College Scorecard. Alumni of master's programs in general education earn similar starting salaries with a weighted average of $51,740. Master's graduates who specialize in early childhood, elementary, and secondary education earn a weighted average of $47,633.
BLS data shows special education teachers earn the highest salaries in New York, Massachusetts, Delaware, Oregon, and Wisconsin. Students in these areas will likely see a higher payoff for their master's degree.
Licensing and Certification
While you don't need a master's degree to work with special education students, you likely will need some kind of certification signaling you're trained to work with students with intellectual and developmental disabilities. Students who already have their teaching certification can sometimes pursue a special education endorsement program (SPED endorsement) instead. These programs are shorter, require fewer classes, and are likely more affordable than a master's degree. However, earning a master's might mean a bigger pay increase down the line. The type of certification you'll need to teach special education will also depend on state licensure requirements.
Further Education
Because there are limited opportunities for career advancement in education, especially for teachers, many go on to earn either a second master's degree in educational leadership, or even a doctorate. These degrees can open the door to careers in administration, which typically offer higher salaries. Advanced degrees in educational leadership are also popular online, as many teachers want to pursue this degree while they're working or on summer break.
FAQs About Online Special Education Degrees
How Do I Choose a Special Education Master's Degree?
---
When choosing an online master's in special education, students should look for an accredited school and a program that meets licensure requirements in their state. Students who don't have a teaching license will need to find a program that qualifies them for licensure in their state. Those who are already certified to teach have more flexibility and can pursue a master's program that meets SPED endorsement requirements in their state. Students should also look for a program that allows them to specialize in their chosen area of study, such as intensive intervention or mild intervention.
How Does a Special Education Degree Differ From Other Education Degrees?
---
Special education degrees train educators to work with students with mild to severe disabilities. These programs will cover topics like assessing students' skills and abilities, adapting general lessons to meet students' needs, developing and implementing Individualized Education Programs (IEPs), and discussing student progress with parents, other teachers, counselors, and administrators. Other master's degrees in education focus less on working with students with disabilities and might emphasize other areas such as technology in the classroom or trends and issues in education.
Is a Special Education Master's Degree Worth the Cost?
Whether or not a special education master's degree is worth the cost depends on how much you pay for your degree, if you decide to work during school or not, how much financial aid you get, and where you work after school.
While teachers tend to earn lower salaries than others with a master's degree, especially in business or STEM, earning a master's degree as a teacher will help increase salary compared to those with only a bachelor's degree. Special education also does tend to see a slightly higher payoff compared to other teaching degrees. If you want to be a teacher, getting a master's in special education might not be a bad investment compared to master's degrees in physical education or elementary education, for example.
Students who attend an affordable online college and are able to keep costs low through financial aid or by working while in school will get a better financial return on their investment. Those who qualify for federal student loan forgiveness programs well also likely be able to maximize their investment.
Related Articles
2023 Best Online Master's Degrees in Special Education
Explore the schools that offer the best online master's degrees in special education. Rankings are based on each program's alumni salary scores.
2023 Most Affordable Online Master's Programs
Explore the most affordable online master's degree programs in 2023 and choose the one that's right for you.