2023 Most Affordable Online Master's in Spanish Degrees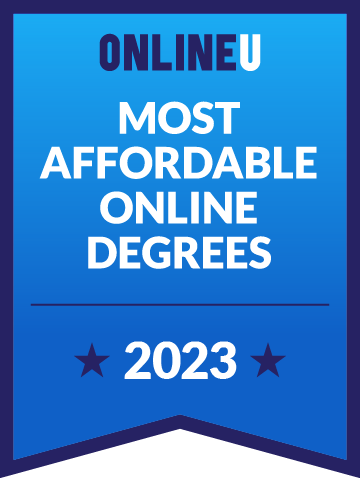 An online master's degree in Spanish is a great stepping stone for Spanish-speaking professionals who want to improve their language skills, even after a bachelor's in Spanish. These online master's programs may cover topics like translation, Spanish literature, and advanced Spanish grammar. Sample coursework includes Spanish for the Professions, Theory of Translation and Interpreting, and Literary and Cultural Translation.
Having an online master's degree in Spanish helps professionals obtain higher level positions requiring proficiency in the Spanish language, including mid- to senior-level positions with a higher salary. Prospective job outlooks for graduates of an online master's in Spanish degree program are international relations consultant, proofreader, translator/interpreter, and publishing specialist.
View our methodology for details about rankings or learn more about us. You can also check out our overall list of the most affordable online degrees for some inspiration.
All tuition numbers were manually collected and verified
Overview of Online Master's Degrees in Spanish
An online master's degree in Spanish is designed to advance students who are fluent in the language to the next level. Master's students will gain a deeper understanding of the language and culture by studying literature, history, linguistics, grammar, and vocabulary.
A graduate degree in Spanish can be fulfilling for students who are passionate about the language, culture, and history of Spanish-speaking countries. Students will learn the complexities of the Spanish language and gain the cultural knowledge necessary to navigate a range of different settings and contexts.
Students can either get a Master of Arts or a Master of Science in Spanish. Master of Arts programs generally focus on the arts and humanities side of the language, and might cover classes on Spanish literature and culture, for example. Master of Science programs tend to be more technical, and might focus on topics such as linguistics rather than history or culture.
Most affordable online master's in Spanish programs require between 30 and 40 credit hours and take about two years to finish when enrolled full-time. Depending on their focus area, students might take classes in literature, culture and history, translation theory, conduct research, or study different types of communication such as Spanish for business or academic writing.
Admissions Requirements
Students need to have a bachelor's degree in Spanish or another subject to get into a graduate program. Applicants should have a strong background in Spanish and be able to speak the language as classes are often taught in Spanish. Most schools will test a student's abilities through an essay or writing sample written in Spanish, an oral interview, a language test, or by having students translate a document. Schools might also have GPA requirements for undergraduate coursework and will ask for transcripts from previous colleges. Letters of recommendation, a statement of purpose or other type of application essay, and the GRE may also be required, but are less common for online programs.
Concentrations
Graduate students can tailor their master's program to their professional and personal interests by pursuing a concentration. Some schools offer different tracks for each area of study, while others have students choose electives in their field to accompany core courses. Below are some common concentrations:
Linguistics: Programs in linguistics will cover the technical aspects of language, including the structure, evolution, and use of the Spanish language.
Spanish Literature: Students in this concentration explore historical and contemporary literature from Spain and Latin America, such as "Don Quixote" by Miguel de Cervantes Saavedra and "Love in the Time of Cholera" by Gabriel García Márquez.
Spanish for Professions: This program is focused on Spanish for professional settings, such as healthcare, education, or government. Students will gain the language skills and cultural knowledge to navigate professional environments in the workplace.
Translation: Spanish translation majors will learn about different technologies used in the field and become familiar with translating from English to Spanish and vice versa. Students will work with a range of general and specialized texts, such as legal and medical documents, business texts, and works of literature.
Common Courses
While the specific curriculum varies by program and concentration, common courses in a master's in Spanish program might include the following:
This course takes a deep dive into the structures and rules of the language for advanced Spanish speakers.
Spanish Phonetics and Phonology
Students will explore the sounds of the Spanish language and how they function in communication.
Latin American Culture and Civilization
This class looks at the history, politics, society, and culture of different Latin American countries.
Students will read and analyze major works and authors in Spanish literature from Spain, Latin America, and the United States.
Translation and Interpretation
This class teaches the skills needed to translate and interpret between Spanish and English in a variety of professional contexts.
Accreditation
One of the most important things to look for when choosing an online college is accreditation. If a school is accredited, it means it is regularly evaluated by an organization approved by the U.S. Department of Education to make sure it meets academic standards and offers a quality education. Schools without accreditation may be diploma mills created to scam students out of their money and give them a fake degree. If your degree comes from a college without accreditation, you won't be able to use federal financial aid, get licensure or certification, or go onto a doctorate program. At OnlineU, we only show accredited colleges and universities to make sure students have access to quality education options.
What Can You Do With a Master's in Spanish?
What you can do with a master's degree in Spanish will depend heavily on your educational background, work experience, and career goals. Education is a top industry for foreign language majors, and those who have teacher licensure can work in K-12 schools. Many professionals also work at colleges and universities.
Healthcare, business, media, and law are other areas where a knowledge of the Spanish language and cultural norms in Spain and Latin America can be extremely useful. Students who have credentials or experience in these industries will likely find their language skills in high demand.
Another potential career pathway is in the foreign service or another position in government. Those who are interested in research, academic work, or becoming a college professor might also pursue their doctorate in Spanish, linguistics, or a related field after a master's program.
Careers
Although a master's in Spanish does not prepare students for a specific career path, there are a wide variety of careers open to bilingual applicants who are fluent in Spanish and English. The following are a few potential career opportunities from the Bureau of Labor Statistics for graduates with master's in Spanish:
Interpreters and Translators
Median Annual Salary:
$49,110
Interpreters and translators work in a wide range of settings, including courts and legal offices, government agencies, social services, hospitals, businesses, and schools. Demand for interpreters and translators is projected to grow rapidly over the next decade, and many of those services will be necessary in Spanish, the second-most frequently spoken language in the U.S. While the median salary for interpreters and translators is somewhat low compared to other professions, having a master's degree typically results in a salary boost. The top 10% of earners in this career field make more than $97,760 per year.
Median Annual Salary:
$79,640
While a doctorate is usually required to become a college professor at a four-year school, community college instructors and some part-time faculty at universities only need a master's degree. Some Spanish teachers may work in language schools or might offer tutoring as well. It's important to note that teachers at community colleges tend to earn less than those with a PhD at universities, with median salaries in the $63,000-$79,000 range.
How To Pay for a Master's in Spanish
Most students use financial aid to help cover the cost of their degree. Financial aid includes grants and scholarships which don't need to be repaid, graduate assistantships where students work for their school, and student loans. When applying to colleges, ask a representative from each program what financial aid is available and what the average aid award is for students in your program.
The first step in applying for financial aid is to fill out the FAFSA, or the Free Application for Federal Student Aid. This form acts as an application to funding from the federal and state governments as well as funds from any college you apply to. After you find out how much aid you are awarded, you can ask your school about any assistantship or scholarship opportunities. It also helps to look for scholarships from outside sources such as nonprofit organizations or businesses.
Student loans are another common way to pay for school. You can use either federal student loans or private loans from a bank or other financial institution. In general, using federal student loans is seen as the better option because they typically offer benefits such as loan forgiveness and fixed interest rates. Our student loan guide can help you weigh your options and borrow responsibly to reduce student loan debt down the road.
Many graduate students get part or all of their degree paid for through their employer. There are a wide variety of companies that will pay for a master's degree, including major employers such as Target, Disney, and T-Mobile.
Is an Online Master's in Spanish Worth It?
Whether or not a master's in Spanish is worth it will depend on your personal circumstances and goals. When weighing the pros and cons of getting an online master's in Spanish, you can think about factors such as cost, salary increase opportunities, career advancement, time spent earning your degree, and their professional goals.
For students who studied something else in their bachelor's program but speak Spanish, a master's in Spanish might open the door to careers in linguistics or communications that they otherwise would not qualify for.
Because a master's in Spanish does not directly correlate with a specific career path, it may be harder to justify putting time and money toward the degree for some students, especially if they are already fluent. However, a master's in Spanish can be very rewarding for students who are passionate about the language and cultures of Spanish-speaking countries.
Professionals who use Spanish at work can bolster their resume and learn the complexities of the language in specific contexts, such as law or healthcare, through a master's in Spanish. Those who plan to live or work in Spanish-speaking countries will also gain cultural competencies and language skills they might struggle to get elsewhere.
Those looking to get more value out of their master's degree can do so by choosing a more affordable degree option and finding other ways to save money in college. Earning an online degree can also help maximize the investment in higher education because it allows students to save time and money on their degree without having to commute to school, move for their program, or reduce work hours to accommodate for their school schedule. Many online students balance a full-time job on top of college, which also helps make their degree more worthwhile as they aren't losing out on income while in school.
FAQs About Online Master's in Spanish Degrees
How Long Does It Take To Get a Master's in Spanish?
---
A master's in Spanish usually takes around two years of full-time study to finish. Some programs may take slightly shorter or longer depending on if there are any internship or certification requirements, or if schools offer accelerated degree options.
Do You Need To Speak Spanish To Get a Master's in Spanish?
---
Yes, you will need to speak Spanish fairly well to get into a master's program in Spanish. Many classes will be taught in the language, and you'll be doing graduate-level studies in Spanish grammar and vocabulary and studying different types of texts and documents.
Do You Need a Bachelor's in Spanish To Get a Master's in Spanish?
---
Most bachelor's degrees will satisfy the prerequisites for a master's in Spanish program. While your bachelor's degree doesn't have to be in Spanish, you do need to have a bachelor's degree in something to get into graduate school. You also need to be fairly fluent in Spanish.
Related Articles
2023 Best Online Degrees in Spanish
If you want to earn your bachelor's in Spanish online, explore our list of the best online degrees in this field and read more about available programs.
2023 Most Affordable Online Master's Programs
Explore the most affordable online master's degree programs in 2023 and choose the one that's right for you.