2023 Most Affordable Online Social Work Degrees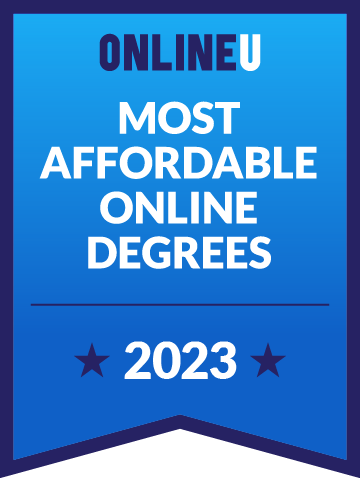 Every community has people in need of support, and social workers provide a vital service when it comes to helping individuals and families get back on their feet. Earning your bachelor's degree in social work online can prepare you to assist disenfranchised, vulnerable people in your community by becoming an advocate, counselor, therapist, or manager in the vast field of social work. An online social work degree — or a related degree like an affordable human services program — can lead to a satisfying career that uplifts people during times of crisis by giving them the tools they need to succeed.
View our methodology for more details about rankings or learn more about us.
All tuition numbers were manually collected and verified
| Rank | School | Locations | Annual Tuition |
| --- | --- | --- | --- |
| # 1 | Eastern New Mexico University - Main Campus | Portales (NM) | $6,624 |
| # 2 | Wichita State University | Wichita (KS) | $6,843 |
| # 3 | Mount Vernon Nazarene University | Mount Vernon (OH) | $7,156 |
| # 4 | Nicholls State University | Thibodaux (LA) | $8,250 |
| # 5 | Northwestern State University of Louisiana | Natchitoches (LA) | $9,600 |
| # 6 | King University | Bristol (TN) | $10,455 |
| # 7 | University of North Dakota | Grand Forks (ND) | $11,102 |
| # 8 | Briar Cliff University | Sioux City (IA) | $11,250 |
| # 9 | Saint Joseph's College of Maine | Standish (ME) | $11,340 |
| # 10 | Troy University | Troy (AL) | $11,640 |
Overview of Affordable Online Degrees in Social Work
Prospective students might consider a social work degree if they're caring, empathetic individuals who want to help people solve problems. Enrollees typically learn about systemic social issues, crisis intervention, community social services, and case management practices. Many students in these programs intend to become practicing social workers, but these degrees also teach valuable skills that may help graduates secure work in related fields. Most social work degrees include a required clinical term that allows students to gain real-world experience in a supervised care setting.
What Is a Social Worker?
These professionals assist people who need help with a wide range of problems, including food insecurity, child welfare, substance use, and disability related to aging. They often work for state and local governments, non-profits, or healthcare providers. In addition, social workers may concentrate on serving particular populations, such as older adults, school-age children, or people navigating substance use disorder.
A social worker's education level helps determine what kinds of services they can legally provide. Bachelor's graduates can conduct macro social work — which involves organizing community groups and advocating for social policy improvements — rather than working directly with clients. Graduates with master's degrees can pursue a licensed clinical social worker (LCSW) credential, which allows them to practice one-on-one with clients. During this micro social work, they might diagnose behavioral issues, write treatment plans, or teach coping techniques to people in need.
A social worker's education level helps determine what kinds of services they can legally provide.
Funding an Online Bachelor of Social Work
Costs
Tuition is the biggest portion of a degree's price, but colleges also charge a number of fees for services, such as athletic facilities and technology upkeep. They may not charge some of these fees to online learners, but may instead charge an extra technology fee. It's helpful to review each school's website and meet with admissions officers to make sure you understand the cost structure.
Here are the average tuition and fee costs for the 2020-2021 school year, according to the National Center for Education Statistics:
Public: $9,400 (for in-state students; out-of-state tuition is much pricier)
Private nonprofit: $37,600
Private for-profit: $18,200
Financial Aid
To offset education costs, some students are eligible for a variety of financial aid opportunities. Depending on financial need, a grant or scholarship may be available, which students do not need to pay back. Meanwhile, a federally funded student loan would probably have a lower interest rate and superior repayment terms than a private loan from a bank.
While attending accredited colleges, online social work majors are also eligible for federal, state, and school-sponsored financial aid. If interested, students should apply for financial aid by submitting the Free Application for Student Aid (FAFSA). Representatives from the federal government and university evaluate applications to determine qualification.
There may be some restrictions regarding eligibility for financial aid. For example, a student may have to attend classes full time, have in-state residency, or enroll with an accredited school to be eligible. For more information, students may contact the financial aid office at their chosen school.
Scholarships for Social Work Students
Whether a student earns their BSW online or on campus, they may be eligible for scholarships. Due to a shortage of social workers in certain areas, some state governments have established scholarships to encourage more people to enter the field.
The state's Department of Higher Education has more information on grants, scholarships, and loan-forgiveness programs specifically designated for social work majors. Two national organizations — the CSWE and the National Association of Social Workers (NASW) — also provide several funding opportunities. Additionally, some humanitarian/religious organizations offer privately funded social work scholarships.
Consider some of the following scholarship opportunities if you are trying to save money while earning your social work degree online:
Consuelo W. Gosnell Memorial Scholarship
Eligibility: Members of the National Association of Social Workers (NASW) who attend or have been accepted into an accredited MSW program
Award: $4,000 awarded to 10 recipients
Melanie Foundation Scholarship
Eligibility: Graduate school students studying the link between mental health and community violence
Award: $2,500 awarded to one recipient
Verne LaMarr Lyons Memorial Scholarship
Eligibility: Members of the NASW who attend or have been accepted into an accredited MSW program
Award: $4,333 awarded to six recipients
What Degrees Go Well With Social Work?
Several disciplines are natural companions to social work studies. Since many social workers help those with challenges, such as poverty and discrimination, it may be constructive to accompany a social work degree with a degree in sociology, political science, public health, or law. This pairing would likely improve one's understanding of the systemic and cultural factors underlying these issues. This pursuit may also help a social worker qualify for a job related to public policy, where they could advocate for improvements.
Students who want to be licensed clinical social workers can benefit from studying psychology. Eventually, they would need to diagnose a variety of mental health and emotional issues. They would also need to design treatment plans to encourage behavioral or environmental changes. Thus, a psychology degree may come in handy.
Social workers seeking a career in corrections may consider adding a criminal justice major or minor alongside their social work degree. It's worth noting that this sector is growing at 0% annually, which means that there is little to not change in job growth. Meanwhile, clinical social workers are projected to grow at the average rate in the U.S. — 9% by 2031.
Finally, students who want to manage a social service team may consider studying business or nonprofit management alongside social work. This extra work at the onset can benefit students in the long run by positioning them on a higher-paying career path.
What Other Factors Should I Consider Besides Affordability?
Research suggests that most online students prefer small class sizes that allow them to engage closely with their professors. Some students also cite accessible and helpful resources as a factor in their positive reviews, including engaged academic advisers, a well-connected career services office, and physical/mental health counseling for distance learners.
Some schools require internships or field placements as part of the degree pathway. These opportunities can be a helpful boost to students' professional networks and provide real-world experience that can be cited in job applications and interviews.
Another important factor to consider when choosing a college program is course delivery and accessibility.
Are the courses completely synchronous?
How long will the degree take to complete?
Is the school willing and able to accommodate an online student's disability?
Prospective students should review each school's program and its "about us" page for information on these factors as well as others, like graduation and employment rates.
FAQs About Affordable Online Social Work Degrees
Is an Online Social Work Degree Worth It?
---
While no catch-all answer to this question exists, individuals should consider a couple of key matters. In terms of salary, for example, the BLS reports a median annual wage of $61,190. This is about $15,000 more than the median wage of all occupations in the U.S. The industry outlook is also positive. However, it's important to note that most social workers eventually earn a Master of Social Work (MSW), and many hold licenses. These achievements skew the data because licensed MSW graduates often qualify for higher-paying positions than Bachelor of Social Work (BSW) graduates.
Can I Get Hired With an Online Bachelor's Degree in Social Work?
---
Yes — an online bachelor's degree can qualify graduates for a wide range of entry-level jobs, such as caseworkers (in government agencies or non-profits), probation officers, substance abuse counselors, or aides to mental health professionals. A bachelor's degree is the minimum requirement for most positions in the field of social work. Hiring managers will accept the degree as long as it's from an accredited institution.
Can You Earn a Social Work Degree Online?
---
Absolutely — we've listed the most affordable online bachelor's degrees in social work above. OnlineU also ranks the best online degrees in social work by alumni Salary Score.
Like many program accreditation bodies, the CSWE is slowly starting to accredit distance learning programs. As more schools offer hybrid or fully online programs, the stigma around online degrees is fading. Human Resource managers have publicly called for companies to consider graduates of online programs so as not to ignore worthy candidates. In fact, a study found that the majority of HR professionals view online degrees as equal to in-person versions.
Do I Need a Social Work Degree To Be a Social Worker?
---
Although social work jobs may require a bachelor's degree, it doesn't necessarily need to be in social work. In a 2020 survey by the CSWE, 8.6% of responding social workers claimed their job required a bachelor's degree in social work, but another 9.9% said their job required a bachelor's degree in any subject. Most respondents, however, worked in jobs requiring a master's degree, which suggests that most social workers eventually pursue a higher degree. Social work graduates may also get a job in another field that requires a bachelor's degree. This employment could enable them to earn money while they pursue an MSW or allow them to pivot toward another career entirely.
Related Articles
2023 Most Affordable Online Colleges & Degrees
Explore the top affordable online colleges of 2023. Find cheap online associate, bachelors, master's, and doctoral degrees.
2023 Most Affordable Online Master's Programs
Explore the most affordable online master's degree programs in 2023 and choose the one that's right for you.