2023 Most Affordable Online Master's Degrees in Psychology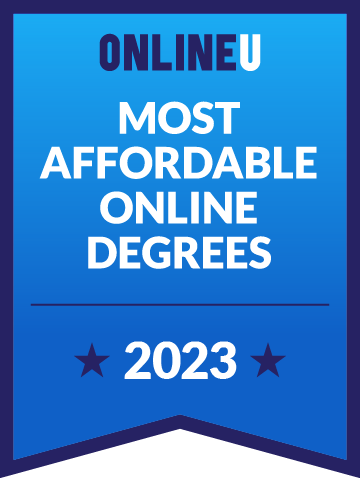 An online master's in psychology is designed for students and career professionals looking to further their expertise and pursue high earning careers in the field. An affordable master's degree in psychology covers psychology practices, methods, and research techniques. Typical courses in an online master's program in psychology include Applied Research Methods, Developmental Psychology, and Counseling. At the master's level, psychology programs become denser and niche, with some programs focusing on specialties, like Behavior Analysis and Applied Sport Psychology. Graduates of an online master's program may further their education by pursuing an affordable online psychology doctoral degree or entering the workforce directly.
View our methodology for details about rankings or learn more about us. For further inspiration, check out our overall list of the most affordable online degrees or a similar program to a master's in psychology, an online master's in counseling.
All tuition numbers were manually collected and verified
| Rank | School | Locations | Annual Tuition |
| --- | --- | --- | --- |
| # 1 | Fort Hays State University | Hays (KS) | $4,478 |
| # 2 | California Coast University | Santa Ana (CA) | $4,875 |
| # 3 | Union College - KY | Barbourville (KY) | $5,100 |
| # 4 | University of Central Missouri | Warrensburg (MO) | $5,910 |
| # 5 | Southern Illinois University - Carbondale | Carbondale (IL) | $6,446 |
| # 6 | Adams State University | Alamosa (CO) | $6,525 |
| # 7 | American Public University System | Charles Town (WV) | $6,660 |
| # 8 | Midwestern State University | Wichita Falls (TX) | $6,770 |
| # 9 | Colorado State University Global | Greenwood Village (CO) | $7,500 |
| # 10 | Kansas State University | Manhattan (KS) | $7,659 |
Overview of Online Psychology Master's Degrees
While affordable tuition is crucial for many people, students should also consider the best online master's in psychology programs, based on salary potential. Earning a master's in this field paves the way to a number of different roles as therapists and counselors. It can also be a stepping stone to a doctorate in psychology, which allows graduates to work as clinical psychologists, academic researchers, and college professors.
As you explore psychology at this level, you'll find that it's a diverse and complex science. The courses in a master's program show you how to apply theoretical knowledge and use proven clinical practices when evaluating and treating patients. Some schools may encourage you to choose an area of specialization, such as clinical, child, developmental, or industrial-organizational psychology.
Some programs lead to a Master of Science (MS), while others lead to a Master of Arts (MA). This is an important distinction that may influence the program you choose. If you plan to work as a counselor, therapist, or clinical psychologist, you may prefer the more comprehensive approach typical of an MA. But if you plan to continue with a doctoral degree, you may want to opt for an MS that focuses on original research, data analysis, and science.
Psychology master's programs require the completion of 30-48 credit hours, which means full-time students may need one to three years to earn this degree. Programs often require a specified number of hours of field experience, which may be fulfilled through internships. To complete a master's program, you may be required to write a thesis, complete some type of capstone project, or pass a comprehensive final exam.
Common Courses
The curriculum for a master's degree in psychology can vary depending on the focus of the program. Programs may revolve around the study of clinical psychology, neuropsychology, or human development, to name a few examples. The following courses, however, are often included in an online or on-campus program:
Research Methods in Psychology
In this course, students are trained in various quantitative and qualitative research methods used in the field of psychology. Students learn how to design and analyze psychological research, developing the skills necessary to evaluate and conduct empirical studies.
This course focuses on human development throughout the lifespan, from infancy to old age. Students gain a comprehensive understanding of the biological, cognitive, and socio-emotional changes and continuity that occur at different stages of life.
Students in this course delve into the study of cognitive processes such as perception, memory, problem-solving, and language. This course provides an understanding of how these processes influence our interactions with the world and how they can be applied to address real-world problems.
This course examines how the thoughts, feelings, and behaviors of individuals are influenced by the actual, imagined, or implied presence of others. Students explore concepts like social influence, group dynamics, interpersonal relationships, and social perception, providing them with the skills to analyze and understand social phenomena.
This course gives students an overview of the theories, practices, and ethical considerations of clinical psychology, including the assessment, diagnosis, and treatment of mental health disorders. Students also learn about different therapeutic approaches, such as cognitive-behavioral therapy, psychodynamic therapy, and humanistic therapy.
Ethics and Multicultural Issues in Psychology
In this course, students learn about the ethical principles and standards that guide psychological practice, research, and teaching. It also covers multicultural and diversity issues in psychology, encouraging students to think critically about how to apply psychological principles across different cultural contexts and understand the impact of culture on human behavior.
Funding an Online Psychology Degree
Before you apply for admission into an online master's program in psychology, you may want to think about how much you can afford to pay for this degree. Comparing your budget to the estimated cost of earning a master's may help you determine which school is the best choice for you.
The most current data from the National Center for Education Statistics indicates that the average total annual tuition and fees for graduate programs at public universities is $12,394, and at private institutions it's $26,621.
However, as you can see from the list of the most affordable online psychology master's programs above, you have a wide range of options that may allow you to save money on the cost of your master's degree. In general, online programs may be more affordable because many schools charge in-state tuition rates or slightly reduced tuition rates for online students. They also eliminate the cost of on-campus room and board and transportation to and from school.
Other ideas for minimizing the cost of earning a master's include working at a full-time or part-time job to generate extra income, relocating to a less expensive place to live, and taking advantage of your employer's tuition reimbursement program, if available.
Financial Aid
One way to help defray the cost of earning a college degree is to apply for financial aid by submitting the Free Application for Federal Student Aid (FAFSA). Once your application has been processed, you'll receive a Student Aid Report (SAR) that lets you know whether you qualify for funding. This aid comes from sources such as the federal and state governments, as well as schools.
If your school offers you a financial aid package, it may contain different types of aid. The preferred types of funding are grants and scholarships as they typically don't need to be paid back.
You may also receive an offer of a student loan. You'll need to pay your loans back with a significant amount of interest, so you may want to use our student loan repayment calculator to establish the full cost of the loan. If you're given a choice, remember that private student loans often have higher interest rates and stricter repayment terms than federal student loans.
With a little research, you may also discover some private scholarships available specifically for psychology students. These opportunities aren't covered by the FAFSA so you'll need to apply for them separately.
What Can You Do With an Online Psychology Degree?
Once you've earned your online master's degree, you can move your psychology career in several different directions. If your goal is to help people improve their mental health and interpersonal relationships, you may qualify for a number of counseling occupations.
Some of these possibilities include working with individuals and families, guiding and supporting them as they address communication, substance abuse, and mental health issues. According to the Bureau of Labor Statistics, marriage and family therapists earn a median annual salary of $49,880, while substance abuse, behavioral disorder, and mental health counselors earn a median annual salary of $48,520.
In addition to these counseling roles, you'll find opportunities in business, where a strong foundation in human behavior can help you excel. These roles will require you to begin with entry-level positions, but with time and experience you could become a human resources manager with a median annual salary of $126,230. In sales, you might rise to the level of sales manager, earning a median annual salary of $127,490.
To qualify for most of the higher-paying occupations in the field of psychology, you'll probably need additional education. For example, to become an industrial-organizational psychologist with a median annual salary of $139,280, you may need to earn a postgraduate certificate in this specialty. If you want to become a clinical psychologist (median annual salary $81,040) or an academic researcher or professor of psychology (median annual salary $77,860), you'll need a doctorate.
In most states, any professional who treats patients through therapy must obtain a state-issued license. Licensure requirements vary by state, but they typically involve earning a master's or doctorate from an accredited university, accumulating several hundred hours of clinical experience, paying a fee, and passing an exam.
FAQs About Online Psychology Degrees
How Do I Choose a Master's in Psychology?
---
In addition to the programs listed above, you have many master's in psychology programs to choose from. To select the right option for your needs, you'll want to research the curriculum, online format, notable faculty, financial support, and student services available at each school.
One other important consideration is institutional accreditation. You need to be enrolled in an accredited program to qualify for financial aid, and your master's may need to be from an accredited university if you decide to pursue a doctorate.
How Long Is a Master's Degree in Psychology?
---
Master's degrees in psychology may take anywhere from one to three years, possibly longer for those attending part time. Some programs require as few as 30 credit hours, which can probably be completed in 12-18 months. Other programs require as many as 48 credit hours, which could require two to three years of full-time study.
What Are the Admission Requirements for Psychology Degrees?
---
To gain acceptance into an online psychology master's degree program, you'll need a bachelor's degree from an accredited university. Most schools also require applicants to have maintained a GPA of at least 2.8 during their undergraduate studies. Along with your application, you may be asked for a resume, a personal statement, letters of recommendation, and GRE exam scores.
Many students who apply to psychology master's programs hold a bachelor's in psychology or a related field, such as counseling, counseling psychology, or various types of therapy. If you majored in something other than psychology or counseling, you may need to take prerequisite courses before starting on your master's courses. These additional courses need to be factored into your overall budget.
Is a Master's Degree in Psychology Worth the Cost?
Deciding whether it's worth it to pursue an online master's degree in psychology needs to be based entirely on your career goals and priorities.
Viewed purely from a financial perspective, job opportunities in the field of psychology that require only a master's degree tend to have lower salaries, with a median of $48,520-$49,880. In light of the cost of earning both a bachelor's and a master's degree, this degree may not offer an optimal return on your investment. Further, to qualify for the higher-paying occupations, you may need to make an additional investment in postgraduate studies or a doctorate.
However, money may not be your only consideration. Working as a therapist or counselor or pursuing a management role in business may be ideal for you. If you're confident that earning a master's in psychology is the right path, consider taking steps to reduce the cost of earning this degree.
Related Articles
2023 Most Affordable Online Master's Programs
Explore the most affordable online master's degree programs in 2023 and choose the one that's right for you.
2023 Most Affordable Online Master's in Sports Psychology
The colleges on our 2023 list offer the most affordable online master's degrees in sports psychology currently available.