2023 Most Affordable Online Master's Degrees in Project Management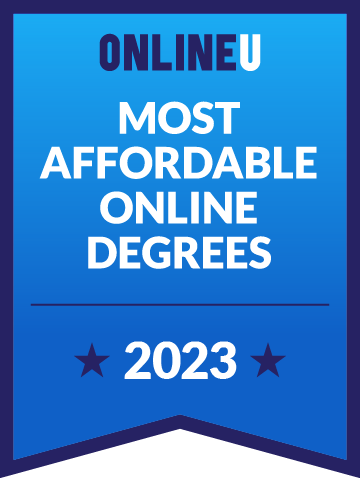 An online master's in project management provides an in-depth overview of the theories, skills, and tools necessary for students to successfully create, manage, and deliver complex projects in their careers. Most programs offer project management as a concentration, meaning students must choose a major, like a Master of Science, Business Administration, or Information Studies, as their core curriculum. An online master's in project management may cover business ethics, project management, portfolio management, and agile methods. In addition to coursework, students can also expect to complete a capstone project in order to graduate. Some potential career paths for graduates include project managers, operations managers, and product development managers.
A similar program to a master's in project management is management. You can also check out our overall list of the most affordable online degrees for inspiration. View our methodology for details about rankings or learn more about us.
All tuition numbers were manually collected and verified
Rank
School

Locations

Annual Tuition

# 1
Amberton University
Garland (TX)

$5,130

# 2
Missouri State University
Springfield (MO)

$5,415

# 3
Columbia Southern University

Orange Beach (AL)

$6,030

# 4

(tie)

Southern Illinois University - Edwardsville
Edwardsville (IL)

$6,300

# 4

(tie)

University of Arkansas Grantham
Kansas City (KS)

$6,300

# 6
Ohio University - Main Campus
Athens (OH)

$6,324

# 7
University of Southern Indiana

Evansville (IN)

$6,333

# 8
American Public University System
Charles Town (WV)

$6,660

# 9
Colorado State University Global

Greenwood Village (CO)

$7,500

# 10
Sam Houston State University
Huntsville (TX)

$7,583
Overview of Online Project Management Master's Degrees
Project management master's degree programs are designed to help you become an adept project manager capable of overseeing diverse assignments in various organizations and sectors. Most classes feature hands-on projects that simulate real-world situations. For instance, you might be tasked with creating a project charter, devising a risk management plan, or conducting a post-project review.
In a master's in project management program, you'll learn technical skills such as project planning and scheduling, risk management, budgeting, and performance monitoring. Given the importance of soft skills in this field, you'll also develop leadership, conflict resolution, collaboration, and effective communication skills.
Online project management degrees typically require 30-36 credit hours. You may be able to complete your graduate degree in two years if you're studying full time, and there are a few accelerated programs available if you'd like to finish sooner. You do not necessarily need to hold a bachelor's degree in project management or business administration to be accepted into an online master's program, but if you don't, you may be required to take a few prerequisite courses.
Common Courses
Since graduates with an online project management master's degree may go on to seek certification through the Project Management Institute (PMI), the curriculum of some programs focuses on providing the knowledge needed to pass the certification exams. In addition to the core courses, programs often end with some type of culminating course that may involve a research project, a thesis, or portfolio development. A few programs also require an internship.
Some of the online courses commonly found in a project management master's program include:
Project Planning and Control
In this course, students learn to design and manage complex projects, ensuring they remain within budget and on schedule. They'll practice using industry-standard tools and techniques for project scheduling and control.
This course teaches students to identify, assess, and mitigate project risks. They will also develop strategies to ensure projects run smoothly despite unforeseen challenges.
Through a variety of experiential learning activities, students are trained to effectively communicate with stakeholders, ensuring their needs are addressed and their involvement is optimized throughout the project lifecycle.
Budgeting and Cost Control
This course delves into techniques, tools, and best practices for creating project budgets and monitoring project expenses. Students will also learn about cost forecasting and control mechanisms.
Leadership and Team Management
By emphasizing soft skills, this course trains students in leading teams, managing conflicts, and ensuring optimum team performance throughout a project.
Performance Monitoring and Evaluation
Students are introduced to methodologies for evaluating the progress and performance of a project against set goals, ensuring continuous improvement.
Funding an Online Project Management Degree
Before you enroll in an online master's in project management program, you'll want to think through the cost and how you're going to pay for the degree. Tuition fees make up the majority of the cost of earning a degree, so to start calculating expenses, you can multiply each school's per-credit tuition fee by the number of required credits in each program.
Alternatively, you can get an estimate by using data from the National Center for Education Statistics (NCES). The NCES collected data from graduate schools across the country for the 2020-21 school year. The center's findings show that the average total annual tuition and fees for graduate programs at public universities was $12,394, while private schools averaged $26,621. Multiplying these figures by the number of years you'll need to complete the graduation requirements can also give you some sense of the cost.
Although you'll probably have a number of funding sources available to you — savings, income, gifts, and financial aid — you still may want to find ways to save money on your master's degree. An online program like one of the most affordable online project management degrees listed above may be a great option for you. Since many schools set lower tuition rates for online students than for on-campus enrollees, distance education may allow you to significantly reduce your tuition costs.
Online programs can also help you save because they eliminate room and board fees, as well as expenses related to traveling to and from school. If you go the online route, you could also relocate to a more affordable city or state while you complete your degree.
Financial Aid
Many students rely on financial aid to fund at least part of their education. As an online student enrolled in an accredited college, you can apply for financial assistance.
The best forms of financial aid are grants, fellowships, and scholarships provided by the federal and state governments, as well as the schools themselves. These forms are preferred because you won't need to repay them. However, this funding usually goes to those students who can demonstrate financial need. As a graduate student, especially if you're a working adult, your financial circumstances may prevent you from receiving these types of aid.
If this is the case, you will likely be offered a student loan, but the interest can dramatically increase the total cost of earning a degree. Before you accept a loan, use our student loan repayment calculator to determine the final cost of repaying the loan. Also, think about repayment terms. Federal student loans often have lower interest rates and more flexible terms than private student loans.
There is one other type of financial aid available — private scholarships sponsored by nonprofits, civic organizations, and businesses. This aid can be determined by several factors, not just financial need. Private scholarships can be awarded based on academic merit, career goals, and family heritage.
To be considered for private scholarships, you'll need to research and submit a separate application for each opportunity. For all other types of aid, however, you can apply by submitting one form — the Free Application for Federal Student Aid (FAFSA). Your application will be reviewed by both the federal government and financial aid officers at your school. You'll then receive a financial aid letter detailing what types of aid and the amounts you're being offered.
What Can You Do With an Online Project Management Degree?
An online project management master's degree opens doors to myriad career opportunities in various sectors, including IT, construction, healthcare, and finance. Employment opportunities may go by different job titles, such as program manager and cost estimator. Some of the more common occupations include the following:
Project Management Specialists
Annual Median Salary:
$94,500
Project management specialists oversee all aspects and phases of a project, from scheduling and budgeting to procurement and trouble-shooting. Although many employers hire job candidates with only a bachelor's degree, some require a master's degree and several years of work experience for senior-level roles.
Annual Median Salary:
$77,030
Logisticians use computer software to plan and track materials, supplies, and products. As an integral part of the supply chain for any manufacturing organization, they develop systems and look for ways to improve efficiency and reduce costs.
Annual Median Salary:
$93,000
Management analysts are usually tasked with maximizing an organization's growth while also increasing productivity and performance. These professionals can utilize project management techniques to help employees within the organization adapt to change.
Many project management professionals further enhance their credentials by earning certifications. Two of the most popular options are the Certified Associate in Project Management (CAPM) and the Project Management Professional (PMP), both sponsored by the PMI. These certifications demonstrate your expertise, which may make you a more competitive job candidate for advanced roles in larger corporations.
If you're interested in research in the field, you may want to pursue a doctorate in project management. A terminal degree paves the way to opportunities in academia and high-level research.
As an alternative to earning an online project management degree, you may want to consider earning a Master's of Business Administration (MBA) with a focus on project management. You'll find plenty of options on our lists of the best online MBA programs and the most affordable MBA programs.
FAQs About Online Master's in Project Management Degrees
How Do I Choose a Master's in Project Management?
---
As you're reviewing your options for earning an online master's degree in project management, you'll want to take several factors into consideration. Curriculum is particularly important in this field. If you plan to seek certification, you'll want to choose a program that will help you prepare for the exam. Other key factors are tuition and fees, noteworthy faculty members, school-sponsored financial aid, and online student services.
The school you choose should also have institutional accreditation, which is an assurance of a quality education. All of the schools on our list of the most affordable online project management degrees are accredited. It may also be important to you to select a program that has been accredited by the PMI. This program-level accreditation indicates that the curriculum is centered on industry standards.
Is a Project Management Master's Difficult?
---
As with all degree programs, what is easy for some may be difficult for others. However, a project management master's degree program is rigorous, requiring you to grasp complex technical practices and develop strong interpersonal skills. It requires commitment, focus, and time management to successfully complete a master's program.
Is an MBA or a Master's in Project Management Better?
---
Both an MBA and a master's in project management offer tremendous value, but they cater to slightly different needs. An MBA in Project Management provides a broad business foundation with a specialization in project management, ideal for those aiming for leadership roles that require business acumen. In contrast, a master's in project management delves deeper into the intricacies of project management, which is best for those seeking expertise in this specific function.
Is a Master's Degree in Project Management Worth It?
Going back to college for an online project management degree is a big investment of time and money, so it's only right for you to question its value. However, only you can determine if this degree will help you meet your career goals and offer a healthy return on your investment.
To maximize the rewards of earning a master's degree, look for ways to minimize the cost. Perhaps a good first step is to choose one of the most affordable online project management programs listed above.
Related Articles
2023 Best Online Master's Degrees in Project Management
Our 2023 rankings feature the best online bachelor's degrees in project management based on alumni salary outcomes. Explore our list of accredited online colleges.
2023 Most Affordable Online Master's Programs
Explore the most affordable online master's degree programs in 2023 and choose the one that's right for you.