2023 Most Affordable Online Nutrition Degrees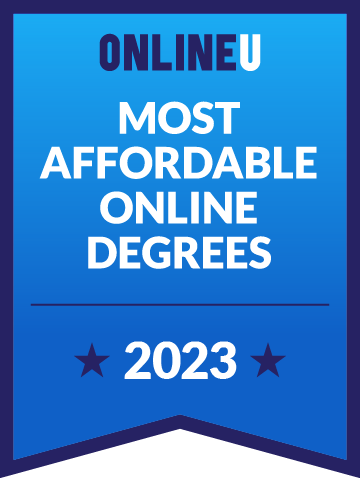 Nutritionists and dieticians who understand food and nutrients and their effects on the metabolism play a key role in helping us manage and prevent disease. An affordable online bachelor's degree in nutrition can provide cost-effective options so you can develop skills in helping others stay healthy. Some programs are accredited by the Accreditation Council for Education in Nutrition and Dietetics (ACEND) as Didactic Programs in Dietetics (DPD), which is necessary for registered dietician (RD) or registered dietician nutritionist (RDN) certification.
We've ranked our list by manually collected tuition to help you stay within your budget. If this isn't a priority, the best online bachelor's degrees in nutrition are also worth exploring. View our methodology for details about rankings or learn more about us.
All tuition numbers were manually collected and verified
Overview of Online Nutrition Bachelor's Degrees
A bachelor's degree program in nutrition is designed to give you the knowledge and tools you need to help your future clients achieve optimum health. Through the courses on food science, physiology, health, and more, you'll learn how to evaluate clients' nutritional status, assess their food-related behaviors, and recommend appropriate changes.
An online nutrition degree typically requires the completion of 120 credit hours. Most full-time students earn their degree in four to five years, but part-time students may need five or six years. By the time you graduate, you'll have developed both technical skills, such as dietary analysis and nutrition planning, and soft skills like effective communication, instruction, research, and empathy.
Throughout the program, you'll be given many assignments that provide real-world experience in a simulated environment. You can expect to engage in projects like meal planning for specific medical conditions and running community nutrition campaigns. The goal is to prepare you for a diverse range of opportunities in the field.
Common Courses
Nutrition bachelor's degree programs include a wide array of courses on the human body and nutrition. Some courses, such as food science or chemistry, may include hands-on lab work. Many programs include an internship or some type of work in the nutrition field, as well as a capstone project.
Some of the courses likely to be included in an online nutrition program include:
Typically one of the earlier courses in a nutrition program, this class provides an understanding of the fundamental principles of nutrition, including the role of nutrients in the body. Students will learn about metabolism, digestion, and how different nutrients affect overall health.
Dietetics and Clinical Nutrition
Focusing on therapeutic diets, students in this course learn to create and manage diet plans for specific medical conditions, such as diabetes or heart disease.
This course explores the role of nutrition in public health. Students will gain real-world experience in developing community-based interventions by designing nutritional programs that promote health within various populations.
Food Safety and Sanitation
Students will learn about foodborne illnesses and the importance of proper food handling, safety regulations, and sanitation practices within the food industry.
By emphasizing the psychological aspects of eating, this course helps students understand how behavior influences nutritional choices and how to encourage healthy eating habits.
This course covers the specific nutritional needs of athletes and those engaging in regular physical activity. Coursework may include developing individualized nutrition plans to optimize performance.
Funding an Online Nutrition Degree
Earning your bachelor's degree in nutrition is a significant investment that requires careful planning and smart decision-making. The following five suggestions may allow you to reduce the cost of your undergraduate education and save money while you're in college:
One way to minimize costs is to opt for an online program like those on the list of the most affordable nutrition degrees above. Tuition is by far the most expensive part of going to college, but many schools charge lower tuition rates if you earn your degree completely online. Also, by studying remotely, you cut out other expenses like room and board and transportation to and from school.
When looking at program options, consider attending a public university. Current data published by the National Center for Education Statistics (NCES) show that the average tuition and fees for bachelor's degrees at public schools was about one-fourth of what private schools charge — $9,375 versus $32,825. Here again, a public school could help you realize a significant reduction in tuition fees.
One of the biggest advantages of attending school online is that it lets you live anywhere you choose, including a state with a lower cost of living. Relocating to an affordable city or town could help you save on rent, food, and other living expenses.
Consider fulfilling your general education requirements at an affordable community college. In the first two years of a bachelor's program, you'll need to take about 20 basic courses in subjects like English, calculus, and data literacy. You could complete these courses online at any community college, and the NCES notes they average $3,501 a year in tuition and fees.
A part-time or full-time job may allow you to earn extra income that you can put toward your degree. Working while you're in school has its benefits and drawbacks, but it may help you avoid or at least minimize student loan debt.
Financial Aid
For many students, financial aid is one of the primary sources for funding a degree. As long as you're enrolled in an accredited program, you can apply for financial assistance by submitting the Free Application for Federal Student Aid (FAFSA). If you qualify for aid, you'll receive a financial aid offer from your school. This letter will explain the types and amounts of aid you can receive.
Out of all the types of financial aid available, grants and scholarships from the government or your school are preferred because they don't have to be paid back. However, depending on your financial need, you may be offered a federal or private student loan. Keep in mind that loans have to be repaid with interest, so you may want to use a student loan repayment calculator to determine the total cost of the loan before accepting it.
If you do some research, you may also discover that you're eligible for several privately funded scholarships. These can be awarded based on financial need, academic excellence, or family heritage. There may also be scholarships available for students majoring in nutrition or health.
What Can You Do With an Online Nutrition Degree?
After earning an online nutrition bachelor's degree, you may want to enter the workforce or continue to enhance your credentials through certification or graduate studies.
One of the most common occupations that graduates with this degree pursue is a nutritionist. According to the Bureau of Labor Statistics (BLS), nutritionists typically find employment in healthcare facilities, such as hospitals, large private practices, and nursing homes. They are responsible for assessing their clients'' nutritional needs and providing counseling and education. The median annual wage for nutritionists is $61,650, and demand for professionals is expected to grow by 7% over the next decade.
The knowledge and skills you acquire while earning a bachelor's in nutrition qualify you for other jobs as well. For example, you might become a health education specialist or community health worker. In these roles, you'll work with entire communities of people, developing programs to help them improve their health through diet. The median annual wage for these professionals is $46,590, and 12% job growth is projected through 2031. You could also become a food scientist — earning a median annual salary of $74,160 — who helps develop food products.
Further Education, Certification, and Licensure
Depending on the state where you live, you may need additional education, certification, or a state-issued license to work as a nutritionist or dietitian. State requirements vary significantly, so be sure to check with your state's licensing board to determine whether a nutrition bachelor's degree is adequate or if a master's degree will be required. Although affordable online nutrition master's degree programs are available, it will still add a substantial amount to the cost of your education.
Some states require certification, but even if it's not required by your state, you may want to consider earning a professional credential since many employers prefer to hire job candidates who've obtained certification. Two of the most popular credentials are the Registered Dietitian (RD)/Registered Dietitian Nutritionist (RDN) and the Certified Nutrition Specialist (CNS). In 2024, you will need a master's degree to qualify for these certifications.
Another benefit of earning a master's in nutrition is that you'll be able to choose an area of specialization as you study. You may decide to specialize in working with people suffering from specific diseases, including diabetes, digestive disorders, or cancer, or with particular groups of people, such as athletes.
If original research in the field of diet and nutrition is your passion, you may want to consider earning a doctorate in nutrition. This will enable you to work in research labs and universities.
FAQs About Online Nutrition Degrees
How Do I Choose a Bachelor's in Nutrition?
---
You'll undoubtedly want to explore several key factors when you're evaluating your options for earning an online nutrition bachelor's degree. In addition to reviewing the curriculum to ensure it will help you meet your career goals, you'll want to look at tuition and other fees, availability of financial aid, online format, and support services offered by the school.
When it comes to nutrition degrees, accreditation is also extremely important. The school you select should have institutional accreditation, and the program should be accredited by the Accreditation Council for Education in Nutrition and Dietetics (ACEND). You may need to hold a degree from an ACEND-accredited program to obtain certification or licensure.
What Are the Admission Requirements for Nutrition Degrees?
---
Admission requirements for online nutrition programs are fairly similar across schools. Some of the common requirements include a high school diploma or the equivalent, a high school GPA of at least 2.5, and high scores on standardized tests like the SAT or ACT.
When submitting your online application, you may be asked to provide high school transcripts, a personal essay, a list of extracurricular activities and achievements, and one or more letters of recommendation.
You'll want to start applying to colleges about 6-12 months before you plan on enrolling. For most colleges on a regular admissions schedule, applications are due sometime in the fall or winter of the year before the program starts. However, if you're planning on attending an online-only school, they often accept applications all year and offer start dates scattered throughout the year.
Do You Need a Bachelor Degree for a Career as a Nutritionist?
---
The career requirements for becoming a nutritionist vary widely depending on the state where you live. However, many states do require a bachelor's degree in nutrition or something similar, and some require a master's.
Are Nutrition Degrees Worth It?
Many variables need to be considered when you're deciding if a nutrition degree will be worth it, most of which depend on your priorities and goals.
You can try to evaluate a bachelor's in terms of financial investment, but that can be challenging. In some states, you'll be able to find nutrition jobs that pay fairly well with just a bachelor's degree. In other states, you may need a master's degree. If that's the case, the combined cost of a bachelor's and master's may not give you the best return on your investment, given that the median annual salary for nutrition professionals is $61,650.
However, there's so much more to consider, like having a career that's interesting and challenging and experiencing the rewards of helping others. If you're sure this is the right major for you, look for ways to economize on college, including choosing one of the most affordable online nutrition programs.