2023 Most Affordable Online MFA Programs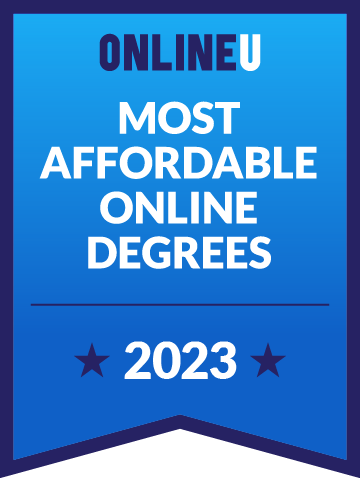 The start to building a solid writing career for many professionals can begin with an online Master of Fine Arts (MFA). An online MFA covers a broad spectrum of different specialties — like music composition, graphic design, journalism, creative writing, web design, and more. Students with talent in a creative specialty can develop their skills to create a strong portfolio for clients or employers after graduation. In addition to developing creative skills, prospective students can expect to improve their public speaking, leadership, and communication, and other soft skills. Graduates with this online master's may pursue careers ranging from college professors and authors to journalists and artists.
View our methodology for details about rankings or learn more about us. You can also check out our overall list of the most affordable online degrees for some inspiration.
All tuition numbers were manually collected and verified
Rank
School

Locations

Annual Tuition

# 1
Asbury University
Wilmore (KY)

$7,537

# 2
University of Arkansas at Monticello
Monticello (AR)

(and 1 other)

$8,490

# 3
Minnesota State University at Mankato
Mankato (MN)

$11,414

# 4
University of New Orleans
New Orleans (LA)

$12,008

# 5
Lindenwood University
Saint Charles (MO)

$13,200

# 6
Liberty University

Lynchburg (VA)

$13,560

# 7
University of Houston - Victoria
Victoria (TX)

$13,962

# 8
Albertus Magnus College
New Haven (CT)

$14,562

# 9
Drexel University
Philadelphia (PA)

$15,098

# 10
Bay Path University

Longmeadow (MA)

(and 1 other)

$15,113
Overview of Affordable Online MFA Programs
An MFA is a terminal degree that grants creative writers and artists a credential allowing them to teach or simply improve their employability. Most affordable online MFA programs are for writing, followed by visual art and design. To the best of our knowledge, no accredited schools offer online graduate degree programs in performing arts, such as dance and acting, because these media don't translate into a virtual format.
The focus of coursework differs according to the type of art students produce. For example, creative writers study different genres but put most of their electives toward their chosen format, such as fiction or poetry. Online learners usually attend asynchronous classes featuring recorded lectures and written discussion forums. In this digital format, they can read materials, view lessons, and complete assignments at their convenience as long as they respect the due dates.
---
How Much Will My Online MFA Program Cost?
---
| | |
| --- | --- |
| | The cheapest online options for an MFA program range from $9,750 to $29,969 a year. As a point of reference, we've found that the median annual tuition for a master's degree across all programs is $15,760. |
---
Attending graduate school online is often more affordable than attending on campus. Private schools sometimes charge online students less, while public colleges often charge distance learners the in-state tuition rate regardless of where they live. However, there are instances where attending a physical campus would be more affordable. For example, in-person MFA students can receive full or partial funding if they serve as teaching assistants. Since students can save tens of thousands of dollars by avoiding student debt, it's probably worth attending an on-campus program if they have the opportunity to be a teaching assistant and potentially receive a free MFA.
---
Funding an Online Master's in Fine Arts
Most financial aid is available to both online and in-person students, but applicants should check with their school's financial aid office regarding program eligibility. Online graduate students in the arts at accredited schools can apply for federal, state, institutional, or private financial aid.
If taking out a loan is the only option, students can usually find the best interest rates through the federal government. Completing the Federal Application for Student Aid (FAFSA) is a student's first step to determine their eligibility for federal aid. Most states and colleges also use the FAFSA to determine eligibility for their programs, though some states have developed separate forms for undocumented applicants, such as the Oregon Student Aid Application.
It's best to exhaust grants, scholarships, and work-study options before accepting loans because these funds don't need to be repaid. Below are some scholarship opportunities that are geared toward MFA students.
For additional information about college affordability, we've compiled resources about college savings plans, financial mistakes to avoid, and more.
---
Is an Online MFA Worth It?
Since dedicating time to creative endeavors can be difficult, many enroll in an Master of Fine Arts program for the sake of developing their craft in a guided, structured setting. Enrolling in an online program may be the best option for students juggling family and work. However, a graduate program also means a busier schedule. Determining the worth of an MFA degree depends on your interests, career goals, and financial situation.
Further, some MFA programs may be better options for online students, such as creative writing or visual design, as opposed to programs that benefit from the use of a studio, such as interior design and sculpture.
Potential Benefits:
An MFA program may provide you with networking opportunities. For example, poets and fiction writers can attend conferences at the Association of Writers and Writing Programs while studying online, which provides an opportunity for networking with publishers. Screenwriters searching for a job writing television or film scripts could network with people who can help them break into the industry, including peers, program alumni, and even producers.
Potential Drawbacks:
While an MFA can help you hone your craft and make important connections in your field, it doesn't directly lead to specific career paths. Therefore, it may not translate to either career advancement or salary growth. One of the biggest challenges with MFA programs is that there is no guarantee you'll see a financial payoff from your advanced degree. As a result, MFA graduates may have to take on a second job to support their art careers.
---
Common Master's in Fine Arts Online Courses
The curricula for MFA degrees differ by artistic discipline, but most programs share common themes and aim to develop students' creative talents. For example, creative writing degrees teach students to build strong characters through dialogue, while painting programs hone their skills by studying and practicing with different materials, styles, and techniques. MFA coursework also exposes students to constructive criticism from instructors and peers.
Some online MFA degrees are classified as low-residency programs, which involve online coursework except for 1-2 weeks per year when students must also attend intensive workshops.
Some online MFA degrees are classified as low-residency programs, which involve online coursework except for 1-2 weeks per year when students must also attend intensive workshops. A college may require internships for students in some disciplines, such as music production, interior design, or animation and visual effects. Most online programs culminate in a creative thesis project or a complete portfolio of work for a review committee to critique.
Below are some common courses you'll find in online MFA programs.
Basics of Screenwriting: Professors introduce scriptwriting by discussing various writing skills that include proper format, page counts for successful screenplays, character building, and dialogue. Students learn the conventions of different genres and how they fit into a traditional three-act structure. Some introductory courses include a workshop element allowing students to receive constructive criticism.
Creative Nonfiction Workshop: Faculty members discuss the genre's emergence through its current influence. Students may read prominent examples of memoirs, travel writing, nature writing, and investigative/literary journalism. Assignments are written from prompts and critiqued during workshop sessions.
Fiction Workshop: This course briefly surveys fiction writing throughout history, spanning the range of genres as they developed, including literary, detective, and young adult fiction. Each student shares their work during regular class meetings, where classmates offer constructive criticism. Students taking a fiction concentration can use these workshops to refine their culminating project, which is usually a book-length manuscript in the form of a novel or short story collection.
Poetry Workshop: As a workshop, this elective emphasizes professional writing and classroom critique. Professors also assign readings from different eras and styles to provide an overview of the form's variety. Discussion topics may include point of view, rhythm, meter, rhyme, and changing tastes.
Introduction to Drawing: In this course, the faculty discuss drawing as an art form and as preparation for painting and sculpture. Students learn how to depict perspective and proportion through lines and shading. In addition, live models may be brought into the classroom to introduce the complexities involved with drawing human figures.
Introduction to Sculpture: Students begin to learn how to create three-dimensional figures. The faculty discusses the variety of available building materials and the best techniques for shaping them. Most sections contain weekly assignments and culminate in producing a larger body of work for students.
---
Career Opportunities for MFA graduates
Those who pursue higher education through an MFA program go on to pursue a wide range of careers, depending on their previous experience, education, career goals, and field of study. Below, we utilized BLS salary and job projection data in our descriptions of possible career paths within these groups:
Leadership roles in the arts
Some MFA graduates pursue administrative roles in art galleries, theater departments, or public arts organizations. Others may work as art directors or creative directors for businesses, publications, theater performances, or TV and movie productions.
Art directors earn a median salary of $97,270 per year, but these roles can be highly competitive and require previous experience.
The need for art directors is expected to grow 11% through 2030.
Surveyed art directors described themselves as very satisfied in their careers.
Visual and digital design
Depending on their area of expertise, graduates of visual and digital design programs can become graphic designers, interior designers, UX designers, animators, or special effects artists. Photography or film production graduates can pursue careers in photography, film production, and related areas.
Graduates of creative writing programs may become published authors or pursue screenwriting opportunities. Alumni may also write for magazines, work as copywriters for advertising or technology firms, or become technical writers for tech or manufacturing companies. Many of these writing professionals choose to pursue creative work in their free time.
Related Articles
2023 Most Affordable Online Master's Programs
Explore the most affordable online master's degree programs in 2023 and choose the one that's right for you.
2023 Best Online Master of Fine Arts Programs
Read about the colleges in 2023 that are offering the best online MFA programs based on popularity. Our list also includes the cost of tuition.