2023 Most Affordable Online Medical Assistant Programs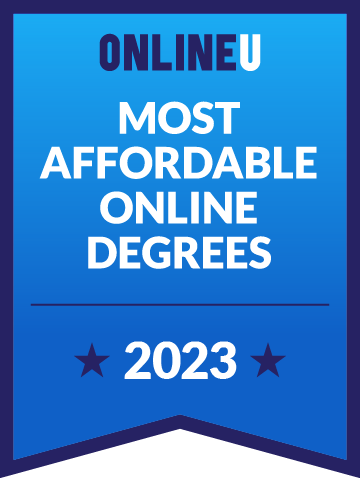 Medical assistants play an integral role in healthcare teams by helping deliver high-quality patient care. An online associate degree in medical assistant can be a cost-effective and convenient way to develop the skills necessary to meet employer expectations and healthcare industry standards. Online programs generally take two years or less to complete and may help prepare students to take industry credentialing exams.
We rank our programs based on affordability so you can find one that fits your budget while helping you meet your goals. View our methodology for details about rankings or learn more about our team. If you're still unclear about your career path, exploring our list of affordable online associate degrees may help you gain clarity.
All tuition numbers were manually collected and verified
Can You Become a CMA Online?
Yes, there are many medical assistant educational programs available through distance learning. All of the schools on our list of most affordable online associate programs, for example, enable students to take their general education and major-specific courses through online learning management systems. You'll find both administrative and clinical courses in these programs.
The administrative courses will teach you how to keep records, use the medical billing and coding system, transcribe patient records, and perform other clerical tasks in a medical setting. In the clinical courses, you'll learn how to work with patients by checking their vital signs, administering medications, and drawing blood. Programs may also include coursework in psychology, communications, and basic computer technology.
Some online programs may require you to complete an internship or practicum, which will give you valuable hands-on experience working with patients and other medical professionals. An advisor or coordinator at your school should be able to help you set up an appropriate learning situation at a healthcare facility near you.
In some cases, you may also be able to take your certification exam online. For example, an exam proctoring service called Prometric administers the 200-question Certified Medical Assistant (CMA) Certification Exam in four 40-minute sessions.
Are Online Medical Assistant Programs Legitimate?
There are many legitimate, accredited online medical assistant programs available. Accreditation means that the program or the school offering it have been evaluated by an independent agency and found to meet or exceed nationally accepted standards for quality. Legitimate online medical assistant programs have been accredited by any of the six regional accrediting bodies approved by the U.S. Department of Education.
Accreditation for specific medical assistant programs may also come from the Commission on Accreditation of Allied Health Education Programs (CAAHEP) or the Accrediting Bureau of Health Education Schools (ABHES).
Another way to determine whether an online degree is legitimate is to check with the association that will be administering the certification exam you intend to take in order to advance your career. For example, if the health care employers in your state prefer candidates who have been certified as National Certified Medical Assistants through the National Center for Competency Testing (NCCT), you can contact the NCCT to check for approved programs.
How Much Does Medical Assistant Certification Cost?
There are two ways you can obtain the training needed to become a medical assistant, and each comes at a different cost:
The Cost of Earning an Associate Degree
One way is to earn an associate degree from an accredited college or university. The programs on our list of affordable online medical assistant degrees have annual tuition rates ranging from $4,800 to $19,808. To get these annual tuition rates, we've multiplied the per-credit cost by the number of credits full-time students typically take, which is 30 each year. You can double this number to see the total tuition for a two-year program. The full cost of an associate degree will also include books, supplies, and fees charged by the college.
The Cost of Earning a Certificate or Diploma
The alternative is to earn a certificate or diploma by taking a course covering essential medical assisting skills and concepts. Some of these courses are accelerated, taking six weeks to three months and costing roughly $1,000 to $3,500. Other certificate programs take anywhere from six to 12 months, and tuition fees vary widely. These programs may entail additional expenses, such as course materials and program fees.
However, cost is only one of many factors that should be considered when deciding what type of medical assistant program is best for you. You might also think about what learning pace feels right, how quickly you want or need to get into the workforce, how much structure you prefer in a learning environment, and what type of certification exam you plan to prepare for. Above all, you'll want to examine your long-term career goals and determine which program is most likely to take you where you want to go.
Funding a Medical Assistant Program
Most students apply for some form of financial aid to help pay for their education. Although many end up taking out student loans, it's helpful to apply for as much gift aid as possible in the form of scholarships, grants, and work-study funding. Online students typically qualify for the same aid as on-campus learners.
You can begin the process by filling out a Free Application for Federal Student Aid (FAFSA), which details your financial situation and determines how much federal money you're eligible for. If you have undocumented immigration status, you can't qualify for federal aid but might be able to complete a similar state form depending on where you live.
In addition to government funds, you can pursue scholarships specifically intended for medical assistant students. Check out a few of these below, but also contact your school's financial aid office for more opportunities and to ensure they accept all the financial aid you receive.
Indian Health Service Scholarship Program
This agency provides scholarships for full tuition and fee expenses for one year to healthcare students. You may qualify if you're a member of a federally recognized American Indian tribe or Alaska Native village and intend to serve these communities after graduation.
Maxine Williams Scholarship Fund
The AAMA awards multiple applicants with $1,000 each year. You can't apply for this scholarship directly; your program director has to nominate you once you've completed at least one term in a CAAHEP-accredited medical assisting program.
Can I Take the Medical Assistant Test Without Going to School?
Whether you can take the test to become a medical assistant without going to school depends on which test you intend to take. The following are just four of the more common medical assistant certification exams you can choose from, and each have slightly different eligibility requirements:
Certified Medical Assistant (CMA) Certification Exam
Administering Agency:
American Association of Medical Assistants (AAMA)
You must have graduated from or be about to graduate from an accredited medical assisting program.
Registered Medical Assistant (RMA) Exam
Administering Agency:
American Medical Technologists (AMT)
You must be a recent or scheduled graduate of an accredited medical assisting program or from a formal military medical services training program, have worked as a medical assistant for five of the last seven years, or have extensive experience in teaching medical assisting classes.
Certified Clinical Medical Assistant (CCMA) Exam
Administering Agency:
National Healthcareer Association (NHA)
You will either have graduated from an accredited medical assisting program within the last five years or will have worked as a supervised medical assistant for one of the last three years.
National Certified Medical Assistant (NCMA) Exam
Administering Agency:
National Center for Competency Testing (NCCT)
You must be a current student of an NCCT-approved program, have graduated from an NCCT-approved program within the last five years, have worked as a medical assistant for two of the last five years, or have completed medical assistant training through the U.S. military within the last five years.
To help determine which, if any, certification exam you need to take, you may want to check with your state's Department of Health website. Although the states themselves usually do not require certification, health care providers often do. These employers may have a specific exam that they prefer or require. The fees for these exams can vary anywhere from $90 to $250, and the cost may depend on whether you are a paid member of the sponsoring organization.
It is also possible to find work as an uncertified medical assistant. However, certification achieved by earning a certificate or degree and passing one of these standardized exams assures hiring managers that you have mastered the appropriate knowledge and skills to do the job. Education and certification can lead to more job opportunities, a higher income, and more chances for promotion.
Related Articles
2023 Most Affordable Online Master's Degrees in Healthcare Management
Curious to learn about the most affordable colleges for online master's degrees in healthcare management? Explore our 2023 list.
2023 Most Affordable Colleges for an Online MHA
Find the most affordable colleges for online master's degrees in healthcare administration from our list of accredited schools.