2023 Most Affordable Online Master's Degrees in Management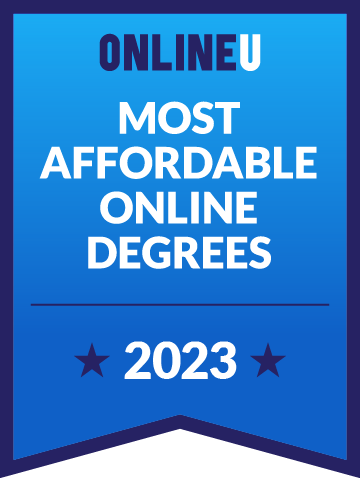 Individuals interested in career advancement may pursue an online master's degree in management, which offers convenience, scheduling flexibility, and affordability. Students can develop broad business acumen while acquiring specific industry expertise. Full-time students can generally complete these online graduate programs within two years, allowing them to save both time and money. For those interested in working for the public sector specifically, an online master's degree in public administration may be worth exploring.
We've ranked our list by manually collected tuition so you can find the program that helps you stay within your budget. View our methodology for details about rankings or learn more about us. You can also check out our overall list of the most affordable online degrees for inspiration.
All tuition numbers were manually collected and verified
Rank
School

Locations

Annual Tuition

# 1
Middle Georgia State University
Macon (GA)

$3,825

# 2
Fort Hays State University
Hays (KS)

$4,478

# 3
Wichita State University
Wichita (KS)

$4,620

# 4

(tie)

Athens State University
Athens (AL)

$4,875

# 4

(tie)

California Coast University
Santa Ana (CA)

$4,875

# 6
Fitchburg State University

Fitchburg (MA)

$4,934

# 7
Northeastern State University
Tahlequah (OK)

$5,095

# 8
Grace College and Theological Seminary
Winona Lake (IN)

$5,100

# 9
Amberton University
Garland (TX)

$5,130

# 10
Southeast Missouri State University
Cape Girardeau (MO)

$5,171
Overview of Online Management Master's Degrees
A master's degree in management may sound similar to a Master of Business Administration (MBA) degree, but they're actually quite different. Where MBA programs are designed for experienced managers who want to expand their knowledge of business, master's in management programs are usually aimed at students who have recently earned a bachelor's degree and have relatively little work experience.
Master's in business management programs also tend to cater to students who have earned bachelor's degrees in other fields, such as information technology, healthcare, data analytics, logistics, and more. The intention is for you to combine subject-specific knowledge with managerial skills so you can pursue leadership roles in your undergraduate field.
Many online master's in management programs offer areas of concentration, allowing you to further customize your education to meet your career goals. Some of the specialization options available are operations management, business analytics, project management, finance, and technology.
An online management master's program typically requires the completion of 30-33 credit hours, but the programs are generally meant to be finished in one or possibly two years of full-time study. Part-time students may need two or more years to finish. Many degree programs also include some type of capstone project.
Common Courses
Online master's in management programs give you a broad overview of business functions and management essentials. Some of the core courses commonly found in an online program include:
This course provides an in-depth understanding of how organizations define and pursue their strategic objectives. Students learn the art of formulating, implementing, and evaluating cross-functional decisions that enable an organization to achieve its long-term objectives.
Organizational Behavior and Leadership
Students explore the dynamics within organizations, understanding how individual, group, and structural elements influence behavior within the company. This knowledge aids in improving efficiency and productivity.
By focusing on the production and delivery of products and services, this course emphasizes efficient and effective operations, introducing students to concepts such as supply chain management, quality control, and process improvement.
Students learn the principles of financial decision-making in organizations. Topics include financial markets, risk management, financial derivatives, and more.
Human Resources Management
While covering a broad spectrum of HR topics, students are taught to strategize the recruitment, development, and retention of an organization's workforce.
This course delves into the tactics and strategies behind effective marketing. From understanding consumer behavior to crafting impactful marketing campaigns, students gain a comprehensive view of marketing in the business world.
Funding an Online Management Degree
Two of the biggest questions prospective graduate students have before enrolling in a program are the cost of the degree and how to pay for it. Although you will spend some money on things like books and supplies, the bulk of your budget for earning a master's degree will go toward tuition, which varies by school. You can establish an estimated total cost by multiplying each school's per-credit tuition rate by the number of credit hours required for the degree.
The National Center for Education Statistics (NCES) also provides useful data about the cost of graduate degrees. After researching universities across the U.S., the NCES found that the average total annual tuition and fees for graduate programs at public universities was less than half of what it was at private schools in the 2020-21 school year. The actual figures are $12,394 for public schools versus $26,621 for private schools, which may influence your decision on which type of school to attend.
Another way to save money on your master's degree is to opt for distance learning. An online program like one of the most affordable master's in management degrees listed above is not only convenient, but it may cost less. Many colleges and universities charge lower tuition rates for online students, plus distance programs eliminate room, board, and transportation expenses.
Financial Aid
As a prospective graduate student, you may have a number of different sources to tap into for funding your degree. These include income, savings, gifts, and financial aid. Even if you decide to become an online student, you'll be eligible for financial aid as long as you enroll in an accredited program like those on our list above.
Financial aid comes in a variety of forms from several possible sources. Grants, fellowships, and scholarships funded by schools, their alumni, and the federal and state governments are the best because you won't need to repay them. Keep in mind, however, that these types of aid are generally awarded to students who can demonstrate financial need.
If your financial circumstances prevent you from receiving enough grant and scholarship money to cover the cost of a master's degree, you may want to consider taking out a student loan. The downside to loans is the interest, which can be significant. Before you agree to any type of loan, use our student loan repayment calculator to determine its total cost. Also, be sure to research both federal student loans and private student loans, which often have higher interest rates than federal loans.
Finally, consider applying for private scholarships, which are usually sponsored by nonprofit and civic organizations, as well as large corporations. These scholarship awards are often determined by factors other than financial need — academic achievement, community service, and so forth — and don't have to be paid back.
You can apply for most types of financial aid by filling out the Free Application for Federal Student Aid (FAFSA). Financial aid officers will review your application and notify you with a financial aid letter as to what types of aid you've been awarded and the amounts. To be considered for private scholarships, however, you'll need to submit separate applications for each one.
What Can You Do With an Online Management Degree?
Online master's in management programs are specifically designed to prepare you for leadership roles in a wide range of industries. If you have little job experience, you may need to start out in more of an entry-level position, but your graduate degree is likely to help you advance in your career more quickly. It may also open the door to higher-paying jobs.

The Bureau of Labor Statistics (BLS) details a number of management occupations that may be of interest to you. The following are just a few of the many possibilities:
Of course, your education can continue after you earn a master's degree. Pursuing a doctorate in management can lead to opportunities in academia, high-level consulting, or executive roles in large corporations. Depending on your field, there may also be professional certifications that can demonstrate your expertise in a particular subject or business function.
FAQs About Online Management Degrees
How Do I Choose a Master's in Management?
---
When you're choosing an online master's in management degree, you'll want to examine both the school and the program. Consider the school's tuition rates, student services, and funding for school-sponsored financial aid. Also, review the program's curriculum and faculty members.
You'll also want to investigate the school's accreditation status. All of the schools on our list of the most affordable master's in management degrees have earned institutional accreditation, which ensures a well-respected education. You may also want to choose a program that has been accredited by the Association to Advance Collegiate Schools of Business (AACSB). In order to earn program-level accreditation, the curriculum must focus on learning objectives established by business professionals.
How Many Years Is a Management Master's Degree?
---
Typically, a master's degree in management takes one or two years of full-time study to complete. However, this can vary based on the program's requirements, your prior education, and whether you're studying full time or part time.
What Are the Admission Requirements for Management Degrees?
---
The admission requirements for management master's programs are fairly similar among online colleges. You'll need to have a bachelor's degree, but it doesn't necessarily have to be in business. Management graduate programs often accept applicants with degrees in other subjects, such as psychology, economics, history, or English.

When you submit your online application, you should also submit your undergraduate transcripts. The graduate program you're applying to may require you to have maintained a GPA of at least 3.0. At some point, you'll probably also be asked for a statement of purpose, one or more letters of recommendation, a resume, and possibly GRE scores.
Is a Master's Degree in Management Master's Worth It?
Deciding whether an online management master's degree will be worth it depends on several factors, especially your personal circumstances and career goals. However, the benefits seem fairly clear. Because of its versatility, a master's in management can pave the way to many different jobs that you'll find personally rewarding. Additionally, this degree is likely to pay big dividends by preparing you for lucrative management positions.
Related Articles
2023 Most Affordable Online Master's Programs
Explore the most affordable online master's degree programs in 2023 and choose the one that's right for you.
2023 Most Affordable Online Master's Degrees in Organizational Leadership
Find the most affordable online master's degrees in organizational leadership from our 2023 list of colleges ranked by manually collected tuition.