2020 Most Affordable Online Management Associate Degrees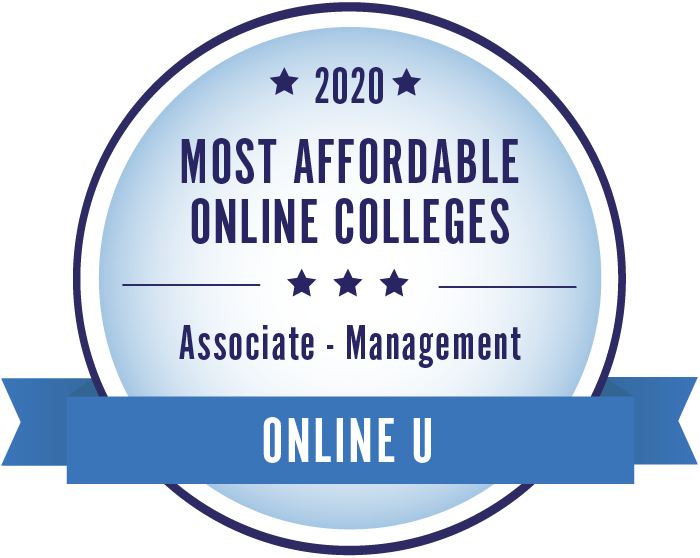 With annual tuitions under $6,000, these 24 online colleges offer the most affordable associate in management degrees. Ranked #1, Florida SouthWestern State College charges $2,436 per year for its Associate of Applied Science in Management. Available courses include Entrepreneurship Management, Managerial Accounting, and Small Business Management. Broward College, ranked #2, has an annual tuition rate $2,460 for its AS in Business Administration - Management.
You can read more about our ranked schools below or browse our rankings of the most affordable online bachelor's in management degrees View our methodology or learn more about OnlineU.
All tuition numbers were manually collected and verified
Rank
School

Annual Tuition

# 1
Florida SouthWestern State College

$2,436

# 2
Broward College

$2,460

# 3
Alvin Community College

$3,120

# 4
Washtenaw Community College

$3,936

# 5
Delgado Community College

$4,017

# 6
Sauk Valley Community College

$4,092

# 7
Cossatot Community College of the University of Arkansas

$4,110

# 8
College of DuPage

$4,384

# 9
Truckee Meadows Community College

$4,620

# 10
Barton County Community College

$4,800

# 11
Lakeland Community College

$4,833

# 12
Washington State Community College

$4,950

# 13
Fox Valley Technical College

$5,104

# 14
Peninsula College

$5,174

# 15
Albany Technical College

$5,340

# 16
North Central Missouri College

$5,346

# 17
McHenry County College

$5,390

# 18
Normandale Community College

$5,589

# 19
Lanier Technical College

$5,600

# 20
Minnesota West Community and Technical College

$5,675

# 21

(tie)

Augusta Technical College

$5,696

# 21

(tie)

Georgia Northwestern Technical College

$5,696

# 23
Iowa Lakes Community College

$5,820

# 24
North Hennepin Community College

$5,850