2023 Most Affordable Online IT Associate Degrees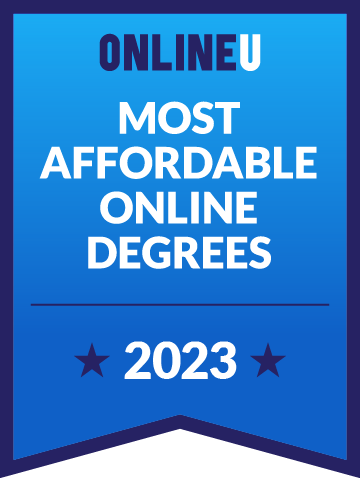 If your career goal is to quickly enter a high-growth field that offers lucrative salaries, earning an online associate degree in information technology (IT) may be a smart choice. The Bureau of Labor Statistics (BLS) notes that computer and information technology occupations as a whole have a median annual salary of $97,430, and demand for skilled professionals is projected to grow by 15% over the next eight to ten years.
An online associate degree in information technology (IT) program prepares you to assume a number of technology-related roles — IT support specialists, web developers, and database administrators, for example — across various industries. Two-year programs typically provide a foundational overview of essential IT concepts, such as data security, computer ethics, and digital literacy.
View our methodology for details about rankings or learn more about us. You can also check out our overall list of the best online associate degrees for additional inspiration.
All tuition numbers were manually collected and verified
Rank
School

Locations

Annual Tuition

# 1
Allen County Community College
Iola (KS)

(and 1 other)

$2,013

# 2
Albany State University
Albany (GA)

$2,850

# 3
Clovis Community College - NM
Clovis (NM)

$3,404

# 4
Western Nebraska Community College
Scottsbluff (NE)

$3,426

# 5
McHenry County College
Crystal Lake (IL)

$3,795

# 6
Carl Albert State College
Poteau (OK)

$4,200

# 7
Panola College
Carthage (TX)

$4,350

# 8

(tie)

Chippewa Valley Technical College
Eau Claire (WI)

(and 4 others)

$4,447

# 8

(tie)

Southwest Wisconsin Technical College
Fennimore (WI)

$4,447

# 10
Wharton County Junior College
Wharton (TX)

$4,568
Overview of Online Information Technology Associate Degrees
Two-year online programs in information technology are designed to give you a strong foundation in the digital world, from software development to network systems. Many IT associate degree programs include courses that teach you to operate systems like Windows and Linux.
Associate programs are usually very practical and hands-on in nature. In-class and homework assignments give you the opportunity to apply what you're learning to real-world projects, like developing an app, designing a network system, or even mitigating a simulated cybersecurity threat. Later you can use these projects in your portfolio to show prospective employers what you've learned.
Programs are tailored to equip you with technical skills, such as programming, data analysis, cybersecurity, and system design. In the process of earning your degree, you'll also hone soft skills like project management, problem-solving, and effective communication.
Online IT associate degrees typically require the completion of about 60 credit hours. Full-time students usually earn their degree in two or three years, while part-time students may need three or four years to finish. The required courses are fairly evenly divided between general education and major-related courses.
Common Courses
The curriculum for an online IT associate degree introduces you to systems, networks, software, and processes. Some programs include a first-year experience course or an end-of-program assessment. Among the core coursework often included in an online IT associate program are the following:
Introduction to Computer Programming
Students learn the basics of programming languages and algorithms while developing a fundamental understanding of the software development process.
This course introduces learners to the principles of cybersecurity, including how to protect and recover computers from security breaches.
Students learn how to design, implement, and maintain databases, gaining a thorough understanding of how to manage and use data effectively.
This course covers the essentials of computer networking, providing students with the skills to set up and manage a network.
Students learn about website creation with the user's experience in mind. Core topics include how to use HTML, CSS, and JavaScript to build functional and attractive web pages.
Learners gain insights into managing IT projects. Class assignments focus on planning, executing, and controlling IT projects to meet specific success metrics.
Funding an Online Information Technology Degree
Funding an online IT associate degree can be manageable with the right approach. Many online programs are considerably more affordable than their traditional counterparts since many schools charge in-state tuition rates or even lower tuition rates for all online students. Additionally, you can save money by avoiding transportation and relocation costs.
You may also want to consider attending school part time while you work. Although it may be a little tricky to balance work and study, you'll be spreading out the cost of your college education over a more extended period.
Another option is to seek employer sponsorship. Some companies offer tuition assistance programs, especially in fields like IT, where additional training can benefit the organization.
Financial Aid
Although two-year community colleges and technical schools are often far more affordable than four-year schools, you may still need financial help to earn your associate degree. Fortunately, funding for financial aid is available from many sources, such as the federal and state governments and the schools themselves. Online learners enrolled in accredited programs are just as eligible to apply for aid as on-campus students.
As much as possible, you'll want to rely on grants and scholarships. These preferred types of financial aid generally don't have to be repaid. However, if you don't qualify for a sufficient amount of grant or scholarship funding and you've exhausted your personal savings, you may need to take out a student loan.
There are two types of student loans — federal loans and private loans. Federal loans often have lower interest rates and better repayment terms, but the interest on any loan can add a significant amount to the total cost of your degree. Before signing on the dotted line, you may want to use a student loan repayment calculator to determine just how much you'll pay in the long run.
To submit a request for financial aid, use the Free Application for Federal Student Aid (FAFSA). Once your application has been reviewed, you'll be notified if you qualify for specific types of aid and for how much.
Scholarships
Technology is so essential to our economy that many organizations encourage students to develop their IT skills by sponsoring private scholarships, a few of which are listed below. These awards may be based on need, merit, and other criteria. You will need to submit separate applications for these scholarships:
The Future Leaders in IT Scholarship: Sponsored by Virtasant, this program provides funding to underrepresented, high-achieving students majoring in an IT-related field based on academic merit and leadership potential.
Palantir Women in Technology Scholarship: Palantir awards $7,000 to students who identify as women and are pursuing degrees in tech-related fields. Recipients also receive a paid trip to Palantir to attend a tech workshop.
Women at Microsoft Scholarships: To encourage diversity in the tech field, Microsoft offers several different scholarships in varying amounts for students majoring in computer science and other STEM subjects.
What Can You Do With an Online Information Technology Degree?
According to the BLS, one of the most promising occupations for a graduate with an associate degree in IT is a computer support specialist. Their primary role is to provide technical assistance to computer users, but they also work at maintaining computer networks. The median annual wage for this occupation is $57,910, and demand for skilled specialists is expected to grow at a pace of 6%, which is about average for all occupations.
Depending on the focus of your studies while in school, you may also qualify for other entry-level positions in the IT field. These could include jobs as database administrators, web developers, programmers, and software developers.
However, the BLS notes that many employers prefer to hire candidates with bachelor's degrees for these positions. A bachelor's degree in IT may also qualify you for higher salaries. For example, the median annual salary for computer systems analysts is $99,270, for information security analysts, $102,600, and for computer network architects, $120,520.
Alternative Options
If earning an online associate degree in IT seems like more of an investment of time and money than you're prepared to make, there are alternative paths to training for jobs in IT. Bootcamps and certification programs are two ways you can develop new skills in a tightly focused learning environment. The cost of these programs varies widely, however, meaning that they may be more or less expensive than an associate degree.
You'll find many bootcamps in a wide range of IT subjects, and many programs are available entirely online. Lasting anywhere from six weeks to a year or more, you're likely to find options that fit your goals and budget. Depending on the bootcamp, completing a program just may qualify you for a lucrative job with a prestigious tech company.
Certification programs are also fairly affordable, and the training can often be completed in 12-18 months. Microsoft, CompTIA, and Cisco are just a few of the organizations that offer certification in various IT specialties, such as cloud computing or digital security. Because the last step in the process is passing a rigorous exam, earning certification demonstrates your mastery of the subject to future employers.
FAQs About Online Information Technology Degrees
How Do I Choose an Information Technology Degree?
---
Choosing one of the many possible options for earning an IT associate degree online is a big decision, so you'll want to consider several key factors. These include the school's tuition rate, availability of financial aid, curriculum, and student services.
Perhaps the other most important characteristic to look for in an online IT program is accreditation. Not only does enrollment in an accredited program ensure you'll be getting a quality education, but it is also required if you want to qualify for financial aid. It may also be needed if you decide to transfer to another two-year school, and it's very likely to be required if you want to transition to a four-year institution for a bachelor's degree.
What Is the Difference Between an IT Associate and a Certification?
---
An IT associate degree is a two-year college degree that provides broad knowledge and skills in IT, as well as other general subjects such as math, English, and science. A certification, on the other hand, is a credential earned through a professional organization that demonstrates expertise in a specific area of IT. Certifications are often faster and less expensive to obtain than a degree, but they're more narrowly focused.
Is an Online Information Technology Associate Degree Worth the Cost?
An online IT associate degree can be a significant investment, but it offers numerous benefits. A two-year degree provides you with the basic technical and soft skills required in the rapidly growing field of IT. Additionally, these programs offer the flexibility to learn at your own pace and in your own space, and you may be able to minimize the expense through financial aid, scholarships, and tuition assistance programs.
Once you've earned your degree, you'll have a variety of career opportunities to choose from, each offering competitive salaries and strong job growth projections. In light of the benefits, one of the most affordable online associate degrees in IT is likely to yield a high return on your investment.
Related Articles
2023 Most Affordable Online Colleges & Degrees
Explore the top affordable online colleges of 2023. Find cheap online associate, bachelors, master's, and doctoral degrees.
2023 Most Affordable Online Associate Degrees
In 2023, we've ranked the most affordable online associate degrees. Read about each college to find the cheapest online programs with high alumni salaries.