2023 Most Affordable Online Human Services Degrees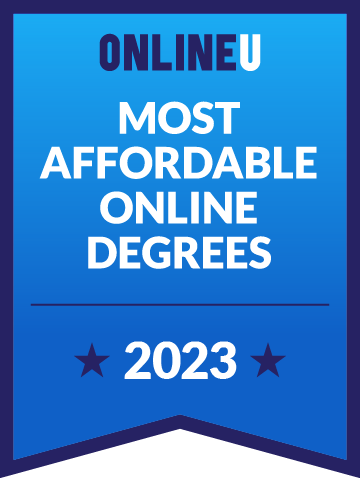 An online bachelor's degree in human services can prepare students for a career working with clients and families to support growth, development, and well-being in healthy communities. Human services majors often go on to careers working with vulnerable populations in social work and services, drug and alcohol counseling, behavioral counseling, and client advocacy. Our list of the most affordable online human services degrees can help students launch their careers while also saving money on their degrees.
At OnlineU, we only show accredited online colleges so students can find respected degrees that fit into their schedules and budgets. We manually gather tuition for each program to make it easy to compare different online degrees. For more information about how we rank schools, see our methodology or learn more about us. Students can also use our list of the most affordable online degrees to compare other education options.
All tuition numbers were manually collected and verified
| Rank | School | Locations | Annual Tuition |
| --- | --- | --- | --- |
| # 1 | Ohio University - Main Campus | Athens (OH) | $3,645 |
| # 2 | Great Basin College | Elko (NV) | $4,935 |
| # 3 | University of the Cumberlands | Williamsburg (KY) | $5,970 |
| # 4 | Fort Hays State University | Hays (KS) | $6,806 |
| # 5 | Minot State University | Minot (ND) | $6,892 |
| # 6 | Florida State College at Jacksonville | Jacksonville (FL) | $7,263 |
| # 7 | Ohio University - Zanesville Campus | Zanesville (OH) | $7,290 |
| # 8 | SUNY College of Technology at Alfred | Alfred (NY) | $8,480 |
| # 9 | Southern New Hampshire University Online | Manchester (NH) | $9,600 |
| # 10 | University of Maine at Augusta | Augusta (ME) | $9,862 |
Overview of Online Human Services Bachelor's Degrees
An online human services degree prepares graduates for careers helping diverse populations address challenges in their lives. You'll learn how to work with individuals and families to identify their particular needs and assist them in finding local resources and obtaining aid.
Human services bachelor's degree programs often include a broad range of coursework. You'll study everything from human behavior to public policy and more. The assignments and projects in your courses are crafted to mirror real-world scenarios, providing you with opportunities to practice applying theoretical knowledge. Examples include case studies, community-based projects, role-playing simulations, and research papers.
In the process of earning your degree, you'll acquire a number of essential technical skills, including client assessments, in-home interviews, and case management. You'll also hone essential soft skills, such as active listening, communication, and problem-solving.
Some programs feature concentrations that allow you to further customize your education to meet your career goals. Child and family services, addiction studies, fundraising, and health and wellness are a few of the more common specializations available.
Common Courses
Introduction to Human Services
Typically one of the earliest classes in a program, this course provides an overview of the human services field, detailing its history, ethics, and practices. Students will learn about different populations served and the roles of human service professionals.
Students will explore the processes and techniques involved in managing client cases. Through experiential practice assignments, they will gain insights into assessment, planning, and intervention strategies tailored for individuals and families.
Cultural Competence in Human Services
In this course, students learn about cultural diversity and the importance of understanding and respecting varied backgrounds. This helps in ensuring services are effectively delivered across diverse populations.
Human Behavior and the Social Environment
By providing a deep dive into how humans behave and the impact of their environments on this behavior, students gain an understanding of developmental stages, social systems, and societal challenges.
This course teaches students about methods and strategies for helping individuals during crises. They will learn how to identify the immediate needs of those in crisis and address them efficiently.
Funding an Online Human Services Degree
Something to think about as you're exploring program options is your return on investment, or ROI. This means comparing the initial cost of earning a degree against your expected future income. The less money you spend on your college education and the more you can earn throughout your career, the better your ROI.
With this in mind, we've identified several ways you may be able to save money in college and reduce how much you spend on earning a degree:
Choose distance education. Online learning is often more economical because many colleges set lower tuition rates for their online programs than for their on-campus programs. Additionally, distance learning cuts out fees for room and board and for transportation to and from school. Our list of the most affordable human services degrees above identifies just a few of the many cost-effective online options available to you.
Opt for state-run colleges and universities. Data collected by the National Center for Education Statistics (NCES) on the cost of bachelor's degrees at colleges across the country show a significant difference in tuition rates at public schools versus private schools. The average tuition and fees at public colleges totals $9,375 as compared to $32,825 at private institutions.
Combine online learning with a cheap place to live. If you decide to go to school online, you're free to live wherever you want. While you're in college, you could reduce your rent, gas, food, and other living expenses by moving to a less expensive location.
Go to community college first. In the first two years of a bachelor's program, you'll be required to take about 60 credit hours of general education courses like writing, statistics, and political science. These courses can easily be completed at an affordable online community college, which could save you thousands in tuition fees. As long as your community college is accredited, you should be able to transfer the credits you've earned to a university, where you can complete the rest of the requirements for earning your bachelor's degree.
Get a job. Maintaining a part-time or full-time job while you're in school can be challenging. You'll need to be disciplined with your time management, and you may need an extra year or two to finish your program. But on the upside, using income to pay off your college expenses while you're still in school could considerably cut down on student loan debt.
Financial Aid
Another way to improve the ROI on your human services bachelor's degree is to seek outside funding by applying for financial aid. If you can demonstrate financial need, you may be offered scholarships and grants. Because these types of aid don't have to be repaid, they enhance the ROI of your degree.
However, depending on your financial situation, you may not qualify for many grants or scholarships. Instead, you may be offered a federal student loan or a private student loan. These can potentially detract from your ROI because they have to be paid back with interest, but they still might be your best option for getting a degree. Just know what you're agreeing to before signing on the dotted line by checking in with our student loan repayment calculator.
Many grants and scholarships are funded by the federal and state governments and by the schools themselves. But there are also private scholarships sponsored by various types of organizations, so it's worth your time and effort to research these opportunities and apply. You may be able to land one of these scholarships based on your academic achievements, chosen field of study, community service, or some other factor.
Although you'll need to submit individual applications for private scholarships, you can apply for all other types of aid with just one form. This is called the Free Application for Federal Student Aid (FAFSA). Once your application has been reviewed, your school will send you a financial aid letter. This will explain whether you qualify for aid and, if so, what types and amounts of financial aid you'll get.
What Can You Do With an Online Human Services Degree?
With an online human services degree, you'll be equipped to step into various roles focused on community welfare, advising, and advocacy.
Although a human services bachelor's degree is not required to become a social and human services assistant, this may be a good entry-level position for getting started in this field. Human services assistants often work in government-funded agencies and nonprofit organizations. After establishing their clients' needs, they help their clients identify resources and apply for assistance. According to the Bureau of Labor Statistics (BLS), these professionals earn a median annual income of $37,610. Demand for trained assistants is projected to grow by 12% from 2021 through 2031.
After several years on the job, you may be ready to advance to the role of social and community service manager. As a service manager, you'll be responsible for overseeing an entire program or service, which may include program development, budgeting, and fundraising. Community service managers earn a median annual salary of $74,000, and the BLS expects this occupation to increase by 12% over the next decade.
Of course, there are many other possibilities based on your personal strengths and interests. For example, if public health interests you, consider becoming a health education specialist or community health worker with an anticipated annual salary near $46,590. If you have a knack for raising money, you could pursue a career as a fundraiser and earn an annual salary near $60,660.
Depending on the state where you plan to work and your specific occupation, you may need some type of state-issued license to work. Be sure to research these requirements before enrolling in a program to ensure your education will qualify you for the career you have in mind.
Further Education
After earning a bachelor's degree in human services, you may decide to pursue an advanced degree. Furthering your education may prepare you for higher-level positions in management and leadership.
One option is a master's degree in human services. This type of program is designed to equip you for managerial roles in the nonprofit sector. If you'd prefer to work with clients directly in a clinical setting, you may want to seek a master's degree in social work or a master's degree in counseling.
It's also possible to earn a doctoral degree in human services. A doctorate may qualify you to take on the highest-level roles in organizational leadership, or you could use this degree to go into research or academia.
FAQs About Online Human Services Degrees
How Do I Choose a Bachelor's in Human Services?
---
Finding the ideal online human services bachelor's degree program takes careful consideration and a fair amount of research. Besides cost, you'll want to explore each program's curriculum, optional concentrations, financial aid support, and online student services. Some of these characteristics may be more important to you than others, so you'll need to weigh your options.
Another important characteristic to look for in a program is accreditation. You'll need to be enrolled in an accredited program to qualify for financial aid, transfer to another college, or be accepted into a graduate program.
What Are the Admission Requirements for Human Services Degrees?
---
Although there are variations among schools, colleges often set similar admission requirements for undergraduate students. You'll need a high school diploma or the equivalent, and you may need to show that you had a GPA of at least 3.0 in high school to get into the more competitive schools. Some colleges also take your ACT or SAT scores into consideration.
Admissions officers typically request a number of items in your application packet besides your application. For example, your packet may need to include a personal statement or essay, at least one letter of recommendation from a teacher or supervisor, and a detailed list of your extracurricular activities and awards.
How Much Can You Make With a Human Services Degree?
---
As a new graduate with a human services degree, you may have to accept jobs with fairly low salaries ranging from about $37,610 to $46,590. However, as you gain work experience, you may qualify for higher-paying positions in management. According to the BLS, social and community service managers earn a median annual salary of $74,000.
Is a Human Services Degree Worth It?
Determining whether a human services online degree is worth it is a personal decision that only you can make. If you want to look at this degree from a purely financial perspective, the lower salaries associated with government and nonprofit work may result in a lower return on your investment.
On the other hand, learning how to help people in need could lead to a fulfilling human services career that lasts a lifetime. If you're confident that human services is the right career path for you, look for ways to boost your ROI by reducing the cost of getting an education. Choosing an affordable online human services degree is a great place to start.
Related Articles
2023 Best Online Human Services Degrees
Investigate the very best online bachelor's degrees in human services in 2023 based on alumni salary data, and learn about available programs.