2023 Most Affordable Online Human Resources Degrees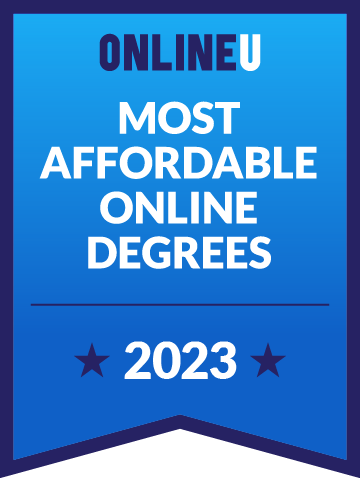 Online bachelor's degrees in human resources (HR) prepare students to succeed in this field. They learn about a range of topics, such as hiring, training, managing employee relations, and more. They may also specialize in particular areas, like benefits administration, payroll, or labor relations. Students interested in a bachelor's degree in human resources may also be interested in continuing their education with an affordable online master's in human resources.
The online colleges on this list were chosen based on affordability. View our methodology for more details about rankings or learn more about us.
All tuition numbers were manually collected and verified
| Rank | School | Locations | Annual Tuition |
| --- | --- | --- | --- |
| # 1 | Georgia Southwestern State University | Americus (GA) | $6,169 |
| # 2 | Regis University | Denver (CO) | $6,660 |
| # 3 | Fort Hays State University | Hays (KS) | $6,806 |
| # 4 | Wichita State University | Wichita (KS) | $6,843 |
| # 5 | Athens State University | Athens (AL) | $6,975 |
| # 6 | Columbia Southern University | Orange Beach (AL) | $7,050 |
| # 7 | Western Governors University | Salt Lake City (UT) | $7,150 |
| # 8 | Florida State College at Jacksonville | Jacksonville (FL) | $7,263 |
| # 9 | Capella University | Minneapolis (MN) | $7,500 |
| # 10 | Mississippi University for Women | Columbus (MS) | $7,656 |
Overview of Online Human Resources Degrees
An online bachelor's program in human resources (HR) is designed to prepare you to manage the people employed in virtually any type of large organization. In addition to several general courses on business, organizational behavior, and psychology, you'll also study specific subjects within HR. These include employee relations and employment law.
Many of the courses in a human resources bachelor's degree program include hands-on projects that give you an authentic sense of what it's like to work in an HR department. Often based on real-world case studies, these assignments teach you how to recruit and hire employees, develop HR policies, design compensation systems, create training programs, and address ethical issues in human resources management.
As you earn your online degree in human resources, you can expect to acquire valuable technical abilities and soft skills. For example, proficiency in human resources information systems (HRIS) and data analysis will help you evaluate and improve the effectiveness of human resources policies and initiatives. Similarly, soft skills like conflict resolution, negotiation, and effective interviewing are essential for you to excel in your career.
Online programs often lead to a Bachelor of Science (BS) , Bachelor of Art (BA), or a Bachelor of Business Administration (BBA) degree. All three types of programs equip you for a range of HR roles. However, a BA program is more likely to focus on managing people and developing talent, while a BS program will probably emphasize finance, data analysis, and project management. Finally, a BBA degree focuses on developing your professional career skills and gives you an opportunity to take business administration courses, which can help set you up for a future Master's in Business Administration (MBA).
Common Courses
Like all bachelor's degree programs, an undergraduate program in HR mixes general education courses with major-related core courses and electives. Through your choice of electives, you can focus on the aspect of HR that you find most interesting.
Here are some examples of core courses often included in an on-campus or online degree in human resources:
Human Resources Management
This foundational course equips students with the knowledge of HR practices, including recruitment, selection, training, and compensation. They also learn about employment laws, labor relations, and how to manage a diverse workforce.
Students learn about the dynamics of organizational structure, culture, and behavior. Topics may include leadership styles, team dynamics, and change management, which are pivotal in maintaining a harmonious workplace.
Compensation and Benefits
This course delves into theories and practices related to employee compensation, including pay structures, benefits packages, and legal requirements. Students will learn how to develop competitive compensation packages that attract and retain talent.
Students gain comprehensive knowledge of the laws and regulations governing employer-employee relationships. They learn about labor rights, collective bargaining, and the legal consequences of unfair labor practices.
This course emphasizes the importance of training programs in enhancing employee performance. Students learn to design, implement, and assess training initiatives that align with organizational goals.
Strategic Human Resources Planning
This course teaches students how to align human resources strategy with an organization's strategic plan. They learn to forecast talent needs and develop plans for workforce development and succession.
Funding an Online Human Resources Degree
Earning a human resources bachelor's degree online can be an economical alternative to pursuing a degree through a traditional, on-campus program. Nevertheless, a college education is a big investment that requires some savvy decision-making. Fortunately, you may have a variety of sources for funding, including savings, earned income, grants, scholarships, and student loans.
You may also be able to minimize your college expenses and save money in college by taking some of these steps:
Opt for an online degree program, which may save you money in several ways. Many colleges — such as the most affordable human resources degrees listed above — charge lower tuition rates for online learners or in-state tuition rates for all online students, even those living out of state. Also, as an online student, you won't have to pay for on-campus room and board or travel to and from school.
Choose a public university rather than a private one. National Center for Education Statistics (NCES) data from the 2020-21 school year show that the average tuition and fees at public schools were approximately one-fourth of what they were at private schools — $9,375 as opposed to $32,825. You could save thousands of dollars in tuition just by enrolling in a state-run school.
Take the bulk of your preliminary courses at an affordable community college. During the first two years of your bachelor's program, you'll take about 60 credit hours of lower-division courses in basic subjects like sociology and chemistry. You can save thousands in tuition by completing these credits at a community college, which the NCES says charge an average annual tuition rate of $3,501. After one or two years, you can transfer to a four-year university where you'll finish your bachelor's degree requirements.
Live someplace that's affordable. One of the biggest advantages of attending college online is that you can live wherever you want. At least while you're in school, you could reduce your living expenses by moving to the most economical place you can find.
Get a part-time or full-time job. Working while you go to school has both advantages and drawbacks. However, earning income that you can funnel toward college costs may allow you to graduate with less student loan debt.
Financial Aid
Another way to save on your online degree in human resources is to receive financial aid. Funding may be available from the federal and state government, colleges, and private organizations. Most types of aid are awarded based on financial need, but some are dependent on other criteria, such as academic performance, the major you've chosen, or your family heritage.
If you're enrolled in an accredited online degree program, you can apply for financial aid by submitting the Free Application for Federal Student Aid (FAFSA). After your request has been evaluated, you'll receive a Student Aid Report (SAR) that lets you know if you've met the criteria for receiving aid. Finally, the school you attend — or the schools where you've applied — will mail out financial aid offers to you.
If you've demonstrated financial need, your financial aid package is likely to contain federal grants and school-sponsored scholarships. Thankfully, these do not have to be repaid.
If you haven't met the criteria to receive enough grant or scholarship aid, you may be offered a student loan. You may need to take out a loan to earn your degree, but remember that the interest on federal and private student loans adds up quickly. Before you accept a student loan offer, use our student loan repayment calculator to figure out the full cost of borrowing money.
Human Resources Scholarships
Some donors offer scholarships that are especially for HR students. For example, the Jane M. Klausman Women in Business Scholarship is for women in both bachelor's and master's HR programs. Eligible applicants can pursue a $5,000 award. Up to 37 students per year can receive this scholarship.
What Can You Do With an Online Human Resources Degree?
Once you've graduated with an online human resources bachelor's degree, you'll be equipped to explore a range of careers in HR. Human resources is a broad field that plays a crucial role in various sectors, including corporate businesses, nonprofit organizations, government agencies, and educational institutions.
As a new graduate, you'll probably start off in an entry-level position as a human resources specialist. Your day-to-day responsibilities may include employee relations, recruitment and training, or compensation and benefits. The Bureau of Labor Statistics (BLS) reports that specialists earn a median annual salary of $62,290. Demand for HR professionals is expected to grow by 8% through 2031.
With time and experience, you may advance to higher-paying positions that require leadership skills. For example, in a large organization, you may become a compensation and benefits manager or a training and development manager. Per the BLS, people in these occupations earn a median annual salary of $127,530. You may also become a human resources manager in an organization, overseeing all aspects of the HR function. HR managers earn a median annual salary of $126,230.
Although the BLS notes that these advanced positions do not require further education, you may want to consider pursuing a master's degree in human resources or an MBA with a focus on human resources. The advanced knowledge and skills you'll acquire could open the door to senior-level positions and higher salaries.
Is a Bachelor's in Human Resources Worth It?
From a purely financial perspective, earning a bachelor's degree in HR is likely to yield a high return on your investment. Early in your career, you may be able to earn about $62,290, and as you gain experience, you'll be eligible for management positions with salaries topping $120,000.
In addition to the financial rewards, an HR degree may prove to be worth it by serving as a foundation for a fulfilling and stable career. You'll have opportunities to contribute to your organization's growth and success while helping individuals thrive in the workplace.
Only you can definitively answer this question because your goals, responsibilities, and finances differ from everyone else's. The choice is ultimately yours, but the following pros and cons may help guide your decision.
Potential Benefits
Most HR careers are growing at a steady rate. According to the BLS, each career field for the specialists identified above will likely expand by 8% by the end of 2031, the average growth rate for all U.S. jobs. Two of the three roles are growing at an average rate at the managerial level.

Studying online may provide extra flexibility to help you balance your responsibilities. Online learning lets you work at your own pace as long as you respect assignment due dates. It also makes it possible to enroll in an appealing program anywhere in the country without uprooting your life.
Potential Drawbacks
A degree in HR may limit your career opportunities unnecessarily. You can potentially work in HR after earning a bachelor's in business or a broader liberal arts discipline such as communications or psychology. If you're not completely sure that HR is the right career path, you might consider enrolling in one of these fields instead to give you a wider range of options.

It may be more difficult to network while studying online. Distance learning tends to limit informal interactions among colleagues and professors, so it's more difficult to make contacts who can help in your future career. You can partially mitigate this drawback by taking advantage of your program's internship and networking opportunities.
FAQs About Online Human Resources Degrees
What Are the Admission Requirements for Human Resources Degrees?
---
Admission requirements for human resources bachelor's programs vary by school. However, they typically include a high school diploma or GED and transcripts from previously attended institutions. You may also be asked for letters of recommendation, a personal essay, and standardized test scores, such as the SAT or ACT.
How Do I Choose a Bachelor's in Human Resources?
---
When you're deciding which online bachelor's program in human resources is right for you, you'll want to take several factors into account. Some of these factors — online format, curriculum, faculty, and online support services — need to be evaluated according to your personal priorities.
One factor that's critical, however, is accreditation. Not only does institutional accreditation ensure quality education, but it is also required to receive financial aid and may be required if you plan to enroll in a master's program. You may also want to look for programs that align with the learning outcomes prescribed by the Society of Human Resources Management (SHRM).
Related Articles
2023 Best Online Human Resources Master's Degrees
We've ranked the best online master's in human resources degrees for 2023 based on return on investment. Compare schools by tuition and projected alumni outcomes.