2023 Most Affordable Hospitality Management Degrees Online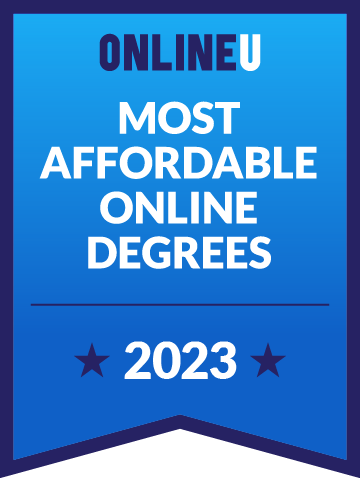 All tuition numbers were manually collected and verified
| Rank | School | Locations | Annual Tuition |
| --- | --- | --- | --- |
| # 1 | Ohio University - Main Campus | Athens (OH) | $3,645 |
| # 2 | Fort Hays State University | Hays (KS) | $6,806 |
| # 3 | Columbia Southern University | Orange Beach (AL) | $7,050 |
| # 4 | University of the Potomac | Multiple Locations | $7,200 |
| # 5 | University of Utah | Salt Lake City (UT) | $7,930 |
| # 6 | SUNY College of Technology at Delhi | Delhi (NY) | $8,480 |
| # 7 | Southeastern Oklahoma State University | Durant (OK) | $9,083 |
| # 8 | Southern Illinois University - Carbondale | Carbondale (IL) | $9,645 |
| # 9 | Texas Tech University | Lubbock (TX) | $10,890 |
| # 10 | American Public University System | Charles Town (WV) | $11,150 |
Overview of Online Hospitality Management Bachelor's Degrees
The hospitality and tourism industry is varied and multi-faceted, encompassing everything from lodging and food and beverage services to event and travel planning. Hospitality management bachelor's degree programs are designed to prepare graduates for work in all aspects of this dynamic work environment.
Many programs also offer concentrations so you can tailor your education to fit your specific career goals. Some of the more common areas of specialization include food and restaurant service, hospitality business management, meeting and event planning, hotel management, and international hospitality management.
To gain a comprehensive understanding of this industry, you'll engage in real-world projects that simulate the challenges of managing a hospitality business. Your assignments may include developing business plans, strategizing marketing campaigns, or analyzing case studies.
As you complete the courses in an online hospitality management degree program, you'll develop a wide range of essential technical skills, such as financial management, employee recruitment and selection, and standard business operations. In the process, you'll enhance your soft skills like communication, leadership, and problem-solving.
Common Courses
In general, a hospitality management bachelor's degree requires the completion of 120 credit hours, which you may be able to achieve in four years if you study full time. Most programs also require an internship, and some include a capstone project.
The following are some of the common courses you're likely to take:
Introduction to Hospitality Management
This course offers students an understanding of the foundational concepts of the hospitality sector, including its history, current trends, and future prospects.
Lodging and Hotel Operations
Students learn about the intricacies of running a hotel, including room management, guest services, and housekeeping operations.
Food and Beverage Management
This course delves into the operation of restaurants and bars, emphasizing menu planning, service standards, and cost control.
Event Planning and Management
Students gain insights into organizing various events, from corporate gatherings to weddings. Topics may include logistics, budgeting, and vendor relations.
Marketing for Hospitality
This course teaches students how to effectively market hospitality services, from understanding target audiences to implementing promotional strategies.
Tourism and Travel Management
This class examines the world of travel and tourism, discussing topics like sustainable tourism, destination marketing, and travel agency operations.
Funding an Online Hospitality Management Degree
Before you enroll in any hospitality management program, you may want to map out a budget so you know how much you can afford to pay for a degree. Be sure to factor in all of your potential funding sources — savings, income, and gifts. Depending on your circumstances, you may also qualify for various types of financial aid, explained in further detail below.
Of course, you may also want to explore how you can cut down on the overall cost of earning a bachelor's degree. Here are five ideas for reducing your expenses and saving money while you're attending college:
As much as you may want to have the traditional, on-campus college experience, you may want to consider earning your degree through distance education. Our list of the most affordable hospitality management degrees above offers just a few of your many options. Distance learning can be more cost effective because many colleges feature lower tuition rates for online students than for their on-campus counterparts. Also, by studying remotely, you'll avoid paying hefty fees for room and board or transportation.

If you're not particular about whether you're attending a public or private university, opt for a public school. The National Center for Education Statistics (NCES) collected data regarding bachelor's degrees at colleges across the country and determined that the average tuition and fees at public schools were 28% lower than the tuition and fees charged at private schools. Naturally, there is a lot of variation in tuition rates, but the averages are $9,375 and $32,825, respectively.

One of the advantages of attending college online is that you can live anywhere you choose. So, to minimize your rent and other living expenses while you're in school, consider moving to a city with a lower cost of living.

Did you know that the first two years of college are usually devoted to taking about 60 credit hours of general education courses? You could save thousands of dollars just by completing these essential basics at an online community college. According to the NCES, the average annual tuition rate at two-year schools is only $3,501. Many of these schools offer convenient online classes, and you can later transfer the credits you've earned to a four-year school where you can finish earning your bachelor's degree.

Working part time or full time while you're in school has both pros and cons. For instance, you may have to take fewer courses each term and graduate in five or six years. However, if you can use your income to pay at least some of your expenses as you go along, you may be able to minimize or even eliminate student loan debt.
Financial Aid
As mentioned above, you may also be able to fund at least part of your online hospitality management degree with financial aid. Online students are equally eligible for aid as on-campus students as long as they're enrolled in an accredited program.
Some types of financial aid are better than others. Specifically, scholarships and grants funded by the federal and state governments and by the schools themselves are the best types because you won't have to pay them back.
Federal and private student loans are another possibility, but they do have to be repaid with interest. This can seriously inflate the total cost of your online degree program. Before accepting either type of loan, use our student loan repayment calculator to determine the full amount you'll be required to pay back.
By doing a little research, you'll also find several opportunities to apply for private scholarships. These funds are distributed based on additional criteria beyond financial need. Scholarships can be awarded according to your academic achievements, family heritage, community service, or field of study.
You'll need to submit individual applications for any private scholarships, but you can apply for all of the other types of financial aid by submitting the Free Application for Federal Student Aid (FAFSA). After your application has been evaluated, you'll receive a Student Aid Report (SAR) that lets you know if you qualify for aid. If you do, you'll then receive a financial aid offer from your school detailing the types and amounts of funding you can accept.
What Can You Do With an Online Hospitality Management Degree?
Once you've earned an affordable online hospitality management degree, you'll be qualified to pursue several different career paths. However, you will probably need to begin in an entry-level position, such as an assistant manager role, before you can advance to higher-level positions in management.
One possibility is to become a hotel manager, which the Bureau of Labor Statistics (BLS) calls a lodging manager. Along with the primary objective of ensuring a well-running operation, hotel managers are responsible for monitoring finances and budgets, overseeing maintenance, and recruiting and hiring employees. In very large hotels, various departments — housekeeping and human resources, for example — may each have their own manager. Lodging managers earn a median annual salary of $59,430, and employment is projected to grow by 18% through 2031.
A similar role is that of a food service manager. These hospitality professionals perform the same managerial duties, only in restaurants and bars. The median annual wage for food service managers is $59,440, and demand is expected to increase by 10% over the next decade.
Moving in a different direction, you could also use your hospitality degree to become a meeting, convention, and event planner. After discussing objectives and budget concerns with the event sponsors, planners schedule the venue, hire the vendors, and oversee the event. Planners often specialize in certain types of events, such as weddings or conventions. Event planners have a median annual income of $49,470. The BLS anticipates 18% growth in this occupation through 2031.
Furthering your education with a master's degree in hospitality management can lead to more senior roles within the industry. Earning an advanced degree may allow you to specialize in specific areas, like luxury brand management or international tourism, and it may result in higher earnings potential and increased job opportunities.
FAQs About Online Hospitality Management Degrees
How Do I Choose a Bachelor's in Hospitality Management?
---
Selecting the perfect online hospitality management bachelor's degree is both exciting and challenging. You've got many factors to consider, some of which may be more important to you than others. However, before choosing one, you'll want to review each program's curriculum, online format, optional concentrations, financial support, and services provided for online students.
Another important consideration is accreditation. Enrollment in an accredited university is required if you plan to apply for financial aid, want to transfer to another college, or decide to pursue a graduate degree. Institutional accreditation also ensures that you're getting a high-quality education.
What Are the Admission Requirements for Hospitality Management Degrees?
---
The admission requirements for online hospitality management degrees are generally the same across schools with minor variations, but you'll need to have a high school diploma or the equivalent. If you're applying for one of the more competitive schools, you may also need to show that you had a GPA of at least 2.8 in high school and that you scored well on standardized tests like the SAT or ACT.
When you submit your application, you may be asked to provide several other items. These may include a personal statement or essay, one or more letters of recommendation, and a list of extracurricular activities and achievements.
Is Hospitality Management Difficult?
---
Like any field of study at the college level, hospitality management has its challenges. It requires a blend of business acumen, interpersonal skills, and a passion for service. While some students may find certain aspects demanding, you may find the courses engaging due to their practical and dynamic nature.
Are Hospitality Management Degrees Worth It?
---
If you love working with people and have a gift for hospitality, you may find that earning an online bachelor's degree in hospitality management is the perfect way to start a rewarding career. However, with many related occupations offering median annual salaries in the $49,470-$59,440 range, you can see how this field may not give you the highest return on your financial investment.
Nevertheless, by pursuing one of the most affordable online hospitality management degrees and looking for other ways to economize on your education, this degree may be worth it for you.
Related Articles
2023 Best Online Hospitality Management Degrees
Students pursing hospitality management degrees online should refer to our rankings, which feature the best bachelor's degrees based on alumni salary.
2023 Most Affordable Online Colleges & Degrees
Explore the top affordable online colleges of 2023. Find cheap online associate, bachelors, master's, and doctoral degrees.