2023 Most Affordable Online Healthcare Informatics Degrees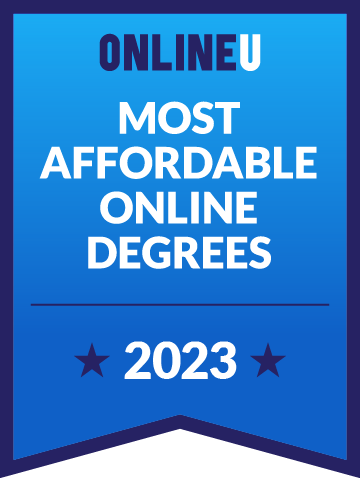 An online bachelor's degree in healthcare informatics online combines aspects of information technology and healthcare. Computer science and health administration are similar to a bachelor's in health informatics, but a typical online bachelor's in healthcare informatics will specifically cover database management, health technology, and web development topics. Prospective students can develop programming, communication, web design, and networking skills in the healthcare field. Students may be required to complete a capstone project or internship to graduate. Prospective job outlooks for graduates of a healthcare informatics degree include data analysts, health information technologists, and health information managers, to name a few.
View our methodology for details about rankings or learn more about us. You can also check out our overall list of the most affordable online degrees for some inspiration.
All tuition numbers were manually collected and verified
| Rank | School | Locations | Annual Tuition |
| --- | --- | --- | --- |
| # 1 | Middle Georgia State University | Macon (GA) | $3,410 |
| # 2 | Midland College | Midland (TX) | $5,880 |
| # 3 | Fort Hays State University | Hays (KS) | $6,806 |
| # 4 | Southeast Missouri State University | Cape Girardeau (MO) | $9,525 |
| # 5 | American Public University System | Charles Town (WV) | $11,150 |
| # 6 | University of Arkansas Grantham | Kansas City (KS) | $11,179 |
| # 7 | Indiana Tech | Fort Wayne (IN) | $11,970 |
| # 8 | Oregon Institute of Technology | Klamath Falls (OR) | $13,620 |
| # 9 | Liberty University | Lynchburg (VA) | $13,869 |
| # 10 | Mercer University | Macon (GA) | $14,910 |
Overview of Online Healthcare Informatics Bachelor's Degrees
An online bachelor's in healthcare informatics prepares students for careers working with and analyzing data in a healthcare setting. Students will learn to harness the power of data to improve operations in healthcare facilities,
Some programs offer specializations to help students fine-tune their degree to fit their personal and professional interests. While healthcare informatics is somewhat specialized on its own, students might be able to focus on areas such as data analysis and management, system administration, project management, healthcare management, healthcare administration, or health information management. Some online degree programs may also include an internship or capstone project, where you'll have the opportunity to apply what you've learned in a real-world setting.
Students with bachelor's degrees in healthcare informatics can pursue a variety of careers in the industry, including jobs in health information management, clinical data analytics, health IT project management, and informatics consulting.
Common Courses
In addition to general undergraduate requirements such as English, math, science, and social sciences, students will take a core set of classes in healthcare informatics to give them a strong foundation in how professionals use data in the healthcare setting. Classes will cover healthcare data, information technology, regulations and compliance with laws about health data, management in a healthcare setting, and analytics. Common courses for healthcare analytics majors include research and data analysis in healthcare, management in healthcare organizations, law and ethics for healthcare professionals, and biostatistics.
Funding an Online Healthcare Informatics Degree
How much your degree will cost is one of the biggest factors in making decisions about higher education. While the high price tag at many colleges and universities can make a degree seem out of reach, most students use financial aid to help lower the cost. Financial aid includes gift aid, such as grants and scholarships, as well as student loans.
The first step in applying for aid is to fill out the Free Application for Federal Student Aid, or the FAFSA. When you fill out the FAFSA, the federal government sends your financial information to the colleges you're interested in. Once you've applied to each school and are accepted, they will send you a financial aid offer with any federal grants, scholarships, and information on student loans if you qualify for them. Your financial aid offers can help you decide where to go to school and understand how much it might cost you.
Financial Aid
Grants and scholarships are often seen as the best financial aid options because they don't need to be repaid. Grants and scholarships might come from the federal government, your state, or your school. You can also apply for more scholarships from outside sources, such as nonprofits or businesses. The federal work-study program is another option for students who want to get a part-time job while they study.
Some students might also qualify for employer-funded tuition assistance programs through their work. These programs are offered by many companies, including Target and T-Mobile, to help employees pay for a college degree.
After gift aid options are exhausted, many students use loans to help bridge the gap. Federal student loans are generally seen as a better option over private loans because they offer benefits such as fixed interest rates and a variety of repayment options, including income-driven repayment plans. Private loans also do not qualify for any federal loan forgiveness programs.
Need to borrow money to pay for school? Our student loan guide can help you borrow responsibly and keep your debt low.
What Can You Do With an Online Healthcare Informatics Degree?
A bachelor's degree in healthcare informatics can open the door to career opportunities in a variety of healthcare settings. This degree blends healthcare and information technology to train professionals who can effectively manage, analyze, and use patient data for better healthcare outcomes. Below are some potential career paths you can pursue, with career data from the Bureau of Labor Statistics (BLS):
Health Information Technologists and Medical Registrars
Median Annual Salary:
$55,560
Information technologists and medical registrars work with healthcare organizations to help them implement digital healthcare systems and analyze health data. They might be involved in designing, implementing, and optimizing health information systems and clinical databases. They also may use patient data to improve the quality of care.
Health Informatics Specialists
Median Annual Salary:
$102,240
Informatics specialists work in different healthcare facilities to develop and manage digital healthcare systems. Health informatics specialists are a type of computer systems analysts that use their skills in computer and information science alongside knowledge of healthcare and nursing to effectively manage health data and use it to improve health services.
Health Information Managers
Median Annual Salary:
$101,340
With a bachelor's degree and a few years of experience in the industry, healthcare informatics professionals can often move into management positions. Health information managers are in charge of patient records and focus on maintaining and ensuring the accuracy, security, and privacy of sensitive health information. The BLS projects rapid growth in the field, with a projected 56,600 job openings for medical and health service managers over the next 10 years.
FAQs About Online Healthcare Informatics Degrees
How Do I Choose a Bachelor's in Healthcare Informatics?
---
When choosing an online bachelor's in healthcare informatics, there are a few factors to keep in mind. Students should look for a program that will help them meet their professional goals, whether that's a degree that focuses more on healthcare management or emphasizes informatics and computer science skills. They should also choose an accredited college with a good reputation. Accreditation is one of the most important things to look for when choosing an online school because it means the school is regularly evaluated by an accreditation organization to make sure it meets academic standards. Other things to think about include tuition, financial aid opportunities, alumni outcomes, and online program format.
What Are the Admission Requirements for Healthcare Informatics Degrees?
---
While it varies depending on the school, some of the most common admissions requirements for bachelor's programs include a high school diploma or GED and high school transcripts. Some colleges require students to have a certain GPA in high school or standardized test scores from the SATs or ACTs, although this is less often required for online programs. Other application materials might include a personal statement or application essay and letters of recommendation.
Is a Healthcare Informatics Degree Worth the Cost?
Whether or not a healthcare informatics degree will be worth the cost depends on how much the degree costs, personal and professional career goals, and what kind of salary and career outcomes students can expect after graduation. In general, jobs in healthcare informatics management tend to net high salaries compared to other careers available to those with just a bachelor's degree. While it may take a few years to see this higher payoff, students who are interested in the field will likely have opportunities to boost their salary and advance their career if they choose to pursue them. Students can maximize their return on investment by saving money in college and keeping the cost of their degree low. Choosing an affordable online college or one that offers good financial aid opportunities can help lower the cost of college. Attending online also makes it easier to work while in school, which helps reduce income lost during college.
Related Articles
2023 Most Affordable Online Master's Degrees in Information Technology
Learn about the most affordable online master's degrees in information technology from our listed of accredited online schools.