2023 Most Affordable Online Graphic Design Degrees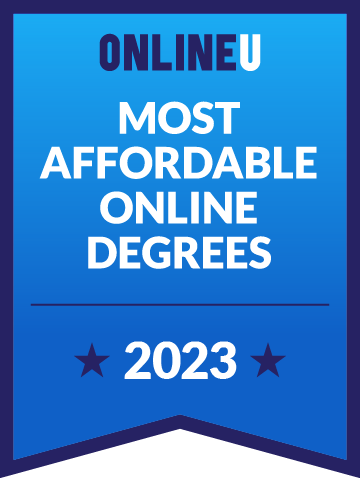 Today's world is inundated with images, illustrations, and infographics. Websites utilize graphic design to make themselves user-friendly and improve their audience's experiences. If you're interested in working with brands, apps, magazines, and other media organizations to create these kinds of images, consider an online degree in graphic design. Graphic design, and related degrees, such as art design and web design, translates into many different fields. From designing directional size for a corporate building to creating templates for a news channel to accepting commissions for an online zine, a degree in graphic design can help you have an interesting, successful career.
View our methodology for more details about rankings or learn more about us.
All tuition numbers were manually collected and verified
| Rank | School | Locations | Annual Tuition |
| --- | --- | --- | --- |
| # 1 | Arkansas State University | Jonesboro (AR) | $7,740 |
| # 2 | Southern New Hampshire University Online | Manchester (NH) | $9,600 |
| # 3 | University of West Alabama | Livingston (AL) | $13,000 |
| # 4 | Regent University Online | Virginia Beach (VA) | $13,150 |
| # 5 | Bellevue University | Bellevue (NE) | $13,653 |
| # 6 | Liberty University | Lynchburg (VA) | $13,869 |
| # 7 | Lindenwood University | Saint Charles (MO) | $14,250 |
| # 8 | Upper Iowa University | Fayette (IA) | $14,940 |
| # 9 | University of Maryland Global Campus | Adelphi (MD) | $14,970 |
| # 10 | University of Florida | Gainesville (FL) | $15,158 |
Overview of Online Graphic Design Bachelor's Degrees
A graphic design bachelor's degree program focuses primarily on fostering creative problem-solving skills, technical proficiencies, and an in-depth understanding of the principles of visual language. In the process of earning your online degree, you'll study a diverse array of subjects, including typography, branding, packaging, website design, and motion graphics.
You can expect all of your graphic design courses to provide opportunities to apply the design theories and principles you're learning to real-world projects. Typical assignments range from creating logos, websites, and interactive media, to conceiving advertising campaigns and digital illustrations. These projects will help you develop a strong design portfolio that you'll use to demonstrate your style and skills to prospective employers.
Through the comprehensive training provided in a bachelor's program, you'll hone both technical skills, such as the use of the Adobe Creative Suite, layout design, and color theory, along with soft skills like communication, critical thinking, time management, and teamwork.
Some online graphic design degree programs may allow you to focus on an area of concentration that could help you prepare for the specific job you have in mind. A few of the possible options include interactive design, animation and 3D modeling, and user interface (UI) and user experience (UX) design.
Common Courses
Online degrees in graphic design typically require the completion of 120-124 credit hours. Full-time students often complete the bachelor's degree requirements in four or five years, but part-time students may need an additional year or two. Most programs require internships, and some include a final capstone course that gives you a chance to polish your portfolio.
The following are some of the courses commonly found in a graphic design online degree program:
Principles of Graphic Design
Students learn the foundation of design principles and elements such as line, shape, color, and texture, as well as the principles of composition and visual perception. Projects include common design problems, such as logos and print ads.
This course explores the role of type in visual communication, including the history, anatomy, and use of typefaces and fonts in different design contexts.
Students gain mastery in creating and manipulating digital images using industry-standard software like Adobe Photoshop. They also learn about color correction, image retouching, and compositing.
This course covers the basics of designing and developing websites, including user interface and user experience concepts. Projects will teach essential technical skills, such as the use of HTML, CSS, and JavaScript.
Funding an Online Graphic Design Degree
Earning a graphic design bachelor's degree is a significant investment of time, energy, and money. Because of the software programs you'll need, your school supply costs may be slightly higher than average. The good news is that we've compiled several tips for saving money on college education:
Am I willing to earn my degree online?
In many cases, distance education is less expensive than traditional, on-campus programs. Some schools charge in-state tuition rates for online students, and a few even charge slightly reduced tuition rates for distance learners. Our list of the most affordable online graphic design degrees above is a great place to start looking for the most economical programs. Also, remember that as an online student, you won't have to budget for on-campus room and board or commuting to and from school.
Am I willing to choose a public school instead of a private one?
The National Center for Education Statistics has collected data from all types of schools across the country, and it shows that the average tuition for in-state students attending public schools was about one-fourth of what it was for students at private schools. In the 2020-21 school year, the averages were $9,375 as compared to $32,825. Granted, there is a wide range of tuition rates across schools, but generally speaking, state-run universities cost less.
Could I go to community college first to complete my general education requirements?
During the first two years of a bachelor's program, you'll take mostly general education courses like algebra, writing, and political science. You could take the bulk of these classes at a community college, which averages $3,501 in tuition and fees, according to the NCES. In other words, you could complete these early requirements — online or on-campus, whichever you prefer — at a much lower cost.
After three or four semesters, you can transfer the credits you've earned to a four-year university, where you can finish your online bachelor's degree in graphic design.
Could I find a less expensive place to live?
Even if you're earning a degree online, you'll still need to pay for housing, food, and transportation. However, if you currently live somewhere that has a high cost of living, you might be able to reduce these expenses while you're in college by moving to a more affordable place.
Am I willing to work part time or full time while I'm in school?
Another great way to avoid taking on college debt is to earn money for college by working part time or full time. There are pros and cons to this tactic, and some students note that it's challenging to maintain a healthy work-school balance. Working while earning a degree may also mean taking fewer classes per semester and needing an extra year to graduate, but the financial benefits may be worth it.
Financial Aid
Obtaining financial aid is another excellent way to reduce the cost of an online graphic design degree. Depending on your financial circumstances, you may receive funding from the federal and state government. There are also many school-sponsored and private scholarships that may be awarded to you based on financial need, academic performance, or some other qualification, such as your major or family heritage.
As long as you enroll in an accredited online degree program, you can submit an application for financial aid. You'll use a form called the Free Application for Federal Student Aid (FAFSA). After your application has been reviewed, you'll be sent a Student Aid Report (SAR) that lets you know if you qualify for aid. You'll also receive a letter from the school you attend — or all of the schools where you've applied — with specific financial aid offers.
Preferably, your financial aid package will include grants and scholarships. These are the best types of aid to receive because they don't have to be repaid.
However, if you don't qualify for enough grant or scholarship money or have other funds available, you may need to opt for a student loan. Just keep in mind that the interest on federal and private student loans can significantly increase the cost of your degree. Before you accept any student loan offer, know what you're signing up for by using a student loan repayment calculator to determine the long-term cost of the loan.
What Can You Do With an Online Graphic Design Degree?
A bachelor's in graphic design is a surprisingly versatile degree that can prepare you for a wide array of job opportunities. As with most occupations, you may need to start off in entry-level design jobs and work your way up to better-paying positions.
Looking at careers within the graphic design field itself, you may find yourself specializing in multimedia design — developing animations, commercials, and virtual reality products — or in print media design, creating advertisements, catalogs, brochures, and books. According to the Bureau of Labor Statistics (BLS), graphic designers earn a median annual salary of $50,710 and multimedia designers earn a median annual wage of $78,790. These occupations are projected to grow by 3-5% through the end of the decade.
Your design and technology skills also qualify you for website design roles. Website developers and digital designers earn a median annual salary of $78,300, and demand is expected to increase by 23%. Another in-demand occupation with a 25% projected growth rate is mobile application designer. The BLS groups mobile app designers with software developers, who earn a median annual salary of $109,020.
As you progress in your design career, you may want to consider earning professional certification through an authorized program. Certification may allow you to command a higher salary because it demonstrates your mastery of certain design skills, such as UX/UI design, or programs like Adobe InDesign, Photoshop, and Illustrator.
FAQs About Online Graphic Design Degrees
How Do I Choose a Bachelor's in Graphic Design?
---
When you start reviewing online graphic design bachelor's programs, you'll want to take several factors into account. Some of these factors may be more important to you than others, but they should include the school's tuition fees, curriculum and concentrations, faculty, online format, and student resources, such as career development services.
One additional factor that's extremely important is accreditation. Institutional accreditation means that a school's programs and faculty have met the highest standards. Enrollment in an accredited program is necessary for you to receive financial aid, and it will probably be required if you decide to transfer to another school or apply for admission into graduate school.
Some individual design programs may also be accredited by the National Association of Schools of Art and Design.
What Are the Admission Requirements for Graphic Design Degrees?
---
The admission requirements for an online bachelor's in graphic design program are fairly typical. You'll need to present a high school diploma or the equivalent, and you may need to document that you earned a GPA of at least 2.5. When submitting your application, you'll probably be asked for transcripts, a personal essay, and letters of recommendation. You may also be required to submit your scores on college entrance exams, such as the SAT or ACT.
Some schools may also ask you to present a portfolio of your creative work. This can include examples of graphic design, website design, fine art, illustration, and photography.
Is a Graphic Design Degree Worth the Cost?
A graphic design degree is likely to yield a high return on your investment, especially if you can find ways to minimize the cost of your college education. With a bachelor's degree, you'll qualify for a variety of occupations that have median annual incomes ranging from $50,000-$78,000. After accumulating several years of experience, you may become an art director, an occupation with a median annual salary topping $100,000.
Beyond the financial benefits, a graphic design online degree may prove to be worth it by establishing a foundation for a rewarding, stable career for creative, collaborative people who also enjoy working with technology.
Related Articles
2023 Most Affordable Online Colleges & Degrees
Explore the top affordable online colleges of 2023. Find cheap online associate, bachelors, master's, and doctoral degrees.
2023 Best Online Graphic Design Degrees
Find the best online graphic design degrees in 2023 from our list of accredited colleges ranked by popularity.