2023 Most Affordable Online Fire Science Degrees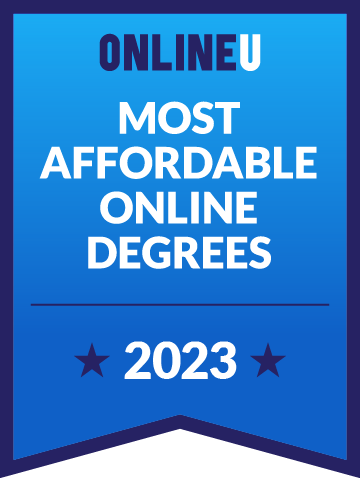 A bachelor's degree in fire science is designed to prepare firefighters and emergency responders to advance into administrative and managerial positions in emergency medical services (EMS). Evolving forces, including climate change, are driving an increase in demand for highly trained professionals with bachelor's degrees to fill these roles. Along with team leadership skills, students will explore subjects related to arson investigation, interagency coordination, and building safety regulations. Graduates are eligible to pursue supervisory roles in fire departments, fire investigation teams, and emergency services organizations.
For students who want to look beyond fire safety and investigate the broader environmental issues that relate to natural disasters and climate change, a similar online degree option to pursue is environmental science.
View our methodology for details about rankings or learn more about us. You can also check out our overall list of the most affordable online degrees for some inspiration.
All tuition numbers were manually collected and verified
Rank
School

Locations

Annual Tuition

# 1
College of Southern Nevada
Las Vegas (NV)

$5,100

# 2
University of Alaska Fairbanks
Fairbanks (AK)

(and 1 other)

$7,020

# 3
Columbia Southern University

Orange Beach (AL)

$7,050

# 4
University of Florida
Gainesville (FL)

$9,158

# 5
Western Illinois University
Macomb (IL)

$9,238

# 6
Waldorf University

Forest City (IA)

$9,300

# 7
Northwestern State University of Louisiana
Natchitoches (LA)

$9,600

# 8
Southern Illinois University - Carbondale
Carbondale (IL)

$9,645

# 9
University of Wisconsin - Oshkosh
Oshkosh (WI)

$10,800

# 10
American Public University System
Charles Town (WV)

$11,150
Overview of Online Bachelor's in Fire Science Degrees
An online bachelor's degree in fire science is designed to enhance students' understanding of fire dynamics and emergency services administration. Core courses cover topics, such as fire behavior, fire prevention, building construction, and risk management. Electives provide deeper insights into topics including hazardous materials, public administration, homeland security, and fire protection systems. These programs are typically delivered as bachelor of science or bachelor of applied science degrees and require 120 credit hours to graduate. Most students take about four years of full-time study to finish, but a few colleges offer accelerated programs that may enable them to graduate sooner.
The admissions criteria for fire science programs are similar to those of other bachelor's programs, usually requiring the submission of a high school diploma that shows a minimum GPA of 2.5 or 3.0. Some programs also require enrollees to have worked as firefighters or emergency responders for several years. Applicants who don't meet all of the requirements may need to complete one or more prerequisite courses before starting the program.
How Much Does It Cost to Get a Fire Science Degree?
Earning a college degree can be expensive, but a distance learning program may be an effective way to save money. Some schools charge online students lower tuition fees and may even charge in-state tuition rates for out-of-state residents. Schools may also waive some additional fees for their on-campus services, and some fire science programs include textbooks in their tuition fees.
---
The average annual tuition for the schools on our list is $11,916, as compared to the average annual tuition at four-year schools across the country, which is $25,362.
---
Here are some additional ideas for reducing the cost of a fire science degree:
Complete your general education courses at a less expensive, accredited community college and transfer credits to a four-year university.
Take full 18-credit course loads at a school that charges a flat tuition fee for course loads of 12 or more credits.
Request a prior learning assessment, if available, to determine whether you can receive college credit for work or military experience.
Take advantage of school-provided military discounts and government-funded GI Bill benefits.
Investigate whether your employer is a learning partner at your school, as this may entitle you to a tuition discount.
Apply for all types of financial aid, especially scholarships and grants.
Financial Aid for Online Fire Science Students
Students enrolled in online fire science degree programs may be eligible for many types of financial aid. Examples include federal, state, and college grants and scholarships, which students prefer because they don't have to repay these funds. Student loans may also be offered as part of a financial aid package, but students should thoroughly review a loan's terms before accepting one. Federal and state loans typically feature lower interest rates and more flexible repayment plans. Students can apply for financial aid by filling out the Free Application for Federal Student Aid (FAFSA). If they have questions about types of aid or aid packages, students should contact the financial aid office at their school.
Fire science majors may also want to check with professional organizations as well as state and local community agencies for privately sponsored scholarships. For example, the International Association of Fire Chiefs Foundation offers nine scholarships for associate and bachelor's degree seekers. The eligibility requirements and award amounts for these scholarships vary. Private scholarships usually require a separate application from the FAFSA, and application materials may include transcripts, letters of recommendation, and a personal essay.
What Can You Do With a Fire Science Degree?
The U.S., like so many regions around the world, is experiencing greater criminal activity and a growing number of natural disasters due to climate change. These forces are creating a growing need for college-educated professionals to assume leadership positions in fire safety and emergency response. Online bachelor's degrees in fire science help prepare graduates to assume these advanced roles, which include the following occupations:
Fire Inspectors and Investigators
Fire inspectors and investigators usually have firefighting experience and an associate degree or bachelor of science in fire science. Their work may involve searching buildings for public safety hazards and reviewing evacuation plans, or gathering evidence for fire and arson investigations. The median annual salary for fire inspectors and investigators is $64,610, and 1,700 new positions are expected to open annually between 2020-2030.
First-Line Supervisors of Firefighting and Prevention Workers are the highest-ranking officers in a fire department. They perform common managerial functions, including planning for resources, hiring and training staff, and monitoring budgets. Experienced firefighters usually need a bachelor's degree in fire science or a related field to obtain a position in fire service management. The median annual salary for this position is $78,870, and 5,300 job openings are projected each year through 2030.
Emergency Management Directors
Emergency management directors may work for state or local governmental agencies assessing potential hazards and formulating plans for emergency responses. If a disaster occurs, fire services administration coordinates with other local responders to implement their plans and oversee operations. Individuals usually need at least five years of related work experience and a bachelor's degree in fire science or emergency management to assume this role. They earn a median annual salary of $76,250, and 1,000 new openings are projected in the U.S. each year through 2030.
Accreditation For Online Fire Science Programs
Accreditation ensures college students receive a quality education that provides them with the skills, mindset, and knowledge they need to enter the workforce with confidence. Enrollment at an accredited college is also required to be eligible for financial aid, and it may be necessary for acceptance into graduate school. Colleges and universities typically earn regional accreditation, which indicates that an approved regional accreditation agency has evaluated all of their programs, faculty members, and student services. Alternatively, the Distance Education Accreditation Commission typically provides national accreditation status to schools that offer primarily online degrees.
The International Fire Service Accreditation Congress (IFSAC), an accreditation agency authorized by CHEA, can grant programmatic accreditation to individual degree programs in fire science. Additionally, the Federal Emergency Management Agency has issued Fire and Emergency Services Higher Education Recognition certificates (FESHE) to some programs. While both IFSAC accreditation and FESHE recognition indicate that a fire science program has been modeled on standardized education criteria set by emergency service sector leaders, it's important to remember that employers don't typically require either.
Is an Online Bachelor's in Fire Science Worth It?
Firefighters and emergency response workers who want to move into managerial positions must have a bachelor's degree in fire science. However, prospective students should carefully examine their personal circumstances to determine whether the degree's expected value is worth the investment of money and effort. The following pros and cons may help students make this decision:
Potential Benefits
A degree in fire science helps graduates qualify for higher-paying positions. Fire departments are typically organized according to a hierarchical structure, and the higher-paying positions in management, inspection, and investigation require a bachelor's degree.
Potential Drawbacks
Administrative jobs in emergency services can be dangerous. Commanding officers, inspectors, and investigators must work on-site at the scenes of fires, explosions, and other disasters. According to the BLS, these occupations have some of the highest rates of injuries and illnesses of all occupations.
The job market for leadership roles is competitive. Although the emergency service sector in the U.S. is calling for more college-educated professionals, the total number of job openings nationwide remains fairly small.
An online degree may not be a suitable fit for all students. Despite the flexible schedule inherent in online learning, some students learn better in a face-to-face setting where they can easily share and discuss real-world situations. It's important to consider personal learning preferences when deciding whether to enroll in an online program.
Frequently Asked Questions About Online Fire Science Degrees
Can I Get a Fire Science Degree Online?
---
Yes, you can study fire science fully online. Our list above features 20 of the cheapest online fire science degrees.
Should I Get a Fire Science Degree to Be a Firefighter?
---
No, becoming a firefighter does not require a fire science degree. Firefighters typically receive all the instruction they need at fire academies and through EMT and paramedic certifications and on-the-job training. Those who aspire to managerial positions, however, usually need an associate or bachelor's degree in fire science.
Do Firefighters With Degrees Get Paid More?
---
Firefighters with degrees may earn slightly higher salaries than their colleagues without degrees, but their annual salaries are still likely to be close to the median of $52,000, as reported by the BLS in 2021. However, a college degree, particularly in fire science, helps qualify experienced firefighters for positions in management — especially the highest ranks of assistant chief, deputy chief, and fire chief — and other specialized occupations related to emergency response services.
Related Articles
2023 Most Affordable Online Colleges & Degrees
Explore the top affordable online colleges of 2023. Find cheap online associate, bachelors, master's, and doctoral degrees.
2023 Best Online Fire Science Degrees
Investigate our list of the most popular accredited schools offering online fire science degrees in 2023.