2023 Most Affordable Online Colleges for a Master's in Finance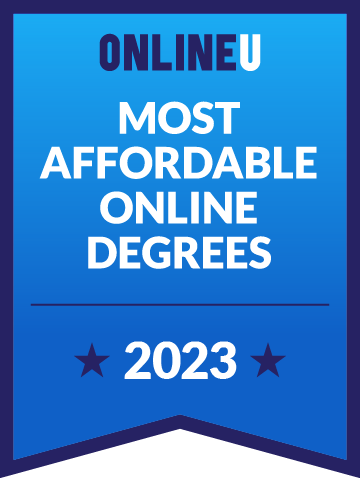 An online master's in finance provides students with a foundational knowledge of finance concepts. This online graduate program is designed for students who are also working professionals who require flexibility to further their education. Prospective students can expect to learn about economics, financial management, accounting, and marketing with an online master's in finance. Some of the affordable master's programs on our list require students to complete a master's in business administration (MBA) core curriculum alongside a finance concentration and either a related capstone project, thesis proposal, or research project. Graduates with an online master's in finance may enter careers as budget analysts, accountants, and actuaries, to name a few possibilities.
View our methodology for details about rankings, or learn about us. You can also check out our list of the most affordable online degrees for more inspiration.
All tuition numbers were manually collected and verified
| Rank | School | Locations | Annual Tuition |
| --- | --- | --- | --- |
| # 1 | Fitchburg State University | Fitchburg (MA) | $4,934 |
| # 2 | Northeastern State University | Tahlequah (OK) | $5,095 |
| # 3 | Youngstown State University | Youngstown (OH) | $5,577 |
| # 4 | Arkansas State University | Jonesboro (AR) | $5,958 |
| # 5 | Columbia Southern University | Orange Beach (AL) | $6,030 |
| # 6 | Ohio University - Main Campus | Athens (OH) | $6,324 |
| # 7 | Adams State University | Alamosa (CO) | $6,525 |
| # 8 | Cameron University | Lawton (OK) | $6,600 |
| # 9 | University of South Dakota | Vermillion (SD) | $7,057 |
| # 10 | California State University-San Bernardino | San Bernardino (CA) | $7,176 |
Overview of Online Finance Master's Degrees
An online master's in finance degree is a postgraduate program that provides students with advanced training in the financial field. The degree typically requires around 18 to 36 months of full-time study, although accelerated programs may be available at some institutions.
Online programs often offer flexible scheduling options to accommodate working professionals, including fully asynchronous coursework. The online format is especially attractive to working professionals, who appreciate the flexibility of learning at their own pace and on their own schedule. Still, some online programs may require in-person attendance one or several times, and/or an internship in a finance setting. When that's the case, they connect students with businesses in their area.
Admission requirements for online finance master's programs often include a bachelor's degree from an accredited institution. Some programs may prefer candidates with a degree in finance, economics, statistics, or related fields. GRE or GMAT scores may be required. Other schools may accept students with diverse academic backgrounds. That said, students without a finance-related bachelor's degree may still find it helpful to take foundational courses before enrolling.
A finance master's degree program usually includes a mix of core courses and electives. Core courses cover fundamental concepts in finance, such as financial analysis, investment management, risk management, and corporate finance. Students can often tailor their degree to fit their specific interests and goals by selecting a specialization, such as financial planning, corporate finance, investment banking, or risk management.
Common Courses
When pursuing an online finance degree at the master's level, students take courses that help them deepen their knowledge of economics, data, ethics, statistics, and more. Below are a few examples of common courses:
This course covers topics like financial statement analysis, accounting standards, revenue recognition, and asset valuation. Students in this course gain an understanding of how organizations convey their financial performance to stakeholders.
Investment Analysis and Portfolio Management
Students learn about investment strategies and portfolio management in this class. They develop knowledge of different asset classes, risk-return trade-offs, and the methodologies used to construct and rebalance investment portfolios. Coursework includes simulations and case studies to give students real-world experience in evaluating securities, managing risk, and building investment portfolios.
This course provides an in-depth look at the financial decisions that corporations must make, with a focus on capital budgeting, financing options, and valuation techniques. It also explores the factors and valuation models used by companies to assess potential mergers, acquisitions, and investment projects.
Additionally, students can expect to take classes in macroeconomics, risk management, financial modeling, quantitative methods, and others.
Funding an Online Finance Degree
The costs associated with earning a master's in finance degree can vary, depending on factors like the chosen institution, program duration, and the student's personal circumstances. While there are plenty of affordable online finance degrees, some programs may require a significant financial commitment. There are several strategies that can help cover these expenses.
First, it pays to consider multiple options. Some universities offer competitive pricing for online degrees, making them an affordable choice.
Many students balance the costs of their degree by maintaining part-time or full-time employment. By doing so, they earn a steady income stream to cover living expenses and offset tuition costs. With this approach, good time management is essential to a healthy work-study balance.
One way to reduce costs is to explore the use of open educational resources (OERs) and digital libraries as alternatives to traditional textbooks and course materials. Further, opting for a program that offers credit for prior learning or work experience might result in lower overall program costs.
Finally, scholarships, grants, loans, and employer tuition reimbursement programs can provide significant help in financing an education.
Financial Aid
When it comes to paying for college, students have a variety of financial aid options available, including scholarships, grants, loans, and work-study programs. Each type of aid has its own benefits and requirements, and the best option for a given student depends on their specific situation.
Here, we'll explore some common forms of financial aid and how students can use them:
Scholarships and grants are forms of financial aid that don't require repayment. Students can qualify based on a variety of factors, including their academic record, financial need, or unique circumstances such as their background or field of study. There is no one-size-fits-all approach to financial aid, and it's worth exploring all of the options available. Schools may offer their own scholarship or grant opportunities or assist students in finding funding outside of financial aid.
Employer tuition assistance
Many employers offer tuition reimbursement or assistance programs as a perk of employment. These programs often come with certain requirements. For instance, students may need to maintain a minimum GPA and continue to work for the employer for a specific period after graduation. On the bright side, employer assistance can make it much more affordable to earn a graduate degree.
Federal and private loans
Loans are funds that students borrow to cover educational costs and repay with interest. Federal loans offer competitive interest rates and flexible repayment options. Private loans can be a good option for students who don't qualify for federal loans or who need additional funds beyond what's available through federal aid.
After completing their degree, students with loans will typically have a grace period before they must start repayment. It's important to carefully consider the terms and conditions of each loan before taking on debt.
What Can You Do With an Online Finance Degree?
An online master's in finance can lead to many career options in the finance industry. Graduates can find work in investment banks, corporate finance departments, financial analysis firms, risk management companies, and more. Additionally, they can opt to continue their education with postgraduate or certification programs.
Below are some common career options for master's in finance graduates, with the most recent data from the Bureau of Labor Statistics (BLS):
Median Annual Salary:
$95,570
Financial analysts assess market trends and analyze financial data to provide insights for investment decisions.
Median Annual Salary:
$131,710
Financial managers oversee an organization's financial strategies and operations. Their median annual pay is, according to BLS. The expected job growth of 17% from 2021 to 2031 is much quicker than for other positions, which average around 5% projected annual growth.
Personal Financial Advisors
Median Annual Salary:
$94,170
Personal financial advisors help their clients make sound financial decisions and plan for the future. They provide personalized guidance on topics like investing, saving, and debt management.
For those interested in furthering their education, a PhD in finance or a doctorate-related fields, like a PhD in business, can open up doors to academia, investment research, and consulting. This advanced degree can provide more specialized and advanced career opportunities. For finance professionals looking to boost their career prospects, there are many industry-specific certifications available. For example, the Certified Financial Analyst (CFA), Certified Financial Planner (CFP), and Financial Risk Manager (FRM) are highly sought-after credentials that demonstrate expertise in specific areas of finance.
FAQs About Online Finance Degrees
How Do I Choose a Master's in Finance?
---
When choosing a master's in finance program, it helps to consider the program's reputation, curriculum, specialization options, faculty expertise, as well as the institution's accreditation. For working professionals looking to study while maintaining employment, the program's flexibility can also be a factor. Even certain remote programs may require in-person attendance once or several times.
Research various programs to find the one that aligns with your career goals, learning preferences, and schedule. Look for programs with solid industry connections, practical learning opportunities, and a track record of successful graduates. Reading reviews, talking to current students or alumni, and comparing different options can help you make an informed decision.
How Much Does a Master's in Finance Make?
---
Salaries for graduates with a master's degree in finance can vary widely. Some deciding factors include job role, location, industry, experience, and company size. All in all, the degree provides competitive earning potential. Roles like traders, equity researchers, asset managers, and others can pay well into six figures.
Is a Master's in Finance as Good as an MBA?
---
Both a master's in finance and an online MBA offer unique advantages and valuable credentials in the business and finance sectors. An MBA provides a broader understanding of business management across various functions. A master's in finance, on the other hand, offers a more specialized focus on finance-related concepts and skills.
If your interests lie in specific areas of finance — think financial analysis, risk management, and investments — then a master's degree in finance could be the best choice for you. But with an MBA, you can gain versatile skills for various management roles across industries.
An MBA in finance is another option. While there may be an overlap in courses with a master's in finance, an MBA with this specialization is more likely to lead to leadership positions in the finance industry.
Is It Worth Getting a Master's in Finance?
A master's in finance can be a worthwhile investment for those looking to advance in the finance industry. This online graduate degree equips students with a deep understanding of financial principles, analytical skills, and specialized knowledge highly valued in the competitive finance job market.
An online master's in finance can be an especially good choice for working professionals, allowing them to advance their education without sacrificing their current responsibilities. Financial aid options, scholarships, and employer assistance programs can also make the program more affordable.
Related Articles
2023 Most Affordable Online Colleges & Degrees
Explore the top affordable online colleges of 2023. Find cheap online associate, bachelors, master's, and doctoral degrees.
2023 Most Affordable Online Master's Degrees in Accounting
Discover the most affordable colleges for online master's degrees in accounting from our list featuring manually collected tuition.