2023 Most Affordable Online Environmental Science Degrees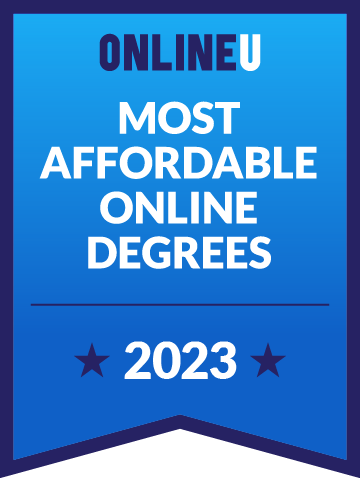 Environmental sciences is a field of study that examines climate change, conservation, waste management, development, disaster reduction, and other global issues. An online bachelor's in environmental science, or fire science as an alternative, may be an excellent fit for students interested in addressing global environmental problems in their careers.
Most online bachelor's in environmental science covers ethics, sustainability, and environmental law. Graduates may pursue further education with a master's degree in environmental science or begin careers, like Natural Resource Manager, Environmental Engineer, and Air Pollution Analyst. According to the Bureau of Labor Statistics (BLS), environmental scientists and specialists earn a median annual salary of $76,530.
View our methodology for more details about rankings or learn more about us.
All tuition numbers were manually collected and verified
| Rank | School | Locations | Annual Tuition |
| --- | --- | --- | --- |
| # 1 | Fort Hays State University | Hays (KS) | $6,806 |
| # 2 | Columbia Southern University | Orange Beach (AL) | $7,050 |
| # 3 | Delta State University | Cleveland (MS) | $8,360 |
| # 4 | SUNY College of Environmental Science and Forestry | Syracuse (NY) | $8,480 |
| # 5 | Southern New Hampshire University Online | Manchester (NH) | $9,600 |
| # 6 | Kean University | Union (NJ) | $10,445 |
| # 7 | University of Wisconsin - Green Bay | Green Bay (WI) | $10,590 |
| # 8 | American Public University System | Charles Town (WV) | $11,150 |
| # 9 | Florida International University | Miami (FL) | $11,276 |
| # 10 | Wilmington University | New Castle (DE) | $11,700 |
Overview of Online Environmental Science Bachelor's Degrees
An environmental science bachelor's degree is ideal for those who are fascinated by conservation and climate change and want to know more about waste management, disaster preparedness, and environmental law. Undergraduate programs in this field are designed to provide you with an advanced understanding of the relationship between human activity and the environment.
Online degrees in environmental science help prepare you for a career dedicated to making positive change. Some of the technical skills you're likely to develop include data analysis and modeling, laboratory techniques, GIS (geographic information systems) proficiency, and environmental impact assessments. Additionally, you'll foster soft skills like critical thinking, project management, and effective communication.
As you progress through an online program, you'll find that your projects and assignments often revolve around real-world challenges. You may be asked to review case studies, conduct field investigations, write research papers, and provide policy analysis.
Common Courses
Most online bachelor's programs in environmental science require the completion of 120-124 credit hours. In addition to core courses, you'll have an array of related electives to choose from, allowing you to tailor your program to your interests and career goals. Some programs include an internship or a capstone project.
Below are some of the core courses often found in an environmental science program:
This course explores the science of climate change, its causes, and its potential impact on the planet's ecosystems. Coursework is likely to include the economic, political, and social influences on climate change.
Students learn the principles of conserving biological diversity, including the ecological theories behind conservation efforts. Real-world examples and case studies help students understand the impact of these actions.
This course addresses the chemical processes that occur in natural and polluted environments. Online students may be required to purchase lab kits or assemble lab equipment to complete assignments.
Environmental Policy and Law
This course provides an understanding of the legal and policy aspects of environmental issues, including legislative processes and litigation tactics.
In this advanced course, students gain skills in geospatial technology, learning to use GIS and remote sensing tools to analyze and solve environmental problems.
Funding an Online Environmental Science Degree
Paying for a college education can seem daunting, but you probably have several sources of funding available to you. Some of the possibilities include savings, income, grants, scholarships, and student loans.
The following list provides you with five additional ideas for reducing your expenses and saving money in college:
Enroll in an online degree program. Unless the traditional, on-campus experience is something you've always dreamed of, you may want to consider an online program like the most affordable environmental science degrees listed above. Distance education can be more economical because some colleges charge lower tuition rates for online learners. Also, keep in mind that the traditional approach will include hefty fees for room and board or transportation — fees that are eliminated when you study remotely.
Opt for a public university. Here again, unless there's a particular private institution you've always wanted to attend, consider public schools. Recent data published by the National Center for Education Statistics (NCES) indicate that the average tuition and fees for bachelor's degrees at public schools were about one-fourth of the tuition and fees charged at private schools — $9,375 as compared to $32,825.
Find a cheap place to live. One of the benefits of online college is that you can live anywhere while attending school. You may be able to minimize your rent, food, and other living expenses by moving to a more economical town or city.
Fulfill your general education requirements at an affordable community college. Generally speaking, in the first two years of a bachelor's program, you'll take about 20 general education courses, such as literature, algebra, and psychology. You could save thousands in tuition fees by taking these courses at an online community college and then transferring to a four-year university. According to the NCES, community colleges charge an average annual tuition rate of $3,501. Many of these schools also offer online classes for your convenience.
Earn extra income by working. Holding a part-time or full-time job while attending college has both advantages and drawbacks. However, every dollar that you can put towards paying for your degree may help you avoid student loan debt.
Financial Aid
Another way you might be able to economize on an environmental science bachelor's degree is to apply for financial aid. The funds that come from the federal and state governments and from the schools themselves are usually reserved for students with financial need, but all on-campus and online students enrolled in accredited bachelor's programs can apply for aid.
There are several types of aid available, and some are more desirable than others. Scholarships and grants are preferred because they don't have to be repaid.
Federal and private student loans are less appealing because they have to be paid back with interest. But, depending on your circumstances, a student loan may be your best option. Before accepting a loan, use a student loan repayment calculator to calculate the total cost of the loan plus the interest.
School-sponsored and private scholarships are also available, and these are often awarded based on a number of factors besides financial need. Awards may be granted based on academic merit, career goals, community service, or family heritage.
While you'll need to submit individual applications for private scholarships, you can apply for all other types of financial aid by submitting just one form — the Free Application for Federal Student Aid (FAFSA). Later, if you're approved for aid, you'll receive a financial aid offer from your school.
What Can You Do With an Online Environmental Science Degree?
An online bachelor's in environmental science is a surprisingly versatile degree that can serve as the starting point for many different careers in this field.
One of the most common occupations for graduates with this degree is environmental scientist. These professionals analyze environmental problems, assess the impact of human activity on nature, and develop possible solutions. Within this field, there are also several types of specialists, such as environmental health and safety specialists, industrial ecologists, and climate change analysts. According to the Bureau of Labor Statistics (BLS), this category of scientists earns a median annual salary of $76,530.
With some experience or possibly additional education, you may also qualify for related science-oriented occupations with respectable salaries. Some of these options include conservation scientist ($63,750), hydrologist ($84,030), and geoscientist ($83,680).
Further Education and Certification
If you're interested in specializing in a particular aspect of environmental science, you may want to pursue a master's degree. Programs are available that emphasize chemistry, biology, geology, sustainability, resource management, and more. The leadership skills and intensive knowledge you acquire may qualify you for higher-paying positions. To further your interest in original research, you can also consider earning a doctorate.
Another way to advance your career is to earn professional certification. Several organizations offer certification, such as the National Registry of Environmental Professions (NREP), the Academy of Board Certified Environmental Professionals (ABCEP), and the Association of Climate Change Officers (ACCO).
FAQs About Online Environmental Science Degrees
How Do I Choose a Bachelor's in Environmental Science?
---
Selecting the right environmental science bachelor's degree program for your needs can be challenging. You've got many factors to consider, such as online format, available concentrations, notable faculty, financial support, and online student services. Some of these criteria may be more important to you than others, so assess them based on your personal priorities.
One thing you won't want to compromise on, however, is accreditation. Enrollment in an accredited university is required if you're going to receive financial aid, transfer to another school, or apply for graduate school. You may also want to look for schools with programmatic accreditation from the National Environmental Health, Science and Protection Accreditation Council (EHAC).
How Long Does It Take to Get an Environmental Science Degree?
---
Typically, a bachelor's degree in environmental science requires 120-124 credit hours, which can be completed in four to five years of full-time study. However, many online programs offer flexible part-time options, which can extend the length of the program.
Is an Environmental Science Degree Hard?
---
The difficulty of an online bachelor's program in environmental science can vary greatly depending on your background and natural abilities. The courses are diverse, ranging from advanced math and laboratory sciences to business and social sciences. If you have a strong interest in the field, you'll probably find the coursework rewarding and manageable.
Is an Environmental Science Degree Worth The Cost?
Determining whether it will be worth it to you to pursue an online bachelor's degree in environmental science needs to be based on your personal priorities and goals.
If you want to look at the investment in financial terms, earning an environmental science bachelor's degree may give you a fairly high return on your investment. Environmental scientists earn a median annual income of about $76,000, and there are other career options that require only a bachelor's degree that feature even higher annual salaries.
Perhaps more important, a career in environmental science is likely to be personally fulfilling. Knowing that you're contributing to positive changes that may affect the planet and all of its inhabitants now and into the future could be incredibly rewarding.
Related Articles
2023 Best Online Master's Degrees in Environmental Science
If you want to pursue an environmental science degree online, check out our list that features online schools ranked by the highest alumni salary.
2023 Most Affordable Online Colleges & Degrees
Explore the top affordable online colleges of 2023. Find cheap online associate, bachelors, master's, and doctoral degrees.