2023 Most Affordable Online Elementary Education Degrees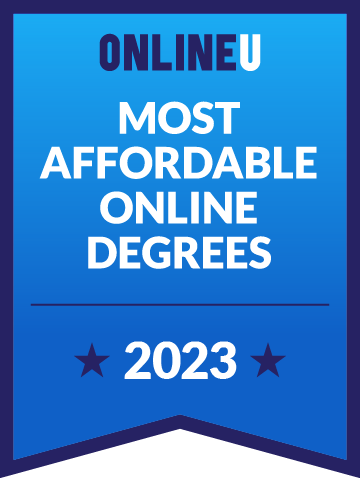 An online bachelor's in elementary education is designed for aspiring students and early-career teachers who want to further their knowledge and skills in educational psychology, teaching foundations, and classroom management. To graduate, a student must complete a research project, seminars, and supervised student teaching.
Elementary education degrees can be either licensed or non-licensed. A licensure program means that program can help students prepare for the exam to receive a teaching license. A non-licensure program will cover teaching methods but will not make students eligible for the licensing exam.
View our methodology for details about rankings or learn more about us. You can also check out our overall list of the most affordable online degrees for more inspiration.
All tuition numbers were manually collected and verified
| Rank | School | Locations | Annual Tuition |
| --- | --- | --- | --- |
| # 1 | Georgia Southwestern State University | Americus (GA) | $5,249 |
| # 2 | University of the Cumberlands | Williamsburg (KY) | $5,970 |
| # 3 | Fort Hays State University | Hays (KS) | $6,806 |
| # 4 | Lees-McRae College | Banner Elk (NC) | $6,825 |
| # 5 | Wichita State University | Wichita (KS) | $6,843 |
| # 6 | Athens State University | Athens (AL) | $6,975 |
| # 7 | Southern Utah University | Cedar City (UT) | $7,200 |
| # 8 | Western Governors University | Salt Lake City (UT) | $7,250 |
| # 9 | God's Bible School and College | Cincinnati (OH) | $7,500 |
| # 10 | Hobe Sound Bible College | Hobe Sound (FL) | $7,756 |
Overview of Online Elementary Education Bachelor's Degrees
An online bachelor's degree in elementary education provides the skills to teach children from kindergarten to fifth grade. Coursework involves curriculum planning, instructional methodologies, and learning assessment tools while requiring practical teaching experience in real-world classrooms. Many programs are designed to meet the criteria of state teacher licenses, allowing students to pursue teaching careers by obtaining credentials upon graduation. Concentrations may be available in pre-K teaching or special education.
Many schools require a certain amount of college education credits to pursue an elementary education bachelor's degree. Once enrolled, full-time students typically take four years to complete the approximately 120 credits needed to graduate. Fortunately, an online elementary education degree allows students to take coursework on flexible schedules.
Common Courses
The required coursework for an elementary education major involves disciplines ranging from a child's psychology to practical instruction methods. Students must understand the biological development of the children that will make up their classrooms just as much as the subjects they plan to teach. Each course is designed for students to learn how to become teachers. Below are examples of three common courses found in elementary education degrees:
Physical, Emotional, and Social Development
This course explores adolescent development using the latest theories and research. Students learn to engage with young learners by forging relationships and creating positive teaching experiences. The importance of classroom culture and diversity is also discussed.
Instruction Design and Planning
An instruction design and planning course requires students to use their understanding of social, physical, and emotional development to build curriculums that engage young learners. They learn to create educational materials, design courses and exams, collect student feedback, and utilize research to develop the most effective teaching strategies.
Connecting Research to Practice
This course bridges the gap between theory and practice. Students learn to shift their perspective by applying their knowledge to an actual classroom setting. The latest instructional technologies and tools are also explored. During this time, students may begin to prepare for their teaching practicums.
Funding an Online Elementary Education Degree
Earning a teaching degree online is still expensive. The Education Data Initiative reports the average cost of tuition for first-year, full-time students is $36,400 per year. Due to these high costs, most students search for ways to fund their degree through private loans, scholarships, federal aid, or grants.
However, some options, such as loans and federal aid, require students to repay that money with interest. Student debt is problematic for many reasons, not to mention that many educators are forced to pay for school supplies out-of-pocket. According to the National Education Association, 90% of professional teachers spend their own money on teaching supplies.
For all the reasons listed above, students need to find ways to save money in college to limit their debt. This can be done by living at home instead of on campus and creating budgets to track expenses. Fortunately, an affordable online elementary education degree is usually flexible and allows part-time students to work while they earn their degrees. Typical part-time jobs for aspiring elementary teachers include teacher assistants, childcare workers, or after-school instructors.
Financial Aid
Even the most affordable online education degrees are still costly, leaving many students no choice but to seek financial assistance. The best way to do this is through the Free Application for Federal Student Aid (FAFSA), which allows schools to determine students' eligibility for loans and grants.
Loans are offered based on the student's personal and family income and must be paid back with interest. Grants are also based on financial need but generally do not have to be paid back. The Department of Education's TEACH Grant provides up to $4,000 to eligible students enrolled in a teaching degree.
Scholarships are given to students without being paid back, but academically gifted students compete with their peers to earn scholarship money. Because receiving scholarships isn't guaranteed, it's recommended that students apply to several to increase their chances of receiving aid. Students should check with their schools to see what local scholarships are available.
What Can You Do With an Online Elementary Education Degree?
Elementary education bachelor's degrees are specifically designed to prepare graduates to work in the classroom. Therefore, graduates are most likely to become professional teachers in kindergarten through fifth grade. Teaching is a very demanding, albeit gratifying, role. It requires a strong discipline both inside and outside of the classroom.
Some students may enjoy researching education rather than practicing it. In this case, a master's in elementary education is an ideal next step after a bachelor's degree. Students can more deeply explore teaching through education research and assessments while gaining leadership skills. Alternatively, post-graduate education certificates are available in specialized areas such as literacy instruction, autism, or school administration.
Below are three typical jobs for elementary education graduates to pursue:
Median Annual Salary:
$61,620
Kindergarten teachers work in public or private schools, providing instruction for basic subjects such as math, reading, and science. They develop lesson plans, grade assignments, and create an environment suitable for social and academic development in young students. They also evaluate student behaviors and academic skills before passing their evaluations on to parents.
Special Education Teachers
Median Annual Salary:
$62,950
Special education teachers are responsible for most of the same tasks as traditional school teachers. But, they must design their curriculums for students with special needs. Their students have learning disabilities that require specialized tools and technologies, such as text-to-speech software, braille textbooks, and reward systems. They often work in classrooms with only a few students or even in one-on-one scenarios.
Interpreters and Translators
Median Annual Salary:
$53,640
Classroom interpreters work closely with teachers to facilitate instruction to students with low vision and those who are hard of hearing. Translators have the same responsibilities but for non-English speaking students. Both roles are tasked with converting materials and speech to be understood by their students. They hold a high level of professional conduct and are trained in etiquette, allowing their students to engage in lesson plans according to their needs.
FAQs About Online Elementary Education Degrees
How Do I Choose a Bachelor's in Elementary Education?
---
The best way to choose a bachelor's in elementary education is based on affordability. Given the rise of student debt and less-than-ideal teacher salaries, students may want to find affordable online degrees that still provide a quality education. It's also essential to ensure the program is from an accredited online school vetted by a third-party education agency.
How Many Years Is an Elementary Education Degree?
---
Bachelor's degrees in elementary education take full-time students approximately four years to complete. This usually includes 120 college credits and teaching practicums. Students who have already completed education credits through associate degrees, or associate degrees in education, may be able to graduate in as little as two years.
Can You Get an Elementary Education Degree Online?
---
Coursework for elementary education degrees can be completed entirely online. The practical teaching requirements, however, must be completed in person at a local school. Online, out-of-state students should check with their schools to be sure they can meet program requirements while pursuing their teaching license in another state.
Is an Elementary Education Degree Worth It?
Earning an elementary education degree is a surefire way to becoming a professional teacher. Students can engage in the latest education research while developing new ways of interacting with young learners. They also gain experience through internships during their programs, allowing for first-hand looks at daily life inside elementary classrooms.
Specializations in physical education, special education, or English as a Second Language (ESL) allow students to prepare for roles that align with their passions or career opportunities in their state. Salaries are suitable for living comfortably in some areas of the country while falling short in many major cities. Although fewer students pursuing education majors have led to teacher shortages, educating young students is often a fulfilling career for those who have a passion for it.
Related Articles
2023 Best Online Master's Degrees in Elementary Education
Explore the schools that offer online master's degrees in elementary education in 2023 that are ranked by reported alumni salaries.
2023 Most Affordable Online Master's Degrees in Elementary Education
Find the most affordable online master's degrees in elementary education from our 2023 list of colleges ranked by manually collected tuition.