2023 Most Affordable Online Master's Degrees in Economics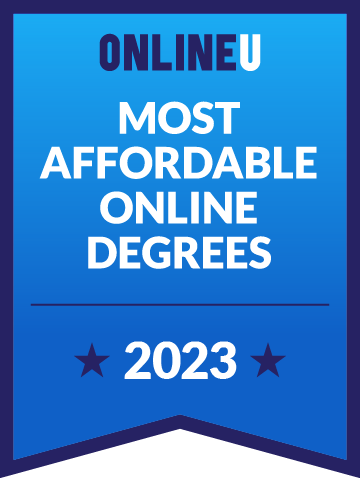 An online master's in economics is meant for professionals and students looking to expand their expertise in economics and data analytics to obtain their desired careers. This type of program can cover the foundational topics of economics, like macroeconomics and microeconomics, while diving deeper into skill development topics, like data analysis, leadership, and marketing. Examples of courses within an online master's in economics include Applied Economics, Marketing Strategy, and Econometrics. Similar programs to an online master's in economics are finance and political science. To graduate, prospective students can expect to complete an internship, seminar, or capstone course. Graduates of an online master's in economics may pursue careers like economists, data analysts, and market research analysts.
View our methodology for details about rankings or learn more about us. You can also check out our overall list of the most affordable online degrees for inspiration.
All tuition numbers were manually collected and verified
| Rank | School | Locations | Annual Tuition |
| --- | --- | --- | --- |
| # 1 | Georgia Southern University | Statesboro (GA) | $5,370 |
| # 2 | Youngstown State University | Youngstown (OH) | $5,577 |
| # 3 | Emporia State University | Emporia (KS) | $7,529 |
| # 4 | University of North Dakota | Grand Forks (ND) | $7,661 |
| # 5 | Idaho State University | Pocatello (ID) | $9,126 |
| # 6 | Murray State University | Murray (KY) | $9,143 |
| # 7 | Western Illinois University | Macomb (IL) | $9,578 |
| # 8 | SUNY Empire State University | Saratoga Springs (NY) | $12,204 |
| # 9 | University of Missouri | Columbia (MO) | $12,438 |
| # 10 | Wright State University - Main Campus | Dayton (OH) | $13,221 |
Overview of Online Economics Master's Degrees
Online master's programs in economics are designed to give you a profound understanding of economic theories, practices, and real-world applications. You'll study how resources are distributed and utilized, analyze the impact of decisions made by individuals and firms on the economy, and understand the role of government in influencing economic growth and stability.
As part of your coursework, you may be tasked with projects that require extensive research on economic trends, data modeling assignments to predict market behaviors, or case study analyses exploring the impact of economic policies.
The curriculum of an online economics degree will help you develop valuable technical skills like econometrics, data analysis, and statistical programming. You'll also gain essential soft skills, such as critical thinking, problem-solving, and effective communication.
An online economics master's program typically requires the completion of 30-36 credit hours. Many programs are meant to be finished in one year of full-time study, but some programs may require two years.
Common Courses
Online master's in economics programs often include some kind of culminating activity, such as a research project, thesis, or capstone course. A few programs also require you to get real-world experience through an internship.
Some of the core courses usually included in an online economics master's program are:
This course delves into the broader aspects of an economy, helping students understand national income, employment, inflation, and fiscal policies. Students will explore the factors affecting an entire economy and the formulation of policies.
In contrast to its macro counterpart, this course focuses on individual decision-making units like households and firms. Students learn about supply, demand, market structures, and the role of prices in resource allocation.
Econometrics bridges economics and statistics, teaching students how to apply statistical methods to economic data. This course is crucial for forecasting, policy evaluation, and understanding economic relationships.
By looking at the global economy, students gain insight into trade theories, exchange rates, and the impact of globalization. They'll also explore the dynamics of international trade and finance.
This course focuses on the economic aspects of developing countries, addressing issues like poverty, infrastructure, and economic policies. Students will examine strategies for economic growth and development.
Understanding money, banking systems, and financial markets is the key component of this course. Students learn about the role of money in the economy and the influence of monetary policy.
Funding an Online Economics Degree
Without a doubt, cost is one of the biggest factors when you're deciding whether to earn a master's degree. Tuition, books, supplies, and additional fees all need to be factored into your estimated total cost, but tuition is by far the most significant. To start developing an estimated total cost, you can establish your tuition expenses by multiplying a school's per-credit tuition rate by the number of required credit hours in its program.
Data published by the National Center for Education Statistics (NCES) also offers some insight into the cost of graduate degrees. For the 2020-21 school year, the NCES researched tuition fees for graduate programs across the country and determined that the average total annual tuition and fees for graduate programs at private universities was more than double the average fees at public schools — $26,621 as opposed to $12,394.
If you're wondering how you're going to fund your economics master's degree, keep in mind that you probably have several sources available to you, including income, savings, gifts, and various types of financial aid.
You may also be able to reduce the cost of a degree by making several cost-conscious choices. For example, the NCES figures noted above suggest that a public college may be a better choice than a private one.
Another savvy way to save money is to opt for an online program like one of the most affordable master's in economics degrees listed above. Many colleges and universities charge lower tuition rates for their online degree programs. Distance learning also eliminates room and board fees, as well as transportation expenses.
Financial Aid
As an online student, you can apply for financial aid if you're enrolled in an institutionally-accredited program. To apply, you simply need to fill out the Free Application for Federal Student Aid (FAFSA). Based on this one form, financial aid officers will determine whether you qualify for grants, fellowships, and scholarships funded by the schools and by the federal and state governments.
If your FAFSA form demonstrates true financial need, you're likely to receive grants and fellowships. These are the best types of financial aid to get because you don't have to repay them.
However, if you're not awarded enough grant and scholarship money to cover the full cost of earning a master's degree, you may be offered a student loan. You don't have to accept the loan, but it may be your best option. Just be sure to use our student loan repayment calculator to find the total cost of repaying the loan with interest. Also, you may want to try to secure a federal student loan, which is likely to feature a lower interest rate and better repayment terms than a private student loan.
If you're willing to invest a little more time into finding sources of funding, you can research whether you qualify for any private scholarships. These are usually sponsored by nonprofits, community and civic organizations, and even some corporations. Awards are often based on academic achievement, community service, and other factors besides financial need, and they don't have to be paid back. You'll need to submit separate applications for each scholarship.
What Can You Do With an Online Economics Degree?
Holding a master's degree in economics opens doors to a variety of high-demand professions in both the public and private sectors. Economists, data analysts, policy advisors, and financial consultants are some of the many roles that professionals with an advanced understanding of economics can fill.
Economists often work for the government or for consulting services organizations. Using both existing and new data that they collect, they analyze data, forecast trends, and advise businesses and other organizations on important decisions. According to the Bureau of Labor Statistics (BLS), as of 2022, the median annual wage for economists was $113,940. The BLS projects that demand for professionals will increase by 6% through 2031.
Depending on your undergraduate degree and work experience, you may also be qualified for a number of other occupations with healthy median incomes. Among the possibilities are data scientists ($103,500), actuaries ($113,990), and financial analysts ($95,080).
Pursuing further educational opportunities, like a PhD in economics, can lead to roles in academia, high-level consultancy, or policy-making positions in governmental institutions.
FAQs About Online Economics Degrees
How Do I Choose a Master's in Economics?
---
You have many options for earning an online master's degree in economics, which can make it somewhat challenging to figure out which is the best one for your needs. As you review each possible school, research its tuition rates, student services, faculty, and financial aid funding. Then, explore each program's curriculum to ensure it will equip you for the career you have in mind.
You'll also want to choose a college or university that has earned institutional accreditation like all of the schools on our list of the most affordable master's in economics degrees. You may also want to choose a program that has been accredited by the Association to Advance Collegiate Schools of Business (AACSB). This program-level accreditation ensures that the curriculum is designed to prepare you to excel in the field of economics.
Is an MBA Better Than a Master's in Economics?
---
Neither an MBA nor a master's in economics is better than the other, but one may be better suited to your long-term career aspirations and interests. While an MBA offers a broader perspective on business management, a master's in economics provides specialized knowledge in economic theories and applications.
What Are the Admission Requirements for Economics Degrees?
---
The admission requirements for master's programs in economics are somewhat similar across schools. You'll need to have a bachelor's degree, but not necessarily a bachelor's in economics. However, if your undergraduate studies didn't include essential courses in economics, finance, statistics, and other related subjects, you may need to take prerequisite classes before taking your core master's courses. These extra courses may impact the total cost of earning the degree.

When you submit your online application, you'll also need to submit transcripts from your undergraduate degree. It's possible that you'll be required to have maintained a GPA of at least 3.0. At some point, you'll probably also be asked for a resume, a personal statement regarding your career goals, letters of recommendation, and possibly GRE scores.
Is It Worth Getting a Master's in Economics?
If you're intent on becoming an economist, earning an online economics master's degree is definitely worth it. According to the BLS, you'll need this advanced degree to land a job with a government agency or consulting firm.
Fortunately, given the higher salaries associated with this occupation and other similar roles, you are likely to see a solid financial return on your investment. You may be able to enhance the rewards even more by taking cost-saving steps like opting for an affordable online economics master's program.
Related Articles
2023 Best Online Economics Degrees
Explore your best options for earning an online economics degree from an accredited university based on its popularity among distance learners.
2023 Most Affordable Online Master's Programs
Explore the most affordable online master's degree programs in 2023 and choose the one that's right for you.