2023 Most Affordable Early Childhood Education Degrees Online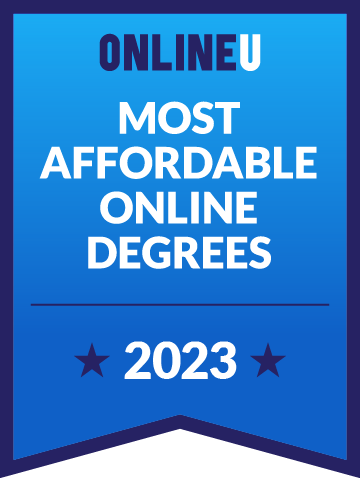 An online bachelor's degree in early childhood education opens the door to a number of career opportunities working with infants, toddlers, and young children. Programs are designed to give you the tools and information you need to provide the best possible care and education for children up to the age of eight.
Once you've earned your degree and a state license, you'll be qualified to assume one of the many jobs available in childcare and teaching. The Bureau of Labor Statistics (BLS) projects that, by 2031, there will be more than 1.5 million positions for kindergarten and elementary school teachers and more than 80,000 positions for preschool and childcare center directors.
You can review our top-ranking affordable online bachelor's degrees below or discover more options on our list of the best online bachelor's degrees in early childhood education. View our methodology for more details about rankings or learn more about us.
All tuition numbers were manually collected and verified
| Rank | School | Locations | Annual Tuition |
| --- | --- | --- | --- |
| # 1 | North Seattle College | Seattle (WA) | $3,938 |
| # 2 | Aspen University | Denver (CO) | $5,400 |
| # 3 | University of the Cumberlands | Williamsburg (KY) | $5,970 |
| # 4 | Fort Hays State University | Hays (KS) | $6,806 |
| # 5 | Wichita State University | Wichita (KS) | $6,843 |
| # 6 | Western Carolina University | Cullowhee (NC) | $6,974 |
| # 7 | Athens State University | Athens (AL) | $6,975 |
| # 8 | University of the Potomac | Multiple Locations | $7,200 |
| # 9 | Florida Gateway College | Lake City (FL) | $7,216 |
| # 10 | Florida State College at Jacksonville | Jacksonville (FL) | $7,263 |
Overview of Online Early Childhood Education Degrees
Graduates with bachelor's degrees in early childhood education often find work as teachers or administrators. While a bachelor's degree is not required to work as a caregiver in a daycare center or as a preschool teacher in a nursery school, it will qualify you for higher-paying positions as a kindergarten or elementary school teacher or as a daycare director.
Early childhood education programs help you develop both the technical skills and knowledge essential to caring for and educating young learners. Among the technical skills you'll acquire are the abilities to plan and implement age-appropriate curriculum, observe and assess each child's progress, and utilize technology to enhance learning. You'll also study child development, health, and nutrition.
As you proceed through your degree program, you'll also develop soft skills like communication, patience, flexibility, and creativity. These qualities are necessary for effectively engaging young children and fostering an environment conducive to learning.
The coursework in an online early childhood education program typically involves a variety of projects and assignments designed to give you practical experience. For example, you may be asked to create lesson plans for different developmental stages, review case studies to analyze children's behavior and learning patterns, and participate in simulated teaching exercises.
Common Courses
An online degree in early childhood education usually requires the completion of 120-124 credit hours. Some programs may also require you to complete practicums or internships in early childhood education settings so that you can apply your newly learned skills to real-world scenarios. Full-time students may be able to meet all of the degree requirements in four or five years, but part-time students may need additional time.
The following classes are commonly found in early childhood bachelor's degree programs.
Students learn about the physical, cognitive, and socio-emotional development of children from infancy through early childhood. They also study how environmental factors can influence development.
Early Literacy Development
This course focuses on techniques for teaching reading and writing to young children. Students learn about phonics, vocabulary, and comprehension strategies.
Early Childhood Curriculum and Methods
In this course, students learn how to design, implement, and assess curriculum for young learners, addressing their developmental needs and interests.
This course introduces students to strategies for managing behavior and creating a safe, positive learning environment in early childhood classrooms. Topics may include diversity and multiculturalism.
Special Education in Early Childhood
Students learn about the characteristics of young children with special needs. Coursework often includes hands-on practice in adapting teaching strategies to meet specific learning requirements.
Funding an Online Early Childhood Education Degree
If you're considering earning a bachelor's degree, you're no doubt aware that it's a significant investment of time, energy, and money. Fortunately, there are several ways to save money on a college education. Consider some of these possibilities:
Opt for an online program. Did you know that many colleges charge in-state tuition rates for online students? Some even charge slightly reduced tuition rates for distance learners. By carefully reviewing each school's rates and fees, starting with our list of the most affordable online early childhood education degrees above, you'll be able to identify your most cost-effective options.

Also, keep in mind that as an online student, you won't have to pay for on-campus room and board or transportation to and from school.

Choose a public university. The most current data from the National Center for Education Statistics provides another tip for saving money. It shows that the average tuition for in-state students attending public schools was $9,375 in the 2020-21 school year. On the other hand, the average for students attending private schools was nearly four times higher at $32,825. Of course, these are just averages, and there is a lot of variation in tuition rates across schools, but in general, state-run universities cost less.

Attend community college first to complete your general education requirements. The first two years of a bachelor's program are usually taken up with mostly general education courses like English, math, and science. By taking these early classes at a community college — which average $3,501 in tuition rates, according to the NCES — you can complete these requirements at a significantly reduced cost.

Later, you can transfer your accumulated credits to a four-year school where you can finish your bachelor's degree. Many community colleges offer associate transfer degrees specifically for this purpose.

Live someplace cheap. We all recognize that earning a degree online won't eliminate all of your living expenses. Even with help from your family, you may still need to pay for housing, food, and transportation. However, you can minimize some of these expenses while you're in college by moving to the most affordable place you can find.

Get a job to earn money for school. Many students work part time or full time to earn income to put toward college expenses. There are pros and cons to this approach, and you may need to take fewer classes each term to maintain a healthy work-school balance. However, taking extra time in school so you can graduate with less debt — especially student loan debt — may pay off in the end.
Financial Aid
Many students apply for various types of financial aid to minimize the cost of earning a college degree. You may receive funding provided by the federal and state government if you can demonstrate a clear financial need. School-sponsored and private scholarships may also be awarded based on your financial situation, academic achievement, or some other criteria, such as your major.
If you're enrolled in an accredited online degree program, you are eligible for financial aid. To apply, simply fill out and submit the Free Application for Federal Student Aid (FAFSA). At a later date, after your application has been reviewed, you'll be notified as to how much aid you're being offered.
The best types of financial aid are grants and scholarships because they don't have to be repaid. However, if you don't qualify for enough grant or scholarship money to cover your full college expenses, you may need to take out a student loan.
As much as possible, federal and private student loans should be avoided because the loan interest can dramatically increase the total cost of a college education. Generally speaking, private student loans have even higher interest than federal loans. Before accepting any offer, you may want to use a student loan repayment calculator to determine how much the loan will cost in the long run.
Grants and Scholarships
Because childcare workers and educators are so essential, both the government and private organizations sponsor grants and scholarships to encourage talented individuals to pursue a degree in early childhood education. A few of these opportunities are listed below:
TEACH Grant: This federal grant provides up to $4,000 per year to education majors who commit to teaching in a high-need field in a low-income area after graduating. Some states also offer an extension of this program called the TEACH Early Childhood® Scholarship Program.
The Coca-Cola Scholars Program Scholarship: Only high school seniors are eligible to apply for this program. Each year, the program grants scholarships of $20,000 to 150 students who plan to make a positive impact on their communities, possibly through teaching.
What Can You Do With an Online Early Childhood Education Degree?
For those who want to work with young children, there are a variety of career opportunities in both the public and private education sectors. Some possible entry-level jobs include preschool teacher and childcare worker. However, the median annual salaries for these roles are rather low ($30,210 and $27,490, respectively).
One of the biggest advantages of earning an online bachelor's degree in early childhood education is that it prepares you for higher-paying positions in the field. For example, an early childhood teacher has an average salary of $61,350 with a job growth projection of 4% over the next decade. Childcare center directors earn around $47,310, and the job growth rate is expected to be 8%.
Regardless of which occupation you choose, you will probably need a state-issued license. Most states require anyone who works with children to have some kind of license or credential. Before enrolling in any bachelor's program, make sure your online program will prepare you to meet the licensure requirements in the state where you plan to teach, not in the state where your college is located.
Further Education
Once you've earned your bachelor's degree, you can consider furthering your education. Although you'll need to carefully manage your budget to allow for an advanced degree, earning a master's degree in early childhood education can open the door to higher-paying roles such as educational administrator or early childhood education specialist.
If classroom teaching is your passion, you may also be interested in a master's in education or a master's in elementary education. On the other hand, if your talents lie in administration or policymaking, you may want to consider a master's in educational leadership or even a doctorate in educational leadership.
Additionally, teachers can seek various certifications, including the Child Development Associate (CDA) or Certified Childcare Professional (CCP) to enhance their credentials.
FAQs About Online Early Childhood Education Degrees
How Do I Choose an Early Childhood Education Degree?
---
Choosing an online early childhood education degree program is a highly personal decision. You'll want to take several factors into account, and you'll have to weigh them according to your own priorities. Program details, tuition fees, faculty, online format, and student services may all be influential considerations.
However, it's essential to enroll in an accredited school. Accreditation means that a school's programs, faculty, and services have been evaluated for academic excellence and proven to meet the highest standards. Enrollment in an accredited program is required for you to receive financial aid, and it will likely be needed to transfer to another school or to gain admission into graduate school.
How Does an Early Childhood Education Degree Differ From Other Education Degrees?
---
An early childhood education degree focuses specifically on educating children from birth through eight years old. It emphasizes the unique developmental needs and learning styles of this age group, and the curriculum explores both the care and teaching of small children. Other education degrees mainly focus on teaching elementary, middle, or high school students, each dealing with different age groups and their respective developmental and academic needs.
Is an Early Childhood Education Degree Worth the Cost?
Whether you aspire to become an early childhood teacher or childcare center director, an early childhood education degree can provide a foundation for a rewarding career. However, given that most related occupations offer median annual salaries in the $48,000-$62,000 range, this career path may not provide you with the highest return on your financial investment.
Fortunately, thanks to opportunities for financial aid, scholarships, and potential savings from studying online, an online early childhood education degree may be worth it for those passionate about shaping the future of young learners.
Related Articles
2023 Best Online Master's Degrees in Early Childhood Education
If you want to earn your graduate degree in education, check out our 2023 list of the best online master's degrees in early childhood education.