2023 Most Affordable Online Master of Divinity Degrees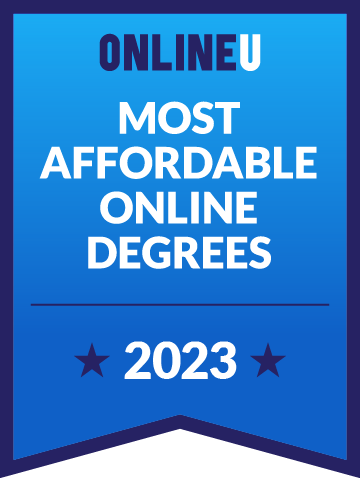 An online master's in divinity provides advanced education in Christian teachings and congregational leadership. By studying divinity at the graduate level, students learn practical skills to become pastoral leaders, such as priests and ministers. The coursework involves an extensive study of the Bible and its interpretations alongside counseling and sermon preparation techniques.
Our list of online divinity degrees at the graduate level are all derived from affordable Christian colleges. Degrees such as a master's in religious studies and a master's in theology are some alternatives for students seeking similar career outcomes.
View our methodology for details about rankings or learn more about us. You can also check out our overall list of the most affordable online degrees for more inspiration.
All tuition numbers were manually collected and verified
| Rank | School | Locations | Annual Tuition |
| --- | --- | --- | --- |
| # 1 | Liberty University | Lynchburg (VA) | $5,500 |
| # 2 | Clarks Summit University | Clarks Summit (PA) | $7,275 |
| # 3 | Anabaptist Mennonite Biblical Seminary | Elkhart (IN) | $7,400 |
| # 4 | Indiana Wesleyan University Online | Marion (IN) | $8,833 |
| # 5 | Northwest Nazarene University | Nampa (ID) | $9,167 |
| # 6 | Wayland Baptist University | Plainview (TX) | $9,432 |
| # 7 | Bob Jones University | Greenville (SC) | $9,440 |
| # 8 | Midwestern Baptist Theological Seminary | Kansas City (MO) | $9,450 |
| # 9 | The Southern Baptist Theological Seminary | Louisville (KY) | $10,014 |
| # 10 | New Orleans Baptist Theological Seminary | New Orleans (LA) | $10,036 |
Online Master's of Divinity Degree: A Brief Overview
An M.Div is considered a professional degree for Christian clergy, and many denominations require ministers to earn one before they're even ordained. The requirements for ordination differ by denomination, so be sure to ask your church about the necessary qualifications.
To be considered for an M.Div, applicants must fulfill some basic requirements. For example, applicants must have a bachelor's degree. This undergraduate degree can generally be in any subject because most programs don't require prerequisite courses. However, prospective students should verify their program's requirements before applying. Applicants should also be prepared to prove their membership in a faith community. Admissions officers will usually only admit students who are members of a particular denomination.
Online learning enables students to attend to personal responsibilities while studying at convenient times. Some colleges offer affordable online programs with recorded lectures and opportunities for students to participate in asynchronous discussions. This curriculum includes an internship or supervised ministry experience under a church leader's guidance. Even if a program offers fully online coursework, field experience will usually be in person at a site near the student's location. Overall, most online M.Div. programs require 72-90 credit hours and take 2-3 years of full-time study to complete. If a part-time schedule is preferred, students can expect to complete their master's degree in 3-4 years.
Master's in Divinity Quick Facts
Admissions officers will usually only admit students who are members of a particular denomination.
What Is the Difference Between a Master's of Divinity and a Master's of Theology?
An M.Div. is designed for those who want to be ministers or priests, whereas a master's in theology is intended for those who want a career outside the ministry. Therefore, an M.Div. program often includes courses in organizational leadership, administration, and public speaking in addition to theological studies. Meanwhile, a master's in theology — which is often a Master of Arts degree — may help graduates earn jobs in a range of fields including pastoral counseling or even academia.
Both master's degrees can serve as stepping-stones toward a doctoral program. The terminal degree for M.Div alumni is a Doctor of Ministry (D.Min.), while theology graduates may eventually achieve a Doctor of Theology (Th.D.). A D.Min. can help clergy qualify for higher pastoral leadership positions, while a Th.D. may be necessary for a tenure-track professor.
---
Common Courses in a Master's of Divinity Program
Graduate divinity programs often differ based on a school's denomination. However, most master's degrees have several courses in common to ensure that future ministers and priests understand the history and practices of their respective churches. A few of these common courses are listed below.
Introduction to Hebrew: Online learners can choose to study a major language of Christian scripture. Professors introduce ancient Hebrew's alphabet, syntax, and vocabulary, along with contested interpretations of key passages. Interested students may choose to specialize in this language and take further sequenced courses.
History of Theology: This course covers the development of Christian thought, from early writers to the present. Students learn about the Great Schism and Protestant Reformation, which split Christianity into three major traditions over 500 years. Faculty often conclude the course by discussing contemporary theologians and current debates in the field.
Marital Counseling: Students learn to combine practices from marriage and family therapy with their church's doctrine. Depending on the denomination, an approach that avoids divorce may be emphasized. Faculty may also outline a framework for premarital counseling required by many churches.
New Testament Interpretation: Students closely examine the Christian Bible's most recent books, especially their relevance to current theology and doctrine. Students learn the history of hermeneutics, or biblical interpretation, so they can apply this skill to their reading technique. Faculty may discuss questions of authorship alongside books' historical context.
Old Testament Interpretation: This course introduces the Christian Bible's oldest texts. Professors discuss the historical context of these books, their collection process, and their interpretations throughout the centuries. Students might also learn the latest textual and archaeological research relevant to the Old Testament.
Preaching: Future clergy of all denominations take this course to learn how to conceptualize, write, and deliver engaging sermons by drawing on effective rhetorical practices. The faculty illustrate the importance of drawing lessons from weekly scripture readings to illuminate moral and religious dilemmas in the lives of churchgoers. Often, students must deliver several practice sermons to the class.
Strategic Planning and Leadership: Drawing on organizational theory and strategic leadership practices, this class is intended to mold future clergy into successful leaders. Students learn to articulate their faith community's mission, so they can develop effective policies. Topics may include budgeting, strategic communications, and efficient organizational structure.
---
Degree Cost and Funding an Online Master's of Divinity
Tuition rates for the most affordable colleges with online M.Div. degrees range from $5,500-$17,820, with a median rate of $12,168. To reduce the amount students will owe after graduation, they should rely on grants, scholarships, work-study funding, and other gift aid before taking out student loans. When considering a loan, most students prefer to rely on federal loans — rather than private lenders — because they offer fixed interest rates, flexible repayment plans, and loan forgiveness options. The Free Application for Federal Student Aid (FAFSA) is an application to the largest funding pools: federal/state grants, loans, work-study programs, and many university-based scholarships. Our FAFSA guide walks students through the application process.
While online students are generally eligible for the same financial aid as campus-based students, some scholarships or grants may be limited to those who attend in person. To verify whether a student qualifies for aid, students should check all eligibility requirements before applying. For example, financial aid is usually restricted to students who enroll in a regionally or nationally accredited college. Also, some financial aid may only be available to students who enroll full-time or are considered state residents for tuition purposes.
To help reduce tuition and fees, graduate students applying for an online master's degree in divinity should apply for all available financial aid. There are four sources of financial aid: the federal government, state governments, universities, and private sources such as non-profit organizations, churches, or businesses.
Where To Look for Additional Funding
M.Div students have access to many additional funding options through faith-based associations. Some awards are available to all M.Div students, while others target specific groups, such as those preparing for a career in ministry or women preparing for missionary work. Below are some available scholarship opportunities.
It's helpful to discuss financial assistance with a school's financial aid office. They can let students know whether the aid received can be used at that school, and they can also find out if other scholarships are available based on a student's program and career goals.
---
| | |
| --- | --- |
| | For additional information, students can check out our resources about paying for a college degree, which include details about popular college savings plans, the student debt crisis, and more. |
---
Is an Online Master's of Divinity Worth It?
While many master's degrees require only 30-48 credit hours, the average M.Div degree can take up to 90 credit hours, making it more time-consuming and expensive than other degrees. Therefore, it's natural to wonder if this degree is worth the investment. If you feel called to become an ordained clergy member, the satisfaction of pursuing your vocation will likely be worth the effort.
Opting to earn your degree online gives you greater flexibility in your schedule and allows you to choose from a broader range of programs — some more affordable than others — without relocating. However, the opportunity to interact with others of the same faith while pursuing an M.Div. may be an important component of your experience.
If you feel called to become an ordained clergy member, the satisfaction of pursuing your vocation will likely be worth the effort.
There are numerous opportunities to provide pastoral care without this degree. For example, some denominations have never required a master's degree, and over the last decade, additional churches have begun to reconsider their stance on this requirement. In addition, some churches have loosened their educational requirements for clergy, often using alternative titles, such as "lay clergy." Check with the governing body of your denomination to determine your options for church service and the associated educational requirements.
The projected salary and job security related to this occupation may be additional factors that affect your decision to pursue an M.Div. Clergy's wages are nearly $10,000 higher than the average rate for U.S. jobs, which is $41,950 a year. However, the field's projected job growth is about half the U.S. average of 8%. It is worth noting that the need for clergy members differs by denomination — for example, the number of Catholic priests has declined significantly in recent years.
Related Articles
2023 Most Affordable Online Master's Programs
Explore the most affordable online master's degree programs in 2023 and choose the one that's right for you.
2023 Best Master's in Religious Studies Online
Master's in religious studies online degrees can be earned from these best schools for 2023, which are ranked according to their tuition rates and reported alumni salaries.