2023 Most Affordable Online Master's Degrees in Cybersecurity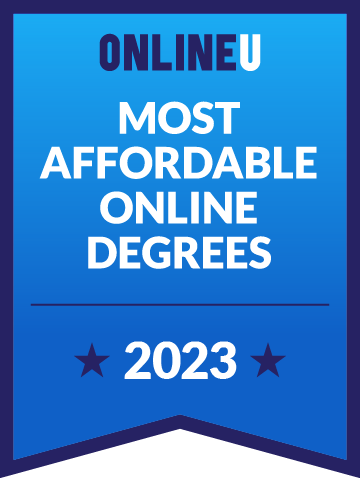 Hackers, cyberterrorists, and identity thieves continue to practice devastating criminal activity even as computer networking systems grow more complex. Preventing these saboteurs from wreaking havoc takes advanced skills that students can acquire by earning an online master's degree in cybersecurity. Program curriculum helps students develop the know-how to thwart illicit activity and secure data infrastructures.
Alternatively, an affordable online master's degree in data science allows students to cultivate similar skills, though its focus is broader in scope. You can also check out our overall list of the most affordable online degrees for inspiration. Below we've ranked schools by tuition costs so you can choose the most affordable master's program that helps you meet your career and budget goals. View our methodology for details about rankings or learn more about us.
All tuition numbers were manually collected and verified
| Rank | School | Locations | Annual Tuition |
| --- | --- | --- | --- |
| # 1 | Middle Georgia State University | Macon (GA) | $3,825 |
| # 2 | Fort Hays State University | Hays (KS) | $4,478 |
| # 3 | Georgia Institute of Technology | Atlanta (GA) | $4,960 |
| # 4 | Missouri State University | Springfield (MO) | $5,415 |
| # 5 | Columbus State University | Columbus (GA) | $5,418 |
| # 6 | University of Central Missouri | Warrensburg (MO) | $5,910 |
| # 7 | The University of West Florida | Pensacola (FL) | $6,375 |
| # 8 | American Public University System | Charles Town (WV) | $6,660 |
| # 9 | California State University-San Bernardino | San Bernardino (CA) | $7,176 |
| # 10 | Southern Arkansas University | Magnolia (AR) | $7,395 |
Overview of Online Cybersecurity Master's Degrees
A comprehensive understanding of how to protect data, networks, and systems from digital threats is the overarching outcome of an online cybersecurity master's degree program. Through advanced courses, you'll study essential topics such as digital forensics, penetration testing, network security, and ethical hacking.
The courses in a master's in cybersecurity program typically involve diverse projects, including real-world case studies and research papers. You can also expect assignments that challenge you to apply what you're learning. For instance, you may be asked to develop security policies for an organization or implement security measures in a simulated network environment.
As you work through these practical applications of security protocols, you'll also hone critical leadership and soft skills. These may include problem-solving, analytical thinking, collaboration, and effective communication when responding efficiently to cyber threats.
The most affordable master's in cybersecurity degree programs listed above typically require the completion of 30-32 credit hours. Full-time students often complete their degrees in two years, but part-time students may need three years to finish.
Common Courses
The curriculum of an online cybersecurity master's degree program may vary depending on your chosen area of concentration. The following, however, are some of the core courses commonly found in a cybersecurity graduate program:
This course focuses on securing both local and wide-area networks, training students to detect vulnerabilities and mitigate threats. Coursework is likely to include hands-on, practical projects.
Students learn how to investigate cybercrimes, retrieve lost data, and gather evidence for legal proceedings in this course.
This course allows students to step into the shoes of hackers to understand and experience their methodologies. Armed with this knowledge, students are able to predict, prevent, and respond to cyber threats effectively.
Cybersecurity Policy and Governance
This course focuses on the regulatory and legal aspects of cybersecurity, with an emphasis on developing and managing security policies.
This course emphasizes protecting cloud-based systems and data, a crucial area given the proliferation of cloud technology.
Funding an Online Cybersecurity Degree
As you explore your options for online master's programs in cybersecurity, you'll want to factor in the amount of money you're willing or able to pay for this degree. Looking at the approximate cost of earning a master's in light of your budget may help you select the best program for your needs.
It can be difficult to establish an estimated cost for a graduate degree because there's such a wide range of tuition rates among schools. However, the National Center for Education Statistics (NCES) provides some guidelines. Data from the 2020-21 school year show that the average total annual tuition and fees for graduate programs at public universities is about half of what it is at private institutions — $12,394 as compared to $26,621.
Fortunately, there are several ways you may be able to save money on earning your master's degree, especially by opting for an online program. Generally speaking, distance education programs cost less because schools often charge lower tuition rates for online students. Studying exclusively from home also cuts out the cost of commuting to and from school and purchasing on-campus room and board.
Besides selecting an online program, you may be able to fund a graduate degree by generating extra income through a full-time or part-time job or by minimizing other expenses by finding a less expensive place to live. Also, if you're already employed in the cybersecurity or tech industry, your employer may support your educational goals by offering a tuition reimbursement program.
Financial Aid
One of the most common ways to help fund a master's degree is through financial aid from sources such as the federal and state governments and from schools. To apply for most types of funding, simply submit the Free Application for Federal Student Aid (FAFSA). Your application will be evaluated, and later you'll be notified whether you qualify for funding through a Student Aid Report (SAR).
If the SAR indicates that you're eligible for aid, you'll receive a financial aid offer letter from your school. If you've demonstrated significant financial need or merit, you're likely to receive grants and scholarships, which don't need to be paid back.
Your financial aid offer may also include a student loan, which will need to be paid back with a significant amount of interest. To determine just how much interest, use our student loan repayment calculator. Your offer may feature one of two types of loans, so keep in mind that federal student loans often have lower interest rates and more accommodating repayment plans than private student loans.
Because security is so essential to our economy, you may also discover several private scholarships available specifically for cybersecurity students. The sponsoring organizations typically require you to submit individual applications.
What Can You Do With an Online Cybersecurity Degree?
Although a master's degree is not necessarily required for many cybersecurity careers, the advanced knowledge and leadership abilities you acquire may help you become a more competitive job applicant. You may also be able to command a higher salary based on your education.
One of the more common career paths for cybersecurity graduates is to become an information security analyst. These professionals implement security measures designed to protect their organization's systems and data. According to the Bureau of Labor Statistics (BLS), demand for information security analysts is projected to grow by 35% through 2031, and they earn a median annual salary of $102,600.
A master's degree in cybersecurity, along with several years of work experience, may also help you qualify for executive-level positions in cybersecurity and IT management. Depending on the size of your employer, you may advance to roles such as IT security manager, chief technology officer, or chief information officer. Per the BLS, the median annual salary for IT executives is $159,010.
Further Education and Certification
Beyond a master's degree, you may decide you want to pursue additional education. If research in the field of cybersecurity and technology is of particular interest, you may want to consider earning a doctoral degree in information technology or cybersecurity. A doctorate qualifies you for highly advanced roles in academia and research.
Another way to enhance your job qualifications is to earn industry certifications. Some of the possibilities include CompTIA Security+, AWS Certified Security Specialty, and Certified Network Defender. To earn these certifications, you typically need to complete a preparation course and then pass an exam.
FAQs About Online Cybersecurity Degrees
How Do I Choose a Master's in Cybersecurity?
---
In addition to the most affordable programs listed above, you have many master's in cybersecurity programs to consider. Among the characteristics you'll want to review before selecting one are the curriculum, online format, financial support, and student services available at each school. Institutional accreditation is also important, as enrollment in an accredited program is required to qualify for financial aid.
How Long Is a Master's Degree in Cybersecurity?
---
To fulfill the graduation requirements of most cybersecurity master's programs, you'll probably need to complete 30-32 credit hours. This may take two or three years, depending on whether you're a full-time or part-time student.
What Are the Admission Requirements for Cybersecurity Degrees?
---
The primary requirement for acceptance into an online cybersecurity master's degree program is a bachelor's degree from an accredited university. Also, most schools require you to have maintained a minimum GPA of 2.8 or 3.0 during your undergraduate studies.
Most students who pursue cybersecurity master's degrees hold a bachelor's in cybersecurity or possibly a more generalized bachelor's in computer science or information technology. If you studied an unrelated subject, you may need to begin with several prerequisite courses, which will need to be factored into your budget.
Along with transcripts and an application, you may be asked for a resume, a personal statement explaining why you want to pursue this degree, and letters of recommendation. Some schools also require GRE exam scores.
Is a Master's Degree in Cybersecurity Worth the Cost?
Even though a master's degree in cybersecurity may not be required for a career in the field, it has the potential to yield a healthy return on your investment. Earning a graduate degree shows prospective employers that you have the leadership abilities and advanced technical skills for management roles in IT. These jobs often have impressive annual salaries of well over $100,000.
Earning a cybersecurity master's degree may be even more worth it if you can economize on your education without compromising quality. A great way to start is by choosing an affordable online program.
Related Articles
2023 Most Affordable Online Master's Degrees in Homeland Security
Explore our 2023 list of the most affordable colleges for online master's degrees in homeland security. All online colleges are accredited and trustworthy.
2023 Most Affordable Online Master's Programs
Explore the most affordable online master's degree programs in 2023 and choose the one that's right for you.