2023 Most Affordable Online Criminology Degrees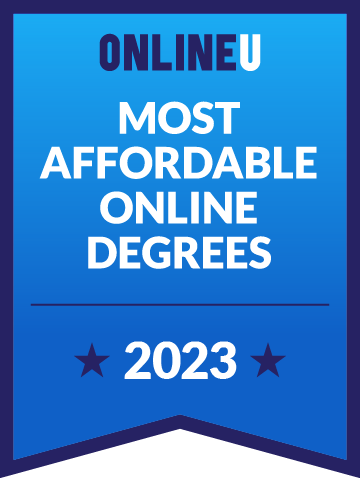 An online bachelor's degree in criminology blends both practical skills in solving crimes and a theoretical understanding of criminal behavior. Criminology students explore the social and historical aspects of crime, along with the techniques used during investigations. There are a wide range of occupations that graduates can pursue, including law-related positions, like prosecutor or defense attorney, and investigative field roles, like police officer or detective.
For students who want to narrow their field of study, there are similar degrees to criminology that are more specific, such as an affordable online bachelor's degree in law enforcement and homeland security. The list below details degrees in the field of criminology, with some programs including criminal justice options. View our methodology for details about rankings or learn more about us. You can also check out our overall list of the most affordable online degrees for some inspiration.
All tuition numbers were manually collected and verified
| Rank | School | Locations | Annual Tuition |
| --- | --- | --- | --- |
| # 1 | University of West Georgia | Carrollton (GA) | $5,464 |
| # 2 | Georgia Southern University | Statesboro (GA) | $6,169 |
| # 3 | Arkansas State University | Jonesboro (AR) | $7,740 |
| # 4 | Louisiana State University - Alexandria | Alexandria (LA) | $8,000 |
| # 5 | Missouri State University | Springfield (MO) | $8,130 |
| # 6 | University of Idaho | Moscow (ID) | $8,340 |
| # 7 | SUNY College of Technology at Canton | Canton (NY) | $8,480 |
| # 8 | Southern New Hampshire University Online | Manchester (NH) | $9,600 |
| # 9 | Southern Illinois University - Carbondale | Carbondale (IL) | $9,645 |
| # 10 | Colorado State University Global | Greenwood Village (CO) | $10,500 |
Overview of Affordable Online Criminology Bachelor's Degrees
An online criminology degree explores criminal behavior from a sociological perspective. Students theorize why people commit crimes and study prevention and rehabilitation techniques. Curriculums feature a range of disciplines, from economics to political science, with remote students engaging in essays, projects, and online discussions.
Admissions are primarily based on student GPAs, although not every school has minimum requirements. A criminology bachelor degree takes four years to complete and is typically found as a concentration within a criminal justice major. Although its curriculum covers aspects of law enforcement, criminology aims to understand why crime is committed in the first place rather than how to stop crime in its tracks to enact justice. An alternative is a forensic science degree, which uses evidence and crime scene analysis to solve investigations.
Common Courses
Criminology emphasizes social science through coursework in research methods, criminality trends, and cultural awareness. Additional studies in policing and legal processes are designed to give students a better understanding of the justice system's functions. Together, these disciplines help criminology graduates shape justice-related policies at the local and national levels.
Below you can read about classes that often appear in a criminology curriculum:
Policing in the United States
In this course, students look closely at policing through a modern and historical lens. They study the relationships police have with their communities, the communication practices of police departments, and how policing fits within the broader context of the criminal justice system. Issues in policing, such as accountability and transparency, are also explored.
A statistical analysis course provides students with descriptive statistics and data analysis fundamentals. Governments use the research found in this course to inform and develop anti-crime programs. Criminology data analysis helps students understand the extent of crime trends and their effects on society. Students utilize data collection tools and analysis software.
Introduction to Criminology
This course serves as a launchpad to the hows and whys of criminality. It introduces foundational studies on the origins of criminal law, types of crimes and criminals, and the justice system. Students learn about the theories and methodologies used in the field, such as cultural criminology, rational choice, and differential association.
Funding an Online Criminology Degree
Over the past decade, the average tuition at private, nonprofit colleges and universities has gone from $34,000 to $38,800, according to the National Center for Education Statistics (NCES). This cost increase has caused most students to strongly consider where their money goes. Aside from tuition, online students are responsible for covering additional expenses associated with the cost of living, fees, and technology equipment. Even the most affordable criminal justice degrees are expensive for many students. Fortunately, criminology degrees with the lowest tuition offer less costly in-state tuition for online students, no matter where they reside.
Students often take on part-time jobs to ease the burden of higher education costs. For criminology students, this means pursuing flexible roles that provide criminal justice experiences — such as safety officers, legal assistants, and drug prevention specialists. Real-world experience, no matter how small, is beneficial for undergraduate students as they prepare to enter the workforce as a graduate.
It's also important to consider ways to save money in college. One way is through scholarships and grants, which, unlike student loans, do not have to be paid back. The American Criminal Justice Association offers several opportunities for criminal justice students to receive stipends. Schools hosting criminology degrees may also offer their own scholarships to high-achieving applicants. Because scholarships are awarded based on merit, students are typically required to submit an essay detailing their interest in criminology and letters of recommendation from colleagues who can vouch for their skills.
Financial Aid
Financial aid comes in many forms, but the most popular is federal financial aid. This type of loan is given to low-income students to fund their studies. The vast majority of schools accept federal financial assistance. However, a growing number consider themselves "no-loan schools" by opting out of federal aid programs. This is an effort to allow students to graduate without student debt by funding 100% of their undergraduate tuition through grants.
Students pursuing an affordable online criminology degree should fill out the Free Application for Federal Student Aid (FAFSA) to determine eligibility for loans, grants, or work-study programs. Most schools provide resources and direct links to the form on their websites. Upon acceptance into degree programs, the federal government gives money directly to the school to avoid mishandling funds. The government may provide additional funding to students for living expenses and equipment.
The Department of Justice reports that nearly 25% of law enforcement professionals have military backgrounds, leading to many criminology students pursuing funding through the GI Bill. Military and veteran students may qualify to have their tuition, fees, housing, and books covered, even while studying online. The GI Bill also covers tutoring, training, and test fees. Experience gained during military service may also translate into a criminal justice or criminology degree, eliminating some course fees.
What Can You Do With an Online Criminology Degree?
The foundational knowledge gained in a bachelor's in criminology is designed to translate into more advanced learning. Therefore, criminology graduates have opportunities to continue their education beyond the bachelor's level, which often means pursuing a master's in criminal justice or homeland security. These graduate degrees feature advanced coursework, professional training, and research requirements centered on law enforcement and the justice system.
Graduates can also take certification exams that align with their career goals. There's the Professional Certified Investigator (PCI) for aspiring private investigators; the GIAC Certified Forensic Analyst (GCFA) certification for those who wish to analyze crime scenes in an official law enforcement role; and the American Board of Criminalistics exam, which allows for certification in drug analysis, forensic DNA, molecular biology, and other related criminology skills.
Below are three common careers for criminology students:
Median Annual Salary:
$66,020
Criminal investigators examine crimes by interviewing suspects and witnesses, gathering evidence, and creating reports that rely on facts and data. They're hired by law enforcement agencies such as the FBI, Secret Service, Border Patrol, and local police departments to solve criminal cases. Police academy training is required, even for criminology bachelor's graduates, with professionals typically working their way up from patrol officers to police detectives.
Forensic Science Technicians
Median Annual Salary:
$61,930
Forensic science technicians assist criminal investigators by collecting evidence. They use scientific processes to maintain the integrity of evidence that may have been left behind by criminals, such as firearms, bodily fluids, and fingerprints. Once collected, the findings are analyzed in laboratories where chemical tests are performed to extract information used in legal proceedings.
Correctional Treatment Specialists
Median Annual Salary:
$60,250
The role of correctional treatment specialists is to assist offenders, such as probationers and parolees, in their journey toward rehabilitation. Their work involves interviewing individuals to determine treatment plans, which may include providing counseling, teaching drug educational classes, and outlining employment opportunities. They typically work in state and local government facilities, occasionally visiting clients' homes.
FAQs About Online Criminology Degrees
How Do I Choose a Bachelor's in Criminology?
---
There are several ways to choose the right degree in criminology. Career-focused students should pick a degree based on concentration options that allow them to narrow their coursework to meet their career goals. While criminology may be a concentration as part of a criminal justice degree, it may also share the focus with subjects such as crime analysis or criminal behavior. It's also important to check the elective options, which are there to provide additional training in specific areas, such as juvenile justice and criminal law.
How Hard Is a Criminology Degree?
---
Criminology is often a somewhat difficult degree. One reason is its theoretical focus, which aims to provide a better understanding of criminal acts and the economic and societal causes of crime. Another reason is that students must study and memorize technical components related to statistical analysis, research methods, and data-based policies.
How Much Does a Criminology Degree Cost?
---
The annual tuition for a criminology degree varies from school to school. Public state schools such as the University of Alabama and Washington State University charge between $26,500 and $30,300 annually based on their premium campus amenities — even if online students can't take advantage of them. Online-focused schools like the University of Phoenix and Southern New Hampshire University tend to offer more affordable criminology degrees, with annual tuition of around $9,000.
Is a Criminology Degree Worth It?
Criminology degrees are ideal for students interested in the criminal justice system. From building technical skills in crime scene analysis to social science skills in juvenile counseling, criminology students must take a comprehensive approach to their education.
Although costs can run high, plenty of online criminology degrees have cheaper tuition. Many career opportunities are enriching, where graduates can work directly with investigators to solve crimes or assist offenders in integrating into society.
Related Articles
2023 Most Affordable Online Associate Degrees in Criminal Justice
Learn about the most affordable colleges for online associate degrees in criminal justice by exploring our 2023 budget-friendly list of accredited schools.
2023 Best Online Criminology Degrees
Find the best online criminology degree that's right for you from our list of accredited online schools. Learn about the online programs to find the right fit for you.