2023 Most Affordable Master's in Criminal Justice Online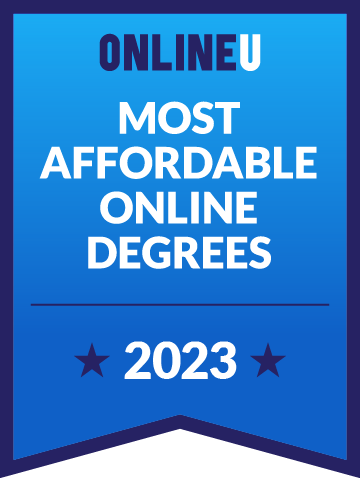 An online master's degree in criminal justice might be a step toward a number of career options in law enforcement, courts, or corrections. Master's in criminal justice program faculty typically cover sociology and criminology, the branches of the justice system, and social science research methods. Some programs have optional concentrations that allow students to focus on a specialized area of criminal justice, such as criminology or criminal justice leadership. Graduates might be qualified to pursue jobs as police officers, corrections administrators, managers at security firms, or insurance investigators.
Security-minded candidates might consider an affordable online master's degree in homeland security or cybersecurity instead.
View our methodology for details about rankings or learn more about us. You can also check out our overall list of the most affordable online degrees for some inspiration.
All tuition numbers were manually collected and verified
Overview of Online Criminal Justice Master's Degrees
A master's degree in criminal justice is an advanced program that prepares you for leadership roles in the criminal justice system. Programs typically combine advanced criminology and legal system courses with courses on sociology and social science research methods.
When you enroll in an online criminal justice degree program, you can expect to acquire a range of technical skills, such as conducting forensic analysis, using crime scene investigation techniques, and understanding legal documentation. Additionally, you may cultivate soft skills, including critical thinking, problem-solving, and ethical decision-making — all vital for various roles in the criminal justice field.
Online master's programs in criminal justice typically require 30-40 credit hours, which means they can take two or more years to complete. By blending theory with practice, coursework often includes assignments like case studies, research projects, and presentations that allow you to apply your theoretical learning to real-world scenarios.
Some programs allow you to choose a concentration or to focus on a particular aspect of criminal justice through your selection of elective courses. A few of the possible areas of specialization include law, public policy, terrorism and security, the Constitution, and crime analysis.
Common Courses
Online criminal justice degree programs often require five or six core courses and five or more electives. Your criminal justice program will likely end with some type of capstone project, research project, or thesis. Below are some of the online courses that may be included in your program:
Students explore the major theoretical perspectives used to understand crime and justice, including biological, psychological, and sociological perspectives.
Criminology Research Methods
This course prepares students to design, conduct, and analyze research in criminology and criminal justice, emphasizing both qualitative and quantitative methods.
Ethics in Criminal Justice
Here, students examine the ethical considerations in the criminal justice system. Coursework typically covers police discretion, use of force, and correctional issues.
Criminal Procedure and the Constitution
This course examines how constitutional law applies to criminal justice and law enforcement, with a particular focus on Fourth and Fifth Amendment rights.
Organizational Leadership in Criminal Justice
Students will learn about the leadership and management skills needed to lead organizations within the criminal justice system.
This course examines the relationship between victims and the criminal justice system, including societal responses and victim rights.
Funding an Online Criminal Justice Degree
Earning an online master's degree in criminal justice is a major investment of time and money. Before you enroll, you may want to think about how much you're willing or able to pay for an advanced degree. Looking at your budget in light of the estimated cost of earning a master's may help you select the best program for your needs.
Developing a realistic estimate of the total cost of a master's degree can be somewhat challenging because there is such a broad range of tuition fees among various schools. However, you can use current data from the National Center for Education Statistics to find the average total annual tuition and fees for graduate programs. The NCES reports that the average tuition is $12,394 at public schools and $26,621 at private schools.
Fortunately, the list of the most affordable online criminal justice master's programs above suggests that there are ways to economize on earning an advanced degree. Online programs are more cost-effective in general because many schools charge in-state tuition rates or slightly lower tuition rates for online learners. Studying from home also eliminates the cost of room and board on campus and commuting to and from college.
If you're looking for additional ways to reduce the cost of getting a master's, consider working full time or part time job to generate extra income and moving to an economical place to live while you're in school. Also, explore whether your employer offers a tuition reimbursement program.
Financial Aid
One of the most common ways students save on college expenses is through financial aid. As long as you're enrolled in an accredited master's program, you're qualified to apply for funding provided by the federal and state governments and from the schools themselves. There may also be private scholarships available.
You can apply for most types of financial aid by filling out and submitting the Free Application for Federal Student Aid (FAFSA). After your application has been reviewed, you'll receive a Student Aid Report (SAR) that informs you if you're eligible for financial aid. Soon after, you'll receive a letter from your school explaining the specific kinds and amounts of aid you're being offered.
The best scenario would be to receive some type of grant, fellowship, or scholarship. These types of aid don't have to be repaid. However, you may be offered a federal or private student loan, which will need to be paid back with interest. Before agreeing to any loan, use a student loan repayment calculator to calculate the total cost of the loan plus the interest.
What Can You Do With an Online Criminal Justice Degree?
While many criminal justice careers require only an associate or bachelor's degree to enter the field, a master's degree gives you advanced skills that qualify you for higher-level managerial roles in protective services. Leadership positions often come with greater responsibility but also higher salaries. Some possible occupations include security manager, correctional facility warden, and federal law enforcement officer.
If you're interested in continuing your education beyond the master's level, there are two distinct options. One is to earn a Juris Doctor (JD) to become a lawyer or a judge. The other option is to earn a doctorate in criminal justice or a related field. A terminal degree qualifies you to become a researcher or college professor.
FAQs About Online Criminal Justice Degrees
How Do I Choose a Master's in Criminal Justice?
---
Choosing a criminal justice master's program is an important decision. There are many factors to consider — online format, available concentrations, faculty, and online support services — and you'll need to weigh the importance of each one based on your personal priorities.
Perhaps most important, however, is accreditation. Institutional accreditation means that the school has been proven to meet standards of excellence, which assures you that you're getting a high-quality education. You may also want to look for programs that have been accredited by the Academy of Criminal Justice Sciences (ACJS).
How Long Is a Master's Degree in Criminal Justice?
---
A master's degree in criminal justice usually requires the completion of 30-40 credit hours. Full-time graduate students may be able to complete a program in one or two years, while part-time students may need two or three years to finish.
What Are the Admission Requirements for Criminal Justice Degrees?
---
To be accepted into a criminal justice master's program, most schools require you to have earned a bachelor's degree from an accredited institution. You may also need to have maintained a minimum GPA of at least 2.8 in your undergraduate studies. Most students enter a program with a bachelor's degree in criminal justice or legal studies. Without this foundation, you may need to take several prerequisite courses before starting on your master's courses, which could add to the cost of the degree.
When submitting your application and college transcripts, you may be asked for a statement of purpose, a resume, letters of recommendation, and possibly GRE scores.
Is a Master's Degree in Criminal Justice Master's Worth the Cost?
Determining whether a criminal justice master's degree is worth it depends largely on your personal circumstances. This degree may be best for those who are already working in protective services and want to prepare for leadership positions with advanced study. Although it's difficult to say what kind of financial return you may get from a master's, you can be assured that choosing an affordable online program and taking other steps to reduce your college expenses will increase the financial rewards.
Related Articles
2023 Most Affordable Online Master's Degrees in Homeland Security
Explore our 2023 list of the most affordable colleges for online master's degrees in homeland security. All online colleges are accredited and trustworthy.