2023 Most Affordable Online Criminal Justice Degrees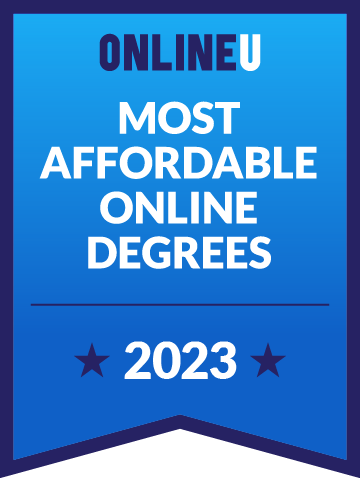 The legal system is an important part of the United States, and there are many ways to participate. Whether you'd like to be a police officer, lawyer, or private investigator, an online bachelor's in criminal justice can help you jumpstart your career. Alternatively, a law enforcement degree may suit your career interests even better. If you're looking to take a smaller step before starting a bachelor's degree, consider an associate degree in the field, where you can test the waters. Some people continue their education after they get their bachelor's, specializing in a specific aspect of criminal justice at the master's level.
Consider the bachelor's degree programs we've listed below in the field of criminal justice. View our methodology for more details about rankings or learn more about us. You can also check out our overall list of the most affordable online degrees for more inspiration.
All tuition numbers were manually collected and verified
Rank
School

Locations

Annual Tuition

# 1
Middle Georgia State University
Macon (GA)

$3,410

# 2
University of North Carolina at Pembroke
Pembroke (NC)

$5,074

# 3
California Coast University
Santa Ana (CA)

$5,355

# 4
Columbus State University
Columbus (GA)

$5,464

# 5
Kennesaw State University
Kennesaw (GA)

$5,562

# 6
Clayton State University
Morrow (GA)

$5,694

# 7

(tie)

Dalton State College
Dalton (GA)

$5,970

# 7

(tie)

Georgia Highlands College
Rome (GA)

$5,970

# 7

(tie)

Georgia Southwestern State University
Americus (GA)

$5,970

# 7

(tie)

University of the Cumberlands
Williamsburg (KY)

$5,970
Overview of Affordable Online Criminal Justice Programs
Studying criminal justice may be an appropriate first step for those who want to build their careers around public safety. Students can choose from a broad selection of criminal justice programs that fit their circumstances and career goals, and many of these programs are available completely online. Some schools also offer specializations in cybersecurity, homeland security, or emergency management, which can help students further refine their skills in a specific niche of interest.
Cost is often a major consideration in prospective students' college decision process, with the student debt crisis impacting many college graduates. Some online programs may offer more affordable alternatives to earning a traditional degree.
---
| | |
| --- | --- |
| | We studied a sample of online criminal justice programs at 51 schools and found that the median annual tuition was $13,503. Tuition rates range from $4,037 to $7,740 a year among the 24 most affordable schools. |
---
Online bachelor's programs typically require the completion of 120-126 college credit hours to graduate. While most full-time students need four years to complete an online or on-campus program, some may be able to finish in less time.
---
How Difficult Are Online Degrees in This Subject?
The difficulty level of a criminal justice degree depends on each student's interests and abilities. The coursework pushes students to sharpen their analytical and critical thinking skills in particular. Specifically, criminal justice — a liberal arts program — often requires a great deal of independent reading, research, and writing, but it also involves group collaboration on projects.
Students may wonder whether a criminal justice program will be more difficult online or in person. However, online programs are comparable to in-person programs. To maintain accreditation, schools typically design the curriculum for their online criminal justice programs to be the same as — or very similar — to their on-campus counterparts. Courses generally cover the same materials and meet the same objectives, and they are often taught by the same faculty members. Whether students follow a traditional path or pursue distance education, they must fulfill a standardized set of graduation requirements to earn their degrees.
---
Common Bachelor's in Criminal Justice Courses
Students pursuing bachelor's degrees in criminal justice learn about the underlying issues that drive crime as well as the process involved in identifying, apprehending, prosecuting, incarcerating, and rehabilitating those accused of criminal behavior. Students are likely to take online courses covering the three pillars of crime and justice: law enforcement, the courts, and corrections. The topics of diversity and ethics are often interwoven throughout the course material as well. The following presents a list of common courses in this field:
Constitutional Law: With coursework emphasizing the protection of citizens' rights, this course provides an in-depth look at the Constitution and amendments governing criminal justice procedures as well as the overall legal system.
Corrections: This course looks at the historical and contemporary practices in the U.S. correctional system. Students delve into punishment's legal and philosophical foundations while discussing important issues, such as prisoners' rights, prison life, rehabilitation, capital punishment, and juvenile justice.
Criminal Courts and the Judicial System: The criminal court system bridges law enforcement and the correctional system. The coursework provides an overview of relevant legal procedures, from the rules governing police investigation and apprehension to trial court procedures and sentencing. Students also review the roles of local, state, and federal courts.
Criminal Investigation: This class introduces students to fundamental crime scene investigation practices and procedures, and it may involve some experiential learning or case studies. Students learn about the various tools and methods used to scrutinize different types of crimes, crime scenes, and the investigative processes used in laboratories.
Introduction to Criminal Justice: Typically, this course is one of the first classes in a criminal justice program, as it explores the criminal justice process from beginning to end. The course material often addresses essential trends and issues, such as due process, community policing, rehabilitation theories, the juvenile justice system, and individual rights.
Policing and Law Enforcement: This course introduces law enforcement operations, strategies, and procedures at the federal, state, and local levels. The coursework also addresses critical contemporary issues confronting law enforcement agencies, such as officer selection and training, multi-jurisdictional cooperation, and police misconduct.
Emergency Management: The faculty's goal in this class is to teach students how to oversee emergency responses to natural and manmade disasters, such as hurricanes, tornadoes, and fires. The coursework provides a broad overview of managerial functions, including emergency management planning, crisis communication methods, resource allocation, mitigation tactics, and risk assessment.
---
Accreditation
A school's accreditation status is not only a requirement for students to qualify for financial aid and transfer credits between schools, it's also necessary for acceptance into most graduate programs. Accreditation also ensures a credible, quality online degree. For a list of accredited schools, students can visit CHEA's database. Verifying a school's accreditation is an important step that students should take before enrolling in their program.
Verifying a school's accreditation is an important step that students should take before enrolling in their program.
For a college or university to earn accreditation, an independent agency authorized by the Council for Higher Education Accreditation or the U.S. Department of Education must evaluate the school's programs, facilities, faculty, and other resources. They determine whether a school meets the national standards for quality and academic rigor. In addition to institution-level accreditation, some individual criminal justice programs may be certified by the Academy of Criminal Justice Sciences to provide an extra level of quality assurance.
---
Funding an Online Criminal Justice Degree
By filling out a Free Application for Federal Student Aid (FAFSA), students — whether they are pursuing a criminal justice degree online or in-person — can qualify for federal student aid, including grants, loans, and work-study funds. Federal work-study programs, for example, allow students to gain work experience at participating organizations while earning income to help pay for higher education costs. Grants are a form of financial aid that students do not need to repay in most circumstances. Federal loans, on the other hand, must be paid back with interest. While private loans are available to students through banks, this is often considered a last resort. Private loans traditionally have higher interest rates and less flexible repayment options than federal loans.
The Public Service Loan Forgiveness (PSLF) program offered by the U.S. Department of Education is an alternative aid option for graduates entering public service careers. Individuals must be employed by a non-profit organization or federal, state, local, or tribal government agency to qualify. They also need to make 120 monthly payments toward their federal student loans before being eligible for loan forgiveness.
---
Scholarships
To help with affordability, many private and public universities, associations, and institutions offer scholarships, which do not require repayment. Although there are relatively few scholarships specific to criminal justice majors, students may be interested in some of the following options.
Three $1,000 scholarships are awarded to the winners of this essay contest. Only high school seniors or first-/second-year college students can enter.
Alpha Phi Sigma, the National Criminal Justice Honor Society, offers scholarships to members ranging from $125-$1,000.
Pursuing A Positive Impact Scholarship
The Commonwealth Law Group awards a $3,000 scholarship to a high school or undergraduate student with at least a 3.0 GPA who submits an essay detailing how they volunteer in their community.
For additional information, students can check out our resources about paying for a college degree, which include details about the popular college savings plans, financial mistakes to avoid, and more.
---
Are There Tuition Discounts for Active Military or Law Enforcement Personnel?
Active military, veterans, and members of law enforcement may be able to reduce the cost of their college degrees through tuition discounts and other special offers. Many schools — such as Western Carolina University and Georgia Southern University — offer military tuition assistance to active military members and veterans pursuing in-person or online education in criminal justice. Valdosta State University, also featured on our list of affordable online criminal justice degrees, covers 100% of tuition costs for active-duty personnel. To compare military or veteran benefits by school, students can use the GI Bill Comparison Tool.
At some schools, law enforcement personnel may also be eligible for tuition discounts. Columbia Southern University, for example, offers a 10% tuition discount and no application fee for members of the National Sheriff's Association.
---
Criminal Justice Career Options
Graduates of online criminal justice programs typically follow one of three major career paths: (1) Many go into law enforcement, serving as police officers, detectives, or criminal investigators. (2) Others move into the corrections system, working as probation officers and correctional treatment officers. (3) In the third path, graduates may find work in the court system as criminal law paralegals or bailiffs.
In the private sector, there are additional career opportunities for bachelor's degree holders. For example, criminal justice majors can become information security analysts or private investigators. Students can also choose to pursue advanced degrees, like a master's degree in this subject or a J.D., that open up the door to specialized career options. Below is a list of potential careers for criminal justice majors, including salary and job outlook data from the BLS:
Median Annual Salary: $52,920
Job Growth Rate: 12%
Criminal Law Paralegals work within the legal system to support attorneys in case proceedings by drafting motions and pleadings, interviewing witnesses, and conducting research. They may work for lawyers in private practices or within government agencies. Paralegals typically need an associate degree to enter the criminal justice field. However, many employers prefer or require that applicants hold a bachelor's degree. In 2020, paralegals earned a median salary of $52,920. The job outlook for paralegals is expected to grow at a rate of 12%, which is faster than average.
Median Annual Salary: $67,290
Job Growth Rate: 7%
Law Enforcement Officers work for governmental agencies at the local, state, or federal levels. In general, police officers are responsible for protecting lives and property, while detectives collect evidence and solve crimes. Police officers can work in patrol, transit and railroad, or fish and wildlife services at the state level. The BLS reports that the 2020 median annual pay for police officers or detectives was $67,290 per year, and the occupation is projected to grow 7% through 2030. While all officers need to pass examinations and attend a training academy in order to work in police departments, the requirements for these positions can range from a high school diploma for local officers to an undergraduate degree for state/federal agents.
Private Detectives/Criminal Investigators
Median Annual Salary: $53,320
Job Growth Rate: 13%
Private Detectives/Criminal Investigators are full-time professionals who generally have previous work experience and a license in addition to a high school diploma or college degree. Individuals, attorneys, and businesses may hire these professionals to gather information, collect evidence from a crime scene, and perform surveillance. Private detectives earned a median annual salary of $53,320 in 2020, and the job outlook is projected to grow 13% by 2030.
Probation Officers and Correctional Treatment Specialists
Median Annual Salary: $55,690
Job Growth Rate: 4%
Probation Officers work with people on parole or probation, while correctional treatment specialists — also known as corrections officers — work with people who are currently incarcerated. The roles are similar, and both involve assisting individuals in rehabilitation. Some duties include conducting evaluations, administering drug tests, and providing job training or other support services. Probationary officers and correctional treatment specialists earned a median annual salary of $55,690 in 2020. The demand for these jobs is expected to grow 4%, which is lower than the national average. Workers in this field must hold a bachelor's degree and may be required to pass additional exams.
Substance Use and Behavioral Disorder Counselors
Median Annual Salary: $47,660
Job Growth Rate: 23%
Substance Use and Behavioral Disorder Counselors may work in community health centers or prisons to help those suffering from mental health problems or addiction. Most counselors in this category need at least a bachelor's degree to enter the field. Recent data from the BLS indicates that this job is in high demand, with an expected growth rate of 23% through 2030. The median annual salary was $47,660 for substance abuse or behavioral disorder counselors in 2020.
---
Is an Online Bachelor's in Criminal Justice Worth It?
A bachelor's degree in criminal justice can open the gateway for graduates to enter the three sectors of law: enforcement, courts, and corrections. Like any degree, it requires a significant investment of time and money, so prospective students should consider their personal circumstances along with other potential pros and cons.
Potential Benefits
Criminal justice degrees can be versatile. This bachelor's degree can help secure employment in a number of jobs across all three areas of the law. Many programs offer concentrations, such as administration, management, and cybersecurity.
A degree may facilitate career advancement. Entry-level jobs in law enforcement and corrections don't always require a bachelor's degree, but a degree can help officers earn promotions.
Jobs as federal agents usually require a bachelor's degree. Individuals who aspire to careers in federal law enforcement may want to enroll in an undergraduate program.
Potential Drawbacks
If the goal is to take the LSAT and pursue law school, other majors may help students develop more relevant skills. Alumni of other college majors, such as economics and philosophy, score higher on the LSAT.
Criminal justice professionals may experience higher unemployment than other majors. A 2021 survey of labor market outcomes showed that graduates with criminal justice degrees saw higher levels of unemployment rates than those with degrees in psychology and economics but lower rates than those majoring in math, physics, or ethnic studies degrees.
An online program in criminal justice allows students the flexibility to work on assignments, watch lectures, and post to discussion forums on their own time as long as they respect due dates. Also, students don't need to uproot their lives and move closer to their chosen school, even if their ideal program is on the other side of the country. Generally, a downside to online education is potentially foregoing some informal networking opportunities that may be helpful. Additionally, not everyone's ideal learning style is suited to the online format. Some students prefer live interactions with professors and classmates.
Related Articles
2023 Most Affordable Online Associate Degrees in Criminal Justice
Learn about the most affordable colleges for online associate degrees in criminal justice by exploring our 2023 budget-friendly list of accredited schools.
2023 Most Affordable Master's in Criminal Justice Online
Explore the most affordable colleges for online master's degrees in criminal justice and find the right program for you.