2023 Most Affordable Online Computer Science Degrees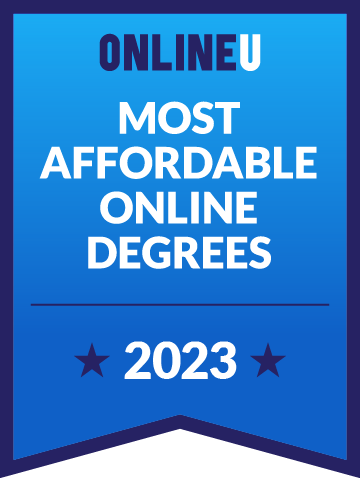 Computer science encompasses the study of data analysis, cybersecurity, algorithms, and programming — to name a few areas. As the world grows increasingly reliant on digital and network technologies, an online computer science degree can be a useful stepping stone to lucrative careers writing code, working with machine learning, developing websites, or keeping customers' personal data safe through network security. Perhaps first earning an affordable online associate degree in computer science could help clarify your higher education path. You may also choose to continue in this field after a bachelor's and go on to pursue an affordable master's in computer science, fine-tuning your specialty area even more.
View our methodology for more details about rankings or learn more about us.
All tuition numbers were manually collected and verified
| Rank | School | Locations | Annual Tuition |
| --- | --- | --- | --- |
| # 1 | Eastern New Mexico University - Main Campus | Portales (NM) | $6,624 |
| # 2 | Fort Hays State University | Hays (KS) | $6,806 |
| # 3 | University of the Potomac | Multiple Locations | $7,200 |
| # 4 | Central Methodist University | Fayette (MO) | $7,800 |
| # 5 | Thomas Edison State University | Trenton (NJ) | $9,278 |
| # 6 | Southern New Hampshire University Online | Manchester (NH) | $9,600 |
| # 7 | University of Wisconsin - Superior | Superior (WI) | $9,750 |
| # 8 | Colorado State University Global | Greenwood Village (CO) | $10,500 |
| # 9 | University of North Dakota | Grand Forks (ND) | $11,102 |
| # 10 | American Public University System | Charles Town (WV) | $11,150 |
Overview of Affordable Online Computer Science Degrees
Individuals who want to learn how to write code, develop applications, and test software may be interested in earning an online computer programming degree. Prospective students can choose between a Bachelor of Arts in Computer Science, which is a liberal arts approach, or a Bachelor of Science, which hones students' skills regarding the challenging technical components involved with the specialty. These programs focus on developing hands-on skills in building and implementing software solutions. Although it is possible to earn a two-year associate degree in computer programming, many occupations in the computer technology field require four-year bachelor's degrees.
A four-year degree in computer programming is usually a Bachelor of Science degree. To graduate, students generally need to earn a total of 120 credit hours of major-related courses and electives. While many programming students complete all of the requirements to earn this degree in four years of full-time study, some students may need more time.
Students can earn computer programming degrees on campus or online, and the admissions requirements for either learning path are typically the same. Along with an application form and possibly a fee, colleges may ask applicants to provide transcripts, official scores on standardized tests, an essay, letters of recommendation, and a list of extracurricular activities and work experience. Many schools also look for candidates with a minimum GPA of 2.5.
Funding an Online Computer Programming Degree
Distance learners enrolled in accredited online programs in computer programming have the same access to financial aid as on-campus students. Enrollees may qualify for low-interest federal or private loans, but they should also apply for gift aid that doesn't require repayment, including government- and school-sponsored grants and scholarships. Depending on their prior experience, some students may also be eligible for military tuition discounts. Prospective students can apply for financial assistance by submitting the Free Application for Federal Student Aid (FAFSA).
Scholarships for Computer Science Majors
Some private organizations fund scholarships in order to support computer programming students. Applicants typically have to submit separate applications for these scholarships, which may include writing an essay or personal statement.
The following list includes some examples of potential scholarships aimed at students in this field:
Generation Google Scholarship
All students studying computer science or a closely related field are eligible for this $10,000 annual scholarship, especially those who identify with groups historically excluded from the technology industry (women, Black, Latinx, etc.).
(ISC)² Undergraduate Cybersecurity Scholarship
Up to 20 scholarships in amounts ranging from $1,000-$5,000 are awarded each year to high school seniors and undergraduate college students enrolled in cybersecurity, information assurance, or a similar program.
Accreditation for Online Computer Programming Degrees
Accreditation is an important factor to consider when evaluating which schools to attend for an online bachelor's degree in computer programming. Enrollment in an accredited college or university is required to qualify for federal financial aid, and it may also be necessary to transfer credits to another school or enter a master's program. To obtain accreditation and meet rigorous standards of excellence, colleges and universities must undergo an extensive, multi-year analysis of their academic programs, faculty members, and other services.
In addition to earning recognition for the institution as a whole, schools can also seek accreditation for individual degree programs. The programmatic accrediting agency for all computer science and computer programming degree programs is the Computing Accreditation Commission, which is one of four commissions operated by the Accreditation Board for Engineering and Technology. The U.S. Department of Education and the Council for Higher Education Accreditation each offer a database of recognized schools and CAC-accredited programs.
Is an Online Computer Programming Degree Worth It?
When deciding whether an online computer programming degree is the right educational path, prospective students should consider their personal circumstances, such as financial needs and other obligations. Individuals must determine for themselves whether the potential benefits of having a programming degree are worth the effort, time, and money they'll invest in earning one. Before choosing this particular online bachelor's degree, prospective students should carefully examine some of the possible advantages and disadvantages.
Potential Benefits
Computer programming degree holders are likely to face a bright job outlook. As cited by the BLS above, a bachelor's degree in computer programming prepares graduates for many occupations in high-growth fields, especially in software development. Many of these jobs feature healthy annual salaries around $100,000, and most do not require a master's degree or further education.

A computer programming career may offer a more independent lifestyle. Many programming professionals work from home with flexible schedules. Only in relatively few cases are these professionals required to be on call for emergencies.

Online education allows students to select the best programs for their needs. Prospective computer programming students can choose from a wider selection of program offerings with different concentrations related to their interests. Online learners can earn the degree that best fits their career goals and budget without having to move to a different location.
Potential Drawbacks
A computer programming degree may be somewhat limiting. Because this degree's curriculum is more focused on programming skills than that of a computer science degree, graduates may not have gained the theoretical knowledge required for some advanced occupations in the tech industry. Prospective students should determine their career goals before choosing one over the other.

Earning a four-year degree is a bigger investment than gaining skills through a bootcamp. Students who simply want to develop skills in a particular area, such as a programming language, may be better off attending a short-term bootcamp. According to Switchup, finishing a coding bootcamp may generate more competitive employment results than traditional degrees from top-tier universities at approximately 10% of the cost.

Online programs require students to create their own structure. Because of the flexibility of online programs, some students may find it difficult to manage their schedules effectively and allow enough time to complete their programming projects each week.
Related Articles
2023 Most Affordable Online Master's Degrees in Computer Engineering
Discover the most affordable colleges for online master's degrees in computer engineering from our 2023 list of accredited online schools.