2023 Most Affordable Online Communications Degrees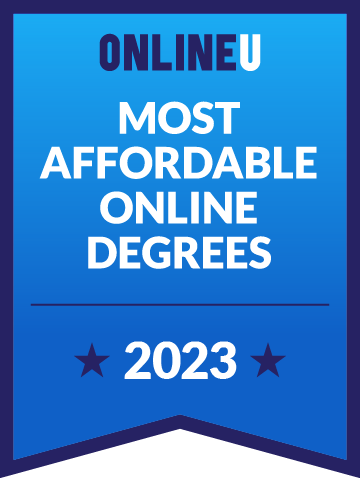 An online bachelor's in communications is designed to teach students how to craft messages in the digital age and have them explore new technologies, marketing techniques, research methods, and society's relationship with various forms of media. There will also be discussions of the morality and legality surrounding modern communications, such as social media and business practices. Graduates of an online communications degree often work in journalism, public relations, or marketing.
View our methodology for details about rankings or learn more about us. For more inspiration, check out our list of the most affordable online master's degrees in communications.
All tuition numbers were manually collected and verified
Rank
School

Locations

Annual Tuition

# 1
Ohio University - Main Campus
Athens (OH)

$3,645

# 2
Arizona State University
Tempe (AZ)

(and 4 others)

$4,682

# 3
Columbus State University
Columbus (GA)

$5,464

# 4
Fort Hays State University
Hays (KS)

$6,806

# 5
Utah Tech University
St. George (UT)

$7,140

# 6
Southern Utah University
Cedar City (UT)

$7,200

# 7
University of Arkansas
Fayetteville (AR)

$7,725

# 8
Central Methodist University
Fayette (MO)

$7,800

# 9
Valley City State University
Valley City (ND)

$7,955

# 10
Louisiana State University - Alexandria
Alexandria (LA)

$8,000
Overview of Online Communications Bachelor's Degrees
A communications bachelor's degree is designed to prepare graduates for a wide range of careers in business and other industries. Equipped with the knowledge and skills you'll acquire by completing a program, you can pursue a career in marketing, public relations, news media, and more.
When you enroll in a communications program, you'll find yourself taking an interdisciplinary mix of courses in writing and media, as well as sociology, psychology, and other relevant disciplines. Simulated real-world projects will help you master essential technical skills, including the ability to craft persuasive messages, run effective social media campaigns, and develop websites and apps. In the process, you'll develop soft skills like critical thinking, problem-solving, and collaboration.
An online communications bachelor's degree typically requires the completion of 120 credit hours. While some full-time students fulfill the graduation requirements in four to five years, part-time students may need an additional year or two.
Generally speaking, you need to have earned a high school diploma or the equivalent to be accepted into a college or university. You'll need to submit your high school transcripts along with other materials when you apply for college. If it's a competitive school, you may need to meet additional requirements for a high GPA, community service, extracurricular activities, and more.
Common Courses
The curriculum of an online communications degree program gives you a thorough understanding of the techniques, tools, and strategies used for effective communication. Nearly all bachelor's programs require a capstone project, and some also require an internship in the communications field.
Some of the specific core courses often found in an online communications bachelor's degree program include:
This course introduces students to the technologies and methodologies of developing and producing digital content. They'll gain hands-on experience in creating multimedia content suitable for online platforms.
Organizational Communication
Delving into communication within organizations, students discover how information flows within a company and how to improve and streamline internal communications.
Communication Research Methods
Often the capstone of a bachelor's program, this course provides students with an understanding of qualitative and quantitative research methods specific to the communication industry. The purpose of this course is to teach students how to make informed decisions based on data.
Funding an Online Communications Degree
One of the biggest concerns for most prospective college students is cost. The grand total for an online communications degree varies dramatically, but you can start estimating the cost by looking at some figures compiled by the National Center for Education Statistics (NCES). After studying tuition and fees for bachelor's programs across the country in the 2020-21 school year, the NCES determined that the average total annual tuition and fees was $12,394 at public colleges and $26,621 at private colleges. To get a rough estimate of the total tuition and fees — which is the majority of the cost of a college degree — multiply these figures by four or five years.
Another major concern is how you're going to pay for a bachelor's degree in communications. You probably have several sources of funding available, such as income, savings, and monetary gifts. You may also qualify for financial aid, discussed in more detail below.
Of course, much like negotiating around the "sticker price" of a car at a dealership, there are steps you can take to minimize the cost of a degree and save money on college. One clear choice is to opt for an affordable online communications degree like those listed above. Many schools feature reduced tuition rates for online students, and attending college remotely also eliminates room and board fees and transportation costs.
Other cost-saving measures include selecting a public school instead of a private one, as suggested by the data from the NCES. You could also work at a part-time or full-time job and use your income for tuition and other expenses. Finally, you may want to consider completing your first two years of lower-division courses at a community college, which is probably far less expensive than a four-year school. Later, you can transfer the credits you've earned to a four-year university where you'll complete the requirements for a bachelor's degree.
Financial Aid
Many traditional and online students rely on financial aid as a major source of funding for a bachelor's degree. To apply for most types of aid, fill out and submit the Free Application for Federal Student Aid (FAFSA). Financial aid officers will then determine whether you qualify for financial assistance and, if so, how much aid you'll receive. Keep in mind, however, that you must be enrolled in an accredited college to qualify.
Among the most common types of financial aid are grants and scholarships. Most of these are funded by the schools and by the federal and state governments. These types of aid are ideal because you don't have to pay them back when you graduate.
However, depending on your financial circumstances, you may not qualify for enough grants and scholarships to cover the full cost of a bachelor's degree. In this case, you may be offered a student loan, but the loan interest will add a significant amount to the final cost of a degree. If you want to figure out the total cost of a loan before accepting one, use our student loan repayment calculator. You may also want to compare federal student loans to private student loans, as private loans often involve higher interest rates.
If you're willing to invest a bit more time and effort, you may also land a few private scholarships. Community and civic organizations, corporations, and nonprofits often fund scholarships to encourage specific types of students to pursue degrees. With this in mind, awards are determined by factors like your academic achievements, community service, family heritage, or career goals.
What Can You Do With an Online Communications Degree?
One of the best things about a communications degree is its versatility, as it can lead to a wide range of communications career choices. This degree paves the way for many types of roles in marketing, public relations, sales, corporate communications, human resources, and beyond. You'll probably need to start with an entry-level position, but your degree will make you a more attractive job candidate.
Marketing is one of the more popular destinations for communications graduates, so you may want to begin as a marketing specialist. You may work with print or digital media, or both, preparing persuasive messages for well-defined audiences. Marketing specialists and marketing research analysts earn a median annual salary of $68,230, and demand for these professionals is expected to grow by 11% through 2031.
Public relations is another common career choice for communications majors, and many younger graduates look for positions as public relations specialists. In this role, you'll work for a for-profit or nonprofit organization, where you'll write and develop many types of messages for various audiences. The median annual salary for public relations specialists is $67,440, and job openings are projected to increase by 8%-10% throughout this decade.
If you're interested in news media, you could also consider going into journalism or broadcast journalism, using both written and verbal communication skills to collect and share information with the public. The median salary for news analysts, reporters, and journalists is $55,960. Although the number of job openings is expected to decline by 2% over the next decade, there will still be close to 5,000 positions.
At some point in the future, you may decide to enhance your professional credentials with a graduate degree. Online communications master's degree programs often allow you to zero in on one particular aspect of the field, enabling you to develop valuable expertise and advanced skills. A master's degree may open doors to higher-paying positions. You may also want to pursue a PhD in communications to prepare for careers in academia and research.
FAQs About Online Communications Degrees
How Do I Choose a Bachelor's in Communications?
---
Deciding which online communications degree program to enroll in is a personal choice based on quite a few characteristics. Some of these factors — such as cost, curriculum, student services, and financial aid — may be more important to you than others.
One thing you want to make sure of, however, is that the school you choose has earned institutional accreditation. This is required for you to qualify for financial aid and to gain acceptance into a master's program. All of the schools on our list of the most affordable bachelor's in communications degrees and throughout our site are institutionally accredited. You may also want to look for a program that has earned program-level accreditation from the Accrediting Council on Education in Journalism and Mass Communications (ACEJMC).
How Much Does It Cost To Get a Bachelor's in Communications Degree?
---
The cost of earning a bachelor's in communications degree varies widely. To give you a ballpark estimate, however, the College Board found that the average annual tuition and fees is $10,940 at a public four-year college for in-state students in the 2022-23 school year and $39,400 for a private four-year college. By adding in the average annual cost of room, board, books, and supplies, the annual cost totals $24,290 per year at a public university and $54,670 per year at a private one.
Fortunately, there are ways to minimize the cost of earning a bachelor's degree, which may include choosing an affordable online communications degree like those listed above. Online learning also eliminates room and board fees, as well as transportation expenses.
What Are the Different Types of Communications Degrees?
---
There is quite a lot of variation among communications degree programs. Some programs are slightly slanted toward a particular aspect of communication, while others offer elective courses in specific subjects so you can customize your degree to fit your career goals.
In general, specializations in communications degrees can be grouped into categories such as journalism and broadcasting; advertising, public relations, and digital communications; interpersonal communication; and writing and editing.
Is a Communications Degree Worth It?
Deciding whether an online bachelor's degree in communications is worth it depends upon your priorities and career aspirations. However, this versatile degree prepares you for a number of occupations with respectable salaries. What's more, you may be able to work your way up to higher-paying management positions in this field with only a bachelor's degree.
Of course, given the high cost of earning a degree, you'll want to maximize your return on the investment. Perhaps the best way to achieve that is to minimize the cost by opting for an online communications degree and taking other cost-conscious steps.
Related Articles
2023 Best Online Communications Degrees
Compare the best online bachelor's degrees in communications from accredited colleges and universities. Our 2023 list features tuition and alumni salary data.
2023 Most Affordable Online Bachelor's Degrees
Find the most affordable online bachelor's degree programs in the country for 2023. We highlight cheap online colleges with high alumni salaries.