2023 Most Affordable Online Christian Colleges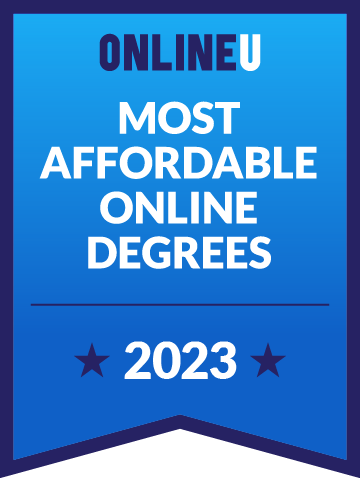 The most affordable online Christian colleges provide students with expertise in a wide range of specialties, and all programs are based on Christian principles and practices. In addition, if students want to pursue careers in ministry or just want to further their knowledge in Christianity, there are online bachelor's degree programs — like Ministry Education, Theology, and Sacred Arts — they can choose from.
Online Christian colleges offer distance education that is affordable and flexible for students managing other obligations outside of their education. We provide overviews of these schools and include student resources, such as spiritual life and online student resources, to help prospective students better understand their options. View our methodology for details about rankings or learn more about us. You can also check out our overall list of the most affordable online degrees for further inspiration.
All tuition numbers were manually collected and verified
| Rank | School | Locations | Annual Tuition |
| --- | --- | --- | --- |
| # 1 | Brigham Young University - Idaho | Rexburg (ID) | $3,888 |
| # 2 | University of the Cumberlands | Williamsburg (KY) | $5,970 |
| # 3 | Lees-McRae College | Banner Elk (NC) | $6,825 |
| # 4 | Holy Apostles | Cromwell (CT) | $7,020 |
| # 5 | God's Bible School and College | Cincinnati (OH) | $7,500 |
| # 6 | Heritage Bible College | Dunn (NC) | $7,560 |
| # 7 | Hobe Sound Bible College | Hobe Sound (FL) | $7,756 |
| # 8 | Central Methodist University | Fayette (MO) | $7,800 |
| # 9 | Amberton University | Garland (TX) | $8,550 |
| # 10 | Moody Bible Institute | Chicago (IL) | $8,970 |
Overview of Online Christian Colleges
There are over 150 different private colleges that offer a Christian education in the U.S, according to the Council for Christian Colleges and Universities, and many of these schools offer online programs for distance learners. In fact, the number of accredited online degrees has skyrocketed in recent years. Students today favor online learning for the added flexibility it provides. Distance learners can complete coursework and attend lectures from home, on a lunch break at work, or wherever is convenient for them.
Students might be interested in either a Christian college or a Bible college:
Students seeking a traditional education at a faith-based school often attend Christian colleges. These liberal arts schools offer degrees in traditional fields of study and give students a structured space to continue their academic and spiritual journeys simultaneously. Some schools include religious aspects in coursework and classes, while others do not but have a religious foundation and mission.
Those looking for a biblical higher education often choose Bible colleges or seminaries. These schools prepare students for leadership positions within the church and other faith-based careers and typically offer degree programs in theology, divinity, and related subjects.
Accreditation
Accreditation is one of the most important things to look for when considering an online degree. If a school is accredited, it means it's been thoroughly evaluated by an approved organization and meets academic standards. Attending an accredited school is necessary to receive financial aid, get certification or licensure, and transfer credits.
Students interested in a Christian education should look for two different types of accreditation – regional or national, depending on their academic and professional goals.
Regional accreditation: If you're looking for a liberal arts college with a foundation in the Christian faith, you'll want to look for regional accreditation. Attending a regionally accredited college means you'll be able to pursue a master's degree at a wider range of schools, and gives you more options if you choose to transfer credits down the road.
National accreditation: Vocational or technical schools have national accreditation, which is typically reserved for career-training programs. Christian schools with national accreditation have more degree programs with a religious focus that prepare students for church leadership and related careers. Attending a nationally accredited college means you may only be able to transfer credits or pursue a higher level of education at another nationally accredited school.
Some schools may have both types of accreditation, or may have regional accreditation as a whole with religious programs accredited by a national accreditor. This may be the best option for students, especially those who are seeking a program with a heavier focus on biblical studies.
The Online Learning Experience
Students who choose the online learning experience have a few different options available. One thing students should think about when choosing a program is whether they want synchronous or asynchronous classes.
Synchronous programs are similar in structure to campus-based classes. Even though you're a distance learner, you still meet with your class virtually at a scheduled time to watch live lectures, have discussions with classmates, and do group activities.
Asynchronous learning gives students the opportunity to watch pre-recorded lectures, have class discussions, and complete coursework on their own time. Many adult learners prefer asynchronous classes so they can squeeze in classwork into an already busy schedule. Some students watch lectures on their lunch break, or take quizzes after they put their kids to bed.
Online classes also use different learning platforms, such as Canvas or Blackboard, as a central hub for students and professors. Sometimes called Learning Management Systems (LMS), this is where you'll access class documents, assignments, tests, quizzes, lectures, and virtual discussion platforms with your peers.
Spiritual Aspects of Online Programs
Many students enroll at Christian colleges and Bible schools for the spiritual aspects of the college experience. For campus-based students, this often includes chapel time, mission trips, and volunteer opportunities. Online students often have similar opportunities – some schools have service learning requirements online students fulfill in their local community. Others post recordings of chapel messages online, or invite students to join morning prayer virtually. If you want to participate in student life as a distance learner, look for schools that offer virtual opportunities for online students.
If you want to participate in student life as a distance learner, look for schools that offer virtual opportunities for online students.
Cost of Online Christian Colleges
The cost of an online degree from a Christian school will vary depending on factors such as financial aid eligibility, where you go to school, your degree program, and whether or not you enroll full-time.
In general, however, online degrees are often more affordable than campus-based programs. Data from the National Center for Education Statistics (NCES) shows average tuition and fees for all four-year universities in the United States was $16,318 in the 2018-19 school year. In contrast, the median annual tuition for online programs is $13,919, according to internal data at OnlineU.
From our research of manually collected tuitions, online Christian colleges can be more affordable than other online schools, with some options between $6,000 and $11,000 a year.
Aside from tuition and fees, students also typically need to consider room and board, food, transportation, and books and supplies. For books and supplies, students pay an average of $1,298 per year at public schools and $1,177 at private colleges, according to data from NCES. As an online student, you won't have to pay for moving costs, living expenses in the dorms, or the cost of rent in a new city. Another significant benefit of online learning is that you save money on transportation to and from campus.
How Do People Afford Christian Colleges and Bible Schools?
Higher education can get expensive, and few people can pay for the full cost out of pocket. For students looking to lower the cost of their education, the two biggest factors are where you attend college and how much financial aid you receive. Our research of the most affordable Christian colleges can help you get connected with lower-cost online options. Most students use financial aid to pay for tuition and related expenses, including federal and state grants, scholarships, work-study jobs, and student loans.
For students looking to lower the cost of their education, the two biggest factors are where you attend college and how much financial aid you receive.
In addition, many students attend a community college to lower the cost of their education. Earning an associate degree, sometimes called a transfer degree, satisfies the first two years of your bachelor's degree at a more affordable tuition rate. Notably, however, the vast majority of community colleges are not Christian colleges, so students may miss out on faith-based experiences at these institutions.
Financial Aid
Students enrolled in an online Bible college or Christian university have access to the same financial aid as their campus-based peers. Most students rely on financial aid from the federal and state governments, their universities, and private organizations to pay for college.
The first step to find out how much financial aid you qualify for is to fill out the Free Application for Federal Student Aid, or the FAFSA. The federal and state governments will use the information provided on your FAFSA to award any grants, work-study, student loans, and in some cases scholarships, you are eligible for. Our comprehensive FAFSA guide has more information on applying for financial aid, types of aid, and frequently asked questions about the process.
After applying for federal and state aid, look for scholarships to help lower the cost of your education – check your school's financial aid website first. Christian students also have access to a wide range of faith-based funding earmarked for religious students. There are scholarships for specific degree programs, career paths, students who plan to go into Christian ministry, academic achievement, or for students who are members of different churches.
The following scholarships are available to students attending Christian colleges:
The Robert S. Simmons Christian Studies Scholarship: Awards one $1,000 scholarship and one $500 scholarship to students earning their bachelor's degree at a Christian college or university. To apply, students must be U.S. citizens or permanent residents, must participate in volunteer or community service, and must be enrolled in or accepted at a Christian college.
Presbyterian Mission Agency Undergraduate Scholarships: The Presbyterian Church (U.S.A.) awards up to $4,000 in renewable scholarships for more than 100 students every year, and provides supplemental scholarship funding to students of color, first-generation students, and those who have exceptional financial need. To qualify, you must be a member of the Presbyterian Church, enrolled full-time at an accredited college pursuing your first associate or bachelor's degree, and eligible to receive need-based aid.
Leadership Development Scholarships: Students who are members of the United Church of Christ are eligible to apply for a range of scholarships offered by the organization. The United Church of Christ offers a general scholarship for undergraduate students as well as funding for African American women and people with disabilities. Eligibility requirements and award amounts vary.
Is Attending an Online Christian College Worth It?
Whether or not an online degree from a Christian college will be worth it depends on your academic and professional goals, career plans, financial situation, and other factors.
Potential Benefits
Research shows having a degree can benefit you in many ways – a college education offers access to more job opportunities, different career paths, and higher pay.
An online degree offers more flexibility and makes it possible for people with competing responsibilities to finish their degree. Enrolling online also means you'll have access to more options rather than being limited to the schools and programs in your area. Online students at Christian colleges will gain a wide variety of skills, including time management, critical thinking, and interpersonal communication. One of the biggest benefits of a Christian education is that you won't have to choose between devoting time to your spiritual or academic journey – your degree program will focus on both.
One of the biggest benefits of a Christian education is that you won't have to choose between devoting time to your spiritual or academic journey – your degree program will focus on both.
If you want a college experience rooted in faith and spirituality, pursuing a degree at a Christian university will likely be a good choice for you. The support and guidance on your spiritual journey can benefit you personally, and can also help you feel connected to your peers and professors as a distance learner.
Potential Downsides
Students deciding whether or not to earn an online degree from a Christian college will also need to weigh the cost of their education against the potential financial and personal benefits. A degree is an expensive investment, and students should consider whether or not their degree will pay off for them financially and professionally. Another essential consideration is whether or not your chosen degree program is available at a Christian school. In some cases, other online schools may offer options that align more closely with your professional goals.
Finally, some Christian colleges are nationally accredited. This type of accreditation can be limiting in some cases, and students should be aware of this when making their college decision. If you pursue a degree from a religious school without regional accreditation, your options may be limited in the future in terms of what careers your degree will qualify you for, what certifications and licensure you're able to obtain, and where you can go to school later on.
Related Articles
2023 Most Affordable Online Colleges & Degrees
Explore the top affordable online colleges of 2023. Find cheap online associate, bachelors, master's, and doctoral degrees.
2023 Most Affordable Online Catholic Colleges
Learn about the most affordable Catholic colleges in 2023 that offer fully online degrees, and choose the school that's right for you.