2023 Most Affordable Online Child Development Degrees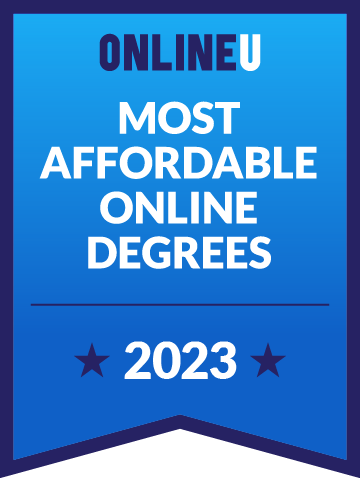 An online bachelor's in child development prepares students to assume professional roles that help them work efficiently and effectively with children. Prospective students can expect to learn about the theories and practices related to childhood and family development by taking core classes, like Curriculum Management, Adolescent Development, and Educational Psychology. Alumni in this field typically go on to pursue professions as lead teachers, child life specialists, and parent educators, to name a few options.
It may be helpful to also explore similar programs to a child development degree, such as psychology and early childhood education. With any of these bachelor's degrees under your belt, you can always pursue further education at a later point and obtain an affordable online master's degree in child development.
View our methodology for details about rankings or learn more about us. You can also check out our overall list of the most affordable online degrees for some inspiration.
All tuition numbers were manually collected and verified
Rank
School

Locations

Annual Tuition

# 1
Fort Hays State University
Hays (KS)

$6,806

# 2
Central Methodist University
Fayette (MO)

$7,800

# 3
West Virginia University at Parkersburg
Parkersburg (WV)

$9,168

# 4

(tie)

Northwestern State University of Louisiana
Natchitoches (LA)

$9,600

# 4

(tie)

Southern New Hampshire University Online

Manchester (NH)

$9,600

# 6
American Public University System
Charles Town (WV)

$11,150

# 7
Jacksonville State University
Jacksonville (AL)

$11,190

# 8
Florida International University
Miami (FL)

$11,276

# 9
New Mexico State University
Las Cruces (NM)

$11,406

# 10
University of Alabama
Tuscaloosa (AL)

$11,550
Related Articles
2023 Best Online Child Development Degrees
Research online child development degrees from accredited colleges. Explore the best online bachelor's degrees in this field for 2023 based on tuition and salary data.
2023 Most Affordable Online Master's Degrees in Child Development
Learn about the most affordable colleges for online master's degrees in child development. Our 2023 list only includes accredited schools.