2023 Most Affordable Online Associate Degrees in Business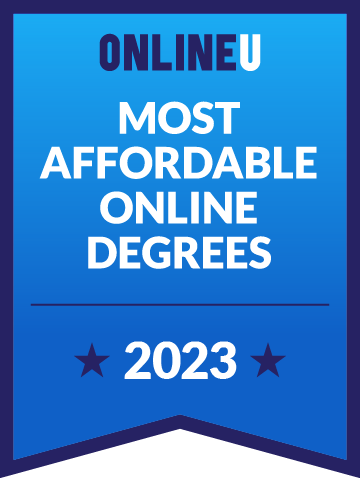 An online associate in business is designed for students who want to enter the business industry. These programs cover foundational business principles like accounting, management, and economics. Some potential courses students may come across within an online associate in business include Business Communication, Principles of Accounting, and Quantitative Reasoning. With the knowledge and skills obtained in an online associate's in business, students can pursue further education by transitioning into a four-year program at a college or university. Or, they can pursue entry-level careers in the business industry, like business administration, marketing, finance, and manufacturing. Graduates of an online associate in business may pursue careers like project managers, administrative assistants, and office managers.
View our methodology for details about rankings or learn more about us. You can also check out our overall list of the most affordable online degrees for some inspiration.
All tuition numbers were manually collected and verified
Rank
School

Locations

Annual Tuition

# 1
Allen County Community College
Iola (KS)

(and 1 other)

$2,013

# 2
Kansas City Kansas Community College
Kansas City (KS)

(and 1 other)

$2,821

# 3

(tie)

Albany State University
Albany (GA)

$2,850

# 3

(tie)

Georgia State University - Perimeter College
Decatur (GA)

$2,850

# 5
Atlanta Metropolitan State College
Atlanta (GA)

$3,032

# 6
Cossatot Community College of the University of Arkansas
De Queen (AR)

$3,385

# 7
Clovis Community College - NM
Clovis (NM)

$3,404

# 8
Western Nebraska Community College
Scottsbluff (NE)

$3,426

# 9
Highland Community College - KS
Highland (KS)

$3,552

# 10
Ohio University - Main Campus
Athens (OH)

$3,645
Can You Get an Associate Degree in Business Online?
When compared to other online undergraduate programs, students show a robust interest in pursuing business. In a 2020 survey of college students' preferences across a range of online programs, Wiley Education Services determined that 29% of undergraduates selected business as their preferred field of study. Students can obtain the following online associate degrees in business at two-year community colleges or four-year colleges/universities: Associate of Arts, Associate of Science, or Associate of Applied Arts.
Common misconceptions about online programs lead many students to believe that the quality of education will be lower than an in-person commitment. The reality is that both online and in-person programs range significantly in quality. When considering an online degree, it is vital to verify that your chosen school is accredited. This ensures that the program is held to universal academic standards. Check the U.S. Department of Education or Council for Higher Education Accreditation databases to see if your program is accredited.
In a 2020 survey of college students' preferences across a range of online programs, Wiley Education Services determined that 29% of undergraduates selected business as their preferred field of study.
In addition to verifying your chosen school's accreditation, students may also choose to evaluate the curriculum, level of available academic and student support, graduation rates, alumni salaries, and the professors' experience.
---
Common Courses
While earning an associate degree, business students aim to develop valuable skills in critical thinking, problem-solving, organization, and communication. These skills prepare students for an entry-level role in the industry by providing them with foundational knowledge.
Students in these programs often take an average of 15 credits per semester to earn their degree in two years. In the coursework, students navigate the financial and legal aspects of the business world to understand how changes impact a business at the individual and global levels. Students may also explore the relationship between the business market and consumers while building their interpersonal and managerial skills, critical competencies in a leadership role.
Accounting: Introductory accounting classes cover the basics of bookkeeping while emphasizing the accounting cycle. Students may learn how to record business transactions and interpret financial documents. Some programs also require a managerial accounting course, which may discuss how to use financial information to inform business decisions.
Business Communications: This class covers some of the best practices for written and verbal communication in the business world. Students may practice writing professional letters, emails, reports, proposals, and other business documents. Some courses may also touch on some helpful public speaking skills.
Business Law: Courses in business law focus on how businesses interact with state and federal laws. Students may also explore the various legal issues that affect day-to-day business activities, including contract law, employment laws, sales, personal property, dispute resolutions, torts, and intellectual property.
Marketing: Marketing courses often focus on creating effective marketing plans and understanding the relationship between a business, product, and customer. Students may examine consumer behavior, pricing and distribution, and marketing strategies.
Principles of Management: This class is designed to provide students with an overview of essential managerial functions. The coursework focuses on leadership styles, problem-solving strategies, conflict resolution, and management ethics. By developing valuable leadership and communication skills, students may learn to effectively manage people, projects, and organizations.
---
How Much Does an Online Associate Degree in Business Cost?
The total cost of tuition for the most affordable online business associate programs ranges from $2,436 to $4,576. When students broaden their search beyond the most affordable programs, however, associate degrees in business can cost upwards of $22,800 or even more.
The total cost of tuition for the most affordable online business associate programs ranges from $2,436 to $4,576.
Most associate degrees require the completion of 60-68 credit hours, and the cost per credit hour varies from $81 to $380 or more. Prices can even vary for the same program since some schools may charge more for out-of-state residents than in-state residents. Importantly, the cost of tuition does not include books and other school supplies; meanwhile, some schools charge additional annual fees and one-time-only charges, such as technology and graduation fees.
---
Funding an Online Associate in Business
If you've decided to earn your associate degree in business through an accredited online school, you may be eligible for financial aid. To begin the application process, fill out the Free Application for Student Aid (FAFSA). Once your school reviews this form, they will deliver a financial aid package that details the types and amounts of aid being offered. You may be awarded a scholarship or grant money, which does not have to be repaid. You may also be offered a student loan, which would need to be repaid with interest. Typically, federal student loans have lower interest rates and more flexible repayment plans than private student loans.
If you've decided to earn your associate degree in business through an accredited online school, you may be eligible for financial aid.
If you qualify for federal financial aid, you may be eligible for one of the many "promise" scholarship programs offered at two-year and four-year colleges. Promise scholarships help qualifying college students — particularly those completing the first two years of their college education — by covering costs beyond financial aid. The financial aid office at your chosen college may offer more information about this opportunity.
You may also consider applying for additional private scholarships that FAFSA does not offer. Although scholarships for an associate in business are somewhat limited, a couple of options may be worth investigating:
Is It Worth It to Get an Online Associate Degree in Business?
An online associate degree in business can open the door to higher salaries and more job opportunities in the field. During their deliberation, potential students may weigh the program's cost and duration with the resulting professional and financial benefits. While this degree typically doesn't lead to the same income level or professional role that a bachelor's degree does, it presents a shorter and more affordable pathway.
Here are some reasons why students may find an online associate degree in business to be a worthwhile endeavor:
An associate degree only takes two years to complete if you enroll full-time.
This allows you to enter the workforce and find a higher-paying job sooner than if you pursued a bachelor's degree. Some online programs even offer accelerated options for students to finish their degree in less than two years.
Associate degrees are more affordable than bachelor's degrees.
According to the National Center for Education Statistics, two-year colleges cost an average of $10,704 per year, which is less than half of the average annual tuition at a four-year university. Pursuing an online degree also means that you can choose from affordable options nationwide while saving money on campus-related costs, like transportation and on-campus housing.
An associate degree can lead to a higher salary.
Earning an associate degree in business will often result in a higher salary, qualify you for more job opportunities, and give you a competitive edge over other applicants. On average, professionals with an associate degree earn $39,960 per year and make more money than those with a high school diploma. Moreover, as you gain experience in the industry, your salary is likely to grow even more over time.
Earning an associate degree in business can advance your career.
An associate degree in business can qualify you for entry-level positions in office administration, accounting, finance, human resources, marketing, and sales, to name a few. Also, many companies require this degree when hiring for leadership and management roles in general. Once you develop industry-specific skills and knowledge, you'll be able to pursue higher-level positions.
Suppose you're interested in this field but remain unsure of your ultimate professional goals. In that case, an associate degree in business may help you understand the industry before deciding whether to pursue a bachelor's degree. If you decide to continue your education, you'll have already completed many of the necessary credits to earn a bachelor's degree in business. If you prefer to jump into the workforce in an entry-level role, you can gain work experience and begin developing a professional network.
Related Articles
2023 Most Affordable Online Associate Degrees in HR
Our 2023 list shows the most affordable colleges for online associate degrees in human resources based on manually collected tuition.
2023 Most Affordable Online Associate Degrees
In 2023, we've ranked the most affordable online associate degrees. Read about each college to find the cheapest online programs with high alumni salaries.