2023 Most Affordable Online Master's Degrees in Biology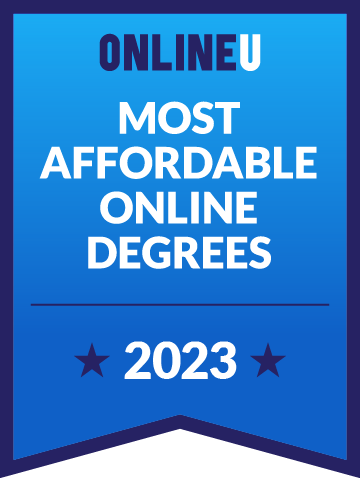 An online master's in biology allows students to study a variety of subjects related to the functions of living organisms and the natural sciences — such as anatomy, evolution, and ecology — as well as engage in the research methods and laboratory skills needed to start a fulfilling career. Given that biology is a broad subject, most programs include concentrations to narrow the scope of study. These options may include molecular biology, zoology, or environmental biology. Coursework covers cell and tissue culture, genome science, biotechnology, and biostatistics, among other subjects. Though we provide a list of exclusively online degrees, some programs may require in-person field work as part of their curriculum.
A master's in environmental science is a similar degree that will produce related career opportunities because it also integrates elements of biology. You can also check out our overall list of the most affordable online degrees for inspiration, or view our methodology for details about rankings and learn more about us.
All tuition numbers were manually collected and verified
Rank
School

Locations

Annual Tuition

# 1
Miami University - Oxford
Oxford (OH)

$6,435

# 2
Colorado State University - Fort Collins
Fort Collins (CO)

$7,050

# 3
Clemson University
Clemson (SC)

$7,485

# 4
Alcorn State University
Alcorn State (MS)

$7,493

# 5
Mississippi State University
Mississippi State (MS)

$8,085

# 6
University of Maine
Orono (ME)

$8,850

# 7
University of Northern Colorado
Greeley (CO)

$9,135

# 8
University of Nebraska at Kearney
Kearney (NE)

$9,702

# 9
University of Florida
Gainesville (FL)

$10,353

# 10
Arizona State University
Tempe (AZ)

(and 4 others)

$10,497
Overview of Online Biology Master's Degrees
The content of online biology master's degree programs varies widely, and the focus of each program is often reflected in the degree's title. You'll find many programs that concentrate on laboratory research in scientific disciplines such as molecular biology, physiology, environmental science, and wildlife studies. Other programs emphasize the use of technology and data in biological science.
Regardless of the type of biology master's program you choose, you can expect to gain advanced knowledge and technical abilities. Coursework is designed to allow you to master laboratory techniques, genetic analysis, data modeling, and computational biology. Among the soft skills you're likely to acquire are problem-solving, communication, and critical thinking.
Throughout the program, you'll be assigned an array of projects that simulate real-world biological research and investigation. These include hands-on laboratory work, field studies, research papers, and collaborative assignments.
Most computer science master's programs require the completion of 30-36 credit hours. Full-time students may be able to finish in one to two years, but part-time learners may need two to three years. Most programs culminate in some type of assignment that allows you to synthesize all that you've learned. It may be a written thesis, capstone project, or comprehensive exam.
Common Courses
Given the diversity in master's programs in biology, there is also a great deal of variation in the courses included in each program. However, some of the core courses you're likely to find are:
In this course, students learn about the structure, function, and evolution of genes and genomes. They will also explore how genetics plays a role in health, disease, and development.
Cellular and Molecular Biology
This course focuses on the structure and function of cells. Students will learn about cellular processes such as signaling, metabolism, and gene expression.
Students learn the principles of ecology and evolution, studying how organisms interact with each other and their environment. They will also explore evolutionary processes and patterns.
Bioinformatics and Computational Biology
This course teaches the use of computer science in the analysis of biological data. Students will learn how to use tools and algorithms to interpret genomic and proteomic data.
Students will explore the application of biological systems in technology, learning how to utilize genetic engineering and molecular biology in industry and medicine.
This course explains the immune system and how it functions. Students will study the molecular and cellular mechanisms of the immune response.
Funding an Online Biology Master's Degree
Before you enroll in an online master's in biology degree program, you'll want to consider how you're going to pay for it. You have a number of funding sources available to you, including savings, income, gifts, and financial aid.
To determine approximately how much money you'll need, we can turn to the National Center for Education Statistics (NCES). The center's data for the 2020-21 school year reveals that the average total annual tuition and fees for graduate programs was $12,394 at public universities and $26,621 at private institutions. Multiplying these figures by the number of years you expect to be in school gives you some idea of the cost.
One way you can save money on your degree is to opt for an online program like one of the most affordable master's in biology degrees listed above. Distance education may allow you to reduce your tuition costs by thousands as many schools feature lower tuition rates for online learners than for on-campus students.
Other money-saving measures include earning extra income from a full-time or part-time job and moving to a more affordable city or state.
Financial Aid
Of course, one of the most common ways to fund a college degree is through financial aid. To apply, just fill out and submit the Free Application for Federal Student Aid (FAFSA). After your request has been reviewed, you'll be notified if you qualify for aid with a Student Aid Report (SAR). If so, you'll then receive a financial aid letter from your school.
Your financial aid package may contain different types of funding from the federal and state government and from your school. Depending on your financial need, you may be offered grants, fellowships, and scholarships, which generally don't have to be repaid. Your aid package may also contain a federal student loan or private student loan, which will have to be repaid with interest.
If you're willing to do some research, you may also find scholarships, grants, and fellowships funded by private organizations. These scholarships may be awarded based on any number of factors, such as your academic record, community involvement, or family heritage. For example, some funding is available to support students in STEM fields. These opportunities are not covered under the FAFSA, so you'll need to submit separate applications to be considered.
What Can You Do With an Online Biology Master's Degree?
With an online master's degree in biology, you can pursue various career opportunities in fields like research, education, healthcare, and environmental management. While some occupations don't necessarily require a master's degree, the Bureau of Labor Statistics (BLS) notes that an advanced degree may be needed for higher-level positions in your field.
One possibility is to become a clinical laboratory technologist or technician. These medical professionals spend most of their time conducting tests for the diagnosis, treatment, and prevention of disease. The median annual salary for this occupation is $57,800, and demand is expected to grow by 7% through 2031.
Other career options focus on studying living organisms in their environment. Environmental scientists, for example, study the Earth's systems to help protect both people and the planet. These scientists earn a median salary of $76,530, and the BLS projects 5% growth over the next decade. Wildlife biologists typically study animal populations, while zoologists often study one particular species. The median annual wage for these researchers is $64,650.
Some occupations, especially in the healthcare field, may require you to obtain a state-issued license for you to practice. Qualifying for licensure usually requires passing a comprehensive exam related to your occupation.
Further Education
Continuing your education by pursuing a doctorate in biology can offer even more specialized knowledge and research opportunities. Earning a terminal degree may lead to higher-paying positions and leadership roles.
For example, with a doctorate, you can become a biochemist or biophysicist, scientists who study the chemical and physical principles of living organisms. According to the BLS, these science professionals earn a median annual income of $102,270, and demand is expected to increase by 15% through 2031.
A PhD in biology is also required to go into academia, where you'll conduct original research and teach future generations of science students. Per the BLS, biological science teachers earn a median annual wage of $81,440. Demand for college professors is expected to grow by 12% over the next decade.
FAQs About Online Biology Master's Degrees
How Do I Choose a Master's in Biology?
---
When you're choosing an online master's in biology program, you'll want to consider several factors. For instance, you should carefully evaluate the program's curriculum to make sure it will help you meet your career goals. You'll also want to look at each school's tuition rates, student services, faculty, and availability of financial aid.
Another criterion you need to take into consideration is institutional accreditation. Enrollment in an accredited program ensures you're receiving a high-quality education that meets professional standards.
What Are the Admission Requirements for Biology Master's Degrees?
---
The admission requirements for a biology master's program vary somewhat, but most graduate schools require you to have a bachelor's degree in biology or a closely related subject, such as a natural science. You may be accepted at some schools if your bachelor's degree is in another subject, but you'll probably need to take quite a few prerequisite courses, which you'll need to include in your budget.
To apply, you'll need to submit your undergraduate transcripts, which should show that you maintained a GPA of at least 3.0. Other common application requirements include a statement of purpose, letters of recommendation, a resume, and possibly GRE scores.
Is a Biology Master's Degree Worth the Cost?
Establishing whether an online master's degree in biology is worth it largely depends on your career goals. While an advanced degree may qualify you for better-paying leadership roles in science, you may never earn a particularly high salary.
Nevertheless, you may still want to pursue a biology master's degree simply for the sake of knowledge. If you're confident this is the right path for you, consider enhancing your return on your investment by choosing an affordable program and taking other cost-cutting measures.
Related Articles
2023 Best Online Biology Degrees
Find the best online biology degrees in 2023 by exploring our list of colleges ranked by popularity.
2023 Most Affordable Online Master's Programs
Explore the most affordable online master's degree programs in 2023 and choose the one that's right for you.