2023 Most Affordable Online Colleges for Aviation Degrees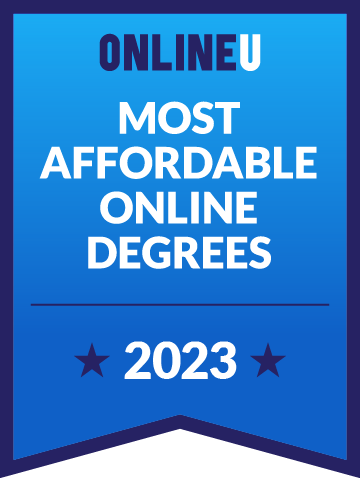 An online bachelor's degree in aviation is designed to provide an excellent foundation for students with a strong interest in the aviation industry. For students who are not aiming to become pilots, many institutions offer programs that cover aviation management and maintenance, which keeps students within the aviation field without having to go to flight school. Some topics covered in an online Bachelor's in Aviation include aviation history, aviation management, and risk factors. Graduates of an online bachelor's in aviation may pursue careers like Air Traffic Controller, Pilot, or Human Resources Manager or continue their education by getting an affordable master's degree in aviation or aerospace engineering.
Explore the most affordable online bachelor's degrees in aviation below. View our methodology for details about rankings or learn more about us. You can also check out our overall list of the most affordable online degrees for some inspiration.
All tuition numbers were manually collected and verified
| Rank | School | Locations | Annual Tuition |
| --- | --- | --- | --- |
| # 1 | Middle Georgia State University | Macon (GA) | $3,410 |
| # 2 | Eastern New Mexico University - Main Campus | Portales (NM) | $6,624 |
| # 3 | Hampton University | Hampton (VA) | $9,000 |
| # 4 | Southern Illinois University - Carbondale | Carbondale (IL) | $9,645 |
| # 5 | Utah Valley University | Orem (UT) | $9,900 |
| # 6 | Lynn University | Boca Raton (FL) | $9,950 |
| # 7 | University of Wisconsin - Oshkosh | Oshkosh (WI) | $10,800 |
| # 8 | Kansas State University | Manhattan (KS) | $11,250 |
| # 9 | LeTourneau University | Longview (TX) | $11,400 |
| # 10 | University of North Dakota | Grand Forks (ND) | $13,049 |
Overview of Online Aviation Bachelor's Degrees
Online bachelor's degrees in aviation provide aircraft maintenance, management, and operation training. Coursework not only covers aviation safety, meteorology, and flight physics, but students also explore the airline industry, including standard policy, law, and labor issues related to commercial airline companies.
An aviation bachelor's degree takes approximately four years to complete on a full-time schedule. Students must have a minimum high school diploma to be accepted for enrollment, although some schools ask that applicants possess a mechanic's or pilot's license.
Concentrations allow students to narrow their coursework to fit their career goals, such as air traffic management, aviation design, flight operations, and aeronautical maintenance. Upon graduation with an online aviation degree, students can pursue their pilot's license, apply for entry-level roles in airplane maintenance and project management, or continue their education.
Although airline pilots don't legally need a bachelor's degree to fly commercially, most employers prefer candidates who have one. Students wishing to gain leadership roles that oversee pilots — such as directors, operations managers, and chief executive officers — should pursue an online aviation master's degree. These programs offer lower tuition costs and feature advanced aviation law, aeronautics, airport operations, and leadership training.
Common Courses
Aviation degrees are comprehensive and feature practical and theoretical training in everything from aircraft maintenance to the psychology of piloting. For students to better understand the classes they'll encounter, here are three common courses found in aviation degrees:
This course explores aviation safety through human-machine interactions, such as flight deck designs, and the psychology of humans in aviation environments, such as a flight crew's communication and cognitive abilities.
This technical course focuses on modern-day aircraft's mechanical, electric, and electronic systems, including ice protection, takeoff and landing, fuel, and flight control.
Aviation meteorology looks at flight-related weather such as icing, turbulence, and low level windshear. Students train in weather theory and data collection to prepare pre-flight weather briefings and reports.
Funding an Online Aviation Degree
Getting an education is expensive, and finding an affordable online aviation degree can be challenging for low-income students. According to the Education Data Initiative, the average cost of a college education in the United States is $36,400 per year, rising 2% annually over the past decade.
Unfortunately, aviation degrees are no exception, which is why many aspiring aviation professionals opt for online schools with low tuition. Online degrees are less expensive than in-person programs by $36,600. They're also more convenient, allowing students to learn on their schedules and from the comfort of their homes. Aspiring pilots are required to log practical flight hours, but much of the theoretical studying can be completed remotely.
There are other ways to make college cheaper, such as attending a less expensive in-state school. The most affordable aviation degrees offer in-state tuition rates for all online students, no matter where they reside, making it easier to choose a school based on curriculum rather than location. Another option is to earn two years' worth of aviation credits through an associate degree at an affordable online community college before transferring to a four-year university.
Many students work part-time during their bachelor's degree programs to help fund their studies. Entry-level jobs such as ticketing agents, cargo handlers, and flight attendants offer steady part-time work and airline industry experience.
Financial Aid
Many students pay for tuition through financial aid provided by the federal government. In fact, 84% of college students receive federal money to fund their academic ambitions. These typically come in the form of student loans, work-study programs, and Pell Grants.
Most students apply for loans through the Federal Application for Federal Student Aid (FAFSA), which determines eligibility based on income, family contributions, and the cost of the degree. Students must repay these loans with interest, although payment plans are available.
Other forms of financial aid, such as grants and scholarships, don't have to be paid back. Pell Grants, for example, are federal grants given to students with exceptional financial needs. Scholarships can be needs-based but are also awarded to students who showcase substantial academic achievements or skills. The Federal Aviation Administration offers resources for aviation scholarships from various flight organizations and airline companies.
What Can You Do With an Online Aviation Degree?
Many aviation students have dreams of becoming pilots, but that's not the only career worth pursuing. Aviation graduates can earn a living in several ways, both in the sky and on the ground. There are administrative roles in airport management, technical positions in airplane maintenance, and teaching roles in flight instruction.
Bachelor's graduates may also continue their online education at the graduate level by pursuing affordable master's degrees in aviation. These degrees are more advanced and feature specializations in safety, finance, avionics, and engineering. They often culminate in leadership careers such as aviation project managers and airport operations directors.
Below are a few common careers earned by aviation bachelor's graduates with data from the Bureau of Labor Statistics (BLS):
Median Annual Salary:
$65,550
Avionics technicians specialize in the repair and maintenance of electrical systems on aircrafts. These systems operate critical components, such as navigation and communication instruments. Tasks include analyzing flight data to diagnose issues, installing entertainment systems, and repairing radars. Digital technology is vital in aviation, making avionics technicians critical to maintaining in-flight computer systems.
Median Annual Salary:
$134,630
The role of commercial pilots is to transport cargo and passengers safely. They're responsible for preparing aircraft for flight, including balancing weight, managing fuel, navigating routes, and monitoring the weather. Commercial pilots may work as instructors teaching students to fly, airline passenger pilots, and helicopter pilots.
Median Annual Salary:
$129,750
Air traffic controllers organize and supervise the movement of aircraft. Their primary responsibility is to maintain a safe environment for busy aircraft environments. They often work in airport towers to coordinate runway and taxiway operations, terminal control centers to manage approach and departure safety, and traffic control centers to monitor national airspace.
FAQs About Online Aviation Degrees
How Do I Choose a Bachelor's in Aviation?
---
Students can choose the best bachelor's degree in aviation for them by considering their career goals. Aviation degrees often feature concentrations that allow for tailored coursework, such as maintenance, homeland security, and flight operations. It's also important to consider experience. Students can gain an advantage in their program by building on their work and study experiences in aviation.
Another vital consideration is affordability. Students should explore tuition costs at different schools to find the one that best fits their financial circumstances. Most schools offer financial aid and scholarships but may have different eligibility requirements related to income, experience, and essays.
Is Aviation a Difficult Major?
---
Aviation majors are not considered more difficult than similar programs that combine technical and administrative training. Undergraduate-level courses in aviation are entry-level and designed to lay a foundation for more advanced learning down the line. Some students may excel at memorizing expansive lists of flight regulations, while others find their skills better applied to turbine engine mechanics. In general, students should be on the path toward achieving their degrees as long as they are motivated to study the materials.
How Much Can You Make With an Aviation Degree?
---
Earnings from an aviation degree vary based on students' previous experiences. For example, military students may have worked in carrier maintenance, while civilian students may have already earned pilot licenses. According to the BLS, pilots in the lowest 10 percent of earners make a median salary of $100,100, while the highest 10 percent made more than $208,000.
Are Aviation Degrees Worth It?
An aviation degree can lead to many exciting career opportunities in the military, aircraft maintenance, aviation science, and the airline industry. Although bachelor's degrees can be expensive, affordable aviation degrees, scholarship opportunities, and financial aid allow students to pursue their academic dreams on a budget.
Coursework is comprehensive but easily customized to fit career goals through concentrations. Ultimately, the passion for working with aircraft drives aviation students to succeed. Although graduates may start by earning a modest salary, their income rises significantly with experience. This is especially true for commercial pilots, where salaries can rise above six figures. However, money doesn't have to be earned in the sky, as aviation degrees equip students with knowledge in airport operations, meteorology, and airplane maintenance.
Related Articles
2023 Most Affordable Online Colleges & Degrees
Explore the top affordable online colleges of 2023. Find cheap online associate, bachelors, master's, and doctoral degrees.
2023 Most Affordable Online Master's Degrees in Aerospace Engineering
Discover the most affordable colleges for online master's degrees in aerospace engineering from our 2023 list of programs.