2023 Most Affordable Online Colleges for Art Degrees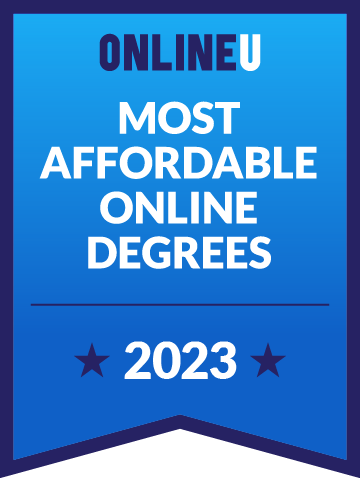 An online degree in arts and design is an excellent choice for distance learners to develop their creative talents in a virtual environment. Arts and design is an umbrella term for several specialties, including graphic design, creative writing, web design, animation, filmmaking, and more. In general, online arts and design program curricula cover topics like art history, advanced writing, programming, and 3D graphics. Potential careers for graduates of an online bachelor's in art and design include art director, web designer, journalist, and illustrator, to name a few.
Explore our top picks for affordable online bachelor's degrees in art and design below. View our methodology for more details about rankings or learn more about us. You can also check out our overall list of the most affordable online degrees for more inspiration.
All tuition numbers were manually collected and verified
Rank
School

Locations

Annual Tuition

# 1
University of Iowa
Iowa City (IA)

$8,356

# 2
Southern New Hampshire University Online

Manchester (NH)

$9,600

# 3
Liberty University

Lynchburg (VA)

$13,869

# 4
Lindenwood University
Saint Charles (MO)

$14,250

# 5
Prescott College
Prescott (AZ)

$14,940

# 6
University of Florida
Gainesville (FL)

$15,158

# 7
DeVry University

Multiple Locations

$15,934

# 8
Maharishi International University
Fairfield (IA)

$16,000

# 9
Arizona State University
Tempe (AZ)

(and 4 others)

$17,430

# 10
The University of Montana
Missoula (MT)

$22,980
Can You Go to Art School Online?
Very few schools offer online courses in the traditional visual arts, such as painting, drawing, and sculpture. However, many online schools have developed distance learning programs for creative fields that blend art with technology, including digital photography, graphic design, web design, animation, and video game design. Earning an online four-year degree in one of those subjects can help prepare you for a creative career, but if you're committed to pursuing a degree in the traditional arts, you should consider on-campus programs.
Art and Design Degree Quick Facts
Average Credits: 120
Average Duration: 4 years
What is the Best Online Art and Design Degree to Get?
If you're planning to pursue a creative field through online learning, you may want to focus on one of the technology-oriented arts. Based on data from ONET Online regarding well-paying, high-growth fields, a few of the most promising art and design subjects to study online include web design, video game design, and animation and 3D graphics.
Online Art and Design Courses
Art and design programs typically start with foundations in art and art history, progress through courses related to your area of specialization, and culminate in a capstone course designed to help you polish your professional portfolio of work. Some of the most popular online classes in art and design include:
Digital Imaging: This graphic arts course will provide you with an essential understanding of how digitized art must be prepared for use in electronic media and in print. You will most likely learn to use the Adobe Creative Suite or similar software programs.
Digital Photography: Although there are entire degree programs devoted to digital photography, design students are often required to take a summary course on the subject. Coursework will enable you to learn how to use a digital camera, how to create various light effects, and how to use photo editing software to enhance your images.
Introduction to Web Design: Typically a hands-on, application-oriented course, you'll learn the basics of HTML, CSS, and possibly other languages and programs to build websites. Your technical skills will be enhanced with an understanding of appealing visual design and usability.
Principles of Design: This fundamental course is included in nearly every art and design program. You'll learn to utilize the formal elements and principles of design, especially color, and you may be introduced to the basics of typography. Problem solving and decision making are important skills that art students develop through this course.
3D Graphics Basics: While gaining experience in using industry-standard software, you'll learn the fundamentals of creating 3D motion graphics. Hands-on projects will introduce you to the process of storyboarding and rendering graphic objects and animations.
Cost of Online Art and Design Programs
The 11 schools on our list offer the most affordable online art and design degrees available, with annual tuition averaging $16,694, typically for 30 credit hours per year. In many cases, tuition rates for online students are comparable to those for in-state students. You may also save money on housing, transportation, and other fees by living at home or off campus while earning your online degree, which can help with affordability.
The 11 schools on our list offer the most affordable online art and design degrees available, with annual tuition averaging $16,694.
Funding an Online Art & Design Degree
Students who enroll in accredited, online degree programs in art, graphic art, and design may be eligible for financial aid. To begin the application process, students should complete and submit the Free Application for Student Aid (FAFSA). Once this form has been reviewed by representatives of both the federal government and the schools, the applicants will receive a letter that details the type and amount of financial aid being offered. If applying to multiple schools, the offers from each school may be the deciding factor as to which program the student will choose. If students have any questions about their financial aid offers, they should contact the financial aid representatives at the college(s) they have applied to.
The best offers include scholarships or grants, which may come from the federal government, the state government, or from the college itself. Unlike student loans, grant and scholarship money does not have to be repaid. Applicants who are offered a student loan should review the loan terms carefully. Federal student loans are generally preferred over private student loans, which typically feature higher interest rates and more stringent repayment plans.
Online art and design majors may want to consider applying for the following private scholarships and/or participating in these art competitions:
---
Art and Design Careers
Online bachelor's programs in art and design prepare art students for occupations that combine creativity with technological skills, many of which are highlighted in the Bureau of Labor Statistics Occupational Outlook Handbook. For example, graduates may become animators, with a median annual salary of $77,700, or digital designers, who earn a median annual salary of $77,200.
Graphic design has also been a popular choice for many years, although the BLS reports that demand for graphic designers is expected to decline by 4% over the next decade. On the other hand, the job market in web design, UX/UI design, 3D design, video gaming, and animation remains strong, with demand for several of these occupations projected to grow 4%-8%.
After gaining several years of experience, some designers move into management positions as art directors, where they guide the vision and direction of an organization's brand presentation. At this level, art directors earn a median annual salary of $97,270.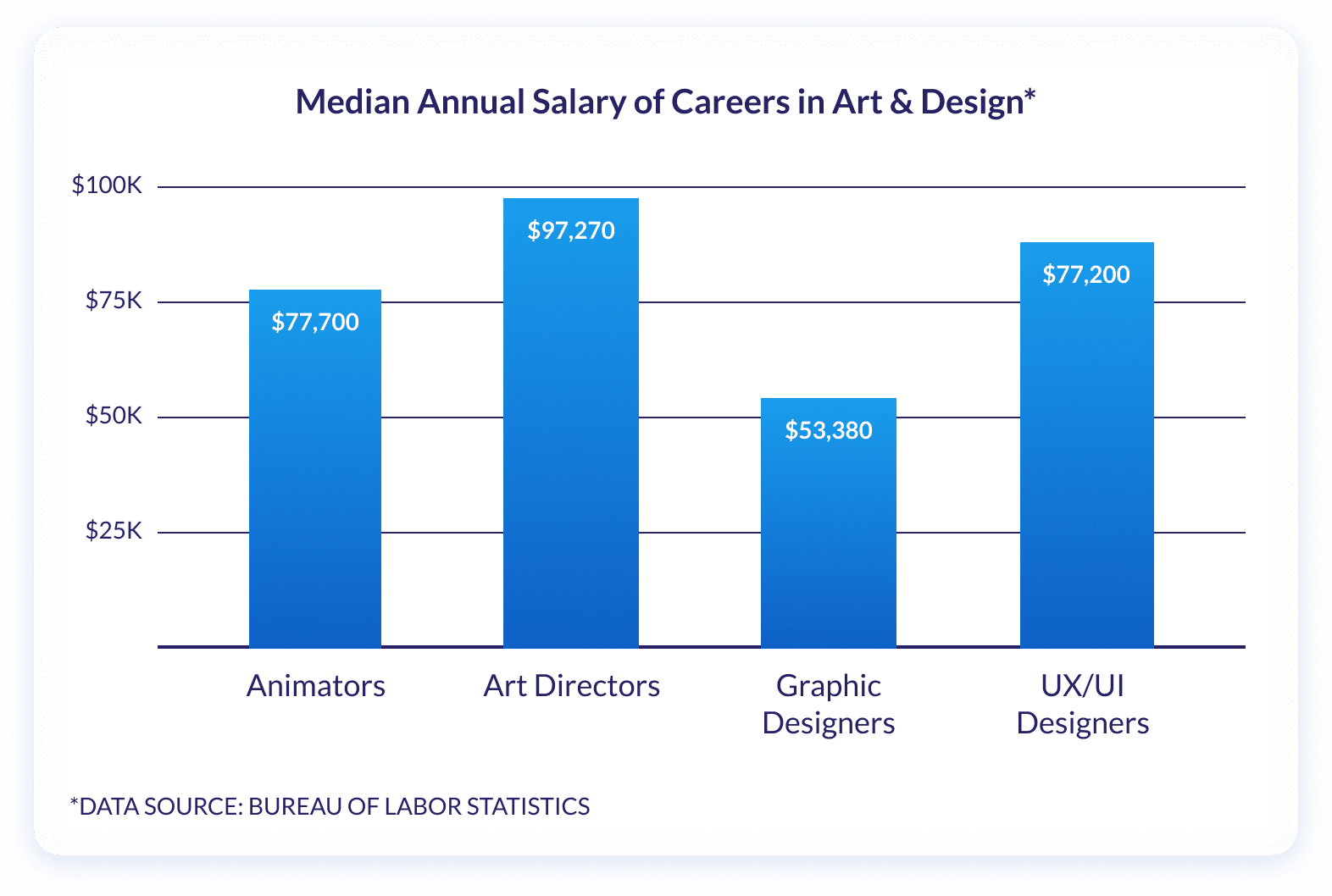 Is an Online Art Degree Worth It?
A college degree is not required to thrive in some creative fields like fine arts and web design. Many talented individuals with artistic skills and drive have been successful without one, and that may turn out to be the best path for you, depending on your personal circumstances and career goals. However, an undergraduate degree is strongly recommended for other fields, such as graphic art, animation, and game design, and most professionals hold degrees. Additionally, all of these occupations are highly competitive, and the technical skills and business acumen you gain from earning an online degree in art and design may give you a competitive edge.
Related Articles
2023 Best Online Art Design Degrees
Read our list of the best online bachelor's degrees in art and design in 2023. Choose the best online program that fits your needs.
2023 Most Affordable Online Colleges & Degrees
Explore the top affordable online colleges of 2023. Find cheap online associate, bachelors, master's, and doctoral degrees.