2023 Most Affordable Online Master's Programs in Architecture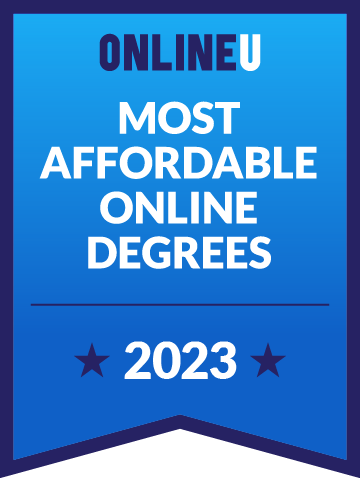 An online master's in architecture is designed for those interested in planning, designing, and overseeing the creation and development of buildings — both inside and out. Online master's programs help both full-time students and established professionals develop the skills and gain the knowledge necessary to pursue leadership roles in architecture. Many colleges with an online master's in architecture have programs that explore topics like the history of architecture, architectural technology, and interior materials. Graduates in architecture may pursue a range of careers, such as landscape architects, lighting designers, and production designers, to name a few.
View our methodology for details about rankings or learn more about us. You can also check out our overall list of the most affordable online degrees for more inspiration.
All tuition numbers were manually collected and verified
Overview of Online Architecture Master's Degrees
An online master's degree in architecture is designed to provide you with a comprehensive understanding of the design, planning, and management of the built environment. Individual courses take a deep dive into various aspects of architecture, such as environmental design, energy-efficient building methods, and object and interior design.
The course curriculum often includes studio-based design projects, theoretical essays, and research-based assignments that explore various architectural concepts and applications. In the process of completing these projects, you can expect to hone your technical skills in the use of advanced computer-aided design (CAD), building information modeling (BIM), and other tools for architectural visualization. You'll also develop soft skills like collaboration, problem-solving, critical thinking, and project management.
Online architecture master's programs require 30-48 credit hours. Some programs are meant to be completed in 12-18 months of full-time study, while others may take up to three years.
To be accepted into an accredited master's program in architecture, you'll need to hold a bachelor's. Most graduate students have earned a bachelor's degree in architecture or possibly civil engineering. Those who majored in other subjects as an undergraduate may need to take up to one year of prerequisite courses before beginning their master's-level courses.
Common Courses
Online master's programs in architecture usually involve 10-15 classes, including a thesis project, which may account for 3-10 of the total credit hours required. The following are some of the core courses you may find in your graduate architecture program:
Architectural Design and Theory
Students delve into the complexities of architectural design, learning how to integrate various principles, materials, and technologies to create functional and aesthetically pleasing structures. Design projects allow students to apply what they're learning in the course.
This course focuses on sustainable design practices that allow architects to minimize the use of energy and water. Course materials explore the principles of green building, efficiency, and eco-friendly materials.
Historical Perspectives on Architecture
Students explore significant architectural movements throughout history, examining their influence on contemporary practices. Coursework may focus on regional design trends and practices.
Advanced Building Information Modeling (BIM)
Building upon their previous experience, students learn to use advanced BIM software, which is used to visualize, design, and manage building projects more efficiently.
This course familiarizes students with the legal and ethical aspects of architectural practice. Topics may include project management, contracts, and building codes.
Advanced Structures and Materials
In this course, students gain an in-depth understanding of the various materials used in construction and their structural implications.
Funding an Online Architecture Degree
Earning an online master's degree can be expensive. Tuition rates vary dramatically, but the National Center for Education Statistics has collected data from schools across the country to establish some average total annual tuition and fees for all graduate programs. This NCES data shows that the annual tuition and fees average $12,394 at public universities and $26,621 at private institutions.
Fortunately, there are several steps you can take to help save money while pursuing your graduate degree. Some possibilities are listed below:
Earning your degree through distance education. Going to school online may allow you to save on tuition, especially if you choose one of the affordable online architecture degree programs listed above. At many schools, the tuition rate for online students is the same or possibly lower than the rate for in-state, traditional students. Additionally, learning from home means you won't have to pay for transportation or on-campus room and board.
Finding an inexpensive place to live. If you're attending school online, you can live anywhere you want. That means you can choose an economical place with a lower cost of living while you're in school.
Choosing a state-run university. If you're looking for additional cost-effective programs, you may find some at public schools. Based on the NCES data shown above, tuition and fees at public universities may be less than half of private school rates.
Working at a full-time or part-time job while going to school. By working, you may be able to generate extra income that you can put toward your degree. There are pros and cons to this approach — for example, you may have to take fewer courses each semester — but graduating with less college debt may be worth it. Also, depending on your circumstances, your employer may offer tuition reimbursement.
Financial Aid
Another means of funding at least part of your graduate degree is by obtaining financial aid. Funding for students with financial needs comes from several sources, including the federal and state governments and the universities themselves. Private scholarships may also be available.
As long as you're enrolled in an accredited program, you may be eligible for grants, fellowships, and scholarships. These are the best types of aid to receive because they don't have to be paid back.
However, if you don't qualify for these types of aid, you may be offered a federal or private student loan. Loans do have to be repaid — and with interest, which can add a significant amount of money to your loan. If you're considering a loan, you may want to calculate the total cost by using our student loan repayment calculator.
Applying for most types of financial aid is fairly straightforward, requiring only one form known as the Free Application for Federal Student Aid (FAFSA). After your application has been evaluated, you'll receive a Student Aid Report (SAR) that lets you know if you're eligible for financial aid. Your school will then send you an offer detailing the specific kinds and amounts of aid you may receive.
What Can You Do With an Online Architecture Degree?
With a master's degree in architecture, you can become a licensed architect, possibly specializing in designing certain types of buildings or utilizing a particular design style. According to the Bureau of Labor Statistics (BLS), a master's degree qualifies you for more complex and interesting projects, and in time it may allow you to step into a managerial position.
A master's degree is not required to become an architect — only a bachelor's degree in architecture is needed.
A master's degree is not required to become an architect — only a bachelor's degree in architecture is needed. Bearing this in mind, the BLS states that the median annual salary for all architects, regardless of degree level, is $80,180. A master's degree, however, may position you for an income level closer to the top end of the range for architects, $129,980.
Obtaining a state-issued license to practice as an architect is a lengthy process. Although there is some variation in each state's licensure requirements, most states require you to complete a degree from a program accredited by the National Architectural Accrediting Board (NAAB), fulfill a paid internship in architecture — which may last up to three years — and pass the Architect Registration Examination. To retain your license, you'll need to complete a certain number of hours of continuing education.
Some graduates with master's degrees in architecture pursue other career paths. However, you'll probably need additional education or certification to become a construction manager, urban planner, or another related occupation.
FAQs About Online Architecture Degrees
How Do I Choose a Master's in Architecture?
---
Selecting the right online master's program in architecture is a personal choice based largely on your own priorities. Among the key factors to consider are the curriculum, online format, noteworthy faculty, and the school's online support services.
Above all, however, you'll want to choose an architecture program that has earned both institutional and programmatic accreditation. In addition to institutional accreditation for the entire school, look for programs that have been accredited by the NAAB. Per the BLS, NAAB accreditation is likely to be a requirement for licensure in your state.
How Long Is an Architecture Degree?
---
There is a fairly significant amount of variation in architecture master's programs. Some require about 30 credit hours, which can be completed in 12-18 months. Others require as many as 48 credit hours, which could take two to three years. Program length also depends on whether you're studying full time or part time.
What Are the Admission Requirements for Architecture Degrees?
---
Generally speaking, you'll need a bachelor's degree from an accredited institution to be accepted into a master's program in architecture. You'll also need to demonstrate that you earned a GPA above a certain minimum, which could be 2.5 or 3.0.
Your undergraduate degree may be in architecture or a related field, such as civil engineering. If you haven't studied architecture before, you may still be accepted, but you'll be required to take quite a few prerequisite courses before starting the master's program. These additional courses could significantly drive up the total cost of the degree.
Is a Master's Degree in Architecture Worth the Cost?
Pursuing a master's degree in architecture is a personal decision based on your career goals and individual circumstances.
The BLS notes that, although a master's degree is not required to become a licensed architect, many architects have earned master's degrees. You may find that you need an advanced degree to remain competitive in this field.
A master's degree may also equip you for more advanced types of projects and for managerial roles. These higher-paying positions may help you realize a greater return on your investment in education, making an online architecture degree worth it.
Related Articles
2023 Most Affordable Online Master's Degrees in Web Design
Find the most affordable colleges for online master's degrees in web design from out 2023 list of accredited online schools.
2023 Most Affordable Online Master's Programs
Explore the most affordable online master's degree programs in 2023 and choose the one that's right for you.