Which schools land you a job at Pfizer, Moderna, and J&J?
We took a deep dive into LinkedIn data to find the schools and programs that have the most success at getting students into top vaccine development companies.
By: Shadi Bushra | Updated: 1/26/2022
Key Insights:
Rutgers University is the top school for getting grads into the companies that developed COVID-19 vaccines (Pfizer, Moderna, and Johnson & Johnson).
Moderna has a highly focused geographic approach to recruiting that favors graduates from the Massachusetts area.
Chemistry and Biology, and their many offshoots, are the best fields to make it into one of these firms' research labs. But some of the companies' research departments were also keen on Economics, Mathematics, and Animal Sciences majors.
The speed and efficacy of the COVID-19 vaccine production has inspired many students to consider joining the next wave of vaccine development. Now, the question is: what is the best path to landing a job at one of the top companies for vaccine development?
Unfortunately, there aren't currently any reputable studies on which schools and programs give today's students a chance to join tomorrow's vaccine developers. This study aims to arm those eyeing a career in vaccine research with a data-driven look at the best colleges for starting a career in vaccine research. We used LinkedIn data from over 29,000 employees in Pfizer, Moderna, and Johnson & Johnson's research departments to understand where their current workforce graduated from.
Though this study is focused on giving students the tools they need to make the best college and career decisions for themselves, there are several other potential audiences for this study.
Meanwhile, pharmaceutical companies can use parts of our research to help refine their own recruiting process to emulate the successes of Pfizer, Johnson & Johnson, and Moderna. The federal government, a major funder of this kind of research, can use this fresh set of data to boost recruitment into its own vaccine development powerhouses, such as the National Institutes of Health and the U.S. Army Medical Research Institute of Infectious Diseases.
Which schools offer the best path to becoming a researcher for Pfizer, Moderna, and Johnson & Johnson?
Our research brings a data-driven approach to the recruiting process of the three companies that brought us the COVID vaccines. From this, we can understand which programs and colleges bring students the best chance at getting into the research labs of these three companies.
First, it is worth noting our sample size of researchers: Pfizer and Johnson & Johnson have similar numbers of people on their research teams (14,643 and 13,261, respectively). Meanwhile, despite its status as a darling of Wall Street and the scientific startup community, Moderna's sample size of 1,137 is less than one-tenth of Pfizer and Johnson & Johnson's research departments. This will inevitably skew how the data may look but not necessarily the story the data is telling.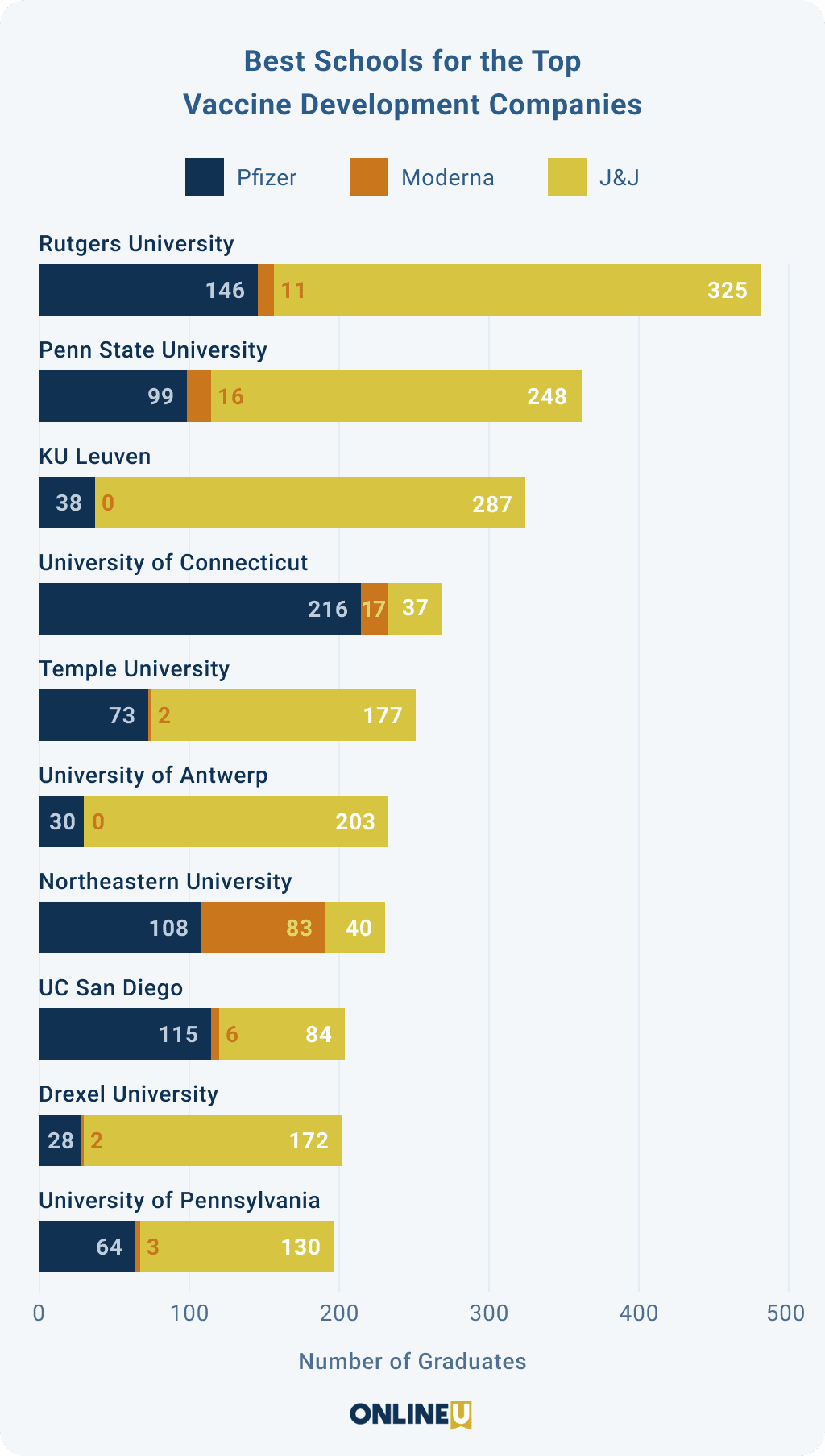 Rutgers has the highest total number of graduates working for Pfizer, Moderna, and Johnson & Johnson, with 482 graduates working as researchers. Of these graduates, 325 are working at Johnson & Johnson alone. Rutgers is followed by Penn State (363), then Belgium's KU Leuven (325), and the University of Connecticut (270). The University of Connecticut has the largest share of graduates at Pfizer, with 216 graduates working as researchers there.
Despite having less than a tenth of its competitors' research department size, Moderna is still present at most of these Top 10 schools for overall research-related graduates working at one of these three firms.
In fact, the only schools that send no graduates to Moderna are the two Belgian schools on the list, KU Leuven and the University of Antwerp. While Pfizer and Johnson & Johnson both recruit talent from these two schools, it is clear that Johnson & Johnson is the company more interested in some of Belgium's top research talent.
Moderna is an outlier in another way: only one of the top five universities it recruits from, Northeastern, appears in the overall Top 10. This suggests that Moderna's recruitment pipeline is largely separate from those of other pharmaceutical companies.
In contrast, all of Johnson & Johnson's top five feeder schools appear on the list.
Pfizer falls somewhere in the middle of these extremes. While it gets a large proportion of its researchers from UConn and Rutgers, there are other schools it draws heavily from that are not in the overall Top 10, as the next section shows.
Pfizer
Where Do Pfizer Researchers Graduate From?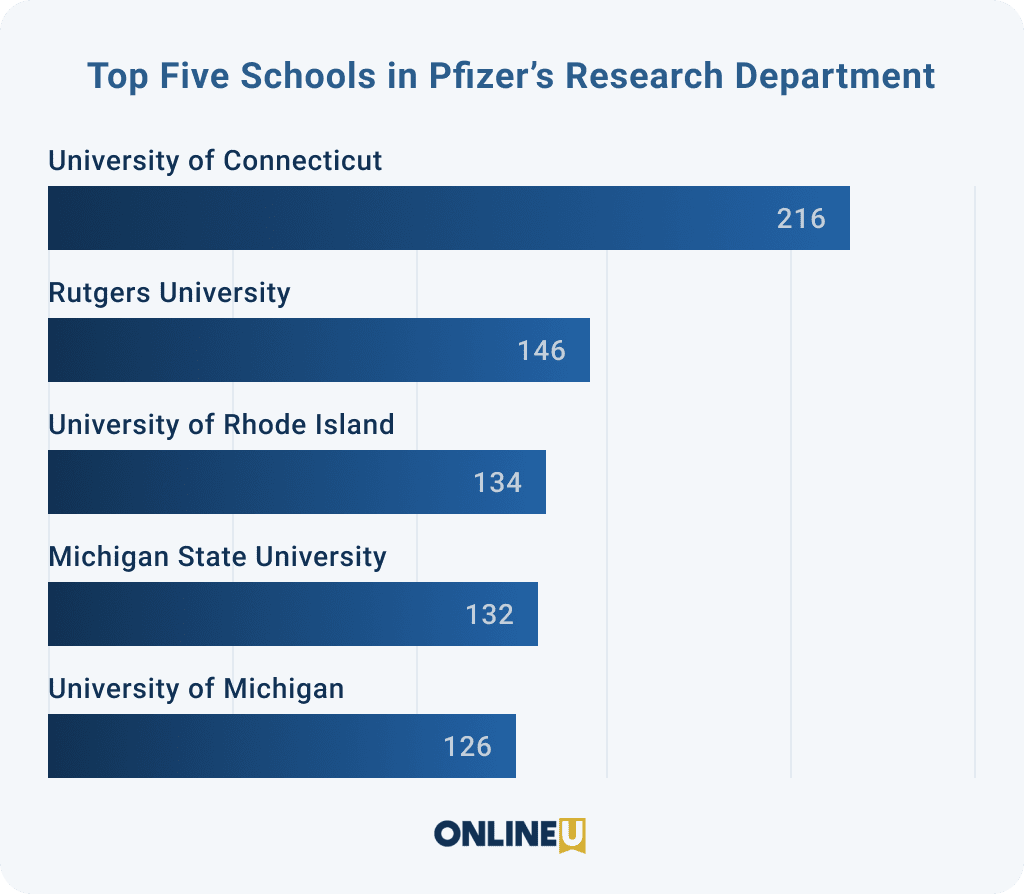 Pfizer is quite geographically diverse in its recruiting, although the Northeast states are still prominent: UConn, Rutgers, Northeastern, U of Rhode Island, U Massachusetts, Penn State, and Boston U are all in its top 15. However, so are two schools from Michigan and two in Dublin, Ireland. Pfizer's list rounds out with UC San Diego, North Carolina State, and Purdue. The company is not afraid to look to all corners of the U.S. and beyond for qualified employees. As we will see this marks a stark contrast to Moderna.
What do Pfizer Researchers Study?
Looking at the top five schools in Pfizer's research department, we see it pulls heavily from graduates of the sciences, particularly chemistry, biology, and their related disciplines such as Biochemistry and Chemical Engineering.
Animal Sciences was also in the top majors at UConn, Michigan State, and the University of Rhode Island. The program can lead to various careers, ranging from veterinary care to animal disease studies. This can be particularly important in vaccine development because so many of the viruses and bacteria that pose a risk to humans first mutate, evolve, and mature in other species before jumping to humans. These "zoonotic diseases" are likely to become more dangerous in the future, as humans continue to encroach on animal habitats and interact with previously untouched species.
Johnson & Johnson
Where Do J&J Researchers Graduate From?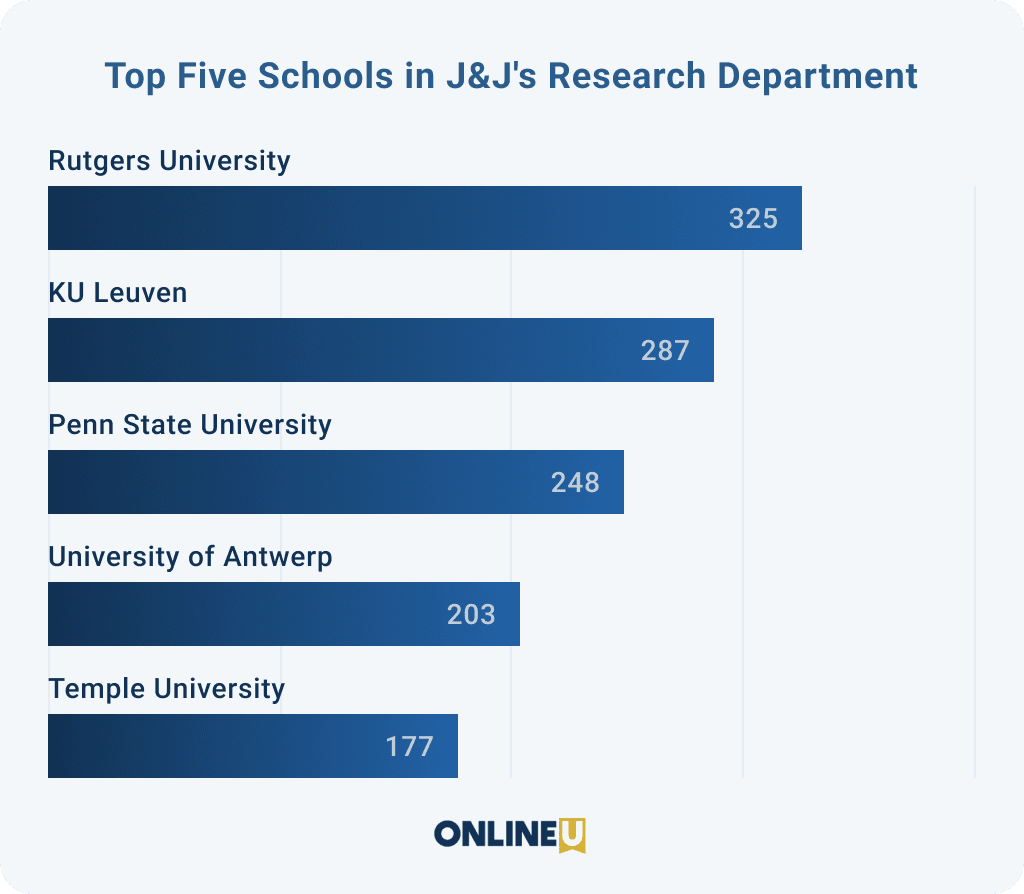 Like Pfizer, Johnson & Johnson is a major multinational company that, on the whole, hires from a wide range of schools. However, Rutgers here moves up a place to become J&J's number one source of vaccine researchers. The other two U.S. schools, Penn State and Temple University are short drives from Rutgers, as well as J&J's headquarters in New Brunswick, New Jersey. Two universities from Belgium, KU Leuven and the University of Antwerp show a distinct pipeline of researchers from Europe as well.
What do J&J Researchers Study?
As a pharmaceutical company, it is no surprise that chemistry, biology, and related topics dominate J&J's research. However, unlike the other two companies, Johnson & Johnson hires Economics and Mathematics majors from its top five feeder schools. From Rutgers, Economics majors trail only Chemistry and Biology as the top majors in the company's research department.
Meanwhile, Belgium's KU Leuven and the University of Antwerp each send several dozen mathematicians to the J&J research labs. Neither economics nor mathematics majors feature among the other companies' top five majors from their top five schools.
The school seems to seek out very specialized graduates from Temple University: "Pharmacy Administration and Pharmacy Policy and Regulatory Affairs," suggesting the company sees regulatory compliance as important. It also hires a number of Quality Assurance majors from Temple.
Moderna
Where Do Moderna Researchers Graduate From?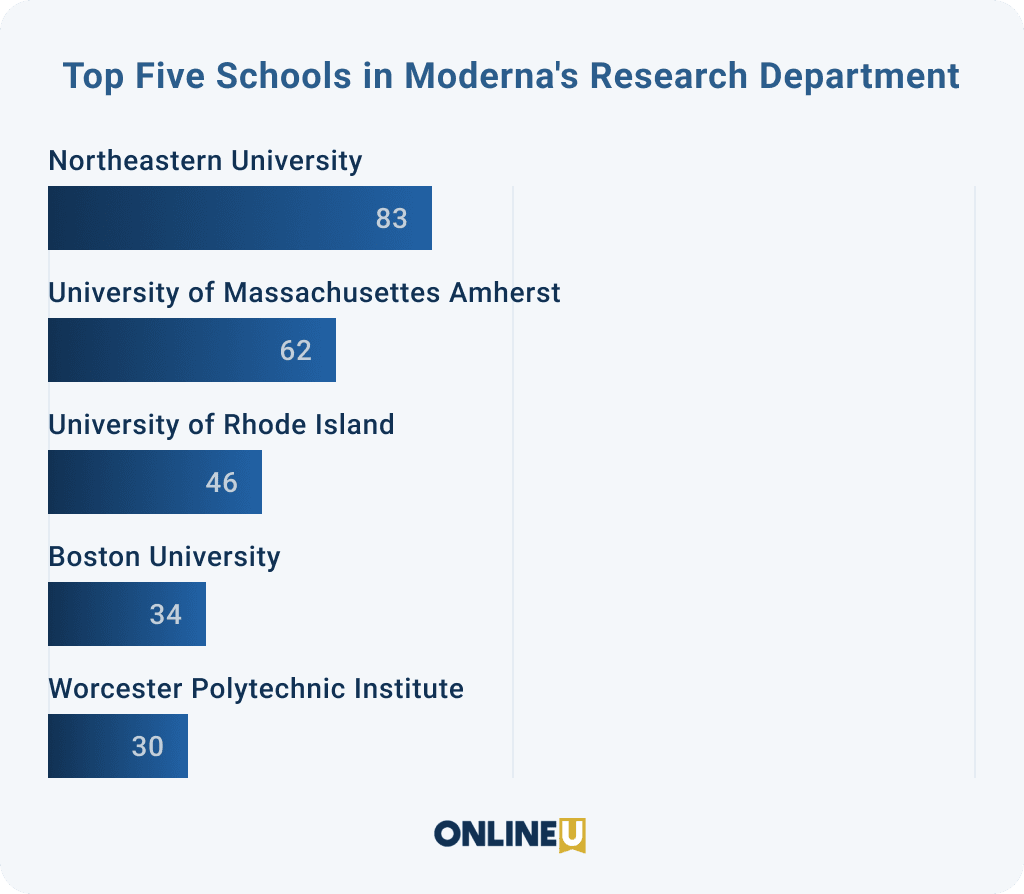 Moderna's recruiting strategy appears to be quite geographically focused. Its top feeder schools are all within a couple hours' drive from the company's headquarters in Cambridge, Massachusetts. This is in keeping with its size and history as a startup based in the area. The tight geographic focus mirrors its singular goal of being the best mRNA vaccine company it can be, as opposed to a worldwide pharmaceutical company.
What Do Moderna Researchers Study?
As the smallest company by far of the three vaccine developers, Moderna's approach to recruitment from its top five schools appears to be one of hyper-specialization. Biotechnology, Microbiology, Biochemistry and Molecular Biology, Chemical Engineering, Bioengineering and Biomedical Engineering, and Genetics make up a significant portion of the company's research department.
The rest of its top majors, meanwhile, are more in line with the other companies: Biology, Chemistry, and Pharmaceutical Sciences. But unlike the other companies, they do not spend their limited hiring resources on anything that is outside of their very specific mission of bringing mRNA technology to bear on diseases and disabilities.
The importance of vaccine developers, and how to join them
It's tempting to forget how hard it was to imagine a return to normalcy before vaccines were conceived, developed, studied, refined, approved, manufactured, distributed, prioritized, and, finally, administered. Such vaccines came to us because some of the world's most ingenious and hardest-working minds, building on centuries of humanity's scientific advances, created new technologies and rethought old ones to bring them to bear on the problem of the day.
There are opportunities for others who aspire to join the kinds of research teams that made these life-saving, history-altering vaccines. These kinds of research teams exist at Pfizer, Johnson & Johnson, Moderna, and a host of other medical companies and institutions around the world. While there are many paths to vaccine development, our research has found that several schools' chemistry and biology programs serve as the best feeders to Pfizer, Moderna, and J&J, with Rutgers leading the way. Meanwhile, Moderna's recruitment choices show how a small, but singularly focused research team seeks out hyper specific majors. And, perhaps surprisingly for a U.S. audience, Belgium had two universities in the Top 10 feeder schools for these American companies.
The work done to make the vaccines was undeniably heroic. However, the enormity of the tasks ahead — of further distributing this vaccine and of preparing for the next pandemic — is all the more reason to consider a career in vaccine development. We should be inspired by the medical miracles of the past years, and eager to help conjure even greater marvels in the future.
Methodology
Our study included data for 29,041 employees of Pfizer, Johnson & Johnson, and Moderna working in each company's research department. Data was collected from each business's LinkedIn page. Data collection occurred from January 18 to January 24, 2021.
Data Limitations
Due to the nature of LinkedIn data, these numbers are not absolute. Some graduates may not use LinkedIn or keep their employment information updated. The data also may not capture graduates who worked for a top firm out of college but currently work for a different firm. However, LinkedIn is the best source of accessible information on these employment outcomes that allows for accurate and fair comparisons across schools.