New Data Shows Top Companies Hiring Florida's Online Grads
Employment outcomes for over 74,000 Florida alumni highlight aerospace and defense companies as top employers for online graduates
Key Insights:
Department of Defense is the largest employer for Florida's online alumni, with 8% working for the Air Force
Aerospace and manufacturing companies are also popular, with Lockheed Martin and Boeing as top employers
Finance, insurance, and business services drew 30% of graduates
Florida is known for its robust economy and the unique industries that feed it. For most students considering an online degree, where they'll get a job after graduation is a top concern.
To find out how recent graduates fare after earning their degree online, we took a deep dive into employment outcomes at nine popular online colleges in Florida. Our study includes the most popular employers for each school and a breakdown of salary potential for related majors.
We give each major at a college a Salary Score based on median alumni starting salary compared to the median earnings for the same majors across U.S. universities. Our guide to Salary Score provides a detailed breakdown of this process.
More than half (64%) of the alumni remain in-state, indicating these schools serve the local Florida community.
While these data points include graduates from online and campus-based programs, each school was selected for its strong online offerings. Most of the schools served a high rate of online students pre-pandemic, and all saw an increase in online enrollment during COVID-19.
Largest Employers for Alumni of Florida's Online Colleges
| Employer | Percent of Alumni Employed |
| --- | --- |
| U.S. Air Force | 8.0% |
| Lockheed Martin | 6.1% |
| U.S. Army | 4.9% |
| Amazon | 4.1% |
| Boeing | 3.9% |
| U.S. Navy | 3.8% |
| Publix | 3.6% |
| Northrop Grumman | 3.3% |
| Ernst & Young | 3.2% |
| Bank of America | 2.8% |
Given the driving factors behind Florida's economy, it's no surprise that graduates of Florida's online programs tend to be very STEM-heavy. Florida's workforce is sustained by strong aerospace, defense, life sciences, and manufacturing sectors. As a result, companies in manufacturing, aerospace, aviation, and healthcare are all heavily represented in the top employers.
Defense
Previous studies on employment outcomes for online schools in New York and California highlight an emphasis on tech, finance, and healthcare jobs. However, online graduates from all three states share a common popular employer: the Department of Defense.
Online schools are popular with military students and families because it makes education accessible even when students aren't in one place for very long. This trend is reflected in Florida's online graduate population, with nearly 17% employed by the US Air Force, Army, or Navy.
Aerospace
Florida is home to the Kennedy Space Center, multiple Air Force bases, and 120 commercial airports. As a result, companies in aerospace, aviation, and manufacturing employ a large share of Florida's online graduates.
Lockheed Martin and Boeing are both popular employers, accounting for 10% of alumni. Many earned their bachelor's degrees online from Embry-Riddle Aeronautical University or the University of Florida.
Amazon is a top employer for alumni across the country. However, while graduates in other states tend to work in tech and business positions, online alumni of Florida schools also often work in aviation for Amazon Air.
Employment Outcomes by College
Embry-Riddle Aeronautical University - Worldwide
Top Industries: Aerospace, Defense, and Manufacturing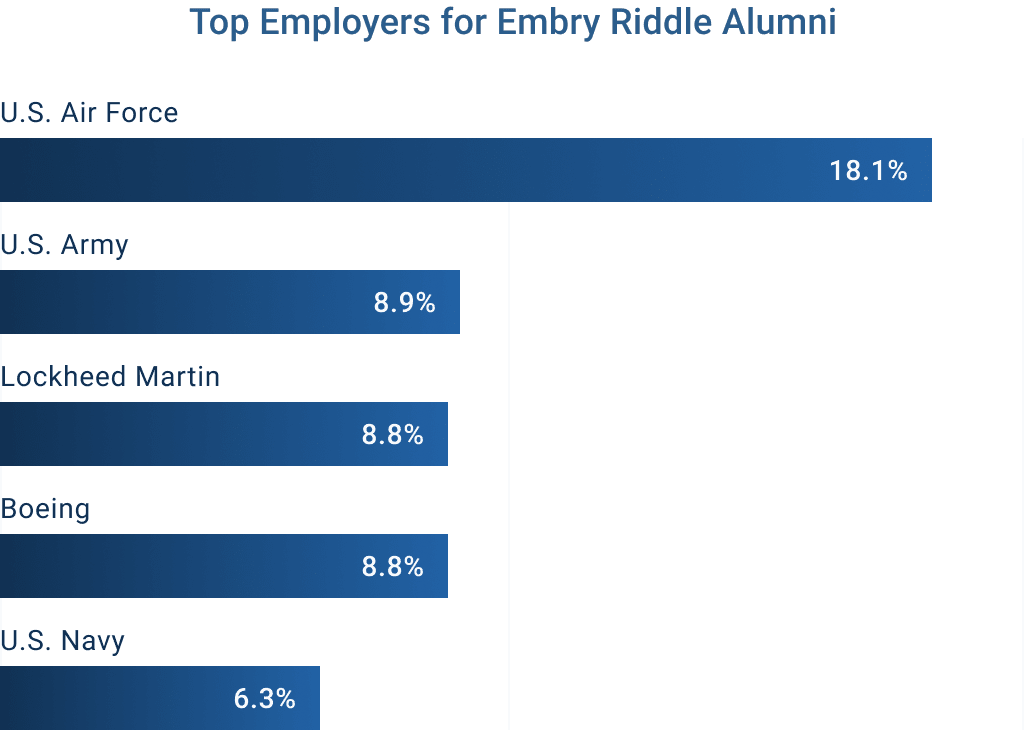 Embry-Riddle Worldwide is one of the top online schools for salary by major in Florida, and one of the few online schools for aerospace engineering degrees.
Its largest alumni employer by far is the Department of Defense. Nearly 20% work for the Air Force alone — unsurprising given Florida is home to Cape Canaveral Air Force Station, Eglin Air Force Base, and a number of other bases.
Aerospace and defense are also popular for Embry-Riddle online graduates, with 18% working for Lockheed Martin or Boeing. Popular jobs include pilot, computer systems engineer, and software engineer.
University of Florida
Top Industries: Aerospace and Business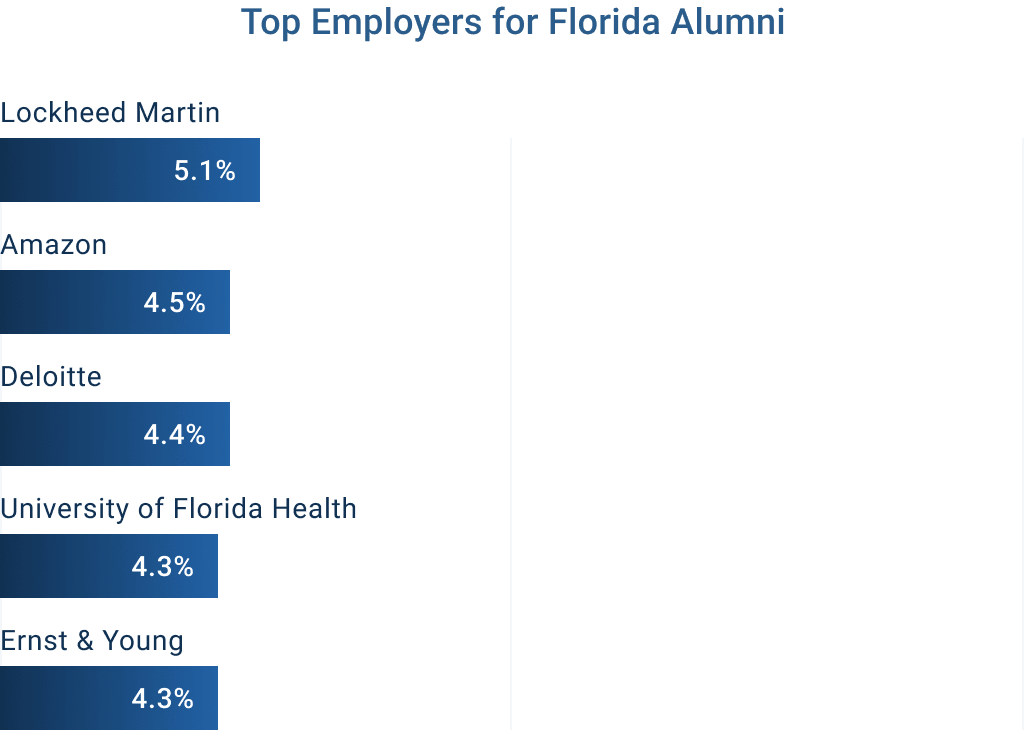 Given the University of Florida's size and general focus as a state school, it's not entirely surprising that alumni outcomes span a range of economically strong industries.
UF is a particularly strong school for many business majors, with high Salary Scores for accounting, business administration, finance, management sciences, and marketing. Close to 18% of graduates work in consulting services at companies like Deloitte and EY.
Graduates with degrees in aerospace engineering, chemical engineering, computer and information sciences, computer engineering, and systems engineering also tend to be highly paid for their major. Top employers include Lockheed Martin and Amazon.
Hodges University
Top Industry: Public Administration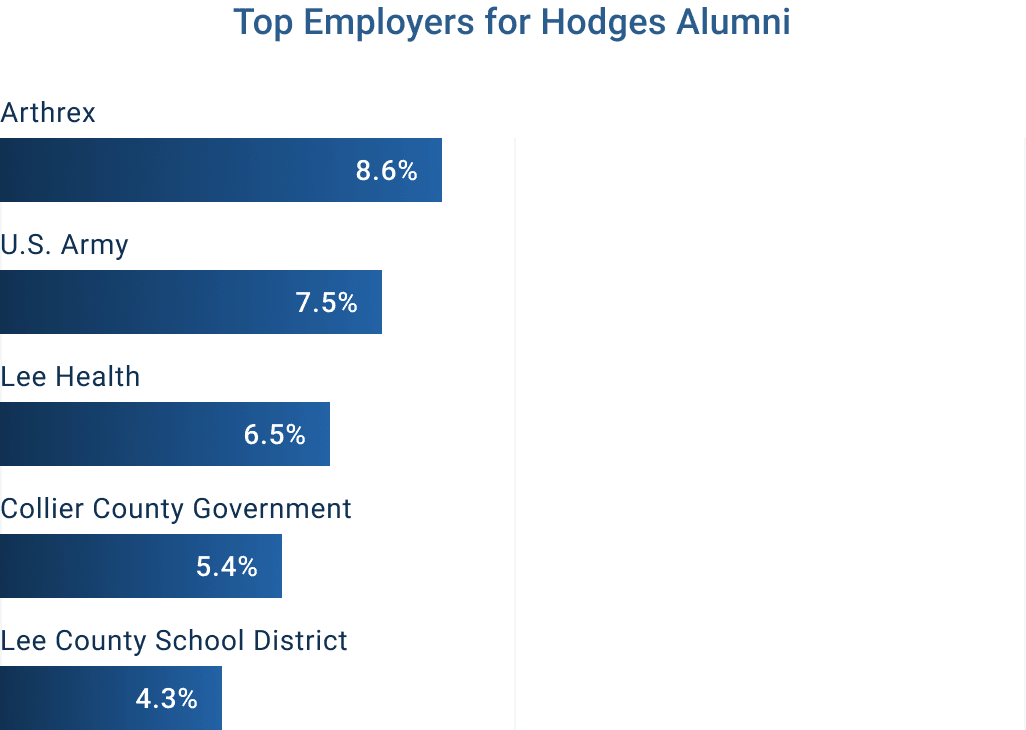 Hodges University is a majority-online school in southeast Florida that largely serves students living in the area. More than 80% of students enroll online and remain in-state after graduation.
As with other colleges on this list, manufacturing is a popular industry for Hodges graduates. Healthcare manufacturing company Arthrex, headquartered in the area, hired 8.6% of alumni. Hodges graduates work in every department, from biomedical sciences and engineering to finance.
Other top employers for Hodges alumni include the Army, Collier County Government, and local healthcare system Lee Health. Graduates held positions in public administration, healthcare, and business within these organizations.
St. Petersburg College
Top Industries: Teaching and Healthcare
St. Petersburg College is a strong school for teaching majors, with 6.5% of alumni working for Pinellas County Schools.
Salary data shows alumni of St. Petersburg's teaching programs are highly paid for their major with Salary Scores of 84 for teaching programs by learning level and 95 for their math teaching program.
The college is also popular for healthcare majors in the area, with nearby Baycare Health System hiring more than 14% of graduates.
Many St. Petersburg alumni become registered nurses, although they are not highly paid for their field of study. Data from the Bureau of Labor Statistics shows Florida nurses tend to earn less than the national average.
Miami Dade College
Top Industry: Healthcare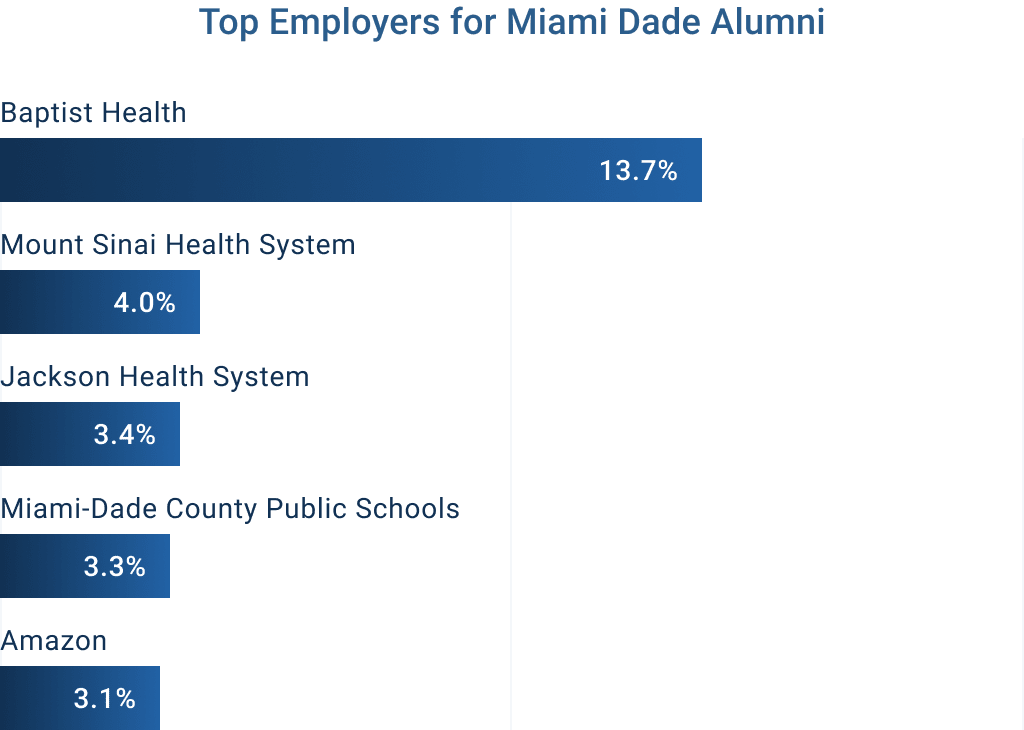 Miami Dade is popular for healthcare majors with strong student outcomes in nursing.
The school's three largest employers are Baptist Health, Mount Sinai, and Jackson Health Systems. Nearly a quarter of alumni work for hospitals and other healthcare organizations.
More than 8% of Miami Dade alumni become registered nurses and tend to earn higher average salaries compared to other nursing majors across the country.
Miami Dade's strong Salary Score of 70 for registered nursing programs is particularly notable given that median salaries for Florida nurses are below the national median.
Salary outcomes are also strong for teaching majors, with Salary Scores of 88-90 for teaching and special education majors. The Miami-Dade school district is the largest education employer.
Keiser University
Top Industry: Healthcare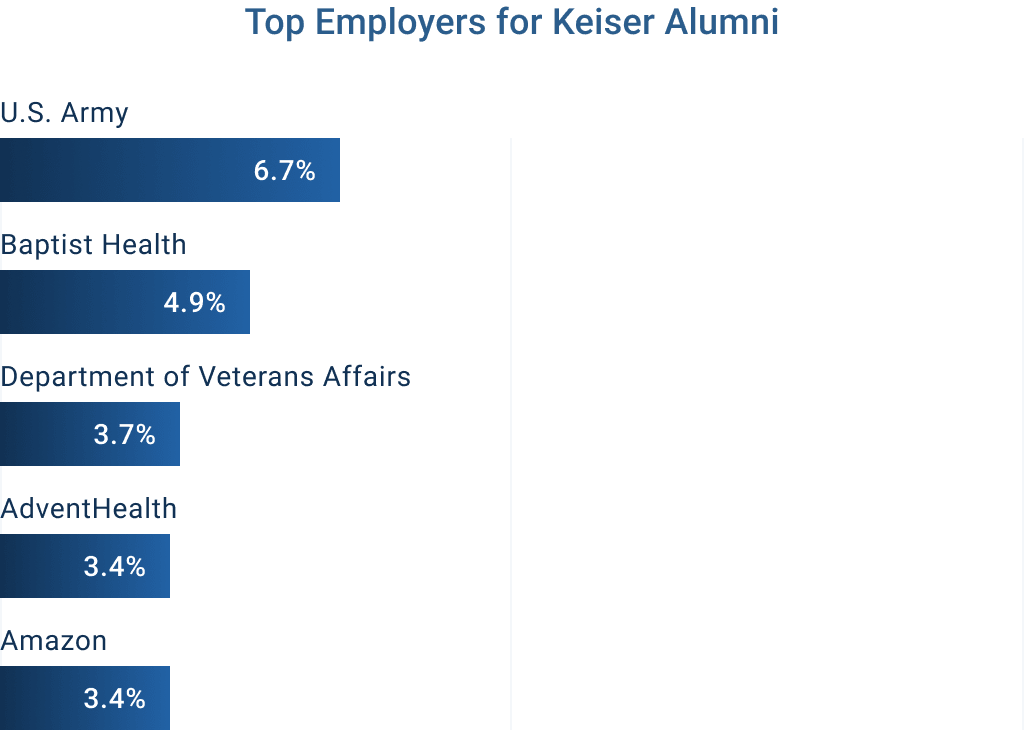 Healthcare is by far the most popular industry for Keiser graduates – 24% of alumni are employed in hospitals and healthcare systems like Baptist Health and Advent Health.
The university has strong Salary Scores in dietetics and nutrition, medical administration, health services, and public health. However, registered nurses tend to be paid average for their field of study, likely due to the lower median wages for Florida nurses compared to the national average.
Other top employers include the Army, hiring just under 7% of graduates, and the Department of Veterans Affairs.
Florida State University
Top Industries: Business and Finance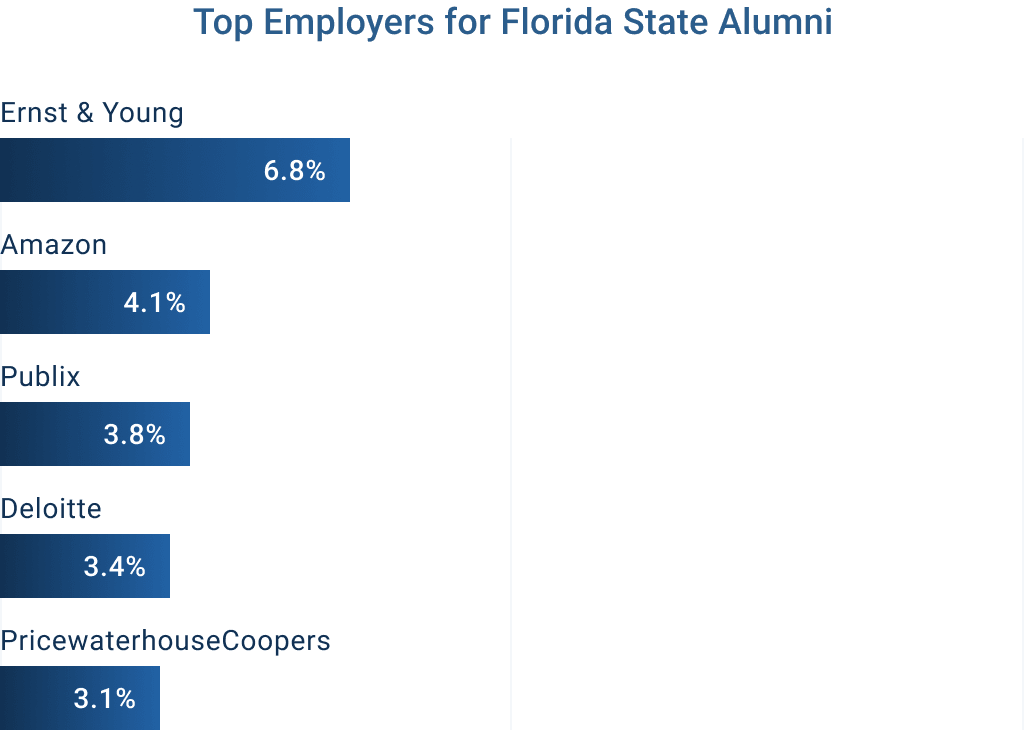 Florida State alumni employment outcomes are heavily focused in business, with one-third of graduates working in finance or professional services.
Management consulting and accounting companies drew a large portion of graduates, with 13% working for EY, Deloitte, or PwC.
Florida State graduates have strong salary outcomes for specialized areas in business. Accounting, insurance, management science, and marketing majors all tend to be highly paid compared to others with the same degree.
However, business administration, finance, and general business majors earn closer to the average for their field of study with Salary Scores ranging from 50-61.
Amazon and Publix round out the list of top employers for Florida State alumni.
Florida State College at Jacksonville
Top Industries: Finance and Insurance
While primarily a community college, Florida State College at Jacksonville offers a range of online bachelor's programs across different fields of study.
Bachelor's alumni from Florida State College tend to be focused in finance and insurance, with three of the top five employers in the industry. Bank of America, Vystar Credit Union, and health insurance company Florida Blue account for 18% of alumni.
The Navy and Baptist Health, both large employers for other schools on this list, round out the top employers for Florida State College bachelor's alumni.
The college's strongest bachelor's degrees for alumni salary are business administration and communications with Salary Scores of 59 and 57, respectively. Salary data available for most other majors indicate alumni tend to be low paid for their field of study.
Florida Gulf Coast University
Top Industries: Variety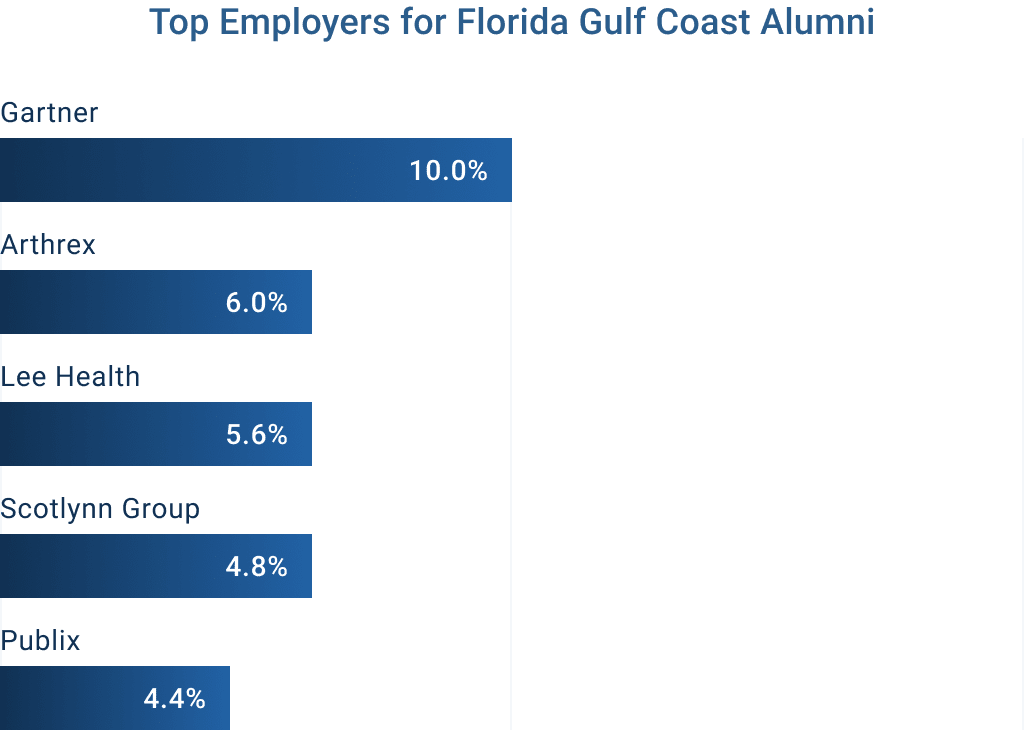 Alumni of public school Florida Gulf Coast are less concentrated in one sector, with top employers representing a range of different industries. Technology research and consulting company Gartner employs 10% of alumni, the largest share of any one company.
Florida Gulf Coast alumni also work for Lee Health, Publix, and Arthrex, all three of which are top employers for other schools on this list.
Canadian transportation company Scotlynn Group hires nearly 5% of alumni, with USA Division headquarters near the university in Fort Myers and two other offices in the state.
Methodology
This study includes Florida schools that offer five or more online bachelor's degrees across different subject areas and have available data for at least 500 alumni. Employment statistics were sourced from Burning Glass Technologies for 74,680 alumni who graduated from 2015 through 2020. Qualitative data from LinkedIn profiles were used in some cases to gain deeper insights into the education and career pathways these graduates followed.
When determining the top employers for each school, we omitted the institutions themselves to focus on the career paths taken outside of alumni working for their college upon graduation. Data limitations mean that we can't examine the employment outcomes of online graduates separately from campus graduates at schools that offer both degree formats. More information on Salary Scores for each college and individual programs at that school can be found on each school's profile on our companion site, GradReports.
Related Articles
Companies That Pay for Grad School
These companies offer employee education benefits for master's and, in some cases, doctoral degrees.
Pandemic pushes Amazon to #1 largest employer for recent college graduates
Amazon became the largest employer for recent bachelor's grads. Here's a look at the top degrees and most popular jobs for grads at Amazon.